You know what's bigger than even your grandma's heart? Well, in terms of bodily organs, that would be your dermis. Not only is your skin the largest organ of your body but your pores absorb pretty much everything you lather over them. Armed with that tidbit of knowledge, are you a little more curious about what you've been using to cleanse and moisturize? Maybe slightly more inclined to use more soothing and nourishing ingredients to ensure utmost hygiene with the smallest ecological imprint?
Vegan skincare products like soaps, body washes and lotions tend to use more naturally-inclined ingredients that don't just account for your own health and well-being, but also for the well-being of your environment and the furry friends contained within it. Whether you've decided to jump on board and go all-out vegan or you're just looking for a more earth and health-friendly alternative, we've got the low down on all things vegan skincare for the body.
HOW TO PICK YOUR VEGAN SKINCARE PRODUCTS
Regardless of where you fall on the vegan-lifestyle spectrum, there are a few boxes you'll want to check when you're buying vegan skincare:
Cruelty-free: A truly vegan product shouldn't be tested on animals (this would be regarded as exploitation of the animal).
Free of animal product or by-product: Animal ingredients don't come out and say "made with cows" but there are plenty of animal-derived ingredients like gelatin and lanolin, and of course animal by-product like honey.
Non-toxic: Believe it or not, a lot of our skin care products contain toxic and environmentally-harmful ingredients like parabens, phthalates, sulfates, PEG compounds, petrochemicals, mineral oils, ethoxylated ingredients, synthetic fragrances and colors. Good vegan products won't have any of these items in it.
Organic and/or natural: What vegan products lack in toxic ingredients, they make up for naturally-derived
Good reviews: A good review is worth more than anything you can find on a label.
If you're looking for something for your eyes check out our article on vegan eye creams to discover more.
VEGAN BODY PRODUCTS
The below items are vegan-friendly options for your bodily skincare routine. Because keeping your body clean is essential. Using animal ingredients to do so is not.
VEGAN SOAP
Most bars of soap (and we really mean most) contain some sort of animal derivative in the form of animal fats. Animal fat is left over from meat processing so it's inexpensive as an ingredient and has long been used to produce soap. You'll find animal fats on the ingredient list under the names tallow, sodium tallowate, stearic acid and lard (ok that one is obvi). Unless you find a soap that is labeled 'vegetable-based', it's most likely made from slaughterhouse leftovers (gross). Worse yet, most soap-makers rely on animal testing for trying the safety of their product.
And then we have vegan soaps. These are mostly made from fats and oils coming from veggies. They also might include wood ash, potassium hydroxide or sodium hydroxide. Olive oil soap is a pretty popular vegan alternative and it's relatively easy to get your hands on (and what a great excuse to hit up that farmers market you've been meaning to get to). For some other options, we've got you covered below.
BEST VEGAN SOAP
Kiss My Face Pure Olive Oil Soap $4
Made with only three ingredients, this light, and unscented soap is as natural as it gets. It's made with 86% olive oil so it's both antioxidant-rich and perfect for all skin types. For something with a little more fragrance but equally as light and moisturizing, Kiss My Face makes a Coconut Milk Soap Bar that's 86% coconut, still vegan and still loaded with the power of antioxidants.
---
100% Pure Coconut Butter Soap $10
100% Pure's Coconut Butter soap is made from a blend of skin-beneficial ingredients inclusive of healing Coconut & Grape Seed Oils as well as the nourishing Shea Butter. The formula is not only vegan but also certified cruelty-free as well as free of known skin irritants like parabens.
---
Yes To Tomatoes Activated Charcoal Bar Soap $4.50
All of Yes To's products are cruelty-free and so are all of their suppliers. Their tomato and activated charcoal soap will rid the skin of impurities and it can also be used on your face if you struggle with breakouts. The Yes To Coconut bar targets dehydrated skin and is full of antioxidants and a light, warm scent.
---
Olivella Face And Body Soap $3.28
Olivella's is committed to developing sustainable products that use only the highest quality olive oil from Italy. This body soap contains the antioxidant power of olive oil and it's hypoallergenic, free of SLS/SLES, parabens, colorants and animal products and testing. Use it on your face or body for softer skin and deeply cleansed pores.
---
Tom's of Maine Natural Beauty Bar Soap with Aloe Vera $3.99
Tom's of Maine has years of experience making quality, all-natural products like this unscented, non-irritating cruelty-free soap. Raw shea butter provides moisture naturally and this soap doesn't contain any synthetic or animal ingredients. Instead, it's formulated with things like aloe vera and Rainforest Alliance Certified palm oil, for a soothing experience that's also environmentally friendly.
VEGAN BODY WASH
One of the most common ingredients in shower gel is glycerine. It doesn't sound like it, but this is derived from animal by-product. Non-vegan ingredients often have tricky names like that, so you'd never even know they come from animals. Luckily, vegan body wash is one of the easier vegan products to find— many drugstore, off-the-shelf vegan body washes are available. Common bases for vegan alternative body washes include coconut oil, Castile oil and olive oil, which all have skin-beneficial properties.
BEST VEGAN BODY WASH
Yes To Cucumbers Soothing Body Wash  $11.49
The cucumbers in this body wash nourish sensitive skin and leave it feeling softer, calmer and smoother. The light scent of green tea is refreshing but also packs in antioxidants to protect and repair the skin. The reviews are in and this product boasts a lot of 5/5's for its light, silky results and wallet-friendly price. The formula is also free of Petroleum, SLS, as well as Parabens.
---
Acure Argan Oil & Pumpkin Body Wash $8.34
Combining the protective power of Argan and Pumpkin oils, Acure's very popular body wash feeds and restores your skin cells no matter what your skin type. Their 100% biodegradable formula is safe for the environment and free of harsh chemical ingredients as well as any animal products. You'll be left with supple, ultra-moisturized skin, a lovely soft scent and peace-of-mind that you're buying a sustainable product.
---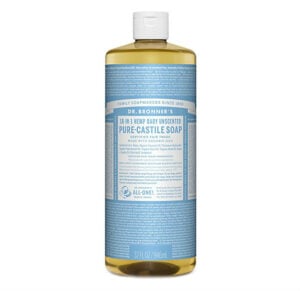 Dr. Bronner's Unscented Pure Castile Liquid Soap $15.99
Using ethically sourced, fair trade and organic ingredients, Dr. Bronner's is a top-selling soap in the market of all things natural. Their Baby Unscented castile soap is lightweight and not irritating in any way – so natural and soothing you can use it on a baby. One of our favorite aspects of castile soap, besides it moisturizing and clearing properties, is that it can be used not only on face and body, but to clean around the house as well!
---
Method White Tea Moisturizing Body Wash $3.48
You don't usually find white tea as an active ingredient so this body wash sets itself apart. Method utilizes this antioxidizing tea to protect your skin from damage caused by the sun and free radicals as well as aloe vera to restore hydration. It's delicately scented and cruelty, parabens, phthalates and EDTA free.
VEGAN LOTION
Keeping your skin moisturized is key to avoiding the development of fine lines and wrinkles as well as avoiding breakouts, dryness and redness. While eating plant-based can have a drastically positive effect on your skin in terms of bringing it to a proper pH balance, allowing skin to repair itself and maintaining healthy levels of hydration, not everybody is ready to take the plunge into an all-vegan diet. Short of that, vegan lotions can be beneficial for those with easily irritated skin (and all other skin types for that matter). Traditional ingredients in lotions can cause irritation or allergic reactions in those with sensitive skin but vegan lotions are less likely to include those ingredients and therefore, less likely to cause your skin any trouble.
BEST VEGAN LOTION
Eminence Coconut Firming Body Lotion $26.75
Antioxidizing coconut, collagen boosting retinol and rejuvenating green apple stem cells come together in this indulgent body lotion. Organic and sustainable to the core, the firming body lotion by Eminence has been featured by a number of noteworthy beauty authorities. It's praised for its ability to plump skin and combat the signs of aging while keeping the health of our planet in mind.
---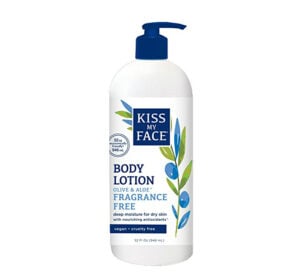 Kiss My Face Olive & Aloe Moisturizing Body Lotion $13.99
No artificial colors and no animal ingredients went into the making of the emollient-rich body lotion made by Kiss My Face. The fragrance-free Aloe vera based formula heals and repairs skin while olive oil offers relief for dry and sensitive skin.
---
Andalou Naturals Kukui Cocoa Nourishing Body Butter $11.50
A rich body butter that won't break the bank, we can't even count the number of certifications on this lotion – vegan, cruelty-free, non-GMO and 99% Nature Derived, just to name a few. Protective and antioxidizing Hawaiian kukui is a standout ingredient and shea and cocoa butters absorb quickly to soften dry skin and protect your moisture barrier.
---
Acure Simply Unscented Body Lotion $8.99
We just can't get enough of Acure's high-end vegan products that are packed with the finest quality organic and 100% biodegradable ingredients. It will rejuvenate any skin type but the unscented version is especially luxurious on sensitive skin that's prone to irritation. Dry flakes will disappear thanks to the cocoa butter, evening primrose, argan oil and coq10 complex in this lotion made to smooth your entire body.
If you're curious to learn more than check out our in-depth guide to the benefits of vegan skincare for the face.
THINGS TO NOTE
Keep in mind that as easy as it is to hide animal-derived ingredients in names you wouldn't otherwise recognize, it's also easy to confuse items that are actually vegan with their non-vegan variation. Things like hyaluronic can be derived from more than one source: while it's sometimes extracted from rooster combs it can also come from bacterial fermentation, which is totally vegan-friendly. Something like lanolin, on the other hand, does not have a vegan alternative. Be sure to check the label thoroughly or give the manufacturer a call to be 100% sure about what you're buying.
FINAL THOUGHTS
One does not need to be an ethical vegan to make the switch to less toxic, more health-conscious products. As we do more and more research into skincare ingredients we've never thought twice about, we learn about their toxicity and the negative effect they have on both our bodies and on our environment. With every soap, body wash or lotion you switch out for a vegan product, you not only protect our furry friends but you do right by your body by using soothing ingredients that are derived from the earth.