Some of us start to notice the aging of our skin as early as our twenties while some lucky people won't see anything until well into their thirties. In terms of a good skin care routine, the phrase "it takes a village" is really true. Kidding. It comes down to a few important ingredients that you should be on the lookout for – Vitamin B3 is one of the standouts in this regard.
Commonly known as Niacin (the Nicotinic Acid derivative of Vitamin B3 complex), or Niacinamide (the amide of Nicotinic Acid), the more common derivative of the Vitamin B3 complex commonly found in skincare products.  Vitamin B3 is an Antioxidant that not only has cell-communicating abilities which help the different parts of our skin's structure to work more effectively, but also helps to improve skin health overall. In fact, studies show that topical Niacinamide is well tolerated by most skin types and treats a variety of signs of aging.
WHAT SKIN CONCERNS DOES NIACINAMIDE TREAT?
Niacinamide offers a number of skin benefits that not only improve the way it looks and feels but also the way it works.
HYDRATION
By assisting your body in producing Ceramides, Niacinamide improves the functionality of your Epidermal Lipid Barrier. This barrier keeps your skin hydrated as well as increases its ability to resist the loss of moisture that results in concerns like dryness and flakiness.
SKIN REPAIR
Literally, every single thing about your skin is better when your lipid barrier is able to function to its greatest potential. Maintaining a strong lipid barrier will lead to visible improvements in its overall structure as well as the reduction of redness and blotchiness. Not only that, but your skin will be better able to repair itself and accept other ingredients aimed at treating concerns.
PROTECTION FROM ENVIRONMENTAL DAMAGE
One of the most important functions of Niacinamide in terms of skin health is its ability to prevent damage to your skin's immunity cells. In other words, the ingredient protects your skin from damage caused by the environment (pollution or the sun) and exposure to free radicals. The antioxidant properties of Niacinamide not only prevent the damage caused by oxidative stress it actually improves the skin's ability to fight back against this type of damage.
OIL CONTROL
Weirdly enough, when your skin is not suitably hydrated it may overproduce sebum (oil) to make up for what isn't there, leading to oily skin, breakouts, and acne. On the other hand, if your skin is adequately hydrated, the natural oil-production levels of the skin are controlled and healthy. By keeping your skin moisturized, Niacinamide controls excessive amounts of oil and will, in fact, regulate the production of the exact amounts your skin needs.
HYPERPIGMENTATION
Your skin gets tanned when pigment (Melanosomes) transfers from your Melanocytes to the surrounding skin of your Epidermis. We've all heard that everyone looks better with a tan (at least in Western countries), but over time this transfer becomes dysfunctional and actually results in concerns like uneven skin tone. Niacinamide will help slow down the transfer of Melanin to the Epidermis,  treating these discolorations.
Niacinamide also protects the skin from infrared heat and UV exposure, which activate free radicals and stimulates the overproduction of pigmented cells. In a nutshell, topical application of the ingredient can both prevent and treat the damage caused by the sun in terms of pigmentation issues.
FINE LINES & WRINKLES
Niacinamide boosts collagen and elastin production, which tends to slow down as we age. By causing an increase in cell differentiation, Niacinamide contributes to better synthesis and formation of collagen and elastin, thereby reducing the appearance of fine lines and wrinkles and preventing those that have yet to even form.
PRODUCT RECOMMENDATIONS
Using a 10% concentration of Niacinamide is great on its own but when part of a formula that has other sensitizing ingredients it is often found in a lower amount. You can't always find the percentage of Niacinamide on the labels of products but you'll be able to tell if it is a primary ingredient in them by how far up it is on the ingredients list.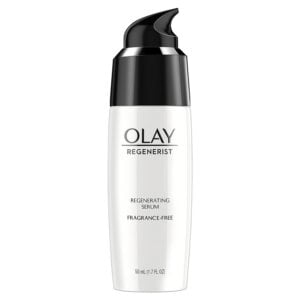 Olay Regenerist Regenerating Serum $19.29
Olay's fragrance-free serum combines Niacinimide along with other powerful antioxidants like Green Tea Extract as well as Matrixyl (a peptide) to boost regeneration and help restore the texture. Other key benefits of the lightweight formula include easy absorption and skin that is left hydrated without any feeling of greasiness.
---
Skin Medica Lytera 2.0 Pigment Correcting Serum  $154
Skin Medica's serum includes Niacinamide as well as other skin lightening ingredients such as Tranexamic Acid and Phenylethyl Resorcinol to address discolorations and hyperpigmentation. Other key ingredients include Tetrapeptide-30 as well as Phytic Acid that both also help to even skin tone.
---
Paula's Choice Resist 10% Niacinamide Booster $42
Paula's Choice's serum comes chock-full of skin-beneficial ingredients inclusive of the star one, Niacinamide (at a 10% concentration) as well as antioxidants like Ubiquinone and Carnosine to combat environmental damage. The formula also includes skin-replenishing ingredients like Phospholipids and Sodium Hyaluronate (cousin of Hyaluronic Acid)  to hydrate and help restore radiance.
---
EltaMD AM Therapy Moisturizer $32.50
EltaMd's fragrance-free lotion offers long-lasting hydration to soothe irritation and ease redness as well as helps combat uneven skin tone.  The formula combines Niacinamide with the power of antioxidants like Willow Bark Extract to boost it's free radical fighting capabilities.
NIACINAMIDE MYTHS
Rumor has it that an often used combination, Niacinamide and Vitamin C (Ascorbic Acid), sometimes interacts negatively. This myth originates from a study conducted in the 1960's that used forms of Niacinamide and vitamin C that were not stabilized. The base of the formula used in this study was a far cry from the sophisticated formulas used in the treatments of today.
There's another myth out there that the acidic environment needed by Vitamin C in the form of Ascorbic Acid will lead to Niacinamide converting to Nicotinic Acid (a form of Niacinamide that can induce irritation and redness). The conditions for this conversion can only be created with very high heat for an extended period of time, something most products wouldn't go through in their normal life-cycle.
When a skincare product is well formulated, Niacinamide is for the most part compatible with ingredients inclusive of Retinols (like Retin-A and Retinol), Peptides, AHAs (Glycolic Acid), BHAs (Salicylic Acid) and all types of Antioxidants. In fact, in some cases, like Retinol it can even increase efficacy.
THINGS TO NOTE
There are a few precautions you should take while using a product formulated with Niacinamide.
Like many rejuvenating skin care products, you should be using an effective broad-spectrum sunscreen on a daily basis to minimize the damage caused by the sun.
 If you experience any facial flushing or mild irritation, try reducing the concentration of Niacinamide you're using. If you get these symptoms along with itching or small bumps, you're likely allergic to Niacinamide and should discontinue its use.  Last but not least, some people who are particularly sensitive to Niacinamide find that usage results in breakouts.
STORAGE
You should keep any products with Niacinamide stored in a cool dark place. It's important that they are not over-exposed to light, air or heat for prolonged periods of time in order for the ingredient to maintain its performance abilities.
Make sure to check out our guide if you're interested in exploring some other effective topical antioxidants that improve how the skin looks and feels.
FINAL THOUGHTS 
While aging and the tell-tale signs that come with it are inevitable, there are plenty of things you can do to help treat concerns. Products formulated with Niacinamide are important to consider because this powerful antioxidant works from the inside out – meaning, it not only treats the visible signs of aging that have already appeared but also helps strengthen your skin's structure.