Between butters, balms, creams, oils, serums, and conditioners, once can easily get lost in all of the grooming products out there specific to facial hair. You may have noticed that when you're researching beard oil on the internet, a lot of products labeled "beard growth oil" come up in your results. Beard growth oil can be a tricky term as it isn't going to make your beard grow in places it hasn't before, nor is it going to contribute to its thickness. What beard oil will do for your beard is create an environment for your skin and hair follicles that lends itself to your beard growing healthily. With that said, let's get to the meat and potatoes of beard oil.
It's important to know what you need to achieve your desired beard style – do you prefer to go au natural? Or are you more of the GQ type? If you find yourself in the latter category, a good beard oil should be part of your grooming routine. But what exactly is beard oil, if not for growing a beard? We're here to help you navigate exactly that!
WHAT IS BEARD OIL AND HOW DOES IT BENEFIT YOUR BEARD?
Beard oil is grooming product that helps to moisturize, tame and style your beard. Because the beard oil is formulated to mimic the natural oils that your body produces, it keeps the skin and hair follicles underneath your beard healthy and well-nourished with essential nutrients. Below is a list of the several of the key benefits of facial hair oil:
MOISTURISING
As mentioned, beard oil hydrates not only your beard hair but the skin and hair follicles beneath your beard. For men that live in a cold or windy climate, you may have noticed that your beard becomes dry and brittle when frequently exposed to these elements. The hydrating benefits of beard oil combat those affects. By keeping your hair follicles and skin hydrated, beard oil combats dryness, shagginess, itchiness, flakes, and beardruff.
TAMING
Beard oils help to soften your beard hair since they provide them a moisturizing boost. This means your beard will be easier to style and hold a certain shape better.
SPLIT ENDS
Regularly using beard oil will reduce the number of split ends you get. This means you don't have to trim your beard nearly as often.
SCENT
Good quality beard oils are scented with essential oils that make your beard smell great.
HOW DOES BEARD OIL HELP WITH BEARD ITCH AND BEADRUFF?
ITCH
In the early stages of growing a beard, many men experience irritation and itching. Rather than shaving your beard and giving up the dream, understand why this happens and how beard oil can help alleviate that irritation.
At the root of your hair follicles, you have what are called sebaceous glands, and these glands secrete oil known as sebum. As your beard gets longer, it requires more sebum oil to coat the follicle and keep your skin moisturized and nourished. However, your sebaceous glands never change size. So, eventually, the production of sebum can't keep up with the rate of your hair growth. At some point – typically within a few weeks of growth – the sebum oil naturally produced by your sebaceous glands won't be enough to keep your skin nourished. This causes the skin and hair follicles underneath your beard to dry out, and this is when you will start to experience the itchiness. Because beard oil mimics the effect of sebum, it helps to maintain hydration and minimize irritation and itchiness.
BEARDRUFF
Beardruff is exactly what it sounds like – flakes and dandruff in your beard, similar to dandruff you can develop on your scalp. Beardruff is caused by the same situation as described above – the inability of your sebaceous glands to produce enough sebum to coat your hair follicle when your beard reaches a certain length. So, beardruff is essentially caused by that same excessive dryness. You have to keep the skin beneath your beard supplied with the nutrients your body is unable to naturally produce if you want your beard to be comfortable (and silky, smooth and healthy). Without beard oil, your skin will dry, become itchy, and when you scratch it will produce flakes.
WHAT IS BEARD GROWTH OIL?
As we've briefly discussed, there are some beard oils out there that claim to help you grow your beard. Be careful of what you're buying and know your facts! There are no miracle products out there that are going to make a beard magically appear where there was no hair before. What beard oil can do for your hair growth, is make sure your skin and hair follicles are healthy, nurturing an environment in which your beard can grow to its fullest potential. Here are some ingredients to look for if growth is your concern:
Biotin or testosterone promotes healthy hair follicles. You can learn more about the benefits of Biotin for beards in our in-depth guide.
Vitamin B: encourages blood circulation and supports cell regeneration.
Castor and coconut oils: promote hair growth and also hydrate and moisturize your skin and beard. You can learn more about the benefits of these oils through our review on the best beard creams or most effective beard butter articles.
Minoxidil the active ingredient in the effective and has actually proven to help hair grow.  Learn more about how Rogaine benefits beard growth in our run-down.
WHAT TO LOOK FOR IN A GOOD BEARD OIL?
Any high-quality beard oil is going to be a blend of two distinct ingredients: carrier oils and essential oils. Carrier oils make up 90% of any given beard oil and deliver the core of the benefits. Carrier oils are completely natural oils that are derived from seeds and nuts. Some of the more popular carrier oils include jojoba, argan, sweet almond and grapeseed. Essential oils are an important part of beard oil as well. While they offer a range of benefits, they can be extremely volatile to your skin if not diluted by the carrier oils. Many essential oils are also natural remedies. For example, tea tree oil is an essential oil commonly used in beard oil that also acts as an antiseptic. Some other popular essential oils used in beard oil include citrus, lavender, and sandalwood. Added bonus: they give off a great scent! Higher quality beard oils may be formulated with Vitamin E, which is not only a skin-beneficial ingredient but also helps keep your beard hair healthy.
Two things you should avoid when purchasing your beard oil:
Chemicals such as silicones that do not have any added benefits for your skin (in fact, they will likely have the opposite effect).
If the beard oil you're thinking of purchasing doesn't have ingredients listed on the bottle, pass on purchasing it. Beard oils should be mostly natural and be formulated with ingredients you can pronounce.
HOW TO USE BEARD OIL?
Beard oil is pretty simple to use – you apply it similarly to most beard grooming products. Beard oil is applied first thing in the morning after you shower and/or cleanse your face.  Don't overdo it! Less is more! A dime sized amount or a few drops of beard oil should give you enough moisture to last throughout the day. Rub the beard oil between your palms and then massage it throughout your beard. Be sure you are massaging it in well – massage increases blood flow and circulation and will help your skin absorb the oil to its greatest potential. If your beard is long, you may want to consider using a comb to make sure it's worked through all of your facial hair.
BEARD OIL RECOMMENDATIONS
Mount Beardmore The Entrepreneur Beard Oil ($16.82)
This beard oil is formulated with 9 natural carrier oils, including all of the ones we've listed above as beneficial for your beard (plus more oils): argan, jojoba, vitamin E, sweet almond, apricot kernel, avocado, pumpkin seed, hempseed as well as grapeseed. Mount Beardmore's Beard Oil will help you with all of the issues associated with growing a beard, from itchiness to dryness, and, for our earth-conscious friends, it's never tested on animals.
---
Honest Amish Classic Beard Oil ($13.85)
Hand crafted in the US of A and previously only sold at flea markets, farmers markets and festivals, this beard oil is all natural and organic. Made with 7 carrier oils and 7 essential oils that promote hair growth and condition your beard, you'll also find antioxidants, minerals, and vitamins that aim to make your beard the healthiest it can be. An added bonus with this beard oil: if you're not satisfied (and you will be), you can return it with their 100% money-back guarantee.
---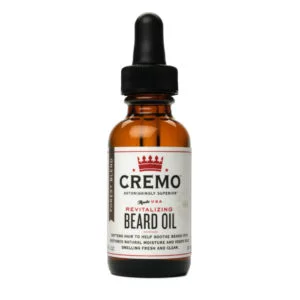 Cremo Unscented Revitalizing Beard Oil ($8.52)
For the man who doesn't wish to have a beard that smells (even in a good way) or finds that he is sensitive to fragrance, here is an unscented option that boasts all the benefits of other high-quality beard oils. Formulated with Jojoba as well as Argan – this beard oil hydrates and combats itching as well as beardruff.
---
St. Pierre's Sandalwood Beard Oil ($7.29)
This beard oil offers a long-lasting scent as well as a prolonged shelf-life thanks to the amber-colored bottle that protects its ingredients. The carrier oils in this beard oil include apricot kernel oil and jojoba oil alongside the essential oil of sandalwood – which is where the great scent comes from. If you're not satisfied with this product, you can return it for a full refund (which we think means you'll be satisfied).
FINAL THOUGHTS
You should be taking care of your beard as well as you take care of the hair on your head. You wouldn't let your scalp get dry, itchy or flaky, so why would you let that happen to your face? A beard oil is an essential part of that maintenance and with so many on the market, you have no excuse for not including this in your regular grooming routine.