While perusing the skin care shelf you probably stumbled across the terms non-comedogenic moisturizer. No doubt you've got the meaning of moisturizer down but may still be wondering how to define the word non-comedogenic. Well, we've taken the liberty of exploring all things non-comedogenic moisturizer, so you can get a better understanding of exactly what it is you're buying and see if it makes sense for your skin-care regime.
WHAT IS AN NON-COMEDOGENIC MOISTURIZER?
Non-comedogenic moisturizers are one of the best ways to hydrate oily and or acne-prone skin.   Wondering why?  Well if we break down the word non-comedogenic, into its roots comedo and comedogenic, it'll give you a better understanding:
A comedo describes a clogged pore or an acne lesion, which is a blockage of the pore that results from an excess of sebum (the oily matter secreted by the sebaceous glands to lubricate and waterproof your skin). These blockages lead to whiteheads, blackheads, pimples and other types of skin blemishes.  While the word comedogenic; refers to cosmetic ingredients or products that tend to block pores and cause these comedones (the plural of comedo). In other words, comedogenic ingredients and products are ones that are known to cause acne and other skin imperfections (and should obviously be avoided at all costs).
This takes us to the term non-comedogenic, which when used in relation to products are ones that do not promote the blockage of pores. While non-comedogenic products may not prevent or cure acne and other blemishes, they are supposed to be formulated in such a way as to help reduce the clogging of pores and to promote clear skin.  If your facial moisturizer is water-based and oil-free it's probably non-comedogenic, but there is a bit more to it than just that.
THE TRUTH BEHIND THE WORD NON-COMEDOGENIC
Although non-comedogenic moisturizers and products, in general, should be tested in a lab and monitored by dermatologists, there actually are no approved or regulated standards for this term which can be problematic. Without any guidelines or standards in place, any brand can label their product with the words "oil-free" or the term "won't clog pores". Before buying a non-comedogenic product, you should understand what ingredients to avoid and do your research on how the product was tested and determined as non-comedogenic.
It's also important to remember that non-comedogenic means that the ingredients will reduce the chance of developing comedones, it will not prevent their forming altogether.  The term non-comedogenic also means that the ingredients are not known to cause comedones, so there is always a possibility that they might. Last but certainly not least, keep in mind that everybody's skin is different and will react differently to products or combinations of ingredients. Finding the right product for you may take time and a bit of trial and error.
WHO SHOULD USE AN NON-COMEDOGENIC MOISTURIZER?
Non-comedogenic moisturizers are not only recommended for people with oily or acne-prone skin but also work well for individuals that have sensitive skin in general. The reason why is that many non-comedogenic moisturizers tend to contain fewer irritants (alcohols, fragrances, harsher chemical ingredients, etc.) than your everyday skincare products.
Although it maybe obvious, a lot of the time non-comedogenic moisturizers target younger people but since break-outs and sensitive skin can affect people of all ages, they also work well for those with more mature skin. If this fits your profile, check out our guide if you're interested in discovering more about the best anti-aging creams inclusive of ingredients to look out for and the ones to avoid.
WHAT TO LOOK FOR IN AN NON-COMEDOGENIC MOISTURIZER?
Purchasing a non-comedogenic moisturizer is a lot about what not to buy below are a few tips:
Try to avoid: oils, silicone, preservatives, cocoa butter, pigments and dyes (reds in particular), isopropyl myristate, lanolin, and petrolatum.
Look out for moisturizers that are described as lightweight and oil-free. The thicker the formula, the more likely it's going to clog your pores and cause breakouts. Look for more fluid-like formulas such as gels, liquids or serums (anything water-based

) that are

 thin and will absorb into the skin quickly after application. 
THE BEST NON-COMEDOGENIC MOISTURIZERS 
EltaMD AM Therapy $32.50
With its lightweight texture, this moisturizer is optimal to boost hydration levels. Niacinamide helps even out skin tone, while Piptadenia Colubrine Plant Extract has been linked to protecting skin from moisture loss.  The formula works well for sensitive skin types inclusive of those with eczema.
---
CeraVe Moisturizing Lotion $10.66
CeraVe's lightweight lotion not only happens to be one of the best non-comedogenic moisturizers on the market right now but also one of the more cost-effective. Through combining  Hyaluronic Acid with Glycerin, the fragrance-free, lightweight formula doesn't leave skin with a greasy feeling.  While with the inclusion of three essential ceramides (1, 3, 6-II) you can expect this moisturizer to replenish skin and help to restore the protective skin barrier. Other benefits include the lack of fragrances as well as oils.
---
Dr Dennis Gross Hydra-Pure Oil-Free Moisture $78
The lightweight formula uses Peptides and Retinol to help target the signs of aging.  Other key ingredients include antioxidants like Vitamin C & E that help fight free radical damage as well as ceramides to provide an extra moisture boost.
---
Complex15 Daily Face Cream $15.00
The oil-free formula absorbs quickly into the skin to provide lightweight moisture. Key ingredients that help boost the skin's moisture levels include Squalene and Triglycerides. The cream dries matte and works well under makeup.
---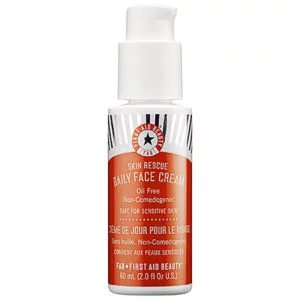 First Aid Beauty Skin Rescue Daily Face Cream $22
This oil-free moisturizer comes packed with skin-beneficial ingredients. Plant extracts like Licorice root, White Tea, and Feverfew extracts help protect the skin from environmental damage.  While Ceramides and Squalene help to maximize the skin's hydration levels. Other key product benefits of the formula include that it is free of irritants like alcohol, parabens as well as sulfates.
---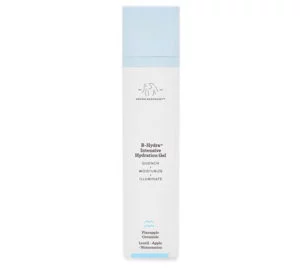 Drunk Elephant B-Hydra Intensive Hydration Gel $52
This water-based moisturizer combines Vitamin B5 with Sodium Hyaluronate, (salt form of Hyaluronic Acid)  leaving skin hydrated without feeling tacky.  Other notable ingredients include the range of reparative plant extracts including Pineapple and Watermelon. The formula is also free of silicones and fragrance as well as skin irritants like dyes.
---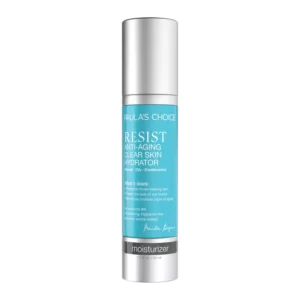 Paula's Choice Anti-Aging Clear Skin Hydrator $33
This moisturizer is perfect for those who want to take preventative measures against the aging process. Niacinamide, Vitamin C and Adenosine help to hydrate along with targeting the signs of aging like uneven skin tone, enlarged pores as well as fine lines and wrinkles.  Key product benefits of the formula include the lack of fragrance as well as the formula being clinically tested for irritation.
FINAL THOUGHTS
Although non-comedogenic is a problematic term because there are no standards or regulatory controls demanding strict adherence to specific ingredients and formulas, there are plenty of moisturizers out there that are less likely to lead to the development of comedones and breakouts. With a little know-how and understanding of what to look for and what to avoid, you're well equipped to pick one that's right for you.