Does your nightly anti-aging skincare routine consist of downing a pint of ice cream while removing your make-up with wipes and watching Netflix before passing out facedown? Although we may not be certified therapists, we can conclude that this might not be the most beneficial way of aging gracefully. All jokes aside – at night, when you're sleeping is a great time for your skin to rejuvenate since this is when your body regenerates. You don't have to worry about protection from the sun, harsh pollutants, or the environment in general,  maximizing the potential benefits of an anti-aging formula's active ingredients .
WHAT DOES AN ANTI-AGING NIGHT CREAM DO?
Research indicates there are some major benefits to using night creams to combat signs of aging. When used regularly, an effective anti-aging night cream can:
Increase the skin's hydration levels
Boost collagen & improve elasticity
Reduce visible fine lines & wrinkles
Even out skin tone & target brown spots as well as other skin discolorations
Help repair damage from free radicals, the sun, pollution as well as "bad" habits (drinking & smoking)
DO I NEED A NIGHT CREAM?
When we think about skincare, we are often told that balance is key to treating and "detoxifying" skin in order to minimize interference with the regenerative processes that happen at night. Granted this is true, many skin types actually need a moisture boost.  Depending on skin-type this can be achieved through the use of serums for light moisture, lotions for mid-moisture and creams for the most intense dose.  It's important to note that it's beneficial to pick anti-aging skincare products that are water-based for night usage as they are often the ones that let the skin "breathe" most.
If you're interested in learning more about how to maximize the anti-aging benefits of sleep make sure to check out our guide.
CAN I USE A DAY CREAM AT NIGHT AND VICE VERSA?
In short, yes – as long as your anti-aging day cream doesn't have sunscreen. The long answer is that many anti-aging day creams focus on being light and easily absorbent so they can be worn under makeup therefore may not have the intensive hydrating properties a night anti-aging cream has. They may also not contain reparative ingredients often found in anti-aging night creams such as Glycolic Acid or Retinol that can be sensitizing to skin when exposed to the sun. Although we do recommend avoiding these anti-aging ingredients in the day,  if you must use them, make sure to apply an effective sunscreen before leaving the house. For the full rundown of the best way to boost daytime hydration, take a look at our in-depth guide where we discuss how to pick an effective anti-aging cream.
ANTI-AGING SKINCARE ROUTINE
AM
Start by applying a facial cleanser that cleans without being harsh and irritating the skin. Follow up with a serum that targets specific aging concerns, a cream with anti-aging benefits if your skin needs it and lastly, an effective broadband sunscreen.
PM
Alternate nights with a retinoid for anti-aging like Retinol or Retin-A to help the overall skin functionality and a good night cream or serum.
If you find that your skin feels dry when you use retinoids, feel free to incorporate a moisturizer – just make sure it's one that doesn't contain ingredients that are known to have negative interactions with retinoids like Benzoyl Peroxide (often found in acne skincare products) or AHAs (such as Glycolic or Lactic Acid).
Looking for guidance while you're figuring out your skincare game? Check out our rundown on the best night creams for your 20s and night treatments for your 30s for some options.
UNDERSTANDING YOUR SKINCARE INGREDIENT CATEGORIES
ANTIOXIDANTS
Antioxidant ingredients, including Vitamin B, C & E have cell-communicating properties, meaning they help different parts of the skin function healthier resulting in skin that looks and acts younger. This type of ingredient also helps to reduce inflammation and targets free radical damage. Check out our guide if you're interested in discovering the most effective antioxidants to apply to your face.
HUMECTANTS
Maintaining your skin's natural moisture barrier is very important for retaining your skin's hydration levels. Humectant ingredients such as Glycerin and Hyaluronic Acid help to do just that by attracting water to the skin's surface.
EXFOLIANTS
Looking for softer, smoother skin?  By removing dead skin cells, exfoliants like Glycolic and Lactic Acid help boost the penetration levels of anti-aging ingredients through the layers of the skin.
OCCLUSIVES
When it comes to anti-aging, protection is a definite must. Occlusive ingredients including plant oils help to create a thin barrier on the skin that can seal in moisture, prevent dryness as well as water loss.
PRODUCT RECOMMENDATIONS
Neova Night Therapy ($85)
Best For: Normal to combination skin
Made from an intriguing mix of skin-beneficial ingredients Neova's hydrating cream targets multiple signs of aging.  Key ingredients to look out for include, a Copper Peptide Complex that repair, as well as the antioxidants like Green Tea Extract and Vitamin E to help fight free radical damage. The formula also includes nourishing plant oils extracted from Apricot Kernels and Grape Seed Oils as well as hydration boosting Ceramides.
---
Skin Medica Retinol Complex 1.0 ($93)
Best for: Normal to combination skin
The lotion combines the anti-aging power of Retinol with  Niacinamide (Vitamin B3) to fight signs of aging including pigmentation issues, sagging as well as fine lines and wrinkles.  Other key ingredients include the antioxidants, Vitamin E and Squalane to target dryness and help sooth the skin.  If the formula's 1% level of Retinol is too strong for your skin be sure to take a look at the 0.25% ($62) and 0.5% ($78) variants.
---
Olay Pro-X Deep Wrinkle Treatment ($26.98)
Best for: Normal to combination skin
A cost-effective anti-aging night cream to target fine lines and wrinkles. The light-weight formula combines potent actives like Niacinamide (Vitamin B3) and Retinol with the hydrating benefits of Panthenol (Vitamin B5) and Peptides in order to treat multiple signs of aging.  Unlike some of the other skincare products part of the Olay family, this treatment comes housed in an opaque tube designed to minimize the exposure to air and light maximizing effectiveness by preventing ingredient degradation.
---
Jan Marini Skin Research Age Intervention Retinol Plus ($77.20)
Best for: Normal to dry skin
This award-winning formula comes packed with effective ingredients to target the multiple signs of aging. Antioxidants like Green Tea and Bisabolol extracted from Chamomile help fight free radical damage while hydration boosters including Peptides as well as Hyaluronic Acid increase the skin's ability to retain moisture. Last but definitely not least, Retinol helps increase collagen production as well as fight fine lines and wrinkles.
---
Topix Replenix AE Dermal Restructuring Therapy ($98.18)
Best for: Normal to dry skin
This emollient rich anti-aging cream provides an intense moisture boost for the skin and is formulated around the vitamins A (Retinol), E & C. Other notable ingredients include two kinds of teas (green and white) as and Embilica to help repair damage and provide antioxidant support. Finally, in order to maximize hydration look out for a ceramide, Hyaluronic Acid and Squalane.
---
Paula's Choice Resist Barrier Repair Moisturizer ($32)
Best For: Normal to dry skin
Although this fragrance-free lotion is certainly one of the most affordable on the list it still manages to deliver on the anti-aging front. The formula is particularly antioxidant-rich including Licorice Root, Green Tea as well as Pomegranate Extract to name a few.  Other notable ingredients include the moisture-boosting agents, Ceramide and Squalane as well as the potent superstar Retinol.
---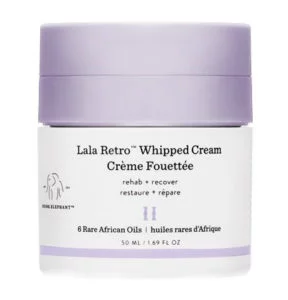 Drunk Elephant Lala Retro Whipped Cream ($60)
Best For: Normal to dry skin
This silicone-free anti-aging night cream provides an intense moisture boost for the skin through blending several plant oils including Marula, Watermelon and Passion Fruit with plant extracts such as Green Tea and Plantains. Although the formula may seem to come in a typical jar through usage of a unique pump that keeps out air and light the ingredient's anti-aging benefits maintain maximum effectiveness.
KEY INGREDIENTS IN ANTI-AGING NIGHT CREAMS
If you're looking to better understand specific ingredients to be on the look out for in an anti-aging night cream look no further then below. Before we start, it's important to note that in most cases one ingredient does not target only one aging concern as well as that the most effective anti-aging formulas contain multiple ingredients that function together in order to maximize each other's benefits.
HYDRATION BOOSTERS
Ingredients that raise the levels of moisture within the skin are key to an effective anti-aging skincare routine not only for their ability to plump but also since they help stave off multiple signs of aging including fine lines and wrinkles.
HYALURONIC ACID 
Not only does this ingredient help prevent moisture loss but since it holds up to one thousand times it's own weight in water it makes for one powerful hydrator.
---
GLYCERIN
When included at the right percentage in a formula this ingredient will help support the skin's natural protective barrier.
---
VITAMIN E
(commonly found on labels as: d-alpha-tocopherol, d-alpha-tocopherol acetate, dl-alpha tocopherol, and dl-alpha tocopherol acetate)
An antioxidant that helps fight free radical damage and also helps the skin heal.
---
PEPTIDES
Common effective peptides include: argireline (acetyl hexapeptide), copper peptides, palmitoyl oligopeptide, palmitoyl pentapeptide-3, palmitoyl tetrapeptide-7 (matrixyl-3000), and myristoyl pentapeptide.
Small proteins made up of two or more amino acids that function as moisture-binding agents to help maximize the effectiveness of cell communication resulting in skin that functions healthier.
---
SQUALANE 
An anti-irritant that is able to quickly penetrate the skin to help heal, soothe and protect.
---
VITAMIN B5 (PANTOTHENIC ACID OR PANTHENOL)
Not only does this ingredient effectively hydrate through a combination of drawing moisture from the air and binding to water molecules but it also helps maintain collagen production levels.
RADIANCE MAKERS
When it comes to skin that glows it's about the ingredients that help even skin tone through decreasing and sometimes blocking the production of melanin (pigmentation).
LICORICE ROOT EXTRACT 
Contains an active compound called "Glabridin" that helps target discoloration, under eye dark circles (when caused by pigmentation), and leads to skin that is more even toned overall.
---
KOJIC ACID
As a by-product of the Sake (Japanese Rice Wine) making process Kojic Acid helps brighten the skin by inhibiting tyrosinase's (an enzyme found in the human body) ability to actually make melanin. It should be noted that thought Kojic Acid is effective it is also particularly sensitive to degradation from light and air.
---
LACTIC ACID
Helps exfoliate to reveal a more even toned complexion all while providing a hydration boost to the skin.
REJUVENATORS
Through boosting collagen production as well as cell turnover these ingredient help skin to not only look but also act younger.
VITAMIN A (RETINOL)
Targets fine lines and wrinkles with the added bonus of combatting uneven skin tone as well as strengthening the dermis (where we have high levels of collagen, elastin and blood vessels).
---
GLYCOLIC ACID
Not only targets sun damage among other aging concerns but also helps to renew the epidermis, the surface layers of the skin through shedding dead cells leading to a complexion that has more of a glow and is also visibly softer.
---
VITAMIN B3 (NIACINAMIDE OR NICOTINIC ACID) 
By improving skin's elasticity Vitamin B3 increases hydration levels and combats the overall skin structure resulting in an improvement in sagging skin.
INGREDIENTS TO TRY TO AVOID
Research indicates that certain irritants may cause negative reactions especially for those who are more prone to them. Although it may be near impossible to avoid these ingredients completely it's good to try and pick anti-aging formulas that have them in limited quantities.
BAD ALCOHOLS
The alcohols to avoid: ethanol, SD alcohol, isopropyl alcohol, or alcohol denat
Some experts believe that certain types of "bad" alcohols commonly found in skincare products can be severely drying to the skin even leading to cell "death" and fine lines and wrinkles.
It should be noted there are other "good" alcohols that may be included on an ingredient list, such as cetyl alcohol, stearyl alcohol, and Cetearyl alcohol, that are non-irritating and can actually benefit the skin with their emollient-rich properties.
---
FRAGRANCE
May appear on labels as: parfum, phthalates, or benzene derivatives
Fragrances can trigger allergies as well as irritation and should generally be avoided most of all by those who have sensitive skin.
---
ESSENTIAL OILS
Oils to avoid: angelica root (angelica archangelica), bergamot (citrus bergamia, citrus aurantium), grapefruit (citrus x paradisi), lemon (citrus x limon, citrus limonum), lavender (lavandula officinalis) , orange bitter (citrus x aurantium)
Although essential oils often appear in formulas that have managed the percentages correctly and can be beneficial for their nutrient-rich properties, certain ones are linked to being irritating and phototoxicity (sun sensitivity).
---
SYNTHETIC OILS

May appear on labels as: Mineral Oil, Petroleum
As a commonly known carcinogen (cancer-causing) these type of ingredient are utilized as a cost-effective moisturizing agent and are linked to clogging pores.
Thinking about going a more holistic route, read our piece on the best organic and natural night creams.
A LOOK INTO PACKAGING
THE PROBLEMS WITH JARS
Although a jar maybe classic, the opening at the top allows for ingredients to be exposed to the elements,  detrimental to the ones that are air and light sensitive as it depletes their effectiveness. As an alternative consider purchasing an anti-aging night cream that comes packaged in an air-tight pump or tube.
DARKNESS
Make sure to also seek out dark colored or opaque packaging that limits light as well as always store products in a cool and dark place to prevent from heat damage.
FINAL THOUGHTS
The music of the night may make it endlessly inviting but always make sure to end things on a good note with strong skincare routine game. If your skin needs it, an anti-aging night cream can be extremely beneficial, helping to combat the signs of aging but remember when it comes to skincare a multi-product as well as treatment approach is the most effective.