Any product that does double duty is a win in our playbook – and CC creams are a skincare must-have that do exactly that. Actually, they're more than double duty. While a tinted moisturizer moisturizes and provides coverage, CC creams moisturize, provide coverage, and deliver targeted, beneficial ingredients to your skin.
Those targeted ingredients can be for any number of skin concerns, from fighting redness to blurring uneven skin texture and pigmentation issues. But if your skin concern has more to do with the visible signs of aging, you need to know what the best CC cream for mature skin is, because it takes a little more thought to color and correct older skin and target signs of aging like fine lines, wrinkles as well as pigmentation issues (like age spots, hyperpigmentation) in general.
THE BEST CC CREAMS FOR MATURE SKIN
That's a lot to look out for when you're choosing the best CC cream for older skin, so we made it easy for you… we've searched out the 12+ best you can get. Plus, we'll tell you what makes each of them a great choice.
IT Cosmetics Your Skin But Better CC Cream SPF 50+ $39
This is an award-winning CC cream that checks all of the above boxes. It's formulated with an SPF 50+ physical sunscreen that protects your skin from the sun and has been clinically tested for hydrating properties deriving from the additions of niacin, hyaluronic acid, and a host of vitamins. As an added bonus, this lightweight, water-based formula not only works wonders as a full-coverage foundation, it also contains peptides for plumping and vitamin C-packed grapefruit, orange, and lime oil to brighten a dull skin tone.
---
By Terry Brightening Serum CC Cream $91
Two of the biggest skin concerns for mature skin are pigmentation issues and dehydration. Terry has designed a CC cream for both – each available in four shades. First up is this cult-favorite brightening CC serum that looks and feels more like a luxury skincare serum than a pigmented daily color corrector. That's probably because, packed with exfoliating, revitalizing, and protective ingredients, it's doing just as much good for your skin as it is making it appear healthier.
Second in this line is the popular Moisturizing CC Cream ($87). While delivering all-day moisture to thirsty skin, this color-adapting formula provides a gentle tint for a natural look that's still capable of covering redness, sun spots, and blemishes. Perfectly passable worn all on its own, Terry's moisturizing CC creams also make an excellent primer.
---
Purlisse Youth Glow Vitamin C  CC Cream SPF 50 $38
This fan-favorite CC Cream has 4-1 benefits including moisturizing, color-correcting, brightening, as well as SPF 50 sun protection. The formula's buildable coverage (available in 4+ shades) helps hide imperfections such as dark spots, under-eye dark shadows, as well as redness. Key ingredients of the oil-free cream include the hydrating hyaluronic acid and the 15% Vitamin C that works to help brighten the skin and combat hyperpigmentation.
---
Juice Beauty Stem Cellular Organic CC Cream $39
Formulated with SPF 30 broad-spectrum zinc sunscreen, there's more than just UVA and UVB protection in this multitasking, extremely popular 5-shade vegan CC cream. It's packed with powerful antioxidants from organic apple juice and coconut oil that protect your skin from environmental aggressors, with the latter also serving as a rich and creamy emollient. Specifically formulated for mature skin struggling with tone, texture, and fine lines and wrinkles, it harnesses the hydrating properties of organic aloe vera juice, which both delivers moisture and also improves your natural moisture content.
---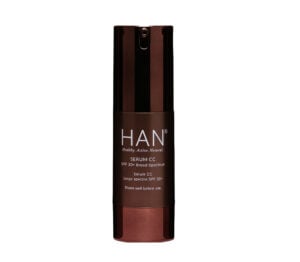 HAN Skincare Serum CC Cream SPF 30+ $32
Han's non-toxic serum-based SPF 30+ cc cream available in 7 shades provides buildable medium to full coverage. Blended from nourishing ingredients like Rose Hip Oil and VItamin E the skin-beneficial formula is extremely effective.  Key benefits include the cc cream's ability to evens skin tone, smooth, deeply hydrate, and protects skin from UV damage making it one of the perfect choices to consider for older skin.
---
Omorovicza Complexion Perfector $99
Balancing the fine line between BB and CC cream is this masterpiece by Omorovicza. A foundation, moisturizer, SPF 20 sun cream, concealer, and anti-aging serum all in one, there's nothing the complexion perfector can't do, but we'll go ahead and list it anyways. This multitasking cream protects your skin from the sun, covers pigmentation flaws, blurs lines and wrinkles, and even plumps your skin with hyaluronic acid. This is one tool everybody with mature skin should have in their skincare toolbox.
---
Erborian CC Cream Radiance Color Corrector Perfector $22
Equally as beneficial for tired skin as it is for mature skin, this CC cream can all but replace your moisturizer – that's how much hydrating vitamin E you'll find in the formula. But perhaps the best characteristic of this CC cream is its ability to blend with your skin tone to provide amazing coverage. Called the Magic Foundation, you buy a formula based on light, medium, or dark complexion and the tone-matching does the rest.
---

Sappho New Paradigm CC Cream $38
The first ingredient on this label is aloe vera juice, which tells you that that's what you'll find the most of in this CC cream. And that star ingredient not only makes this a featherweight formula but one that's extremely hydrating as well soothing and anti-inflammatory. If you have aged skin combined with skin that's sensitive, this is a go-to that can work on its own or as a primer underneath your favorite foundation.
---
Clinique Moisture Surge CC Cream $39.50
Clinique has made great strides with their formulas in recent years, removing all parabens, sulfates, fragrances, silicones, and, in the case of this CC cream, even non-vegan ingredients. What your left with it a lightweight, oil-free, hydrating formula that's perfectly buildable. You can use it as spot coverage on red or dull patches, moderate coverage when mixed with a moisturizer, or full coverage when its used on its own and worn under foundation.
---
Kerstin Florian Luminizing CC Creme $46
Skincare that fixes skin imperfections is one thing, but skincare that helps your skin heals itself is a whole other. Infused with botanical and plant-based ingredients like St. Paul's Wort and Dong Ling Cao, this CC cream gives you sheer coverage while it helps to improve collagen uniformity and reinforce the structure of your skin. That means that it covers your age spots and smooths your skin while providing it with what it needs to start healing on its own.
---
Supergoop! CC Screen 100% Mineral CC Cream SPF 50 PA++++  $39
At the heart of all Supergoop! products are the mineral actives that protect against harmful UVA and UVB rays. And in their quest to protect your skin from the sun while keeping you comfortable, they've developed incredibly lightweight formulas that are supercharged with nourishing, hydrating, and brightening ingredients. Their CC cream, for example, is infused with free-radical fighting Red Seaweed Extract, rich-in-vitamin-C apple extract, and softening sodium hyaluronate.
---
Armani Prima Color Control Glow Moisturizer $55
There are three things you need to know about this CC cream: Moringa Oleifera Extract, SPF 35, and Liquid Mirror pigments. Moringa Oleifera is a long-lasting ultra-hydrator, SPF 35 infused with vitamin E protects your skin from sun damage and environmental aggressors, and those liquid mirror pigments cover everything from blemishes to enlarged pores. These three ingredients form a single-step color correction and skin strengthening.
WHAT TO LOOK FOR IN THE BEST CC CREAM FOR AGING SKIN
If you're looking for the best CC cream for women over 50, then there are some formulas you'll want to avoid and others you'll want to embrace.
#1 STAY AWAY FROM MATTIFYING FORMULAS
Although these do provide more coverage, they're better for uneven skin tone or blemishes. When we're talking about CC cream for mature skin, you need something that's not so packed with pigment.
That's because, although your skin will benefit from soaking up the moisturizer, it'll leave behind pigment, and that pigment settles into fine lines and wrinkles. The effect will be to make those lines looked more pronounced or cakey.
#2 LOOK FOR LIGHTWEIGHT FORMULAS
Look for formulas that are labeled as 'hydrating' or 'satin-finish'. Your skin tends to get drier as it matures, so you need these water-based formulas that are lighter and packed with ingredients that deliver deep hydration, like botanical oils or hyaluronic acid.
#3 SPF IS A MUST
We should all be protecting our skin with an SPF but as you get older and your skin gets thinner, that's even more important. Look for a CC cream with at least an SPF of 30.
#4 ANTIOXIDANTS, PLANT EXTRACTS & OTHER ANTI-AGING INGREDIENTS ARE A BONUS
The allure of a CC cream is that they're triple-duty: they moisturize, cover, and are packed with targeted skin-beneficial ingredients. The targeted ingredients you want for mature skin are things like vitamin E for hydration and antioxidants, vitamin C for brightening age spots, and peptides that plump and rejuvenate.
#5 PICK THE RIGHT SHADE
Yes, your CC cream will provide coverage, but you want that coverage to be the right shade or it'll be very obvious that you're wearing it. As you get older, your skin tends to get paler, so you're likely going to have to switch up your shade. Look for a warmer shade with fewer pink undertones or combine two or more CC creams to find the shade that counteracts that pale complexion.
FINAL THOUGHTS
CC creams offer the best of three worlds: hydration, coverage, and ingredients that target specific skin conditions. When it comes to the best CC cream for mature skin, those targeted ingredients should be ultra-hydrating, full of vitamins and nutrients, and packed into a lightweight formula that includes an SPF. If you're not sure where to start, each of these top 7 best CC creams for older skin will put you on the path to a rejuvenated complexion.