As far as oils go, it doesn't get any more essential than Red Raspberry Seed Oil (ok, it is a carrier oil – but it's still amazing!). Also known as Rubus Idaeus Oil, it is made from the pressed seeds of .you guessed it …Raspberries. The earthy and fresh scent is still light and only serves to compliment the many reasons of why its so good for the skin inclusive of the way it moisturizes and its ability to protect against certain kinds of UV rays.
HOW DOES RED RASPBERRY SEED OIL BENEFIT THE SKIN?
Thanks to the high concentration of antioxidants as well essential fatty acids (like the Omega 6 one, Linoleic Acid) and other key nutrient-rich components, Red Raspberry Seed Oil provides a number of rejuvenating benefits like improving elasticity, increasing moisture levels, boosting cell regeneration and even helping to smooth out lines.
COMBATS AGE CONCERNS  
The antioxidants contained in Raspberry Oil are known to encourage collagen production, stimulate cell repair and reduce the appearance of damaged skin. Vitamin's E (Tocopherols) and A (Carotenoids) are two of these Antioxidants: one treats the oxidative stress caused by free radicals which contribute to the signs of aging while the other encourages cell repair and replaces collagen and elastin.  Then there is also the Ellagic acid that can't be found in many other topical skincare ingredients. This antioxidant helps reduce the degeneration of collagen – preventing fine lines and wrinkles from even forming.
PROTECTS AGAINST ENVIRONMENTAL DAMAGE
 One study shows that Red Raspberry Seed Oil helps to protect skin from harmful UV rays (to an extent). According to this research, this oil provides SPF protection against UVB rays. Although it may be UVA rays that are more directly linked to premature skin aging, UVB rays contribute to damaging your skin through sunburns. As an SPF, Raspberry Seed Oil both scatters and absorbs the rays as they reach your skin.
Explore our in-depth guide that covers the ways UV rays damage skin, best practices for protection and more.
HELPS PROBLEM SKIN
Raspberry Seeds have among the highest levels of Alpha-Linoleic Acid when compared to any other fruit seed oil. This natural acid has strong anti-inflammatory properties that can help with everything from acne and breakouts to eczema as well as psoriasis.
BOOST HYDRATION LEVELS
If you struggle with dehydrated skin – as so many of us do – the phytosterols in Raspberry Oil help keep skin hydrated by improving its ability to retain water. Instead of treating dehydration from the outside-in like some moisturizers, this oil works from the inside-out by decreasing the amount of water that your body loses throughout the day.
If you're trying to figure out what makes a good day cream check out our in-depth run-down.
HOW TO PICK OUT OILS FOR THE SKIN?
Below are some things to note, when it comes to picking out a good oil for your skin:
NATURAL VS SYNTHETIC
 Avoid synthetic oil like mineral oil, paraffin, and silicone in formulas and look for natural ones that are extracted from vegetables, fruits, nuts, and seeds. Synthetic oils lack any nutrients and some may even be carcinogenic.
PROCESSING
Cold-pressed oil is the best method of extracting oil but cold extraction will also work. Avoid over-refined plant-based oil as they lack a lot of the nourishing elements they need to work their magic.
FRAGRANCE
Fragrance can irritate your skin – and that applies as much to natural oils as it does to synthetic ones. Look for formulas that have limited fragrance and be particularly careful in the case of Citrus and Lavender: they're linked to phototoxic effects on the skin like discoloration and rashes.
PRESERVATIVES
Preservatives don't always have to be a bad thing! That's especially true when it comes to oils that tend to go bad fast. Vitamin E is an antioxidant that offers many skin benefits and it's also known to extend the shelf life of botanical-based oils.
THINGS TO NOTE ABOUT RED RASPBERRY SEED OIL
If you're interested in DIY, when Red Raspberry Seed Oil is blended with other ones it works wonders. Depending what consistency you're looking to achieve, consider mixing Red Raspberry Seed Oil in different ways.
When combined with Rosehip Oil like the one from  Trilogy ($17.50) or Passion Fruit Oil (Maracuja) such as the variant from Tarte ($48) you get a lighter formula. If you're looking for something richer, try mixing Raspberry Seed Oil with Argan Oil like Acure's version ($6.99) or even Marula Oil from the likes of Drunk Elephant ($78).
To learn know more about facial oils and the skin types they work best with, check out our article.
Although Red Raspberry Seed Oil has been linked to helping protect against the sun's UVB rays, you should still be using a broad-spectrum sunscreen to ensure your skin is getting the levels of protection it needs.
If you're interested in finding out what types of sunscreen we recommend explore our in-depth guide.
RED RASPBERRY SEED OIL SKINCARE PRODUCT RECOMMENDATIONS
 If you're hesitant about using Red Raspberry Seed extract in its oil form but are still curious about its benefits you can also find it in cream and serums. Below are some of our favorite formulas to consider:
Levin Rose Red Raspberry Seed Oil $14
This red Raspberry Seed Oil from Leven Rose gives you all of the benefits in its purest form. Not only is the formula cold-pressed and unrefined to maintain all of its nutrients value but the Meeker red Raspberries used by Leven Rose are also sourced responsibly.
---
Topix Replenix AE Dermal Restructuring Therapy $98.18
Replenix's rejuvenating formula counts Retinol among its list of skin-replenishing ingredient to tackle aging concerns like UV damage, fine line, and wrinkles. Peptides work along with Antioxidants like Red Raspberry Seed Oil as well as Green and White Tea Extracts to support collagen production while Hyaluronic Acid aids hydration.
---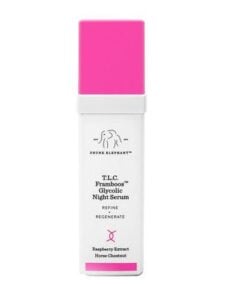 Drunk Elephant TLC Framboos Glycolic Night Serum $90
Drunk Elephant's fragrance-free serum works as you sleep to treat uneven skin tone and texture as well as improve other visible signs of aging. The AHA's Glycolic and Lactic Acid exfoliate dead skin cells while the BHA Salicylic Acid dissolves dirt as well as grime that results in problem skin like blackheads. The formula also includes antioxidant-rich plant extracts like Red Raspberry, Green Tea as well as Cactus in order to maximize the rejuvenating benefits.
---

Sunday Riley Juno Hydroactive Celluar Facial Oil $90
Sunday Riley's serum blends a multitude of skin-beneficial oils to target the signs of aging. Red Raspberry, Black Cumin, Blackberry and Blueberry oils combine to promote collagen production, boost cell regeneration and help fight the oxidative stress caused by free radicals.
BEST PRACTICES
Oils should be used more as a serum than a lotion or cream. Place 2-4 drops into the clean palm of your hand and gently rub your palms together to warm the oil. Press and pat the oil onto your face and neck in order to maximize the amount that your skin absorbs.
In a bid to minimize the risk of negative reactions, do a patch test on a small area of your skin to see if you're allergic at least 24 hours before using all over your face.
Curious about discovering the perfect oil for your body then look into our in-depth article.
RASBERRY SEED OIL STORAGE
Experts say that you can keep this oil anywhere from 1-2 years depending on where you keep it. If you store your oil in a cool, dry environment away from sunlight, Raspberry Seed Oil gives you the most for your money as far as shelf life goes. In fact, consider refrigerating your oil once it has been opened.
FINAL THOUGHTS
Plant-extracts like Red Raspberry Oil make for a great component in all kinds of different skincare formulas. In fact, if you're interested in DIY, you can combine the oil with other beneficial ones to make your own unique blend. The naturally occurring Antioxidants and Essential Fatty Acids have a powerful effect on skin health in terms of collagen, cell regeneration and even protection from free radical damage.