There are plenty of makeup guru's out there that teach you how to highlight, blend and contour. But these full-on makeup routines can take an enormous amount of time for those of us who aren't trained MUA's. So, if you're looking for just a little extra glow and color without a half-hour makeup routine, then where do you turn?
This is where bronzers come in. Bronzers may be the ultimate tool for giving your cheeks a healthy, radiant glow without the semi-permanence of a self-tanner or the damaging effects of a suntan or tanning bed. They add the shimmer of a day spent on the beach and enhance your skin tone without completely masking it.
Like all face makeup, bronzers have the potential to do more harm than good due to the ingredients that are commonly used in their production. But thanks to the increasing availability of natural and organic products, bronzers can offer everything you need in terms of tan without compromising your health.
To help you navigate this relatively new world of organic and natural makeup, we've listed our favorite best organic and natural bronzers. Read more about what they leave out, what they add in, and what they'll do for your features in the descriptions below.
14+ BEST NATURAL AND ORGANIC BRONZERS
Below is our rundown of some of the best organic natural bronzers on the market.
Jane Iredale Bronzer $44
Available in four different shades to suit any skin tone, these natural pressed powder bronzer's double as a lip contour and all-over face highlighter. Jane Iredale bronzers contain multiple colors in one for an array of translucent and subtle tones that give your cheeks, nose, chin, forehead (and lips) a sun-kissed look that can't be achieved with one solid bronze shade. As an added bonus, pine bark extract and pomegranate extract are infused into each bronzer to protect your skin from free radicals. Pair these refills with a  reusable rose gold compact ($18)  in order to protect them.
---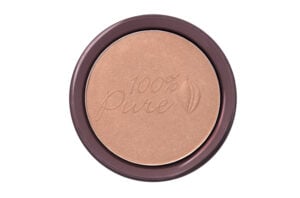 100% Pure Cocoa Pigmented Bronzer $37
It's amazing what you can achieve by harvesting the many different fruits and veggies that nature provides. For instance, this natural bronzer taps into the pigmenting power of berries, chocolate, peach, tomatoes, coffee and various other fruits and made-by-nature items. Delivering a soft, matte finish that warms the skin tone for light, fair and medium complexions, it's also infused with vitamins C and E for skin benefits that go beyond enhancing your glow. Formulated without parabens or phthalates, all of the ingredients in this bronzer are 100% natural and 100% face-friendly.
---
Dr. Hauschka Translucent Bronzing Tint $27
If you're looking for subtlety, look no further. This gentle, natural bronzing tint blends with your skin tone for the slightest hint of color that's perfect for those who prefer the au-natural look. At the same time, the lightweight formula diminishes the appearance of blemishes and other skin irregularities while softening the skin with ingredients such as olive fruit oil, witch hazel and peanut oil. For extra hydration, you can add the tint directly to your favorite Dr. Hauschka Moisturizer.
---
W3LL PEOPLE Organic Bio Bronzer Baked Powder $21.99
The less ingredients the better and with only 8 EWG-verified non-toxic ingredients in this finely milled loose powder bronzer, you know exactly what you're getting. Using freshwater pearl and pure mineral pigments, this organic bronzer achieves a matte, tan hue that also absorbs excess oil and softens any fine lines (instead of getting caught in them and making them appear deeper than they are). Vegan and cruelty-free, you know you're not only protecting your health by using this complexion-enhancing makeup but also the furry friend we share our earth with. If loose powder isn't your preference or you need a more adaptable color for your skin tone, try W3LL PEOPLE's cream version ($23.99) in its easy-to-apply stick form instead.
---
RMS Beauty Organic Buriti Bronzer $28
Some of you stay away from creams because a lot of them are heavy and you can literally feel them clogging your pores. Not this natural bronzing cream though! It goes on light, it's non-greasy and gives a sheer, shimmery finish that doesn't mask your natural skin tone but definitely enhances it. Buriti oil is the key ingredient for dry or dehydrated skin: it's rich in vitamin E and infuses your skin with the moisture it needs while giving your skin a golden-bronze glow.
---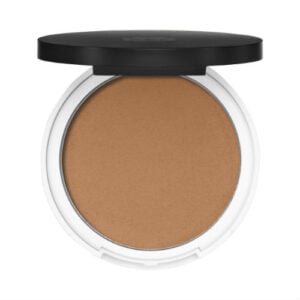 Lily Lola Pressed Bronzer $26
Lily Lola's popular pressed bronzers come in 3 shades from light to dark giving skin a natural sun-kissed look. The fragrance-free formulas are made without talc and are also vegan-friendly as well as cruelty-free. Notable ingredients include nourishing VItamin E and antioxidant-rich Pomegranate oil and even antibacterial Tea Tree oil.
---
Vapour Bronzing Powder $38
The luminescent glow that this bronzer provides is achieved with natural mineral pigments that work with the lighting wherever you happen to be. Available in a warm, golden brown and a rich, spicy brown, these bronzing powders are blendable and buildable and they've been designed to suit any skin tone and any skin type. Indeed, all skin types will appreciate the additions of soothing amino acids and hydrating squalene oil.
Alternatively, if you prefer a more moisturizing formula consider Vapour's popular Bronzing Stick ($36).
---
Pai The Impossible Glow $39
Pai's bronzing drops not only help to deeply hydrate skin but also provide it with a radiant glow. The fragrance-free formula was developed to be used alone resulting in a deeper bronzer or mixed in with your favorite moisturizer. Key ingredients to be on the lookout include Hyaluronic Acid known for its moisture-boosting properties, the protective nourishing sea kelp, and vitamin-c rich lemon water.
---
Kosas The Sun Show Moisturizing Bronzer $34
Made in three shades, what Kosas' best-selling baked bronzer offers is more than just a warm, beautiful glow. It says it right there in the name of the product, actually: it's a moisturizing bronzer. That is, it delivers as much moisture as it does pigment, and it does this with meadowfoam seed oil, shea butter, and a number of other ingredients to quench your skin's thirst.
---
Han Skincare Han Bronzer $18
HAN has developed three shades of their talc-free pressed-powder bronzer. They've used oil-absorbing rice powder in place of talc and added organic cocoa powder to this already clean natural, vegan formula. Lightly scented with that same organic cocoa, this bronzer is appropriate for use on all skin types, and we do mean all: dry, mature, sensitive, blemish-prone, combination, and normal can all safely use this bronzer without fear of caking, creasing, or clogging.
---
Westman Atelier Beauty Butter Powder Bronzer $75
We're obsessed with Westman Atelier luxury clean products because they're just as much skincare as they are makeup. Take their bronzer for example. It's formulated with Cupuacu butter for a hydration boost, cocoa seed butter for nourishment and hydration support, mango seed butter to protect and preserve the moisture barrier, and biomimicry pigment technology that mimics your natural skin and provides an anti-pollution shield. Made in two natural terracotta tones, these rich bronzers do as much for the health of your skin as they do for your glow.
---
Alima Pure Loose Powder Bronzer $24
If natural is the name of your game then make sure you check out Alima Pure's Bronzer loose powder which gives you a hint of summer glow all year long. The gluten-free formula comes in 3 shades (light,medium & dark) is not tested on animals and is made without known skin irritants inclusive of dyes, parabens as well as sulfates.
---
Tower 28 Bronzino Illuminating Bronzer $20
Tower 28 has an extensive no-no list in terms of the ingredients they allow into their products. That means no fillers, fragrances, animal by-products, or potentially toxic chemicals. They're also committed to creating the best makeup for sensitive skin types, avoiding any allergens, comedogenic ingredients, or gluten. Available in five shades, their award-winning bronzer is a testament to this ethos. It's made with 100% ethically mined mica from the USA, mango butter, and green tea extract.
Discover more in-depth guide, if you're interested in learning more about the best natural and organic makeup.
WHY CONSIDER ORGANIC AND NATURAL BRONZERS
You'd be surprised to learn just how many bronzers contain harmful and/or toxic ingredients. It's actually the norm rather than the exception.
We've gone ahead and researched the most problematic ingredients found in conventional, big brand bronzers so you can check them against the ingredients of what you're currently using. Armed with that knowledge, it's time to decide if you should be tossing your bronzer and switching to something a little more organic.
Keep in mind that most conscious brands still include some non-organic ingredients as certain ones (like mineral colorants) won't be available in a "certified organic" form.
PARABENS
The most widely used preservative in cosmetic products, the European Commission on Endocrine Disruption lists this ingredient as a Category 1 priority substance. Sound scary? It should! There is evidence they interfere with hormone function, cause reproductive toxicity, and some studies have found traces of parabens in breast cancer tissue.
PHTHALATES
The danger that this group of chemicals present to our bodies is becoming more and more widely known and many brands are leaving them out of their formulas (kudos for a small step in the right direction). Like parabens, they are disruptive to the endocrine system and this can lead to developmental, reproductive, and neurological problems. Phthalates are used in bronzers to help them hold color and fragrance. Speaking of fragrance…
FRAGRANCES
This tricky "ingredient" can actually contain up to 200 different chemical ingredients! The unknown groups of chemicals that create the scent of your product only need to be labeled as 'fragrance' thanks to the protection they're given under trade secrets. Some bronzers contain a light fragrance and unless you know what's making your bronzer smell good (like essential oils or plant-derived essence) you should avoid any fragrant bronzer.
QUATERNIUM-15
Most commonly found in pressed powders (like a pressed powder bronzer), quaternium-15 is potentially carcinogenic. At the very least, it is known to cause skin sensitivities and irritation.
TALC
You'll find talc in a lot of common bronzers. Some talc contains asbestiform fibers (commonly known as asbestos) and some talc does not. They've closed entire buildings down to have asbestos removed due to its harmful and toxic effect on human respiratory function. And, while not all talc is contaminated with asbestos, there's no way to tell – and that's not a chance we're willing to take.
Bronzer is intended to give you a perfect sun-kissed radiance. They make it look like you've spent a week on vacation without ever having left your dark apartment. But is there an alternative?
OTHER BRONZING OPTIONS
Besides a highlighter, which we also suggest going organic with, not really. The only other potential alternatives would be to actually spend some time in the sun, visiting a tanning bed, or using a self-tanner.
Exposing your skin to the sun itself or even a quick visit to the tanning salon are definite no-no's. They can cause irreversible, permanent damage to your skin and they aren't worth the risk. Of course, you can't always avoid the sun. But when you do have your skin exposed for longer periods of time, you should be using a broad-spectrum sunscreen that stops damaging UV rays from reaching the surface of your skin.
Self-tanner can be a messy endeavor and, as a rule, not easy to remove. They're also full of more chemicals than any bronzer or highlighter out there, so you'd simply be swapping one batch of toxic ingredients for another. There are, however, organic spray tans out there… though, they cost a pretty penny. But in a pinch, this alternative can give your face and body a natural-looking glow without any concern for what it's doing to your insides.
FINAL THOUGHTS
There's no need to sit in the sun for hours or spend an equal amount of time contouring and applying layers of makeup to give yourself a glow. Looking like you just got back from a fun-in-the-sun vacation can be as easy as applying a simple bronze highlight to your cheeks.
But like all face makeup, bronzers can contain harmful or toxic ingredients: some are hidden by labels like "fragrance" and others give us such long, scientific names so we can't really know what they or their potential effects are. To stay on the safe side of sun-kissed skin, switch over to a natural or organic bronzer that won't just give you the color and radiance you desire, but also imbue your face with skin-beneficial and protective ingredients.