What if we told you that all the time you took trying to make your skin look perfect with hours of endless YouTube tutorials and piles of brushes and makeup might actually be contributing to the very imperfections you're trying to cover up? Your skin is the largest organ of your body and your pores absorb every substance you lather on. Why then, is our face makeup formulated with chemical ingredients that are not just irritating, but potentially harmful and toxic to our bodies? We know you've taken years to perfect your makeup routine and you have favorites that you can't just do without. But synesthetic ingredients can cause everything from dryness, redness and photosensitivity. In fact, they might be even more invasive than that: research has shown that some of the common chemicals in cosmetics are carcinogenic, neurotoxic, and disruptive to our endocrine system.
Of course for every door that closes another opens. And behind door number two are organic and natural alternatives. Organic and natural skin products are made of plant-derived and naturally occurring ingredients. They may include some synthetic ingredients but it's often in far lower concentrations than traditional makeup without compromising the quality of the makeup. As science tells us more about the chemicals we once thought to be harmless, the demand for safe products that are good for our skin is rising and we can help you understand why organic and natural products are a good investment.
WHAT'S IN FACE MAKEUP THAT YOU WANT TO AVOID?
Cosmetics aren't required to conduct safety assessment which means that toxic and harmful substances make their way into the makeup you put on your face without you having any idea. Listed ingredients like "fragrance" can be masking a host of chemicals that you wouldn't' otherwise recognize. When it comes to your concealer, foundation, blush, bronzer and self-tanner, there are a number of things you should keep an eye out for:
PARABENS
This is the most commonly used preservative in cosmetics: you'll find it in blush, bronzer, foundation and concealer. Parabens easily penetrate your skin and they've been linked to cancer and type II diabetes. Once in your body, they can mimic estrogen and interfere with reproduction, the nervous system as well as the immune system. Because there's been a lot of light shed on the effects of parabens, a lot of companies have started using phenoxyethanol instead, but it has the same negative effects.
PHTHALATES
This toxic chemical is linked to cancer, type II diabetes and also disrupts the endocrine system. This can cause developmental, reproductive and neurological damage. Yet phthalates are used to plasticize our makeup products so they are better able to hold color, like in concealers, bronzers, blush, and self-tanner.
OCTINOXATE
This unstable substance is linked to endocrine disruption and problems with the thyroid. It can be found in foundation.
OXYBENZONE
In order to absorb UV light, self-tanners have this chemical in them: it causes skin irritation and allergic reactions, to say the least. It may also be an endocrine disruptor that has negative effects on hormone activity.
LEAD
We've known for a long time how dangerous lead is to the human body but traces can still be found in foundations. It's a neurotoxin that can cause infertility, miscarriage and extreme hormonal imbalances. For obvious reason, lead isn't used as an added ingredient. It makes its way into makeup by way of contamination during processing. A good way to avoid this is to buy products produced in small batches or foundations colored with fruit and other natural pigments.
POLYETHYLENE GLYCOLS
Used to thicken, soften and gelatinize cosmetics, PEG's used in foundation, concealer and self-tanner. These compounds are made from petroleum and can easily be contaminated with ethylene oxide: a carcinogen that may also cause damage to the nervous system and human development.
BUTYLATED COMPOUNDS (BHT, BHA)
These preservatives are used in foundation and skin allergies are the very least of what they can contribute to. BHT's and BHA's are known endocrine disruptors associated with developmental and reproductive problems as well and organ toxicity.
SYNTHETIC COLORS
Things with pigments like foundations, concealers, blush, bronzer or self-tanner might be formulated with artificial colors. If you see anything starting with FD&C or D&C on the label, these are synthetic colors derived from petroleum or coal tar. These skin irritating chemical are linked to ADHD in children and are potentially carcinogenic.
NATURAL AND ORGANIC CONCEALER
Concealers are an important part of your makeup routine. When you're just running to the grocery store and not going all-out with the makeup, concealer is often the quick-fix you're looking for when you don't want to look like you've just rolled out of bed. Such an oft-used product should be one formulated with ingredients that are good for our skin and yet they are one of the face makeup products prone to contamination and commonly formulated with the toxic things we've mentioned. We've picked out a bunch of natural and organic concealers that protect your skin while helping you achieve the coverage you need in your day… today.
Vapour Organic Beauty Illusionist Concealer $24
Vapour's organic makeup uses mineral-rich pigments instead of artificial colors and 70% of their formula contains nourishing, organic ingredients that are great for your skin, including: sunflower oil, castor oil and vitamin E. This cruelty-free concealer comes in 8 different shades ranging from very light to dark. It's the perfect size when you're on the go and the light formula also contains antioxidants and essential oils to maintain skin health and balance while providing coverage for fine lines, large pores and blemishes.
---
Juice Beauty Phtyo-Pigments Perfecting Concealer $25
This highly pigmented concealer provides medium to full coverage and features organic ingredients purchased locally on the West Coast of the US. Antioxidants such as vitamin C and E protect your skin and diminish fine lines while other skin-beneficial ingredients like coconut oil, castor oil, jojoba oil and grapeseed oil provide a flawless finish. In five different shades, this concealer diminishes discolorations and leaves your complexion radiant.
---
W3LL PEOPLE Bio Correct Multi-Action Concealer $22.99
This creamy concealer is vegan, cruelty-free and formulated with a number of natural ingredients like aloe leaf juice, algae extract, flower extract and coconut oil as well as antioxidants like pomegranate seed oil and green tea. Ranging from fair to medium dark, this concealer is specifically for use under the eyes to cover dark circle and hyperpigmentation. It's EWG certified for non-toxic ingredients and health safety and it'll reduce the appearance of those tired eyes.
---
100% Pure Fruit Pigmented Brightening Concealer $26
Pigmented with fruit extracts this brightening concealer (that comes in 5 shades) performs its best work on dark circles and minor imperfections. It's free of parabens, vegan and cruelty-free, and it comes in five shade ranging from medium to medium dark. This certified organic concealer has green tea, green coffee, vitamins, antioxidants and rosehip oil to protect and condition your skin while it provides the perfect amount of coverage.
---
RMS Beauty "Un" cover Up $36
With seven different shades to choose from, ranging from light to dark and even considering undertones, RMS Beauty's concealer has a blend of organic and natural ingredients that maintain skin health, hydration and balance. Use this concealer to brighten your complexion under the eyes and mask acne, blemishes and age spots leaving your skintone and texture smooth and even.
---
Glow Skin Beauty Under Eye Concealer $32
Natural ingredients like jojoba and safflower seed oil repair and hydrate the skin at the same time as this concealer gives you a healthier looking complexion. A cruelty-free makeup line, Glo is ideal for covering dark circles, hyperpigmentation, skin conditions and blemishes. Three variations of two match-to-match hues that are complimentary for blending will gives you full coverage in just the right color for your skin tone.
---
Ecco Bella FlowerColor CoverUp $17
This concealer is not only cruelty-free it's also free of chemical and fragrances, making it perfect for sensitive skin and those looking for a concealer using mostly organic ingredients. This concealer is easy to travel with and straight-from-the-earth ingredients like chamomile oil sooths the skin while jojoba and vitamin E add protection and repairing benefits.
---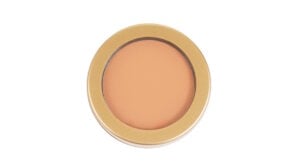 Jane Iredale Enlighten Concealer $29
A clean mineral makeup ideal for puffiness, free radical damage, dark circles, hyperpigmentation and aging skin, Enlighten's concealer provides full coverage and uses all vegan ingredients as well natural ones. It's also loaded with vitamins C and K that brighten and protect your skin, antioxidants like green tea that help fade discoloration, and active botanicals as well as fruit extracts.
NATURAL & ORGANIC FOUNDATION
Foundation is exactly that – the foundation to everything else that your applying to your face. There's no overstating the importance of a good foundation, but perhaps it's time we redefine our idea of what constitutes "good". As the base of your makeup routine, your foundation is soaked up by your pores, so it's important it contains skin beneficial ingredients and substances that will nourish your skin instead of unsafe and toxic chemicals. Luckily, for every bad product out there, there's an organic or natural alternative.
100% Pure Super Fruits Healthy Foundation $47
You won't find any parabens or non-vegan ingredients in this foundation but you will find things your skin loves like vitamin C and E, aloe vera and other antioxidants. The cream-to-powder formula seamlessly blends in with your complexion and finishes velvety and smooth. It's great for all skin types from acne-prone to sensitive and also offers protection from harmful UVA and UVB rays. Check out  The Phyto-Pigments Flawless Serum ($44), available in 10 shades if you're looking for another option.
---
Jane Iredale Liquid Minerals A Foundation $52
A mineral foundation with natural, vegan and cruelty-free ingredients like oat, willow, radish and white tea, this foundation diminishes fine lines and wrinkles as well as skin imperfections. Hyaluronic acid provides deep hydration to reduce dryness and flaking and aloe reduces redness for an even complexion of any shade – and we mean any because there are 13 shades to choose from!
---
Vapour Organic Beauty Atmosphere Soft Focus Foundation $50
The airless pump bottling keeps this concealer fresh without any toxic preservatives and turns this concealer into a weightless consistency that goes on smooth and leaves an even finish. If you struggle with oily skin, this foundation won't clog pores and natural ingredients like vitamin E, sunflower oil and camellia seed oil nourish your skin. Available in 9 shades that cover a broad spectrum, this brand also offers a stick form ($44) of its foundation.
---
Nu Evolution Complete Coverage Foundation $47
You'll get long lasting and full coverage with this foundation that's naturally pigmented and free of parabens, artificial dyes, fragrances and talc. A host of natural ingredients nourish your skin, leaving it healthier and fresh looking. It's made in the USA and considers undertones to match your skin tone perfectly.
NATURAL & ORGANIC PRESSED POWDER FOUNDATION
If you prefer pressed powder foundations to the cream or stick variations, there are plenty of organic and natural options. You can pack a lot of potent and effective naturally-derived ingredients in a small compact.
Jane Iredale PurePressed Base Pressed Powder Foundation $42
Pair Jane Iredale's  reusable compact (18$) with PurePressed Base pressed powder foundation which uses recyclable and eco-friendly ingredients and is formulated with SPF 20 to protect your skin from sun damage. It's a sheer matte foundation that comes in a vast array of shades and contains antioxidants that protect your skin while giving you a nice, light coverage.
---
Eminence Organic Skin Care Antioxidant Mineral Foundation $38
An mineral foundation that leaves a matte finish and will cover all of your imperfections, Eminence is a natural and organic high quality made in Hungary. Rather than cause irritation or breakouts, it's formulated with retinol to help control acne, damage and fine line and wrinkles. Free of parabens as well as animal testing and animal-derived ingredients, the mineral foundation ($38) is available in a warmer, darker honey beige.
---
Glo Skin Beauty Pressed Base Powder Foundation $48
 Glo's pressed foundation is paraben free and sulfate free but packed with vitamins and antioxidants. As a buildable foundation, it offers maximum coverage for a luminous complexion in fifteen different shades. If you suffer from excess oil, acne, hyperpigmentation or sun damage the natural ingredients in this foundation will soothe and nourish your skin while maintaining skin health and balance. If you prefer a loose powder ($46), Glo has you covered in nine different shades with all the same benefits.
NATURAL & ORGANIC BLUSH
Think you won't be able to find your perfect blush in its organic or natural form? Blush that is free of chemicals and synthetic ingredients are available in all shades and all forms: pressed, cream and stick, you've got all of your face variations that are not only safe for your skin, but actually beneficial and healthy.
Vapour Organic Beauty Aura Multi-Use Blush Stain $36
More than just a blush, this stain goes on like a cream but finishes in a natural-looking flush that is shine-free. This blush comes in four different shades and is formulated with organic ingredients that provide everything you need in a blush plus a little extra – vitamin E and beeswax work together to protect your skin and moisturize.
---
Jane Iredale PurePressed Blush $30
This vegan pressed blush is formulated with antioxidants and minerals and free of chemical dyes as well other ingredients that irritate your skin and are toxic to your body. It's multifunctional too: use it on your eyes, lip, and cheekbones to define, highlight or just provide a soft-wash of any of the ten colors it's available in.
---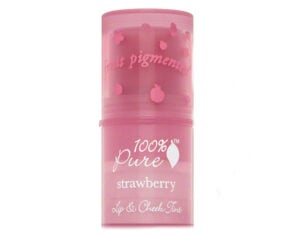 100% PureFruit Pigmented Lip and Cheek Tint $26
A double-function lip and cheek tint that's not tested on animals, vegan and free of parabens. Instead of artificial pigments that are potentially harmful, all five of these tins are pigmented with rich, plant-based extracts that look sheer and natural. Also on the roster of skin-beneficial ingredients are cocoa and shea butters that hydrate and condition, and cranberry, grape and pomegranate extracts that provide antioxidant properties to fight free radicals and protect your skin.
---
 W3LL People Nudist Multi-Use Stick $23.99
A lip, cheek and eye color this versatile all-in-one comes in three shades and EWG verified for safe and non-toxic ingredients. Free of chemicals and fragrances, completely vegan and non-GMO, there's plenty of natural and organic in this formula that your skin loves to soak up: castor, avocado and olive oil, cocoa butter and aloe vera, just to name a few of the soothing stuff you'll find in this one convenient makeup stick.
---
Ilia Beauty Multistick $34
Another multi-purpose stick that's great for a sheer and non-greasy eyeshadow, lip color and blush. With five rich pigments and some unique color options is made with organic ingredients that are used for everything from tint to skin protection and hydration.
ORGANIC BRONZER
We all know how damaging the sun can be for our skin despite how lovely a bit of color can bring to your cheeks. That's where bronzer comes in: it gives you that little extra glow and definition you need on your cheekbones without having to soak up any UVA or UVB rays. And while you're avoiding those harmful rays, you might also want to consider avoiding the chemicals found commonly in bronzers and switch over to some of these organic and natural options.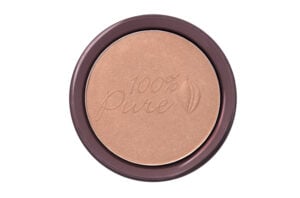 100% Pure Cocoa Pigmented Bronzer $37
For mature, acne-prone or sensitive skin, this bronzer gives you a sun-kissed complexion with natural pigmenting ingredients like cocoa powder and mica. You won't find any parabens or sulfates in this bronzer, but you will find a matte finish for light to medium complexions as well as vitamins C and E. Organic and natural, this bronzer only needs to be applied once per day for a golden bronze hue that will finish your look.
---
W3LL PEOPLE Bio Bronzer Powder $21.99
You'll only find EWG verified non-toxic ingredients in this loose powder bronzer that soaks up excess oil and softens fine lines. This bronzer is formulated with minimal ingredients—it's hypoallergenic, vegan, fragrance-free and won't clog your pores. This dark and warm bronzer leaves a sheer finish and it's also available in a cream variant ($23.99).
---
Vapour Organic Beauty Solar Translucent Bronzer $36
For something a little different than you're used to, this cream-stick bronzer is offered in three different shades and is both organic and certified cruelty-free. Activate the product using the warmth of your skin and the antioxidant-rich formula will blend perfectly and leave you with a glow that doesn't only look healthy, but actually is.
---
Ecco Bella Bronzing Powder $30
Some of the most toxic stuff we find in makeup comes in the form of preservatives – but with this preservative-free bronzer, there's no worries. Vegan and beneficial especially for sensitive skin, this bronzer comes in two shades that give you a perfect sun-kissed radiance.
---
RMS Beauty Buriti Bronzer $28
This shimmery, cream-like bronzer fights dryness and dehydration and works well on every skin type. Infused with buriti oil from Brazil, you'll notice a natural-looking radiance from the moisturizing properties of this vitamin E-rich oil. RMS uses natural and organic ingredients and offers a contouring bronzer ($28) with all the same nourishment but just a bit more punch and definition.
ORGANIC MAKEUP REMOVER
If you've decide to put safe makeup on your face, it follows that you should remove it with an equally safe makeup remover. Organic and natural makeup removers are non-irritating, non-greasy and light. They leave your skin feeling hydrated and soothed and they do just a good a job if not better than their harsh chemical counterparts.
Derma E Natural Eyebright Eye Makeup Remover $12.60
This lightweight makeup remover is free of parabens, sulfates, mineral oil, lanolin, GMO's and non-vegan ingredients. Chamomile and cucumber extract calm and soothe making it good for all skin types and it will even remove waterproof mascara, longwear eyeliner, transfer-proof lipstick and long-lasting face makeup.
---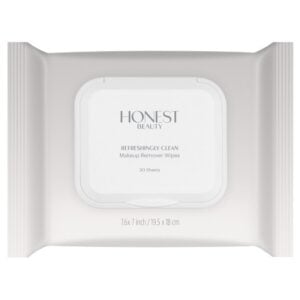 Honest Beauty Refreshingly Clean Makeup Remover Wipes $10
Wipes give you a little more abrasion for removing tough-to-clear makeup but these wipes are soft and safe for all skin types including mature and acne-prone skin. Remove dirt, excess oil and the most stubborn face makeup with natural ingredients like olive oil and grapeseed oil all the while keeping skin hydrated and refreshed with aloe vera and antioxidants.
---
One Love Organics Vitamin B Enzyme Cleansing Oil + Makeup Remover $42
This two-in-one face cleaner and makeup remover does double duty to keep your skin fresh, clean and free of excess oil. This gentle and lightweight oil helps restore the skin's natural pH balance and is rich in vitamins, antioxidants and fatty acids that keep your dry, dehydrated skin nourished. Organic and natural, this convenient cleaner and makeup remover is cruelty-free too and it can be used on your neck and face to clean your face of the days' leftover makeup.
Checkout our in-depth overview if you're looking to focus more on natural or organic makeup for the eyes.
THINGS TO LOOK OUT FOR
An important thing to keep in mind when buying organic or natural products is that the degree to which it is free of synthetic ingredients and chemicals is dependent on its label: there is a difference between natural, all natural, organic and certified organic. There are a number of products that claim to be all-natural that contain synthetic ingredients, although they generally use less of them. There's no regulation of the label "natural" or "all-natural" so you have to do your research to be 100% sure of what you're getting.
FINAL THOUGHTS
Armed with the knowledge that absolutely everything you put on your skin is absorbed into your body and your bloodstream, it's terrifying to think of all the consequences that can potentially arise from putting harmful, toxic or unknown substances on your skin. Although it's getting there, the makeup industry hasn't quite caught up with these revelations and there are still plenty of products out there that contain chemicals and synthetic ingredients that cause far more harm than good. But the demand for safe alternatives has led to a landslide of organic and natural face makeup that is readily available, affordable and not only comparable to your traditional options, but actually better for your skin's health and balance.