Eyeliner is the easiest of ways to make it look like you're trying, without actually doing much work. Lining your lids with pencil and liquid liners help create depth and definition but, like eyeshadow, they come into direct contact with one of the largest gateways to your bloodstream: your eyes.
What's more, for a real pop you usually apply liner right to the inside of your eyelid, making it almost 100% definite that it's going to seep into your eyes. You know that goopy buildup in the corner of your eye that always seems to be there by the end of your night out? Chances are that's heading right into your blood.
Despite the fact that eyeliners almost always end up in our blood, and so too do the chemicals that go into making them, there are no regulations around what can and cannot go into their formulas. Like all of our cosmetics, this means that brands can get away with using potentially harmful and toxic chemicals in our eyeliners to protect their bottom line, but not your health and safety.
BEST NATURAL AND ORGANIC EYELINERS
We've gone ahead and recommended some of the best natural and organic eyeliners that do their best to avoid many of the problematic ingredients found in mainstream formulas.
Ilia Beauty Gel Eyeliner $26
Love the finish of a gel liner but don't quite have the precision to apply it cleanly? Then we have your answer. This gel liner has saturated pigment and extreme definition all wrapped up in the shape of a pencil liner for ultimate control. Water-resistant for the best in smudge-proofing, it can be blended immediately after use for a diffused look or left as is for a bold finish.
Alternatively, consider Ilia Beauty's very popular Liquid Eyeliner ($28).
---
Jane Iredale Eye Pencil $15
Pigmented naturally without compromising on long-lasting wear, this fan-favorite eye pencil by Jane Iredale is so soft and delicate it won't tug on the skin, even if you decide to blend it (which you totally can!). Available in three different shades of black, two shades of brown, a blue, and a grey, Jane Iredale has all the traditional liner colors covered. You'll find that the conditioning ingredients like shea butter and macadamia seed oil make all-day wear not only possible but comfortable, and with a little vitamin E added into the mix, your lids are extra-protected.
Jane Iredale also has a very popular powder eyeliner ($24) as well as liquid eyeliner ($21) that both come in a number of shades.
---
Rituel de Fille The Black Orb Enigmatic Eyeliner $29
A cream eyeliner gives you more options in terms of how to apply it. You can create bold and sharp lines, blend it for a smoky and diffused look, or even use it on your lips. That's right, the ingredients are safe enough for use on your lips but also powerful enough to achieve a semi-matte, deep black pigment that's long-lasting and dramatic.
---
Juice Beauty Phyto-Pigments Precision Eye Pencil $20
For those of us with less than a steady hand, this precision eye pencil makes for easy application that will define and contour your eyes in ways you only thought possible in makeup tutorials. It has a soft tip and creamy, soft texture which help to guide it across your skin without any pull and with total control. Made in three traditional shades, the Phyto-Pigmentation is bold but can also be applied lightly for a more subtle effect. Jam-packed with organic and natural ingredients, including its preservatives and pigments, the long-lasting formula protects your skin from environmental aggressors with vitamin C and E.
---
W3LL PEOPLE Hypnotist Eyepencil $17.99
If you tend to have skin on the sensitive side then you likely find that eyeliners cause you more irritation than they are worth, but this EWG certified non-toxic eye pencil is safe for all skin types including skin prone to sensitivity and allergic reaction! Four highly pigmented shades offer the color you're looking for as well as the nourishment your skin needs. Botanical ingredients like jojoba oil help create its creamy texture and smooth finish while keeping your lids hydrated.
Alternatively, look into their popular and affordable organic-based liquid eyeliner ($16).
---
Zuzu Luxe Liquid Eyeliner $15.60
For those of you interested in a liquid eyeliner then look no further then Zuzu Luxe's natural option.  Not only does the formula come in an assortment of colors (purple, black, blue, green, etc.), but it's made without gluten and is also vegan.  Other key benefits include its quick-drying nature and ability to provide long-lasting wear while delivering precision.
---
Jillian Dempsey Natural Khôl Eyeliner $20
We're all about products that can be used in more than one way and this luxury liner hits all the right notes as both an eyeliner and, when smudged and blended with its built-in smudging tool, as an alternative to eyeshadow. Organic ingredients like jojoba oil, shea butter, and marula oil not only provide nourishment that your lids will love, but they also make it waterproof without the toxic chemicals that usually come along with that label. For a skin-beneficial natural liner that's also a two-in-one, you can't find a better deal!
---
RMS Vintage Cake Liner $24
For something a little old-school, try this vintage cake liner by RMS that offers a bold black definition and something a little different in terms of application. Using a thin, short-angled brush you can create a fabulous wing with this vintage liner or grab a thicker brush to apply it as a matte shadow on your darker days. Safe for all skin types and formulated to have the same high pigmentation on all skin tones, the mica in this liner also reflects light particles to fade any imperfections and restore a radiant complexion to your lids.
---
Vapour Organic Beauty Eye Definer $20
Another high-performance two-in-one, this eyeliner comes with a soft sponge tool on one end for blending your liner into a beautiful smoky eye. A little easier to wipe away than the waterproof counterpart, Vapour Organic Beauty brings us a certified organic eyeliner that's full of the vitamins and minerals your delicate skin needs and wants: antioxidant-rich marula oil, rich shea butter, and moisturizing jojoba oil soothe skin and calm any irritation you get with your conventional eyeliner.
---
Kjaer Weis Eye Pencil $30
Danish-born makeup artist Kristen's namesake luxury brand Kjaer Weis is known for high quality.  In fact, their certified organic eye pencil has become a cult favorite within the fashion crowd.  Made with skin-beneficial ingredients like coconut oil and naturally occurring mineral pigments, the eyeliner glides on smoothly and is available in 4 shades, including black, purple, blue, and brown.
---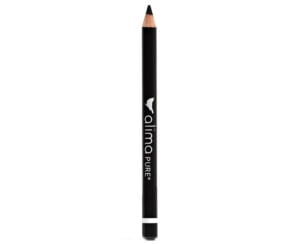 Alima Pure Natural Definition Eye Pencil $18
This highly pigmented eyeliner, available in 3 shades (carbon black, cocoa brown, and a shimmering taupe) is known for its long-lasting performance. The fragrance-free formula is vegan and isn't tested on animals. Standout ingredients include the nutrient-rich meadowfoam oil, the soothing chamomile extract, and nourishing mango seed oil. The eye pencil should not irritate the eyes as it is made without known irritants including silicone and parabens.
---
Hush+ Dotti Organic Gel EyelIner $26
This water-resistant gel eyeliner has become a fan-favorite for its ability to last the day.  The non-toxic formula works well for those with sensitive eyes and blends nourishing ingredients like grape seed and coconut oils.  Eyes are left defined with a natural look that can be built upon for more intensity.  Extra points for the container being made from recycled glass (with a plastic cover).
---
Era Perez Organic Jojoba Eye Pencil $21
Available in 8 colors that include forest green and copper, you've got to love any makeup product that actually has the name "jojoba" right there in the name. That tells you that your eyeliner is going to be soothing and moisturizing, not to mention easy to glide across even the most sensitive of eyelids. Oh, and did we mention that jojoba is thought to stimulate lash growth?
WHY AN ORGANIC AND NATURAL EYELINER MAKES SENSE
We can't stress enough how important it is to be mindful of the makeup you use on your eyes and the way you use it. We said it once and we'll say it again: your eyes provide direct passage to your bloodstream.
The thin skin around your eyes and lids makes it more sensitive than other parts of the body and allows ingredients to absorb faster. Plus, makeup tends to migrate. When it makes its way to the ocular film and meibomian gland, absorption into the bloodstream happens rapidly (as does contamination and destabilization of the film and glands).
So what's the big deal? The big deal is that some of the chemicals commonly found in eyeliner are really harsh and even more toxic.
Like other makeup, eyeliners have many of the standard toxic ingredients in their formulas, such as parabens and butylated compounds. But because they also tend to be waterproof and come in deep black hues, they have their very own unique blend of harmful ingredients that you need to look out for.
Here are 9 common ingredients in eyeliner and the reasons why you need to watch out for them:
PARABENS
As the most widely used preservative in cosmetics around the world, parabens, of course, are found in eyeliner. They are used to extend the shelf life of makeup products by preventing the growth of bacteria, mold, and yeast. Parabens have a devastating effect on hormones: they have estrogen-mimicking properties that are closely tied to an increased risk of breast cancer and have even been found in samples of breast cancer tissue. At the very least, they can cause skin irritation, contact dermatitis, and rosacea. There are also studies indicating that their reaction with UVB rays can lead to skin aging – so while you think you're doing good for your skin, anti-age creams using parabens are actually having the opposite effect.
BUTYLATED COMPOUNDS (BHT and BHA)
These preservatives are commonly found in cosmetics but even more so in your eyeliner. Although prohibited in the EU due to its endocrine-disrupting properties and effects on hormonal function, BHA still finds its way into non-EU produced cosmetics under the ingredient 'fragrance'. BHT, on the other hand, has been shown to mimic estrogen in the same way as parabens do, leading to hormonal disruptions as well as the growth of tumors. Both BHT and BHA are bioaccumulative, so you're body has no way to get rid of them and they build up over time. Due to a lack of evidence though, we really don't know what long-term health consequences this can have.
SYNTHETIC DYES
What gives us the range of colors and shades in eyeliners? Synthetic dyes, of course. Many dyes are made up of up to 20 chemically refined petroleum by-products, acetone and coal tar, and there's a host of problems associated with them. At their least, they cause sensitivity, redness, itching and irritation. But at their worst, they contain heavy metals and get stored in the body's fatty tissues and organs. Look out for FD&C and D&C on your ingredients list, as well as the following two dyes that are specific to eyeliner: p-Phenylendiamine and carbon black.
p-PHENYLENDIAMINE
Specific to eyeliner as well as mascara, this type of coal tar dye helps create the blackest blacks. It's sometimes listed as CL followed by a five-digit number on the ingredients label. This chemical ingredient is toxic to our respiratory systems and can be contaminated with heavy metals like nickel and chrome. Heavy metals in and of themselves are neurotoxins that can cause brain damage while nickel, in particular, has been identified as a human carcinogen.
CARBON BLACK
Another item that is unique to eyeliner and mascara formulas due to its ability to create the very deep black pigments needed in these products, carbon black is a cancer-causing agent that can also cause organ toxicity. It's made from the incomplete combustion of carbon-based products like petroleum oil and it's used in the production of everything from tires to printer toner. As more information comes out about the toxicity of carbon black and its possible effects on human health, brands have begun to re-label this ingredient. Look out for: channel black, pigment black 6, pigment black 7, acetylene black, froflow, arogen, arotone, arovel, arrow, atlantic, and black pearls. These are all unsafe to use in high quantities (i.e. in your eyeliner every day).
ETHANOLAMINE COMPOUNDS
While this ingredient may not be harmful on its own, it has been found to contain contaminants known as nitrosamines which are carcinogenic chemicals. Avoid products that list DEA, TEA, and MEA in its ingredients.
BAK
Particular to eyeliner, mascara, and makeup removers, benzalkonium chloride is a preservative listed under various names: benzalkonium chloride, quaternium-15, or guar hydroxypropyltrimonium chloride. There is a lot of evidence to suggest that BAK is toxic for your eyes and their epithelial cells in particular. Your epithelial cells are the cells that keep dust, water, and bacteria from entering your eye. They also help the cornea absorb and distribute oxygen and cell nutrients properly. In short, BAK disturbs these cells that are essential to the healthy functioning of your eye.
PRIME YELLOW CARNAUBA WAX
This ingredient is used to stiffen your eyeliner and make it waterproof. While having a smudge-free wing at the pool all day sounds enticing, this toxic ingredient clogs the oil glands in the eyes in order to achieve its immovability. This is one of the prime causes of dry eye disease, which can cause constant eye irritation, inflammation and even scarring on the surface of the eye. In addition, the production of this ingredient is extremely harmful to the ingredients as it's derived from Brazilian palm trees.
FORMALDEHYDE-RELEASING PRESERVATIVES
Preservatives are used in cosmetics to stop the growth of bacteria and increase shelf-life, but some release formaldehyde as they break down. Formaldehyde is used in the production of fertilizer, plywood, and paper. Beyond causing sensitivity and irritation in the eyes over time, formaldehyde is also carcinogenic. Look out for quaternium-15, DMDM hydantoin and urea.
EYELINER BEST PRACTICES
Besides avoiding the aforementioned ingredients and switching out your liner for one of our recommendations above, keep in mind these other best practices to protect your eyes.
Avoid Tightlining
Tightlining or water-lining is when you apply eyeliner along the inside of your eyelid. This practice blocks the oil glands that secrete oils to protect your cornea. If you do this day in and day out, you can cause the meibomian glands to atrophy. You may also be unknowingly introducing bacteria into your eye, which can cause infection. You don't have to stop doing it altogether – just avoid doing it on a daily basis.
Avoid Waterproof Eyeliner
Eyeliner that doesn't smudge when it comes into contact with water is appealing, but the chemicals used to make makeup waterproof are often toxic and tend to block the meibomian gland ducts. On top of that, these eyeliners are difficult to remove, which means you have to use even harsher products on your eyes when you want to wash them off.
Use Hypoallergenic Cosmetics
If you've already got sensitive eyes, you need to be even more careful about what you're putting on them. Look for hypoallergenic cosmetics which are designed to be less irritating and often contain gentler ingredients.
Throw Away Old Makeup
The longer you have an eyeliner, the more time it has to accumulate bacteria and fungus. It's recommended that you throw away your liner every three months, to reduce the chance that bacteria or fungus is transferred into your eye.
Stay Away from Glitter
Glitter tends to flake and then migrate into the ocular structure. This is one of the most common causes of corneal irritation and infection, and it can also exacerbate dry eyes.
Know the Symptoms of a Bigger Problem
If you have eye pain, sensitivity to light, blurred vision, swelling, or discharge on a regular basis, it's time to book an appointment with your ophthalmologist. These are symptoms of a corneal abrasion or infection that requires medical attention.
Curious about learning more?  Explore our in-depth guide to all things organic eye makeup including eye-shadow, mascara, and more.
FINAL THOUGHTS
Eyeliners are made for bringing deep, black, defining contours to your eyelids and they are often waterproof to achieve long-lasting wear. It's these two common properties that make them some of the worst culprits in the use of toxic and harmful ingredients, and many of these aren't often found in other cosmetic products. But for every problem, there is a natural and organic solution.
When you choose natural and organic alternatives, you're choosing an eyeliner that doesn't contain these harmful, toxic ingredients (and those listed are only the tip of the iceberg). Instead, natural and organic products swap out the synthetics for ingredients that are derived from the earth and that actually benefit your skin. And that's especially important when we're talking about the delicate skin around your eyes.
The 13 alternatives we've reviewed will give you the same look you've always had with none of the harm to your body.