The more we learn about what goes into our eye makeup, the more we find ourselves checking labels and realizing just how common potentially dangerous ingredients are… and it's freaking us out!
The hazards of common ingredients found in eyeliner, mascara, eye shadow, eyebrow pencils and gels, and eye makeup remover range from irritation and sensitization all the way up to hormone disruption and even cancer.  So, our question is: if we are aware of the negative effects these things have on our bodies, then why are they allowed in everyday items like our makeup?
Well, it may surprise you to know that there are very few laws and regulations around testing the safety of your cosmetic products and the specific ingredients that are used to make them. Scary, right?
In lieu of any guarantee that what you're putting on your eyes is in any way safe, arm yourself with the knowledge of what you should be avoiding and what the alternatives are. Look no further than this little guide on natural and organic eye makeup.
WHY GO NATURAL AND ORGANIC FOR YOUR EYE MAKEUP?
We'd like to start off by acknowledging that we understand the difficulty in switching to cleaner makeup. Not only can it be tough on the wallet to toss away all your cosmetics and start fresh, but it's equally as tough to replace the products you know and love. But let us make a case for why switching out your shadows, liners, mascaras, and eyebrow makeup is a good place to start.
The skin on your eyes is some of the most sensitive skin on your body. It tends to be thinner and, therefore, an easy entrance for toxic ingredients to enter your bloodstream and your body as a whole. So there's that.
Even more concerning is the fact that your eyes are a direct entrance into your body, and particles of cosmetics tend to migrate after application. Skincare products, for example, can migrate up to one centimeter after application. When particles of your cosmetics make it onto the ocular tear film or into your meibomian glands (which happens a lot with tight lining), they've got direct access to the rest of your body.
Not to mention that toxic eye makeup ingredients hold the potential to destabilize and contaminate the protective film on your eye. That may cause irritation and discomfort as well as damage to the ocular surface and the glands.
INGREDIENTS TO AVOID IN EYE MAKEUP
Eye makeup can contain all the toxic ingredient offenders you'll find on the dirty dozen list (i.e. parabens, phthalates, fragrance, PEGs), but eye makeup like mascara and eyeliner have their very own host of toxic ingredients that we should be avoiding.
Below is a comprehensive list of all the harmful items found specifically in your eye makeup as well as the reasons they are potentially unsafe for use on your body.
Cross-check some of your oft-used eye makeup with the below list of ingredients and you might find yourself unpleasantly surprised.
PHTHALATES
Used to help products like eyeshadow and eyeliner hold color, it's fairly common knowledge that phthalates are unsafe and toxic. This ingredient is an endocrine disruptor that can lead to developmental, reproductive and neurological damage.
LEAD
They don't even put this stuff in paint anymore but it can still find its way into your eyeshadow or eyeliner through color additives. Lead is a proven neurotoxin and though it's not used an actual ingredient, it can get into makeup through contamination.
QUATERNIUM-15
When this preservative breaks down it releases formaldehyde gas which is classified as a human carcinogen and causes skin sensitivity and irritation. More commonly you find quaternium-15 in =mascara and eyeliner but there are natural alternatives to its use such as rosemary, honey, teat tree, vitamin E and grapefruit extract.
PEG'S
Also known as polyethylene glycols, this ingredient is derived from petroleum and used to thicken and gelatinize items like mascara and eyeliner. PEG's themselves aren't the problem – but they are often contaminated with ethylene oxide, a human carcinogen that is also harmful to the nervous and development systems, as well as 1,4-dioane, which may also be carcinogenic.
BUTYLATED COMPOUNDS (BHT, BHA)
Another preservative often found in eyeliners and eyeshadows, these compounds cause skin allergies and are disruptive to the endocrine system. They've also been linked to developmental, organ and reproductive toxicity. Evidence also suggests that they may promote the growth of tumors. Preservatives like aspen bark or vitamin E are natural alternatives to this dangerous additive.
PARABENS
You used to be able to find this in almost everything – it's the most commonly used preservative in cosmetics across the board. But since it's become known that parabens mimic estrogen and disrupt the reproductive, nervous and immune systems, a lot of companies have started to go paraben-free. However, it's been replaced with an equally dangerous ingredient known as phenoxyethanol. In the case of your eye makeup, it's best to avoid both.
P_PHENYLENEDIAMINE
Your eyeliner and mascara might include this item in their ingredient lists. It's a coal tar dye sometimes listed as CL followed by a five-digit number. It should be avoided due to the fact that it's a respiratory toxicant that can be contaminated with heavy metals.
CARBON BLACK
Carbon black is abundant in eyeliner and mascara. It's linked to cancer and organ toxicity and it can appear as any one of the following: channel black, pigment black 6, pigment black 7, acetylene black, froflow, arogen, arotone, arovel, arrow, atlantic, and black pearls.
ETHANOLAMINE COMPOUNDS
Ingredients with the letters DEA, TEA and MEA are all ethanolamine compounds that might be contaminated with nitrosamines: a carcinogenic chemical. You'll find these most commonly in eye liners.
BENZALKONIUM CHLORIDE (BAK)
This eyeliner and mascara preservative is specifically toxic to your eyes – it has a negative impact on the epithelial cells of the eyes which keep out dust and bacteria and allows your cornea to function healthily. Look out for this ingredient under the auspices of: benzalkonium chloride, quaternium-15 or guar hydroxypropyltrimonium chloride.
PRIME YELLOW CARNAUBA WAX
Primarily found in waterproof mascara, this wax clogs oil glands in the eyes which can eventually lead to dry eye disease.
ALUMINUM POWDER
Anything that has a heavy metal in the name is probably not going to be good for your eyes. But this ingredient is often used to give eye makeup its hue. It's a neurotoxin that has also been associated with organ toxicity and can be recognized as aluminum, LB Pigment 5 or pigment metal.
HEAVY METALS
Again, heavy metals should not be components in anything you put on your skin. Yet nickel and chrome are found in almost all types of makeup; especially in green or metallic eyeshadows. Nickle and chrome are linked to brain damage, while nickel specifically has been associated with lung cancer and other respiratory damage.
SYNTHETIC DYES
Synthetic dyes are what give eye makeup a huge range of colors and shades, but they're among the worst ingredients in eye makeup. Most synthetic dyes are a combination of 20 or more chemically refined petroleum by-products, acetone, and coal tar. They can cause sensitive skin, redness, itching, and irritation, they get stored in fatty tissues and organs, some contain heavy metals, and others are linked to cancer. Anything marked by FD&C or D&C is a dye, but the most controversial synthetic dyes are yellow #6, Red #40, and Green #3.
TALC
Talc is used in eye makeup to add softness and to dilute pigments. Sometimes, it just acts as a filler. Either way, it's a bit of a controversial ingredient. Talc itself is considered safe for human use but, where it's mined from the earth, asbestos often occurs nearby. The problem is when talc becomes contaminated with asbestos, which is a known human carcinogen. Cosmetic talc is supposed to be tested and asbestos-free, but if you like to walk on the safe side, talc-free is the way to go.
NATURAL AND ORGANIC EYELINER RECOMMENDATIONS
Eyeliner is one of the worst eye makeup products in terms of how many toxic and harmful ingredients go into preserving it, coloring it and giving it its different textures. Check out these organic or natural alternatives that avoid everything from carbon black to ethanolamine compounds.
Jane Iredale Eye Pencil $15
This pencil liner available in 7 shades is a made by Jane Iredale, a line which tests their products for heavy metals and uses natural preservatives in lieu of parabens and phenoxyethanol. Ingredients like shea butter and macadamia oil condition the eye and natural pigments replace any toxic coloring additives. And if pencil liner isn't your preferred choice, Jane Iredale also offers a liquid liner ($21), available in 2 shade that goes through the same stringent product testing as all of their products.
---
W3LL PEOPLE Hypnotist Eyepencil $17.99
An eyeliner free of pretty much all the things you don't want in your makeup including parabens, PEGs, fragrance, lead and more. This verified non-toxic and chemical free eyeliner is formulated with nourishing botanicals like jojoba and it's also vegan and cruelty-free. It's smooth and creamy so it's great for that smoky eye effect in any of the four colors available.  If liquid is more of your style, check out Well Peoples waterproof liquid liner ($17.99) that is free of fragrance, parabens, and sulfates.
---
RMS Vintage Cake Liner $24
This cake liner should be used with a wet liner brush for the perfect smoky eye but it can also be used as a matte shadow. Designed for all skin tones, many of its ingredients are certified organic, including mica, vitamin E and cocoa seed butter. There's plenty of antioxidant power in this vintage liner but no fragrances or sulfates.
---
Jillian Dempsey Natural Eyeliner $20
Natural conditioners such as organic jojoba oil, organic shea butter, and marula oil are not only nourishing to the skin but they also make this liner smooth and waterproof. Use the built-in smudger to soften your look. Available in either jet black or rich brown.
---
Juice Beauty Phyto-Pigments Precision Eye Pencil $20
Charcoal, brown and black variations are pigmented with phytopigments instead of conventional, toxic color additives in this natural and organic eyeliner pencil from Juice Beauty. It's vegan and cruelty-free and uses mostly organic ingredients, including the potent antioxidants vitamin C and E as well as the soothing properties of shea butter and daisy seed extract. Bonus: this pencil liner doesn't require sharpening and it will remain soft and creamy to the last swivel.
NATURAL AND ORGANIC EYESHADOW
Your eyeshadow is the accessory that pulls all of the tones of a perfect outfit together. But those bright, metallic and smoky notes can be accomplished without any of the extra preservatives and color additives that are so harmful for your skin. Have a look at these organic and natural shadows with hues galore and none of the stuff you want to avoid.
NATURAL AND ORGANIC EYESHADOW RECOMMENDATION
For a little twist on the traditional, this eye makeup is a creamy and sheer eyeshadow that is buildable and hydrating. It's glossy but blends easily and it's enriched with softening ingredients like jojoba oil and coconut oil. In 8 different colors on a mostly nude palette, this eye polish is certified organic and free of chemicals.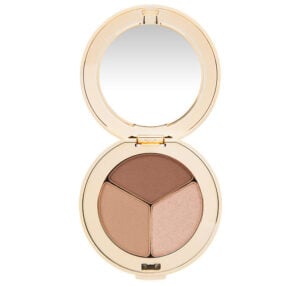 Jane Iredale Purepressed Eye Shadow $30
These trio's (available in 8 different color combinations) contain three expertly coordinated eyeshadows that go on smooth to contour your eyes for either day or night. Free of all the toxic ingredients that are commonly found in makeup, including fragrance and parabens, Honest Beauty's products are not tested on animals, hypoallergenic and natural. A complementary tutorial on how to combine the neutral brown, rich espresso and champagne shimmer shades is helpful for even the least contouring-inclined.
Jane Iredale also offers individually pressed eyeshadows ($22),  in 33 colors,  everything from Red Carpet to Rose Gold.  These are mineral based and they can be used wet or dry. Pine Bark Extract makes this shadow non-irritating for even sensitive skin and with 33 highly pigmented, long-lasting shadows to choose from, you can find a color to work with any skin tone too.
Finally, if you can't decide which Jane Iredale shadow to go with,  consider one of the 4 eyeshadow kits, ($59), made up of 5 shades that are also formulated with the minerals and botanicals extracts you come to expect from the brand.
---
Echo Bella Eyeshadow $14.50
The flower wax found in pedals is infused into this shadow, giving it a long-lasting finish that you can wear all day. Other natural ingredients like soothing aloe and green tea extract replace the toxic preservatives often found in makeup, and Ecco Bella is cruelty-free and uses safe and essential ingredients in their makeup. You can find this eyeshadow in ten unique colors.  The refillable casing ($9.99) holds two shades and is sold separately.
---
Well People Nudist Multi-Stick $23.99
Well People takes healthy cosmetics seriously and this Multi-Use Stick is no exception: it's certified to be free of all the chemicals you usually find in makeup but it's also hypoallergenic, vegan, GMO-free and non-comedogenic. Full of healthy, organic ingredients, you can use this as a blush, lip stain or eye color and it's small enough to carry in even the tiniest of clutches for a quick little touch-up. In three colors, this full coverage makeup stick is champion of the quick-fix.
---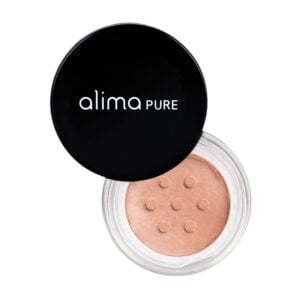 Alima Pure Satin Matte Eyeshadow $14
For those who try to steer clear of products containing animal ingredients as well as harmful toxins, this loose powder shadow is not only vegan but it's also formulated without fragrance, parabens, phthalates or sulfates. Available in 16 shades, it's a gentle mineral makeup that can be soft or bold, depending on how you build it.
---
Vapour Organic Beauty Mesmerize Eye Color Treatment $28
You can use this creamy eye treatment on lids that need a little help in the hydration department. In four nude colors, what makes this eye makeup unique is its age-fighting, organic ingredients like vitamin E and chrysanthemum, which are both anti-inflammatory and have positive effects on fine lines and wrinkles that are especially visible in your eye area. It works either on its own as a matte eyeshadow or as a primer for mineral eyeshadow.
NATURAL AND ORGANIC MASCARA
If you found yourself trapped on a desert island and you could only have one piece of makeup, what would you choose? We don't know about you, but if there's one makeup item we couldn't live without, it would be mascara. Something about thickening and darkening your lashes just makes you look awake. But that thickening and darkening are where you'll find most of the toxic ingredients in your mascara. Luckily there are a lot of brands out there that offer the same volume and intensity with natural and organic ingredients that we don't have to think twice about.
NATURAL AND ORGANIC MASCARA RECOMMENDATIONS
100% Pure Fruit Pigmented Ultra Lengthening Mascara $26
Avoiding chemical pigments is one of the first things you want to do when going natural with your mascara and this ultra-lengthening version does just that. Using 100% Pure Fruit pigment, this formula has other great ingredients like vitamin E and provitamin B5, as well as antioxidants like green tea. Featuring beeswax in place of yellow carnauba wax, this mascara works well on sparse lashes thanks to oat and wheat proteins which help strengthen and lengthen your natural lashes.
---
Jane Iredale Purelash Mascara $22
This water-resistant formula was developed specifically for sensitive eyes and is available in black and brown. Free of lacquers, shellac, and any petrol-based ingredients, Jane Iredale's mascara contains Seaweed Lipids and Panthenol to condition and nourish your lashes in order to promote growth and durability naturally. For even lengthier results, use their lash extender ($19) as a primer before applying your top coat. It allows you to use less mascara and can also be used to shape your eyebrows and keep them in the perfect place.
---
W3LL PEOPLE  Expressionist Mascara $24.95
This award-winning mascara comes from Well People and keeping with their chemical-free philosophy, this mascara is free of the usual suspects: petroleum, coal tar, and aluminum. Natural and organic ingredients ensure this mascara is safe for use on sensitive eyes and its mineral pigments leave your lashes big and bold. Also formulated with palm and sunflower botanicals to keep your lashes nourished and healthy, this pro-black gives you definition without any clumping.  IF you're looking for other colors check out the Pro Brown ($26), Pro Blue ($26) or even the Pro Purple ($26).
---
RMS Beauty  Expressionist Mascara $24.95
Give your lashes more volume with this natural mascara that use beeswax instead of carnauba wax and is infused with organic oils and plant waxes. Star ingredients like Vitamin E and shea butter make this mascara creamy, nourishing and bold, while at the same time light enough to be cleared away at the end of the day with RMS raw coconut cream.
NATURAL OR ORGANIC EYEBROW PENCILS, GELS & FILLERS
Whether you go big and bold or you prefer a more natural, subtle look, adding a little extra to your brows can give you definition that really adds to your face. Gels and liners tend to contain some harsh chemicals but we've weeded through the options to bring you a few that you can trust to achieve brow perfection naturally.
ORGANIC OR NATURAL EYEBROW PENCILS, GELS & FILLERS RECOMMENDATIONS
100% Pure Long Last Brows $25
From blonde to medium brown, this tinted brow gel helps shape and fill the gaps in sparse eyebrows or eyebrows that just need a little extra umph. Pigmented with natural ingredients like black tea leaves and cocoa beans, this gel is a water-resistant conditioner for your brows that you can wear all day. It's also buildable so you can take your brows to all kinds of depths while keeping them hydrated and healthy.
---
INIKA Certified Organic Brow Pencil $22
This certified organic brow liner comes in three shades and gives you precise control over the shape of your brows. Not only is it safe and free of chemical additives, colors or preservatives, it's also vegan and halal, which isn't something you find often. With a soft and smudge-free finish, this simple brow pencil can be carried anywhere so your brows are always on point.
---
Jane Iredale Retractable Brow Pencil $22
This retractable brow pencil (available in 3 shades) never has to be sharpened and its dual-tip has an expert shaping spoolie on one end to help you blend to your hearts content. For more intense color and coverage, especially if you're looking to cover grays, try Jane Iredale's conditioning eyebrow gel ($21) available in 4 shades instead.
They also offer an eyebrow kit ($35) that comes in 2 shades with pressed powder and a brow wax that's the perfect travel size for when you need to hold your brows down while you're on the go.
---
Honest Beauty Brow Filler $15
A dual-ended brow filler to shape and define your brows: one end holds the color while the other has a precision brush to tame your hair and blend your shade so it looks soft and natural. The creamy eyebrow filler is formulated with jojoba, beeswax and coconut oil, so it's conditioning for your brows and promotes skin balance.
---
100% Pure Green Tea Fiber Brow Builders $22
Safe and non-irritating for all skin types, from dry to sensitive, this gel makes your eyebrows appear thicker and more full. With antioxidants like green tea and vitamin E, this brow makeup protects the skin against free radicals while it strengthens your hair naturally. The list of skin-beneficial ingredients is too long to list so check it out for yourself!
ORGANIC EYE MAKEUP REMOVER & ORGANIC EYE MAKEUP REMOVER PADS
Just as important as using chemical-free makeup for your overall health and wellbeing is using makeup remover that's free of toxic chemicals. Why make the switch to natural and organic makeup without ensuring what you use to remove that makeup is also safe? Check out these makeup removers for natural and organic alternatives that put the protection of your skin before their bottom line.
ORGANIC EYE MAKEUP  REMOVER & EYE MAKEUP REMOVER PADS RECOMMENDATIONS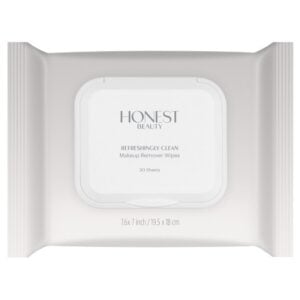 Honest Beauty Refreshingly Clean Makeup Remover Wipes $10
Made without parabens or synthetic fragrances, these makeup wipes are the perfect fit for your purse so you can touch up your eye makeup at any time of the day. For use on your whole face and not just your eyes, these wipes are infused with a rich, emollient blend of grape seed and olive oils to keep your skin well balanced, hydrated and healthy. They're so effective at removing makeup that you don't even need to rinse after use.
---
Vapour Clarity Organic Makeup Removing Cleansing Oil $32
This organic oil not only removes your makeup, it also removes excess dirt and oil to cleanse your skin without stripping away moisture. Infused with vitamin E for its antioxidant properties and ability to protect your skin from free radical damage, this high-powered makeup remover and cleanser is also formulated with other skin-beneficial ingredients like hydrating jojoba oil and soothing chamomile oil. Clear away impurities in your complexion using this oil along with your favorite moisturizer.
---
Derma E Natural Eyebright Eye Makeup Remover $12.60
This fragrance-free makeup remover contains cucumber and chamomile extracts to soothe the skin as it wipes away your makeup and leaves your pores spic and span. Safe for use on all skin types, this makeup remover is powerful enough to remove waterproof mascara, long-wear eyeliner, transfer-proof lipstick and other long-lasting face makeup. It's 100% vegan, free of the toxic chemicals typically found in makeup remover and chalk full of skin-beneficial antioxidants like green tea and bilberry.
---
Yes To Cucumbers Soothing Eye Makeup Remover Pads $4.95
These hypoallergenic makeup remover pads are for use specifically on your lids and eyes. Made with 95% natural ingredients like calendula, chamomile, and organic cucumbers, these pads are lightweight, soothing and refreshing. There's no need to rinse after use – making them a quick and clean solution to removing your mascara, shadow, and liner.
---
RMS Beauty Raw Coconut Cream $18
This creamy makeup remover is exactly what it claims to be – 100% pure, raw coconut oil. Not only will the antioxidants in the coconut oil protect your skin from free radicals, it's also anti-microbial, anti-fungal and anti-bacterial. This cream removes dirt, makeup, and bacteria from the skin, leaving it fresher and healthier than you found it. If you prefer wipes to cream removers, check out the Ultimate Makeup Remover Wipes ($16)  RMS offers instead.
THINGS TO LOOK OUT FOR
Buying organic or natural makeup products is not as easy as trusting what is on the label: the degree to which a 'natural' product is free of toxic chemicals varies and it's important to keep in mind that there is a big difference between natural, all natural, organic and certified organic. The word 'natural' is not regulated in any way and a product that claims to be natural can contain synthetic ingredients. Although you'll likely find less toxic ingredients in formulas claiming to be natural or all-natural if you want your makeup to be 100% chemical-free you have to do your research on the ingredients or look for certified organic products instead (which are regulated and labeled appropriately).
In terms of your eye makeup specifically, a lot of the chemicals we typically find in mascara and eyeliner come from making them waterproof. Avoid buying waterproof mascara's that claim to be natural and double check the ingredients list so you know what you're getting.
Check out our in-depth guide if you're looking to find out more about the benefits of natural and organic makeup for the face.
FINAL THOUGHTS
Our eye makeup products tend to be some of the worst in terms of their propensity to be made with toxic and harmful chemical ingredients. Waterproof items are among the top offenders but color additives and preservatives in shadows and eyeliners can be equally as dangerous. Remember that your skin absorbs 90% of what put on it and not only is the skin around your eyes super-sensitive, it's also a direct gateway into your bloodstream. With that in mind, there are plenty of healthy alternatives that provide you the same long-lasting and defining results while infusing your skin with beneficial ingredients that promote wellbeing.