With an abundance of "revolutionary" anti-aging pills and potions on the market, it's sometimes hard to figure out which ones are actually beneficial when it comes to preventative anti-aging measures. Although you may have heard about Retinol, did you know that it's one of the most effective defenses against the signs of aging available without a prescription? Known as the cell-communicating ingredient, research shows Retinol helps to improve the behavior of skin, generally benefitting its overall condition by improving cell turnover as well as helping it look and act younger.
WHAT ARE THE BENEFITS OF RETINOL?
INCREASED FIRMNESS
Regular Retinol usage will stimulate collagen production not only leaving skin feeling more plump but also decreasing the visible signs of aging such as fine lines and wrinkles.
MORE EVEN SKIN TONE
Through increasing cell turnover Retinol helps to decrease sun damage, discoloration, and uneven pigmentation – in general revealing more radiant skin that also feels smoother to the touch.
PORES APPEAR SMALLER
With it's ability to unclog Retinol seems to shrink pores as well as target other blemishes including whiteheads, blackheads and breakouts.
POPULAR FORMS OF VITAMIN A
There are several commonly available forms of Vitamin A, all of which come under the umbrella term of "retinoids".
RETINOL
One of the gentler forms of Vitamin A is available without a prescription (over the counter) and often found in anti-aging skincare formulas that have moisturizing benefits.
TRETINOIN
Tretinoin commonly known as Retin-A  is well known as one of the more aggressive forms of vitamin A and is only attainable through prescription in the US. Although highly effective, we think doing the proper research is key to understand this anti-aging powerhouse. If you're interested in learning more check out our in-depth guide of  how Tretinoin works  in terms of preventative anti-aging.
HOW TO CHOOSE A RETINOL STRENGTH THAT'S RIGHT FOR YOU
Choosing the suitable strength of Retinol for your skin's needs is a process within itself!  Read on to understand which level will work best for your skin based on your aging concerns and tolerance.
LOWER DOSE
0.01% of retinol may sound like an ineffective dose, but on the contrary low doses of Retinol can do wonders for skin when included in a proper formulation. Often blended with other powerhouse ingredients like antioxidants and peptides, anti-aging skincare products with a low percentage of Retinol can benefit those with the first signs of aging like fine lines and mild sun damage or with sensitive skin prone to irritation.
MEDIUM DOSE
In general 0.04% – 0.1% is considered to be a medium strength of Retinol in an anti-aging skincare formula. Although we  recommend testing out a lower dose before moving on to ensure your skin can tolerate it, if you haven't noticed results that you're happy with increasing the percentage of Retinol may be the way to go.  At these levels expect improvements in firmness, deeper lines and stubborn pigmentation issues as well as overall skin rejuvenation.
HIGH DOSE
Ranging from 0.5% – 1.5% and sometimes higher these levels of Retinol are for those with the more advanced signs of aging. We do not recommend jumping right in to using anti-aging skincare products that have these levels of Retinol (although tempting!) as this may lead to irritated, red and angry skin that peels.
PROPER RETINOL USAGE
When using Retinol, the different product formulas may vary, but there are some general rules of thumb for usage and consistency.  As Retinol can irritate and dry skin when first introduced into an anti-aging skincare regime, ease  into the process – 2 to 3 times per week is a good starting point before increasing usage.  Be sure to read instructions!  A "less is more" mentality is good – a dime-sized amount for your entire face should be sufficient.
HOW TO USE RETINOL?
Cleanse you skin as you would with your nightly routine. Be sure your anti-aging cleanser isn't harsh on your skin or exfoliates too much.
Apply your Retinol product on the desired areas – generally all over your face and neck
If you are using Retinol in the day before going outside applying a broadband sunscreen is an absolute must as the final part of your anti-aging routine as the ingredient increases the skin's sensitivity to the sun.
TO MOISTURIZE OR NOT?
Retinol may be an anti-aging powerhouse, but it does have a tendency to dry out the skin. If you find that this is the case when you're using it, we recommend incorporating a light moisturizer into your anti-aging  skincare routine. Check out our guide on how anti-aging creams can help prevent signs of aging in order to find a  compatible formula.
PRODUCT RECOMMENDATIONS
Here are some of our favorite picks of effective anti-aging Retinol skincare products available on the market.
First Aid Beauty Retinol Serum ($58)
If you're looking to target the early signs of aging, this light-weight serum is perfect for those that are new to the world of Retinoids. Housed in a pump-style container that protects sensitive ingredients, the formula is easy to adopt into your daily anti-aging skincare regime. Besides the 0.25% Retinol, other notable ingredients include antioxidants like Vitamins C,  Ceramides to soothe the skin and  Hyaluronic Acid to help boost hydration levels.
---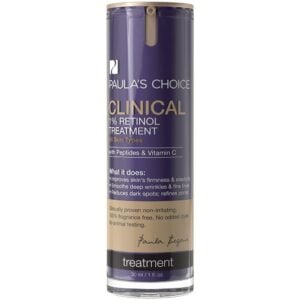 Paula's Choice Clinical 1% Retinol Treatment ($56)
This fragrance-free lotion combines the power of 1% Retinol with Vitamin C and peptides to deliver advanced anti-aging results. Other notable ingredients include Oat extract to help sooth irritation and Ceramides to aid skin's hydration levels.
---
Skin Medica Retinol Complex 1.0 ($93)
Made for night usage, this potent lotion combines Vitamin B3, or Niacinamide with Retinol to combat discoloration, fine lines and wrinkles. The formula also includes antioxidants like Vitamin E and Squalene to help nourish skin and increase hydration levels.  If you feel like your skin may not be ready for this level of Retinol look into the 0.25% ($62) and 0.5% ($78) versions.
---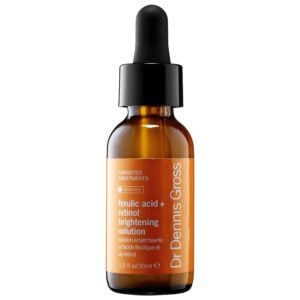 Dr Dennis Gross Ferulic Acid & Retinol Serum ($88)
Combining Ferulic Acid and Retinol, this serum helps to increase collagen production while firming up the skin and targeting fine lines as well as wrinkles. With Arbutin and Licorice Extract in the mix to brighten up uneven skin tone, and sodium hyaluronate to provide a high level of hydration, it's no wonder this serum helps improve the skin's radiance level.
---
Replenix Retinol Plus Smoothing Serum 10X ($84)
This fragrance-free serum combines Green Tea extract with Hyaluronic Acid & Retinol to help combat signs of aging from lines to discoloration. The formula also comes in several other strength levels depending on what your skin can tolerate inclusive of 5X ($73.50), 3X  ($67.50) and the most gentle, 2X ($58.80).
---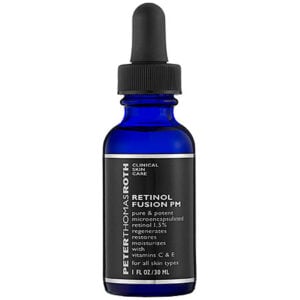 Peter Thomas Roth Retinol Fusion PM ($65)
With 1.5% of Retinol, this fragrance-free serum is probably the most potent on the list and targets advanced signs of aging. Antioxidants like Vitamins C and E help fight off free radical damage, boost skin regeneration and minimize skin irritation.
---
Skinceuticals Retinol 1 Maximum Strength Refining Night Cream ($76)
Containing 1% pure retinol,  this night cream helps stimulate cell regeneration and builds collagen to repair damaged skin. This high-potency formula also helps to reduce the appearance of lines, corrects blemishes as well as diminishes age spots.  Other notable ingredients to look out for within the formula include nourishing Rose Hips & Milk Thistle extracts.  If the 1% form is too potent make sure to check out the popular 0.5% ($64) form out.  
---

Jan Marini Skin Research Age Intervention Retinol Plus ($79)
This award winning Retinol Cream is packed with skin-beneficial ingredient including Retinol, Peptides, and antioxidants like Green Tea Extract, The formula helps improve skin texture, reduces the appearance of lines and repair sun damaged skin.  Last but not least the opaque pump packaging protects all the active ingredients ensuring that they maintain stability. 
Alternatively, discover some organic or natural formulas in our guide.
IMPORTANT THINGS TO NOTE
Avoid mixing anti-aging ingredients like Benzoyl Peroxide or AHA's (Glycolic or Lactic acids) with Retinol as they can cause negative reactions such as excessive dryness, irritation, and even counteract each other's benefits when applied together.
As usual, broad spectrum sun protection is key for any good anti-aging skincare regime particularly with the use of ingredients like Retinol as they increase your skin's sensitivity to environmental factors. In general, we don't recommend utilizing any form of Retinoid during the day but if you do the use and reapplication of a sunscreen is non-negotiable. If you're interested in learning more check out our guide that covers how to find the right sunscreen for your skin and more.
Although some research indicates that the topical application of retinoids does not result in the absorption of high levels of Vitamin A to be on the safe side while pregnant or breast-feeding avoid using Retinol.
COMPANION ANTI-AGING TREATMENTS
Below are some effective skincare treatments that work well with Retinol usage to target the signs of aging. In general, it's recommended to not use Retinol for 3-7 days before and after treatments but be sure to confirm this timeframe with the practitioner you're working with.
CHEMICAL PEELS
By exfoliating the top layers of the epidermis, chemical peels help to increase cell regeneration and boost collagen production. The results include diminished fine lines and wrinkles and skin that is not only more even-toned but also firmer. If you're interested in learning more check out our guide here on what chemical peels can do to combat signs of aging.
BOTOX
Botox is an injection therapy that temporary diminishes wrinkles that form from facial expressions through limiting muscle movement.  Although Retinol does target fine lines and wrinkles Botox can provide much more advanced results. To find out about  how botox works and it's anti-aging benefits check out our in-depth review.
LED LIGHT TREATMENT
By sending light to penetrate the deep layers of the skin, LED treatments stimulate cell growth, heal skin trauma, and speed up the skin regeneration process. Explore the types of anti-aging LED treatments and figure out the one most beneficial  to target your skincare concerns.
MICRODERMABRASION
Much like chemical peels this anti-aging treatment exfoliates away the epidermis (top layer of the skin) to help erase fine lines, wrinkles and age spots revealing the fresh skin underneath. Discover just what microdermabrasion does through our in-depth run-down.
FINAL THOUGHTS
Although Retinol is an effective anti-aging ingredient, it's impossible to find an all in one encompassing elixir or potion that reverses the signs of aging. In order to maximize results it's not only important to combine multiple anti-aging products and treatments but also keep in mind the goal is to look good for your age not forever frozen in time.