Our day-to-day lives are all hustle and bustle. Going to work, getting groceries, making dinner, taking a yoga class – we're constantly multi-tasking. So why shouldn't our skincare products do the same, right?
An antioxidant derivative of vitamin A, Retinol is an over-the-counter skincare powerhouse that belongs to the Retinoid family. Retinol is closely related to the prescription-level Tretinoin (aka Retin-A), but it's considered to be a gentler alternative with just as effective results. Most importantly, it's a skincare all-rounder that is a multi-taskers dream.
Retinol combats signs of aging, clarifies clogged pores, reduces the appearance of UV damage, and even minimizes and prevents fine lines and wrinkles – and the benefits don't even stop there.
BENEFITS OF RETINOL: BEFORE AND AFTER USAGE
We're taking you through each of these benefits so you can understand what to expect from Retinol before and after incorporating it into your regular routine. If you're looking for help with the visible signs of aging, acne, or restoring skin tone, you won't want to miss this.
COMBATS FINE LINES AND WRINKLES
Making up approximately 1/3 of your body's protein composition, we have more collagen than we do any other protein. But why do we have so much of it? Because collagen is one of the most important building blocks of our bones, ligaments, tendons, muscles, and skin. Indeed, the word collagen comes from the Greek word "kólla", which means glue – and this stuff is the glue that holds everything together.
Collagen production, like so many other things, is deeply impacted by the aging process. As we get older, our body doesn't produce collagen in the same amounts and, what it does produce, is of lesser quality. Of course, the impact on your appearance is obvious: with less and lower quality glue to hold everything together, your skin becomes less firm and supple. The end result? Fine lines and wrinkles.
Enter: Retinol. The powerful vitamin A derivative has a huge impact on your collagen levels.
First, it's believed to boost collagen production on a genetic level. It basically acts as replacement therapy for lost collagen. Second, retinol prevents the production of an enzyme known as collagenase after UV exposure. Contrary to what it sounds like, collagenase is actually an enzyme that breaks down collagen, and blocking its creation helps protect your collagen levels. Last but certainly not least, retinol prevents a process called glycation. This is when the sugar in your blood attaches to proteins to form Advanced Glycation End Products (or AGE's, for short). AGE's weaken the skin and its structure and contribute to, you guessed it, aging.
Expect to see some results for lines after 2-3 months with more advanced results for deeper wrinkles occurring anywhere within 6-12 months.
IMPROVES SKIN TEXTURE & TONE
There are quite a few things that impact your skin texture and tone. Getting too much sun without proper broad-spectrum sunscreen can cause your skin to become leathery and rough. In fact, all of the elements, including extreme hot or cold and even dryness, can impact your texture and tone in a negative way. Your skin also thins as you age and the amount of pigment decreases, making your skin look thinner and paler.
But perhaps the biggest issue with texture and tone are the number of dead skin cells built up on your skin. As we age, our dead skin cells aren't shed as rapidly, which causes them to build up. That makes the skin look both dry and blotchy. The accumulation of dead cells on the surface of our skin can also cause rough texture as well as a more uneven tone.
Here is where Retinol saves the day again. The antioxidant will boost cell regeneration, refining the surface of the skin and smoothing it out. This process also has positive results on reducing the negative effects of UV damage and diminishing dark spots by helping to manage the production of Melanin, the pigment that adds color to our skin.
Expect improvements in terms of your skin texture and tone starting from about 2 months with more advanced results showing up in 3 months onwards.
HELPS SKIN FIRMNESS (Well…TO AN EXTENT)
 Elasticity is that magical property that allows skin to snap back into place when you apply pressure to it. Our body stops producing elastin in abundant amounts in our teenage years or early adulthood and much like collagen; this protein also weakens over time.
Retinol is not only linked to strengthening this essential protein but some research even indicates that it helps build it. When the effect on elastin is combined with the boost in collagen levels Retinol brings about, the layers of our skin structure improve resulting in an increase in firmness. After about 3 months you'll start to see these effects and in 6 months, you can expect more significant results.
For all the positive changes that happen before and after the course of using Retinol in terms of skin firmness, it won't provide as advanced results for sagging and the loss of volume (from the likes of shrinking fat pads and bones) as rejuvenating treatments like injectable fillers will.
Curious to learn more about what injectable fillers do? Then check out our in-depth guide that covers how they work as well as provides in-depth information on some of the more popular ones on the market.
TARGETS CLOGGED PORES & SOME KINDS OF BREAKOUTS
Clogged pores are one of the main causes of breakouts. When the follicles on your face, neck, and back get plugged up with oil, dead skin cells, and dirt – and then you add the additional encumbrance of pore-clogging products (be it makeup, moisturizers, serums, or whatever) – blackheads and whiteheads form.
We've already mentioned that Retinol helps cell turnover, but did you know it also regulates sebum production? That means that Retinol not only helps to clarify your pores of the built-up dead skin cells that cause clogging, it also impacts the amount of oil that gets trapped in there by balancing your body's production of it. Although it's not recommended for more serious breakouts due to its sensitizing nature, Retinol's ability to manage the oil produced by your body will lead to a reduction in blackheads, whiteheads, and clogged pores.
Not only that but consistent use of Retinol can also minimize the appearance of large pores by cleaning out that excess dirt and oil buildup. When Retinol removes dead skin cells and causes cell turnover, the new cell growth produces healthier, plumper cells that create the visible effect of smaller pores. The best news is that Retinol starts to work on your pores as quickly as 1 month, with advanced improvements starting from 3 months onwards.
Trying to find the perfect moisturizer that won't clog those lovely pores? Check out our guide to the benefits of non-comedogenic moisturizers.
WHAT STRENGTH OF RETINOL IS BEST FOR AGING CONCERNS?
If you're looking for products that contain Retinol, the first thing you're likely to notice is that most companies don't mention the amount or concentration of the Retinol they use in their formula. That makes it pretty difficult to determine how much you're using and if you're using the right strength. But, the good news is, there is a general rule of thumb to help you figure it out: the higher it falls on the list of ingredients, the more of it there is.
If that's not quite enough information to satisfy your need to control what you're putting on your skin, then we've got some more info for you. That is, you should be looking for skincare products that have Retinol levels between .025% to 1%.
If you're only seeing the first visible signs of aging or you're using Retinol as a preventative measure, then start with something at 0.025%. That's also a good place to start if you have sensitive skin because it's the gentlest concentration and the least likely to cause irritation.
If you're combatting more stubborn signs of aging, then opt for the 1% concentration. Of course, this is the stronger concentration and is more likely to cause irritation. For that, we suggest starting out small. Only use the Retinol product 3 times weekly until your skin gets used to it.
Although 1% is supposedly the highest strength allowed for over-the-counter products there are some formulas that advertise 1.5% concentrations of Retinol. With these formulas, it's important to be cautious, especially if you're not used to the ingredient.  Keep in mind these are guidelines as there are newer forms of encapsulation (and types) of Retinol that allows for higher percentages (2.5%)  in formulas.
BEST RETINOL CREAMS AND SERUMS FOR RESULTS
Juice Beauty Overnight Retinol Serum $72
Juice Beauty's clean overnight Retinol serum is made with multiple powerful certified-organic ingredients. The vegan formula is backed by clinical-based studies that show a strong improvement on hyperpigmentation (dark spots), skin texture, and wrinkles.  The cruelty-free serum includes encapsulated 2.5% Bio-Retinol (the plant-based Revinage) and Retinol to have powerful regenerative properties.  Other key ingredients include an abundance of plant-based antioxidants like Organic Green Tea and Apple extracts to help fight free radical damage as well as the potent vitamin, CoQ10, and even a hydrating peptide (acetyl hexapeptide-8). To top it off the serum contains a number of nourishing plant-based oils like evening primrose oil and organic shea butter to boost the skin's moisture levels.  Another strength of the serum is its sustainable packaging that not only preserves the ingredient's potency but is also made from 100% recycled packaging.
---
100% Pure Multi-Vitamin + Antioxidants Potent PM Serum $60
100% Pure's extremely popular night serum combines a number of powerful ingredients in order to combat multiple signs of aging.  Key ingredients in the vegan serum include 10% Niaciminide known for its ability to help even out the completion and firm the skin, 1% collagen-boosting and fine line fighting Retinol, and 10% healing Vitamin E. Wait but that is not all!  The cruelty-free formula also includes 10% Vitamin C to brighten the skin and target dark spots in the effective form of Magnesium Ascorbyl Phosphate (so it doesn't interact with the other actives) and super-charged Coenzyme Q10 with its strong collagen-boosting abilities.
---
Maya Chia The Straight A $125
If you're looking for a clean more natural-based retinol formula consider Maya Chia's extremely popular Gentle Retinol Treatment. The serum combines the likes of encapsulated retinol with plant-based retinol alternatives (bakuchiol and moth bean) to combat fine lines and as well as boost collagen production in general. In order to calm and soothe skin chia seed and buruti oil as well as probiotics are also included in the well-balanced ingredient list.
---

Jan Marini Skin Research Age Intervention Retinol Plus $79
Jan Marini's extremely popular Retinol formula has not only won New Beauty's awards twice in a year but has developed a cult following. The night cream packs in multiple rejuvenating ingredients inclusive of retinol, peptides and a variety of skin-replenishing antioxidants such as the potent Green Tea Extract.
---
Skinceuticals Retinol 1 Maximum Strength Refining Night Cream $76
Skinceuticals 1% Retinol cream combats the advanced signs of aging. The fast-absorbing formula is lightweight and doesn't leave skin with a greasy residue. If you feel the high level of Retinol will be too sensitizing for your skin, consider trying the 0.5% ($64) variation.
---
Olay Pro-X Deep Wrinkle Treatment $27
Olay Pro-X's lightweight moisturizer is not only on the affordable side of things but it combines a number of powerhouse ingredients including Niacinamide (Vitamin B3) with Vitamin E,  Peptides as well as Retinol. Unlike many of the jar packaging options available at the drugstore, this oil-free formula's active ingredients stay protected in the opaque tube packaging.
---
Skin Medica Retinol Complex 1.0 $80
By including skin-beneficial ingredients like Niacinamide (Vitamin B3), Skin Medikas' formula provides advanced results against signs of aging like discolorations. Other key ingredients included in the fragrance-free lotion include Vitamin E and Squalene to soothe the skin. If your worried 1% is too strong skin think about trying the gentler variations of either 0.25% ($52) and 0.5% ($66) Retinol strengths.
---
First Aid Beauty Retinol Serum $58
With .025% Retinol First Aid Beauty's formulas is great for people with sensitive skin or those who are just starting out with retinoids. In order to boost the formula's ability to help with cell regeneration, the formula also includes several advanced peptides. Also be on the lookout for Oatmeal and Vitamin E in order to minimize irritation and calm skin.
---
Alpha Skin care Enhanced Wrinkle Repair Cream $13.74
Alpha Skin Care's fragrance-free cream combines ingredients like Retinol with Vitamin C and  E in order to maximize its rejuvenating abilities. The cost-effective formula is protected by the opaque packaging and is gentle enough for even sensitive skin (at least those not prone to breakouts).
---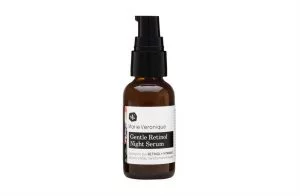 Marie Veronique Gentle Retinol Night Serum $110
Last but not least is Marie Veronique's night serum, specifically formulated to minimize the irritation that Retinol causes for new users and those with sensitive skin.  The best-selling formula (over 200 5 star reviews) combines Retinol with Vitamin C and E to provide advanced results all while being gentle on the skin. To top off the formula, ingredients like green tea extract soothes the skin, and antioxidant-rich blackberry seed oil nourishes.
If you're interested in exploring Retinol further make sure to check out our article that provides more in-depth information on the strengths of Retinol and more.
Not quite sold on Retinol, check our guides on the best night treatments for your 20s and night creams for your 30s for some other options.
THINGS TO NOTE ABOUT RETINOL
Adding Retinol into your daily skincare routine should be done with caution. That is not to say that you should avoid this ingredient. Actually, it's the complete opposite. If you have any of the skin concerns we talked about, this ingredient is a miracle worker. However, with that great strength comes great responsibility, i.e. the responsibility to care for your skin while it gets used to Retinol and to find the products that are using Retinol the right way.
In order to ensure your skin is not sensitized, you should be looking for gentle products. Be on the lookout for mild cleansers, well-formulated moisturizers, and serums packed full of antioxidants. In so doing, you're helping your skin maximize the benefits offered by Retinol while minimizing the negative side effects.
Retinol works really well in conjunction with Niacinamide (Vitamin B3), which is a popular antioxidant known for its skin clarifying properties among other things. If you're interested in learning more, make sure to check out our in-depth guide on the ways Niacinamide improves the skin, inclusive of benefits, best practices, and more.
Keep in mind that Retinol deteriorates when exposed to the elements like air and light, so consider only buying Retinol in airtight and opaque packaging – basically avoid anything in a jar.
As the ingredient can take some for your skin to get used to, making sure that you incorporate it into your daily skincare routine with ease and patience is of utmost importance. A little patience foes a long way in minimizing possible irritations. Generally speaking, you should also be applying your Retinol at night since, as we mentioned above, the Vitamin degrades with exposure to the sun.
THE TRUTH ABOUT USING RETINOL IN THE DAY
On one hand, summer is actually considered to be a good time to start using a Retinoid because the humidity makes your skin less likely to get irritated while it adjusts to the powerful antioxidant.
On the other, although the jury may still be out on the sensitizing effects of Retinol on your skin in terms of the sun, we do know that it boosts cell turnover and that's why we'd still stress the importance of investing in a broad-spectrum sunscreen. Make sure to check out our in-depth run-down if you're trying to figure out how to pick a good sunscreen.
RETINOL SIDE EFFECTS: BEFORE AND AFTER
Although the positive changes that happen to the skin before and after using Retinol are definitely worth the wait, there are still a couple of potential common side effects. These may include irritation, peeling, extreme dryness, and redness. These side effects are especially prevalent when you first start using Retinol. This is why we've said it before and we'll say it again: patience is a virtue. Give it 2-6 weeks to allow your skin to adapt to regular use. Even better as we mentioned above don't rush it and slowly ease Retinol into your routine to avoid a rough transition.
Generally speaking, a pea-sized amount is enough to cover your whole face and some experts say that should also consider washing your face about 15 minutes before application.
Curious about the powerful prescription-only form Retinoid Tretinoin (Retin-A)?  Explore our in-depth guide to learn more about how Retin-A works that also include what it does as well as best practice usage.
Alternatively, if you're looking for a more gentle option, read our rundown on the best organic and natural night creams.
FINAL THOUGHTS
Retinol is a great place to start if you want the benefits of a stronger Retinoid with a better chance of an easy transition for your skin. This gentler form of Tretinoin is effective in terms of combatting lines and wrinkles, evening out skin texture and tone as well as helping to improve firmness. With just a little patience, you'll notice vast improvements in the way your skin looks and feels