Flaking, itching, sensitivity, dullness… these are a few of our least favorite things. And they're all a result of dry, dehydrated skin. But dry skin poses far more problems than just inconvenience.
Without an adequate moisturizing routine, dry skin can lead to the development of wrinkles – and it can make fine lines and wrinkles that are already there appear deeper and more pronounced. For those of you with breakout-prone skin, a lack of moisture can aggravate your acne and cause more breakouts. Without moisture, you lose a layer of protection that your skin so desperately needs to stay balanced. And if you fancy yourself a makeup guru, you should already know that, without a degree of hydration, your makeup looks cakey and flaky.
So why put up with any of these issues when the answer is so simple? The best organic and natural body lotion, balm, and serum butters are your solution to this all-too-common skin problem.
Best Organic & Natural Body Lotions, Organic Butters, Organic Serums & Organic Oils
Tata Harper Revitalizing Body Oil $115
Great for all skin types but specifically designed for those of us who want to preserve the youthfulness of our skin – i.e. all of us. Applied post-bathing, evening primrose oil and high-in-vitamin-B camellia oil lock in all the vitamins, nutrients, and moisture you need to maintain that healthy glow.
---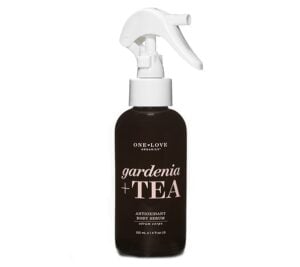 One Love Organics Gardenia + Tea Body Serum $39
Harnessing the power of post-shower hydration, this misting organic body serum is applied to damp skin after your bathe to lock in all that moisture. This featherweight, non-greasy misting moisturizer features Antileukine as its star ingredient. A clinically proven antioxidant dynamo, its power is compounded by other antioxidants such as green tea, in a formula that's easily absorbed by the skin to protect you from environmental aggressors.
Follow-up your post-bath, hydrating mist session with One Love Organics Vitamin C Body Oil ($58). Made with facial-grade vitamin C ester to brighten, papaya enzymes to refine, and shea butter for even more moisture, this body oil glides on smooth and soft and leaves you with the perfect glow.
---
Soapwalla Luxurious Body Oil $36
When it comes to the best organic body serum, the product is only as good as the brand – and Soapwalla is one of the best. Obtaining high-grade ingredients like sweet almond and jojoba from small, sustainable, certified organic farms, they handmake all of their products in small batches in their Brooklyn, NY studio. Take this body oil for example: without any of the synthetic fillers you find in the alternatives, it's so super concentrated that you only need one drop for all-day wear.
---
Odacite Perfect Nutrients Body Lotion $50
A nutrient-rich body lotion that has almost every one of the plant oils and butters the best organic body lotion should: coconut oil, jojoba oil, olive oil, and shea butter. But also included in this nourishing lotion are soothing aloe vera, antioxidizing vitamin E and white tea, exfoliating black willow bark, and the calming aroma of lavender that makes this lotion an experience in aromatherapy. An ingredient for every skin type, Odacite's lotion is good for sensitive, mature, dry, normal, and combination skin.
---
Jao Goe All Over Body Oil $49
An ultra-lightweight oil that's airy enough for a facial oil but formulated with 28 naturally-derived fruit, flower, and plant oils and butters that make it robust enough for use all over your body. Goe utilizes the essential fatty acids and omega's found in rosehip, hemp, rice bran, and meadowfoam for moisturization and combines that with protective and regenerative vitamins A, E, C, B, G as well as beta carotene. Scented with Monoi oil from the gardenias of Tahiti, your skin will be soft, supple, protected, and sweet-smelling for hours.
---
CV Skin Labs Body Repair Lotion $36
While many of us know the perils of dry skin all too well, dermatitis, eczema, radiation burns, and skin that's been damaged by laser hair removal are a completely different story altogether. That's why CV Labs formulated this advanced therapy lotion that repairs damaged or irritated skin while at the same time soothes it. Turmeric root, vitamin E, ginger, and St. John's Wort have been used for centuries for their healing properties but the addition of olive oil, calendula, and rosehip make this lotion gentle enough for even the most invasive skin conditions.
If you have an area of rough or chapped skin that needs some TLC,  cracked dry lips, cuticles or scars make sure to check out CV Labs popular and petrolatum-free Skin Balm ($26)
---
Osmia Organics Naked Body Oil $20
A fast-absorbing body oil that works best after a hot bath or shower, it's ingredient list is so clean that we can even recommend it for the super-sensitive skin of babes and kids. Using a base blend of 11 plant oils, including kukui, sweet almond, hemp, and rosehip, it's featherweight, non-greasy and the perfect moisturizing companion for you and the kiddies alike.
---
Osea Anti-aging body-balm $48
If you're looking for something a little richer checkout Osea's Anti-aging body balm And there's no better time to start feeding it all the anti-aging ingredients with the best organic body balm formulated for more mature skin. Among the certified organic ingredients in this nutrient-dense balm, you'll find ingredients like lemon and safflower to refine skin texture, antioxidants like coconut oil, and tightening and toning items such as grapefruit and jasmine. With a combination of botanicals like that, your skin is protected while it repairs itself and restores a healthy glow.
---
Acure Seriously Soothing Unscented Body Lotion $9.59
Acure are masters in bringing together plant-derived ingredients and cutting-edge clean formulas that are free of anything even remotely disruptive, including parabens, petroleum, mineral oil, paraffin, sulphates, and animal product and byproduct. In this 100% biodegradable formula, they've used moisturizing agents like cocoa butter and olive oil, both of which double as antioxidant protection. Acure also has 3 other formulations (Brightening Glow, Calming & Itch Lotion &  Everyday Exzema)  that all have unique product benefits at the same cost-effective price!.
---
French Girl Organics Lumiere Body Oil $42
Inspired by the herbs, flowers, and botanicals traditionally reserved for French skin and body care, these luxurious body oils are the ultimate representation of all things organic, wildcrafted, and François – but they're handmade using original recipes in the US of A. This particular product harnesses the deeply hydrating oils of rosehip, coconut, and Argan and infuses them with botanical absolutes, resins, and essential oils that are lightweight in texture as well as scent.
For something a bit different, try French Girl's pigmented body oil option. This Moonlight body oil ($30) leaves a subtle shimmer to the natural glow that comes with moisturizing. Plus it contains mineral oxides, essential oils, and that rare and coveted Rose oil that we've already discussed at length (and for good reason).
---
Juice Beauty Green Apple Firming Moisturizer $20
Dry skin and mature skin go hand in hand. And when they do, your skin's elasticity and texture are affected. So, when you need to combat dehydration and restore your skin's firmness, reach for this firming moisturizer. Made with a conditioning base of rich and creamy shea butter and jojoba oil, Juice Beauty then adds a brightening, firming, texture-correcting blend of organic apple, lemon, and grape juices.
---
Cocovit Coconut Oil $25
Coconut oil does so much on its own. Of course, it thoroughly moisturizes and prevents free radical damage, but did you know you can also use It as a makeup remover, a cuticle softener, a shaving balm, and a solution for even the worst types of diaper rash? That is, when it's 100% coconut oil harvested from organic coconuts in South India, which is exactly what Cocovit offers in this TSA-friendly, certified USDA organic, cosmetic-grade coconut oil.
---
John Masters Organics Bare Unscented Body Lotion $35
Founded in 1991, John Masters is a natural and organic beauty pioneer that hasn't stopped innovating since they started. This unscented body lotion is perfect for scent-sitive noses and skin. In fact, it restores and heals sensitized skin with vanilla, coconut oil, and milk thistle along with six other certified organic ingredients.
But if you prefer to have a subtle and lovely fragrance along with your healing and hydrating, John Masters has created this line of ultra-lightweight body milks ($23). These nourishing body milks help your skin retain moisture with the addition of plant-based oils like sunflower.
---
Agent Nateur Holi(oil) Youth Body Serum $95
Regardless of what kind of healing you're looking for, this youth body serum targets it. Designed with all the best in curative, plant-derived ingredients – such as rice bran, rosehip, calcium, grapeseed, and apricot – you'll notice visible improvements in everything from cellulite, to scars, to sun damage. And to ensure that you don't have to deal with that stuff in the future, the formula also contains collagen-stimulating items like caffeine and stable vitamin C derivatives such as Sodium Ascorbyl Phosphate.
---
Andalou Naturals Kukui Body Butter $8.25
Even just the term "body butter" provokes our senses – we think of rich, emollient, creamy, butter that's like a dessert for your skin. But add to that words like non-GMO, sustainable, fair trade, and vegan, and you've got a dessert that even your health and the environment will find sweet. And it's available in 2 other formulations, depending on what you're looking to treat: velvety softness from 1000 Roses ($8.25), or skin firming and elasticity control from Lavender Shea ($8.25).
---
Maya Chia The Revitalizer Beautyifying Super Critical Body Oil $48
It's a wonder how many superfoods that are great for your diet are also great for your skin. Take chia seed for example: the oil extracted from these tiny seeds is rich in omega-3 fatty acids that help to heal wounds from blemishes and protect your skin from bacteria. But the supercritical chia used in this body oil is also anti-inflammatory, antioxidant-rich, moisture-restoring, and wrinkle-inhibiting. All of these revitalizing and protective properties are then compounded by the additions of marula oil, grape seed, baobab, pomegranate, and cranberry seed oil.
---
Naturopathica Sicilian Bergamot Body Lotion $34
Move over chamomile, Sicilian Bergamot is taking its place as the next big thing in aromatherapeutic scents that reduce stress and lift you out of the darkest of moods. It's light, citrus aroma is complimented by other revivifying citrus scents such as Valencia orange, pink grapefruit, and clementine. But citrus does more than brighten your mood – they're acidic nature makes them excellent brightening and texture-improving agents.
---
Herbivore Jasmine Body Oil $26
If less is more, than this seven-ingredient body oil is the most. But there's one ingredient in particular that stands out among that short list, and that's Jasmine Sambac oil. Used in perfumes like Chanel No. 5 and Eau de Sauvage for it's intoxicating scent, this precious essential oil works as an antiseptic as well as a powerful hydrator that's potent enough for skin suffering from eczema and dermatitis.
Alternatively, check out Herbivore's Rose Quartz Illuminating Body Oil ($48). Drawing inspiration from the rose quartz crystal – aka the crystal of the heart chakra, where all your lovin' vibes originate – this body oil stars Moroccan Rose, which nourishes your skin and your soul.
---
African Botanicals Firming Body Oil $90
Cold-pressed and wild-harvested African Marula and Pinotage grapeseed oils combine their rejuvenating forces in this body oil that's formulated specifically for the issues faced by mature skin, including: loss of elasticity, sagging skin, fine lines, and of course dehydration
FINAL THOUGHTS
The best organic and natural body lotion, butters, serums, and balms quench your skin's thirst with the best hydration that nature has to offer. And while many of those plant-derived oils and nut butters contain their own extra benefits in terms of antioxidant protection and skin healing, these lotions, butters, serums, and balms are infused with all sorts of organic ingredients that bring their own advantages to the table. Whether you're dealing with sensitivities, the visible signs of aging, or skin conditions that can't handle synthetics, there's an organic or natural alternative that's formulated with you in mind.