When you need a cell-communicating agent that's also a clarifier, a strengthener, and a wrinkle diminisher, you need retinol. But when your skin is prone to irritation, you need the best retinol for sensitive skin.
As powerful as it is, Retinol can sensitize skin and cause irritation, peeling, extreme dryness, as well as redness. It can have this effect on people with even the strongest and most durable skin surface. So, for those with sensitive skin, Retinol requires extra precautions.
By slowly introducing retinol into your skin care routine, you can reduce the possibility of experiencing those side effects. To reduce those chances even more so, you should understand the strengths of retinol and which will work best for you. There's also a host of ingredients that can be added to a retinol formula that will soothe even the most sensitive of skin.
We'll tell you everything you need to know and more in this guide to the best retinol for sensitive skin.
BEST RETINOLS FOR SENSITIVE SKIN
Just because you have sensitive skin doesn't mean you shouldn't benefit from all the good that retinol offers. With the best retinol for sensitive skin, you can reap all the skin benefits of retinol without any of the irritation.
Formulated with soothing plant extracts, antioxidant protection, and nourishing vitamins, you'll be combatting the visible signs of aging, uneven skin tone, breakouts, and more, while reducing the risk of redness and irritation.
Skinceuticals Retinol 0.5 Night Cream $64
This night cream targets fine lines and wrinkles as well as blemishes and age spots. Promising maximum delivery of retinol to the skin surface with no risk of erythema, the formula is optimized for both retinol stability and skins sensitivity. It combines 3 plant extracts with shea butter to ensure it's well-tolerated by your skin.
---
Philosophy Help Me Advanced Retinol Age-fighting Night Treatment $35
If you've turned to retinol to treat oily skin pone to breakouts, then Help Me can help you. When your skin's sensitivity is related to a tendency for your pores to clog or become enlarged, you can use this time-release overnight cream without worry of further irritation. Also formulated with vitamin C, a pea-sized amount can lead to clearer and brighter skin.
---
Olay Professional Pro-X Deep Wrinkle Treatment Anti Aging $29.99
This serum blends amino peptides, niacinamide, and retinol, for a powerful deep wrinkle treatment that penetrates the skin's surface and volumizes from the inside-out. With 10-years of research behind it's formula, this serum also has a noticeable impact on sun damage, dehydration, and cell regeneration.
---
SkinMedica Retinol Complex 025 $62
Clinically tested for results regardless of your skin type, this retinol complex was specifically designed for correcting uneven skin tone and texture. Best introduced to skin slowly, the powerhouse of ingredients will strengthen your skin, prevents damage, and promote resiliency.
---
First Aid Beauty Retinol Serum $58
A 0.25% concentration of retinol combined with an anti-aging peptide complex is the perfect balance for those with sensitive skin who are also concerned with fine lines and wrinkles. Specifically created to reduce the risk of inflammation in even the most sensitive skin, this night cream includes the cooling properties of aloe and colloidal oatmeal as well as ingredients like hyaluronic acid and ceramides that support the overall health of your skin.
---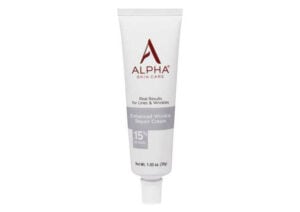 Alpha Skin care Enhanced Wrinkle Repair Cream $13.74
Without the irritating effects caused by synthetic fragrances and man-made oils, this age-defying repair cream packs a whole lot into one little bottle. Beyond collagen-boosting retinol, the formula also includes antioxidants that protect your skin as well as vitamins A, C & E to renew damage that's already been done.
---
Jan Marini Skin Research Age Intervention Retinol Plus $79
If your retinol product has won the same award twice, you know it's doing something right. Two-time winner of the Best Retinol Cream Award, the ingredients tackle every sign of aging from fine lines and skin texture to firmness and sun damage. The potency of the cream owes it all to a unique blend of retinol, peptides, and skin-calming antioxidants.
---
Neutrogena Rapid Wrinkle Repair Anti-Wrinkle Night Accelerated Retinol $15
When you're treating crow's feet, forehead lines, and cheek wrinkles, this anti-wrinkle cream provides quick results on the deepest lines. It uses a combination of retinol and glucose – to increase collagen production and prevent glycation damage. Paired with the ultra-hydrating effect of hyaluronic acid, this cream renews and strengthens for younger-looking skin.
Retinol is more than just a rejuvenation solution. Read our Before & After to learn more about the benefits of retinol and how it changes your skin for the better.
RETINOL TIPS FOR SENSITIVE SKIN
Retinol works. But the power behind it's skin clearing and cleansing properties come along with some potential side effects. For those with sensitive skin, that includes redness, dryness, inflammation, and skin peeling.
With a few tips, you can reduce the risk of developing irritation when using retinol – because nobody should be left behind when it comes to the benefits of using retinol.
Wash and cleanse your face before using your retinol product. This allows the retinol to penetrate clean pores and reduces the risk of reacting with anything left behind.  Try and wait 15-20 minutes to let your skin fully dry before applying a retinol serum.
Start with the lightest concentrations and forms of retinol and work your way up to higher strengths. Consider starting with retinyl ester and slowly progressing to a 0.25%, 0.5%, etc.
Similarly, you should slowly introduce retinol into your skincare routine. Begin by using a pea-sized amount 2 times per week for 3-4 weeks and build you usage from there. This will help your skin become tolerant and won't sensitize your skin.
Without moisture, the risk of sensitizing is much higher. That's why you should be hydrating your skin with a moisturizer when you use retinol. Consider combining your moisturizer with your retinol product; or, moisturize, apply retinol, and lock it in with more moisturizer.  (Many of the Retinol skin care products we have listed are moisturizers so this might not be necessary).
If you have sensitive skin especially, don't go straight to pure retinol. Instead, choose cream products and serums, again like many of the ones we have listed above, wherein retinol is a key ingredient with an appropriate concentration. These usually have other ingredients that will help your skin adjust.
FINAL THOUGHTS
It's no secret that retinol is one of the most well-rounded skincare ingredients available. Its benefits range from reducing the visibility of lines and wrinkles to clarifying acne-prone skin and enlarged pores. And although it has the potential to irritate sensitive skin, the best retinols for sensitive skin combine soothing ingredients with low concentrations of retinol – so you have the best of both worlds.