Even the most Instafamous MUA in the world is beholden to the necessity of a good primer. Your primer is the canvas on which you build your beauty. Without it, whatever you do next is doomed to fail.
But starting with a great base means more than creating a clean slate. Keep in mind that your primer is applied over your entire face and neck. It's the closest makeup to your skin and, depending on its ingredients, can work with or against your skin health.
So, what do you have to watch out for in conventional primers? The usual suspects of course: parabens, sulfates, phthalates, PEGs, and all those toxins common to skincare. But on top of that, you'll want to avoid:
Dimethicone: used to provide a smooth application and finishing texture, this chemical is a skin irritant that can cause dryness, allergic reactions, and exacerbate acne.
Siloxanes (D4 & D5): a softening, smoothing, and moisturizing chemical ingredients, siloxanes can disrupt hormone function and cause liver damage.
Alcohols: while alcohol-based primers tend to offer more longevity, they can severely dry out your skin and cause sensitivities such as burning, itching, and redness.
Fragrance: there is absolutely no need for a primer to contain synthetic fragrance, which can contain 100s of toxic chemicals that companies don't have to disclose thanks to patent laws that protect "trade secrets".
Preservatives: parabens and phthalates fall under this category of items that make your primer last longer but which have been found to be endocrine disruptors and potentially even carcinogenic.
For complete peace of mind that what you're putting on your skin in Step 1 of your makeup routine is not harmful, you should be seeking out a natural and organic primer. The best organic primer and natural primer will be free of all of the above.
Instead, they're packed with vitamins, nutrients, and minerals that are naturally or organically derived. Think plant-based oils, essential oils, wild-harvested botanicals, rich nut butter, and other ingredients that you can pronounce and recognize. By delivering these nutrients to your skin, you're improving your canvas and making your primer more effective.
Not sure where to start? We've gathered the best organic primers below so you don't have to look any further.
BEST CLEAN, NATURAL ORGANIC PRIMERS
Start your day or nighttime look off on the right foot with the best clean, organic primer and natural primers. We've sought out the top 8 natural and organic primers and detailed their unique benefits below.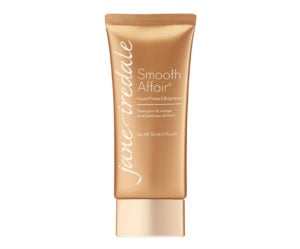 Jane Iredale Smooth Affair $50
You'll need no more than a pea-sized amount of this popular natural makeup primer to achieve an all-day look that won't allow your makeup to smudge, run, or blend without your express permission. While it keeps your makeup in place with uncompromised hold, it also delivers nourishment in the form of green tea, and white tea extract. Not only will those hard-working ingredients revitalize the skin, they'll also provide antioxidant protection against environmental aggressors.
---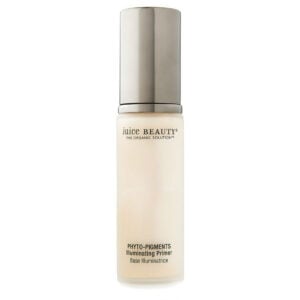 Juice Beauty Phytopigments Illuminating Primer $36
Formulated to be the perfect complement to any foundation that follows, this certified organic primer is not only a fan-favorite but it regulates your skin's oil production with glycerin – making it great for correcting sleek skin that tends to be overly shiny and oily. But because your face is typically one of the first places to start showing the sagging associated with aging, this primer is formulated with botanical juices, antioxidants, alkanes, and other anti-aging ingredients that illuminate the skin and restore radiance. You'll find everything from coconut to hyaluronic acid in this carefully crafted anti-aging formula.
---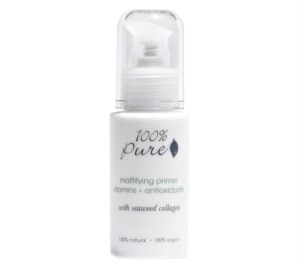 100% Pure Mattifying Primer $46.50
Instead of toxins that harm your skin, cause imbalance, and even clog pores, 100% Pure designs formulas using the healthiest of ingredients. In this plumping and hydrating natural primer, they've included collagen-boosting aloe to combat the visible signs of aging and seaweed to revitalize skin that's lost elasticity. Use this very popular all-day primer for the perfect matte finish that also controls oil and provides a smooth base on which to build your look. Alternatively, for a more dewy look consider 100% Pure's antioxidant-rich and silicone-free Luminous Primer ($39).
---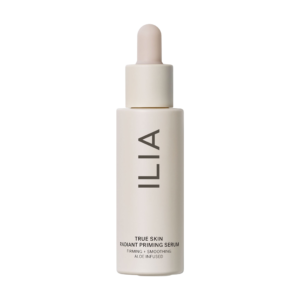 Ilia Beauty True Skin Radiant Priming Serum $52
Only minutes after applying 3-4 drops of this clean priming serum to your skin you'll start to physically feel its effects. Your skin will almost immediately tighten, making it a lot easier to seamlessly apply the next stage in your makeup but also improving the overall appearance of your skin and its texture. Its other incredible ingredients you won't necessarily feel, but you'll definitely see. Hibiscus, aloe, and beta-glucan keep your skin moisturized regardless of what you apply next.
---
Saint Cosmetics Angel Face Perfecting Primer $40
The secret to the staying power that this luxury, clean aloe-vera-based primer provides lays in its gel-like texture. With that consistency, your skin can both absorb all the nutrients contained in the formula but also hold onto the next layers of makeup you apply. It creates the perfect canvas from which to apply any level of coverage and it does so while delivering soothing, active botanicals and plant-based oils to thirsty skin.
---
Alima Pure Smooth + Prime $46
To achieve the ultimate in a smooth and silky finish, this natural primer utilizes olive oil, 3 variations of salvia sclarea water, and avocado oil. Perfect for use on oily skin thanks to a semi-matte finish that minimizes oil and shine, it's effective and compatible for use with pressed, powder, or liquid makeups that are built on top.
Use Alima's primer in combination with this Color Balancing Powder ($24) to brighten your complexion and even your skin tone. Apply this enhancing power after your primer and before your foundation for a radiant and clear skin tone.
---
Vapour Organic Beauty Essential Dailly Primer $45
In Vapour's organic line of primers, this is the one designed to suit most skin types and benefit most skin concerns. Its ingredient list is packed with items that accomplish a broad range of goals, including ginger for uneven skin tone, cranberry water for all-day protection, and macadamia oil for hydration. It goes on clear, meaning it blends with any skin tone, and pairs perfectly with any foundation you follow-up with.
For sensitive skin or skin that needs extra nourishment, Vapour has developed a Gentle Illuminating Primer ($60) that not only restores and soothes your skin but also protects it against the things that make it more sensitive, leaving it with an ethereal glow. Frankincense and lotus extracts protect and strengthen your skin barrier, elderberry provides antioxidant protection from environmental aggressors, and a handful of calming botanicals soothe the skin while all that work is done.
Last but certainly not least in Vapour's line of primer is this Matte Smoothing Primer ($60). If you have oily skin, you know the importance of a mattifying product. And while you can purchase a matte foundation to get the results you need, it doesn't work as well if your base layer is satin or dewy. And, like all Vapour products, they've thought about more than just priming. They've also included amino acids, nourishing oils, and botanical extracts for added skin benefits.
---
Sappho New Paradigm Primer $36
Available in dry skin and oily skin formulations, Sappho now allows you to choose the perfect vegan primer for your skin type. While each is formulated to meet the specific needs of your skin type, they both contain essential ingredients like antioxidants and phytonutrients and use jojoba oil as their hydrating and refreshing base.
---
French Girl Organics/Vegan Priming Serum $39
We couldn't stop at just one vegan and cruelty-free option. When we came across this luxury essentials brand that makes your health as big a priority as the health of our environment, we knew we had to add them to the list. French Girl uses fair trade ingredients and a sustainable supply chain as well as reusable and recyclable packaging. And all that attention to sustainability and fairness doesn't compromise the product itself: it contains an incredible blend of ingredients that your skin (and makeup) will love, including rooibos, green and white tea, hyaluronic acid, and aloe vera.
---
Zuzu Luxe Color Correcting Primer $19
Zuzu Luxe  delivers 5 different affordable primers to target specific skin concerns inclusive of dullness, blotchiness, sallowness, redness as well as lack of luminosity.  All of these natural primers are vegan, cruelty-free  and also free of known irritants like mineral oil, talc, gluten and parabens.
---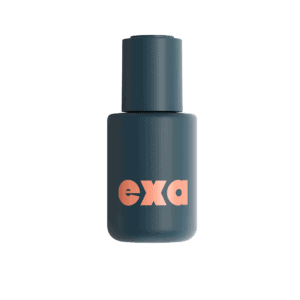 Exa Jump Start Smoothing Primer $34
More and more people are adopting a vegan diet and lifestyle and we always try to offer up at least one product for those readers. This time, we're highlighting Exa's best-selling Jump Start Smoothing Primer as our vegan candidate. It stands out not only as a vegan primer but also because of the all-star lineup of 97% natural, gluten-free ingredients you'll find in the formula. And for something a little different, they've added positively charged quartz crystals said to extend the length of your makeup while bringing good vibes to your body and mind.
---
Ayuna The Facial High $96
This is the Swiss Army Knife of primers because it's partly a serum, partly a toner, partly a powder, and partly a lotion. It's that multitasking that makes it the perfect pH balancing and hydrating toner for after a cleanse as well as the perfect priming treatment. It's effective and gentle triple acid blend of raspberry vinegar, glutamic acid, and succinic acid has year-round, daily benefits for all skin types.
---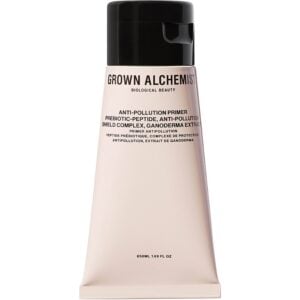 Grown Alchemist Anti-Pollution Primer $39
You could have the best skincare routine out there and the best cleansers, moisturizers, and serums. But if you haven't matched what you use and how you use it to your particular environment, it could be all for naught. That's why Alchemist developed their silicone-free, anti-pollution primer for those of us that live in big cities and neighborhoods where pollution is a big factor on the appearance and health of our skin. It contains Indian ginseng root extract that protects against everything from blue light emissions to environmental stressors, plus prebiotic peptides that strengthen our skin barrier function and its ability to ward off these stressors on its own.
FINAL THOUGHTS
All good makeup tutorials start with a primer – and so should you. When your building, blending, and diffusing your makeups to create the perfect look, you need something that keeps it in place. And when you can find an organic or natural primer that does both that and promotes healthy, balanced skin, then you've got the best of both worlds.