Do you remember that feeling? The one from your days of being carefree and young where you would rub sand all over your feet in the hopes that it would leave them soft? Ok no? Maybe it was just us! Think of microdermabrasion or dermabrasion as the "adulting" version of this activity. The anti-aging treatment uses crystals (no not the bling kind) or a coarse surface called a diamond microdermabrasion tip to exfoliate away dead skin cells on the skin's surface, not only revealing the fresh layers beneath but also helping to treat a number of concerns including fine lines, wrinkles, as well as age spots. Studies have shown that microdermabrasion is also ideal for those looking to combat photo-aging from sun damage and scarring.
From at-home treatments to in-office procedures, let's go beneath the surface to discover more nitty-gritty details about this treatment.
CRYSTAL VS DIAMOND MICRODERMABRASION MACHINES
Crystal microdermabrasion, the more traditional form of this anti-aging treatment combines aluminum oxide or sodium chloride (salt) crystals and a device that has a wand with strong suction abilities. During this version, the crystals are distributed onto the skin and then vacuumed up. As a by-product of this process,  the relevant areas being treated are gently scratched resulting in surface-level exfoliation.
Diamond microdermabrasion eliminates the need for crystals through devices that use an abrasive tip, usually made of metal and covered with synthetic diamonds. Diamond microdermabrasion is more popular than the alternative, not only because diamonds are harder then crystals, resulting in a better degree of exfoliation but also because of the no-muss-no-fuss convenience factor.
It should be noted that, just like sandpaper, the tips used in diamond microdermabrasion are measured by the size (diameter) of the surface particles, commonly known as grit factor. Although the type of diamond microdermabrasion tips you should use is largely based on skin sensitivity and personal preference, a finer one is generally more suitable for delicate skin while a rougher tip is good for tougher skin.
DIAMOND MICRODERMABRASION TIP BENEFITS
Works for all skin types and conditions (as mentioned above diamond microdermabrasion tip heads can be changed to suit different skin needs)
Gentle yet still effective
Little to no downtime
Allows the person being treated  to focus in on relevant areas that need more attention
THE IMPORTANCE OF SUCTION POWER
Suction power increases blood flow to the surface layer of the skin, assisting with collagen stimulation. Generally, suction power levels of at-home microdermabrasion devices max out at about 16 inches/Hg (although two of the ones we recommend below are more powerful), while professional-grade devices go up to 28 inches/Hg. The higher the level of suction power the more advanced the skincare issues that can be addressed (deep scarring, wrinkles, etc).
ANTI-AGING BENEFITS

It helps promote collagen production and cell turnover to reveal fresher younger-looking skin.
Gentler treatment when compared to laser with little to no downtime.
AT HOME MICRODERMABRASION DEVICES
The cost of in-office or spa microdermabrasion usually start at about $100 per session and at 1 treatment/month can quickly add up to thousands per year. At-home microdermabrasion treatments are amazing for those who are interested in a more cost-effective preventative anti-aging solution with results comparable to professional microdermabrasion. The anti-aging treatments can be done right from the comfort of your own home and also make for great maintenance devices to extend the time between sessions for those that opt for in-office procedures. Like most anti-aging treatments you may not see results from your very first treatment, but using an at-home microdermabrasion kit as part of your regular anti-aging skincare routine will be beneficial in the long run.
THE STARTER HOME MICRODERMABRASION DEVICE
Neutrogena Microdermabrasion System $15.38
Although we do recommend diamond tip microdermabrasion kits, if you're curious about trying the anti-aging treatment at home but still uncertain if it's is right for you – Neutrogena's device might be worth exploring. The combination of ultra-fine crystals and cleansers with massaging micro-vibrations may not give advanced results but they will still improve over-all skin luminosity, uneven skin-tone as well as also help reduce the appearance of fine lines and wrinkles – all at a cost-effective price.   Each of the exfoliating puffs the device uses are for one time use but 24-count refill packs ($11.23) can be purchased here.
RECOMMENDED AT HOME DIAMOND MICRODERMABRASION KITS
With at-home Diamond Microdermabrasion devices, there are two parts that need regular replacement: the diamond head tip needs to be replaced every 6-12 months (depending on cleaning as well as frequency of use), and the cotton filters that go inside the diamond tip generally need to be replaced within 1-3 times of usage, in order to protect waste from going inside the machine. Below are some of our top choices of at-home microdermabrasion devices:
Trophy Skin MicrodermMD $299
Easy to use, medical-grade (spa-grade) handheld diamond microdermabrasion device.
The LED display is one of our favorite features of all at-home microdermabrasion machines – it enables a visual guide (on auto-mode) that helps make treatment a breeze.
Exfoliates through 8 adjustable levels of powerful suction to suit a variety of users from beginners to more advanced microdermabrasion enthusiasts. The highest power suction setting comes in at about 22 inches/hg.
Extremely portable at 4 pounds (2kg)
60 Day money-back guarantee if you're not happy with the device as long its in good condition and a 3-year warranty (covering defects in materials or workmanship) – one of the longest periods for all at-home microdermabrasion devices.
Amazing customer service!
Replacement/additional styles of diamond tips (for different skin solutions) comes in at about $35/tip. Although they are not a necessary investment since the one that comes with the device suits most skin-types,  they are great for advanced users and for those who'd like to adjust the anti-aging treatment's level of coarseness for the different skin on the face and body.  

100 Filters are included (100 filter refills cost $15)
COST ESTIMATE
Initial Investment
Machine = $299
2 Additional Diamond Head Tips (optional) = $70
Maintenance
1 Diamond Head Tip = $35 (After 6-12 months with proper-care)
2 Additional Diamond Head Tips (optional) = $70
Total  1 Year Investment (Treatment & Maintenance)
$334 (equal to 3-4  in-office treatments)
---
Kendal Professional Diamond Microdermabrasion Machine HB-SF01 $229
Strongly rated on Amazon, this medical grade diamond microdermabrasion device is popular with at-home

aestheticians

Device suction power setting goes up to 28inch/hg, on par with many professional devices.
Not very portable at 9 pounds (5kg)
Very solidly built
9 diamond tips included allowing for flexibility in terms of skin type and condition
Although it doesn't come with an LCD guide the device is still easy to use with a dial control
Standard 1 year warranty
Parts are easily replaceable
Instructions are limited (so do your research online)
Comes with 240 Filters (refills of 60 filters cost $5)
 Replacement tips come in at $98.98 for a new set of 9 tips with 2 handles
COST ESTIMATE
Initial Investment
Total  1 Year Investment ( Treatment & Maintenance)
$229  (equal to about 2-3 in-office treatments)
---
New Spa Home Skin Care Kit $189
This diamond microdermabrasion device comes with 9 tips, allowing for the treatment of a variety of skin concerns so there is no need for an initial investment of additional tips.
At 16 inches/hg, the suction power is average for at-home devices, making it a good choice for newbies but it might not be powerful enough for those with more advanced concerns
Fairly Portable  at 6.4 pounds (2.9kg)
Standard 1 year warranty
Diamond Microdermabrasion tips are cost-effective to replace at $12/tip
Parts are easily replaceable with amazing customer service
Comes with 100 filters, 50 of each size needed (Replacement packs of 50 filters cost $3)
COST ESTIMATE
Initial Investment
Maintenance
3 Diamond Head Tips = $36 (After 6-12 months)
Total  1 Year Investment ( Treatment & Maintenance)
$225  (equal to about 2-3  in-office treatments)
THINGS TO NOTE
Some reviews complain about a loss of suction power as time goes by from at home diamond microdermabrasion machines. This can often be attributed to clogging and can be prevented through frequent filter replacement as well as cleaning the machine.
 In order to maximize the usage, you get out of your diamond microdermabrasion tips, be sure to cleanse them properly with an ultrasonic jewelry cleaner or with a professional jeweler.
PRODUCT RECOMMENDATION
Magnasonic Ultrasonic Polishing Jewelry Cleaner ($34.99)
This at-home device offers, close to a professional level of cleaning (42,000 cycles ultrasonic energy)  in a short amount of time. With a 600 ml stainless cleansing tank, it fits a variety of different sized items and operates quietly.  For an extra boost, reviewers recommend adding some jewelry cleanser or regular dish-washing detergent.
AT-HOME DIAMOND MICRODERMABRASION PROCESS
Using a gentle cleanser to rinse your face of makeup and skincare products.
Refer to the device's instructions about the type of tip (if relevant) as well as the intensity level.  Generally, it's recommended to start with a lower intensity of suction and a finer tip – especially if you're just starting out or your skin is sensitive.
When using the microdermabrasion device, adjust to the level you'd like and gently go over the surface of your face as well as neck. Make sure to avoid treating areas where you have active breakouts or open wounds.
The entire process should take around 10-15 minutes for full-face treatment and can be repeated every 7-14 days until the expected results have been reached.
IN-OFFICE MICRODERMABRASION TREATMENT
In-office microdermabrasion treatments are ideal for those who may be hesitant about performing the anti-aging treatment by themselves. Skincare practitioners will use machines that have higher levels of intensity and therefore may produce more advanced results. The main downside is the cost per treatment can be $100 dollars + and this certainly adds up.
IN-OFFICE MICRODERMABRASION PROCESS
Your dermatologist will discuss the treatment with you beforehand in order to make sure any specific concerns are addressed as well as to understand your needs.
Before treatment begins, skin will be cleansed and a gentle facial may be done.
The practitioner will gradually go over the face with the device, targeting specific areas requiring additional attention.
TREATMENT TIME
WHAT MICRODERMABRASION FEELS LIKE
Many describe the anti-aging treatment as feeling tingly without much discomfort and a slight pinching sensation with each pass of the device.
MICRODERMABRASION RESULTS
After 3-5 sessions, expect improvements for milder hyperpigmentation issues (acne marks), fine lines as well as over-all skin clarity and tone.
More advanced results should be expected after 8-10 sessions for concerns such as more prominent skin discolorations (age spots),  deeper wrinkles & sagging.
After the first set of treatments, results should be expected to be maintained with 1-2 monthly treatments going forward.
COMMON SIDE EFFECTS
Side effects are rare with microdermabrasion treatments:
In most cases, there is limited downtime with slight redness or swelling immediately after treatment, but this should subside within 30-60 minutes.
Those with moderate or severe acne or rosacea should be warned that using this treatment may worsen symptoms, and so it's always best to check with your skin-care practitioner before treatment.
WHAT IS DERMABRASION?
Dermabrasion is a more advanced version of microdermabrasion, generally used to target harder to treat aging concerns. The anti-aging treatment uses a rotating instrument with a hard tip or head that is applied to the skin in order to remove the epidermis (surface layers) where the flaws appear. Dermabrasion should always be done in-office by skilled skincare practitioners as there is more risk involved than with microdermabrasion. One of the main benefits, when compared to other anti-aging treatments, such as chemical peels and lasers, is that this one doesn't leave lines of demarcation between treated and non-treated areas that may occur with the others.
WHAT IT TREATS
Severe scars
Area Specific lines & wrinkles
PROCESS
Before treatment, a consultation with your skin care practitioner is recommended. Make sure to discuss any allergy concerns as a local or topical anesthetic will be administered.
Skin will be cleansed and the anesthetic will be applied, if it is in a topical form, expect it to be left on for 20-30 minutes before treatment begins.
As the dermabrasion device goes over the skin expect some blood since layers of the skin are being physically removed.
Once the procedure is over, you will be taken to a recovery room where cooling mask or ice-packs will be applied following on with gauze to protect the skin.
Plan for someone to pick you up from the treatment location.
TREATMENT TIME
1-2 hours with the possibility of a few more hours recovery time post-treatment.
WHAT IT FEELS LIKE
Due to the anesthetic, you will most likely only feel slight sandpaper rubbing against the skin sensation.
POST-TREATMENT
Recovery time can range from 7-20 days, depending on the area treated and how many layers were removed.
A follow-up appointment generally happens after 7 days but may happen sooner depending on your skincare practitioner's thoughts

. 
RESULTS AND REPETITION
Usually, only 1  treatment is needed for visible improvement.  If a repeat treatment is needed, you may not have to do it for months or even years after the skin is fully healed.
COMMON SIDE EFFECTS
Bleeding and slight crusting generally happens during the dermabrasion recovery process. Be sure to check-in with your skin care practitioner if your skin seems to become infected.
acne breakouts & rashes
changes in skin tone
redness
tenderness & swelling
HOW TO TAKE CARE OF YOUR SKIN BEFORE AND AFTER TREATMENT?
PRE-TREATMENT CARE
3-5 days before treatment avoid all types of exfoliation, inclusive of cleansing brushes, AHA (Glycolic Acid, Lactic Acid, ETC), BHA (salicylic acid), Retinoids (Retin-A, Differen, Tazoric, Retinol as well as  Benzoyl Peroxide.
Refrain from hair removal (threading, waxing, etc) for 5-7 days
In order to avoid pigmentation issues minimize sun exposure for 5-7 days prior to treatment.
Don't do anti-aging treatments like chemical peels and lasers for 7-14 days before treatment
POST TREATMENT CARE
Avoid the sun for 5-7 days post-treatment to avoid UV damage as well as post-hyperpigmentation issues.   If you need to go into the sun, make sure to religiously use an effective sunscreen with broad-spectrum protection.
Don't use exfoliants (as listed in the pre-treatment care) for 24-48 hours post-treatment.
After 3-7 days, depending on your skin's sensitivity retinoid treatments may begin again.
A NOTE ABOUT DERMABRASION AFTERCARE
Dermabrasion requires advanced after-care so make sure to check in with your skin care practitioner in order to advise about what needs to be done post-treatment as well as when you can start your regular anti-aging skin care routine again.
POST-TREATMENT PRODUCTS RECOMMENDATIONS
When it comes to microdermabrasion investing in gentle and non-irritating after-care products including cleansers as well as moisturizers is a must in order to help skin heal effectively. As sensitivity increases after treatment, protection from the sun is key so make sure you invest in an effective sunscreen.  Below find some of our recommendations.
CeraVe Hydrating Cleanser ($7.96)
Best for: Normal to Dry Skin
This fragrance-free cleanser not only helps repair the skin's barrier making it perfect for usage after anti-aging treatments but also cleanses without over-stripping.  Key ingredients in the formula to look out for include Hyaluronic Acid as well as Ceramides, which both help to boost moisture levels.
Discover more about the different types of anti-aging cleansers and what skin-types they are suitable for by checking out our in-depth guide.
---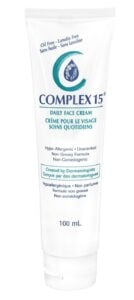 Complex 15 Daily Face Cream $14.15
Best For: Normal, Combination, and Sensitive Skin Types
This lightweight moisturizer is non-greasy, gentle, and works well for skin that may be sensitive post anti-aging treatment. Some of the key ingredients to look out for include Triglycerides as well as Squalane to boost hydration levels as well as Lecithin that helps soften the skin.  Other notable benefits of the formula include the lack of scent and it's non-irritating nature.
Check out our guide to the benefits of anti-aging creams inclusive of ingredients to look out for and a look at what they do.
---
Josie Maran Argan Daily Moisturizer SPF 47 Protect + Perfect ($30.50)
Best For: Normal to Dry Skin (not prone to breakouts)
Although the combination of 9.4% zinc oxide and 5.9% titanium dioxide may seem to many as an indication of the dreaded white cast mineral sunscreens often bring to the skin, this rich formula's highly blendable nature and tint prevent this situation from happening. Notable ingredients include Argan Oil and Aloe Vera to help provide an intense moisture boost as well as the antioxidant Green Tea that supports the effectiveness of the other sun protection agents. If your coloring is more on the porcelain side of things look into the non-tinted version as it may be more suitable.
Explore our in-depth article if you're looking to find out more on what makes for an effective anti-aging sunscreen including the ingredients to look out for and the types of things you should look into when picking one.
Make sure to check out our guide if you are curious to learn more about other types of facial treatments and types of facials.
FINAL THOUGHTS
With the advances in microdermabrasion, its definitely worth considering it as an effective option to target aging concerns. Keep in mind, that there isn't one magic bullet solution rather any effective anti-aging skincare routine will combine both treatments as well as products.