If you're like a lot of men, you shop for skin, hair, and beard-care products that are unscented. Maybe that's connected to some backward view about perfumes and smelling good and what it means to masculinity, or maybe it's simply because you already have enough scents coming from your cologne and your deodorant, and you're hypersensitive about clashing smells.
Whatever the reason for choosing unscented, we're here to tell you that scented beard oils are something to consider. There's a scent for every mood and every taste – from light and earthy to profound and intense – and the best-smelling beard oils have a whole lot to offer your skin and hair health, too.
In this article, we're reviewing the best-scented beard oils, telling you what to look for in scented beard oil, and, of course, giving you some tips on what to avoid. Ready? Let's have a look at all you ever needed to know about picking the best-smelling beard oils.
INGREDIENTS TO LOOK FOR IN THE BEST SCENTED BEARD OILS
Now that you know all there is to know about fragrance and scent, what else should you look for in a scented beard oil in terms of ingredients?
Essential oils require a carrier oil. A carrier oil is used to dilute the essential oil, because many of these are powerful concentrations of plant compounds. Without carrier oil, they're often too strong to put directly on your skin. Carrier oils also help "carry" the essential oil, and all its potential benefits, to your skin. Essential oils aren't necessarily bio-available, but when blended with a carrier oil, your skin can absorb all of the benefits.
With all of that said, you'll want to look for nourishing carrier oils. Examples of these include:
Argan oil
Vitamin E
Jojoba oil
Coconut oil
Almond oil
Avocado oil
Carrier oils are virtually unscented – they're just the oils that "carry" the fragrance. So, along with a nourishing, plant-derived carrier oil, you'll also need to pick your scent. There are hundreds if not thousands of scents to choose from, but some of our favorites for the best scented beard oils include:
Rosemary
Patchouli
Grapefruit
Orange
Peppermint
Cedarwood
Sandalwood
The list goes on- it would be impossible to name them all here. The point is, stay away from those chemicals and look into natural essential oils for the best scent.
10+ BEST SCENTED BEARD OILS FOR MEN
And now, it's time to look at the best smelling beard oil list! Here are the best scents available, made from ingredients that are actually good for your beard hair!
Jack Black Beard OIl $20
Jack Black's extremely popular beard oil (2900+ 5 star ratings) is ultra-nourishing but still allows for a bit of styling. Fast-absorbing, certified organic Kalahari melon and marula oils are rich in essential fatty acids that soften facial hair and smooth the skin beneath even the thickest of beards. Brown algae, carrot extract, and vitamin E are powerful antioxidants that protect your beard from future damage, and plum oil adds a little more softness, shine, and control. Lightly scented with essential oils, the scent of this beard oil is so subtle you won't even note that it's there.
---
Baxter Beard Grooming Oil  $28
Most beard oils only focus on conditioning and smoothing your beard hair, but Baxter of California prides itself on going above and beyond. This highly rated beard oil conditions and smooths like the rest, but it also tames coarse beards and 'staches, penetrates beard hair to hydrate the skin beneath, and relieves flakiness and itchiness. It does all of that with the help of squalene, avocado oil, vitamin e, and botanical extracts, while the subtle fragrances of sandalwood, jasmine, and cedarwood make your beard smell bold and earthy.
---
Proraso Beard Oil $16
Another super-nourishing scented beard oil is Proraso Beard Oil. We like this scent a lot – you'll smell vanilla notes as well as cumin, saffron and rock rose. In other words, this is a masculine, exotic scent. Of course, there's other good stuff too. The beard oil contains avocado, macadamia, walnut and sunflower oils. Perfect for dry or coarse hair!
Proraso Beard Oil is paraben-free, phthalate-free, and SLS-free. It contains no silicones or mineral oil. Simply put, it's a healthy, manly scent you're going to love.
---
Port Products Conditioning Beard Absolute $20
The next scented beard oil on our list of favorites is Port Products Conditioning Beard Absolute. We love the smell most of all. It's got bergamot and sandalwood, meaning it gives a woodsy lumberjack smell to your beard. Aside from smelling great, bergamot and sandalwood are also known to help prevent hair loss and even encourage hair growth.
So what else is great about Port Products Conditioning Beard Absolute? First, it's all-natural. There are no chemical ingredients in Port Products Conditioning Beard Absolute. It moisturizes your skin. And, it doubles as a skin conditioner. You can actually use it all over your face as a moisturizer – it won't clog your pores or cause blemishes.
---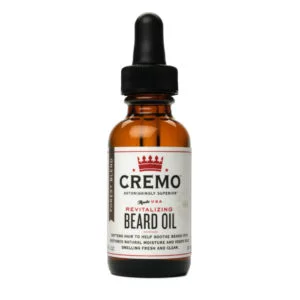 Cremo Forest Blend Beard Oil ($9.82)
If you're looking for a scented beard oil with a slightly stronger aroma, check out Cremo Beard Oil. You can choose from Forest Blend or Mint Blend, which offers unique benefits to your skin and beard. In the Forest Blend, you'll find:
Spruce oil
Rosemary oil
Eucalyptus oil
Sunflower oil
Jojoba oil
Vitamin E
In the Mint Blend, you'll find:
Rosemary oil
Peppermint oil
Coconut oil
Jojoba oil
Vitamin E
Choose which product you like best – the woodsy, masculine Forest Blend or the fresh, bright Mint Blend. Either way, your beard will look and feel better – naturally. If you're curious about this scenttet beard oil, make sure to check out our Cremo Beard Oil review.
---
V76 Beard Oil $17
Beard dryness doesn't just impact the appearance of your beard (and it sure does impact the appearance in terms of frizziness, for example). Dryness also causes itchiness, flaking, and all kinds of irritation. But Vaughn's textremely popular scented beard oil is formulated specifically to tackle dryness – and, in that respect, it's won GQ's award for Best Beard Oil to Prevent Dryness. The secret? Saw Palmetto to promote skin and hair health and safflower oil to smooth rough skin and prevent dryness. The blue cedar fragrance is a blend of coconut milk, nutmeg, violet, peach, blue cedar tree, moss, and leather and it carries a magnetic woody scent that's both soothing and elegant.
---
Billy Jealousy Beard Oil $24
Hydrating and protecting are the themes behind this best scented beard oil formula. For hydration, there's a healthy dose of plant-based oils: soybean, sunflower, jojoba, and avocado. And each of these oils brings with it more than just moisturization. Soybean brings omega fatty acids to promote hair growth, sunflower oil conditions to help prevent breakage and adds thickness with gamma alpha lineolic acid, jojoba has natural antimicrobial properties, and avocado is high in vitamin e, which is a natural antioxidant.
Find that award-winning beard oil in BIlly Jealousy's Wicked Beard Trio ($24) alongside a sulfate-free Beard Wash and a leave-in Beard Control. This beard care regimen will leave you with a thicker, shinier, healthier beard that's also protected from the elements.
---
Elemis Smooth Result Shave & Beard Oil $24
This is a high-performance, multi-purpose face and beard oil. The blend of vitamin-rich jojoba, hazelnut, and grapeseed oils are instantly absorbed by skin and hair to soften, smooth, and moisturize. It contains a natural, subtle, refreshing fragrance of mint – the soothing and cooling qualities of which are boosted by the Ice-Cool Foaming Shave Gel and Skin Soothe Shave Gel that you can layer on top for even better results.
---
The Veddas Beard Oil $23
Most beard oils offer hydration to some extent or another but this beard oil with natural ayurvedic roots offers the ultimate in lightweight hydration. Best for oily, combination, and sensitive skin types, this lightly scented blend of jojoba, grapeseed, coconut, and argan replenishes moisture without any heaviness, greasiness, or potential pore-clogging. It's also available in two light, sensual scents: Vanni and Lakshmi.
CHEMICAL VS NATURAL SCENTS: WHAT'S THE DIFFERENCE?
Before we say anything, let us say this: you should always, always avoid chemical fragrances. A cologne-scented beard oil may match nicely with your actual cologne, but it's probably got a lot of yucky chemicals in it that are causing a great deal more harm than good.
Often labeled parfum, perfume, or fragrance, these are a combination of hundreds of unknown synthetics and chemicals. These terms are protected under trade secret laws, wherein brands don't have to list everything that goes into how they create their unique scent. Conventional brands opt for this method of "flavoring" their beard oil because they're affordable and they last longer on the shelf and on the skin.
At least, you'll find drying alcohols and skin-irritating chemicals in the make up of a fragrance. But, at worst, you'll find things like ethanol and chloride- things you'd never, ever put on your skin otherwise. These synthetic ingredients can mess with hormones and reproductive systems and some are even linked to different kinds of cancers.
Instead, choose a beard oil that uses essential oils to deliver its scent. Essential oils are compounds extracted from plants using distillation or mechanical methods like cold pressing. These oils capture a plant's unique scent and essence. Plus, the aromatic compounds of certain plants can also have an effect on emotional and/or mental health, which is why they're so often used in aromatherapy.
Most importantly, though, essential oils are naturally-derived. They're safe for use on all skin types without the potential of side effects (provided the formula is stabilized and properly balanced). The best scented beard oils use essential oils for their positive impact on hair and skin health as well as on the environment.
FINAL THOUGHTS
Scented beard oils don't have to clash with your deodorant. In fact, you may find a scent you like even better than your usual fragrance. Keep an unscented product on hand if you must, but try a few scented oils as well. You'll find that the essential oils go a long way toward giving you the healthy, smooth and groomed beard you crave.