If you're like a lot of men, you shop for products that are unscented. Why? Because your beard shouldn't clash with your cologne or your deodorant. It's as simple as that.
That said, there are quite a few scented beard oils on the market that may just make you want to switch your routine. Why not use a scented beard oil and skip the cologne? In this article, we'll take a look at the top selling beard oil scents. We'll go over what to look for in a scented beard oil and what to avoid.
Ready? Here's what you need to know about good beard oil scents.
Chemical VS Natural Fragrences: What's The Difference?
The first thing you should know is quite simple: you should avoid chemical fragrances. While that cologne scented beard oil may match nicely with your actual cologne, it's probably got a lot of yucky chemicals that aren't good for your hair or your health.
Alcohol is commonly added to beard oil- scented beard oil like that can be drying. But even scarier than that is the "perfume" itself. Often labelled parfum, perfume or fragrance, the "flavor" of your beard oil may be due to camphor, ethanol or some types of chloride. Yuck.
To keep things simple, choose a beard oil that's made with essential oils as fragrance. These oils usually have additional benefits, such as antibacterial properties or even antifungal properties.
INGREDIENTS TO LOOK FOR IN SCENTED BEARD OILS
So what should you look for in a scented beard oil? Remember: the best scent for beard oil is a natural scent.
First, you'll want to look for nourishing carrier oils. Examples of these include:
Argan oil
Vitamin E
Jojoba oil
Coconut oil
Almond oil
Avocado oil
Carrier oils are virtually unscented – they're just the oils that "carry" the fragrance. Examples of nourishing, fragrant oils include:
Rosemary
Patchouli
Grapefruit
Orange
Peppermint
Cedarwood
Sandalwood
The list goes on- it would be impossible to name them all here. The point is, stay away from those chemicals and look into natural essential oils for the best scent.
BEST SCENTED BEARD OILS FOR MEN
And now, it's time to look at the most popular beard oil scent list! Here are the best scents available, made from ingredients that are actually good for your hair!
Jack Black Beard OIl $20
Our top choice for the best scented beard oil is Jack Black Beard Oil. This beard oil is ridiculously moisturizing, as it contains:
Jojoba oil
Sunflower oil
Olive oil
Shea butter
And more!
There are no drying chemicals in Jack Black Beard Oil – just the good stuff. So what does it smell like? Well, men who have used the oil say it's a good fall scented beard oil. Rosemary gives Jack Black Beard Oil a piney, earthy scent. The aroma, though, isn't overwhelming so you can still wear your favorite cologne.
---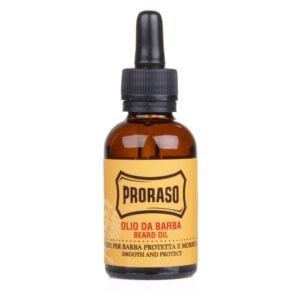 Proraso Beard Oil $16
Another super-nourishing scented beard oil is Proraso Beard Oil. We like this scent a lot – you'll smell vanilla notes as well as cumin, saffron and rock rose. In other words, this is a masculine, exotic scent. Of course, there's other good stuff too. The beard oil contains avocado, macadamia, walnut and sunflower oils. Perfect for dry or coarse hair!
Proraso Beard Oil is paraben-free, phthalate-free, and SLS-free. It contains no silicones or mineral oil. Simply put, it's a healthy, manly scent you're going to love.
---
Honest Amish Classic Beard Oil ($13.85)
Honest Amish is one of the best-known names in beard care products. Each product created by Honest Amish is made in the USA, and made from 100% natural and organic ingredients. So what's in Honest Amish Classic Beard Oil? Here's how the oil will moisturize and protect your hair:
Avocado oil
Pumpkin seed oil
Moringa oil
Sweet almond oil
Apricot kernel oil
Jojoba oil
Argan oil
Kukui oil
And the smell? Very unique! Honest Amish Classic Beard Oil smells like a mix of licorice and clove oil. Very spicy and very sexy.
---
Port Products Conditioning Beard Absolute $20
The next scented beard oil on our list of favorites is Port Products Conditioning Beard Absolute. We love the smell most of all. It's got bergamot and sandalwood, meaning it gives a woodsy lumberjack smell to your beard. Aside from smelling great, bergamot and sandalwood are also known to help prevent hair loss and even encourage hair growth.
So what else is great about Port Products Conditioning Beard Absolute? First, it's all-natural. There are no chemical ingredients in Port Products Conditioning Beard Absolute. It moisturizes your skin. And, it doubles as a skin conditioner. You can actually use it all over your face as a moisturizer – it won't clog your pores or cause blemishes.
---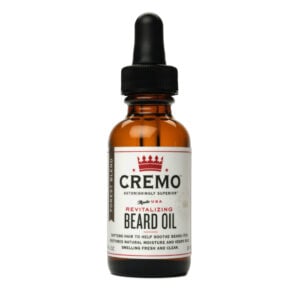 Cremo Forest Blend Beard Oil ($9.82)
If you're looking for a scented beard oil with a slightly stronger aroma, check out Cremo Beard Oil. You can choose from Forest Blend or Mint Blend, and each offer unique benefits to your skin and beard. In the Forest Blend, you'll find:
Spruce oil
Rosemary oil
Eucalyptus oil
Sunflower oil
Jojoba oil
Vitamin E
In the Mint Blend, you'll find:
Rosemary oil
Peppermint oil
Coconut oil
Jojoba oil
Vitamin E
Choose which product you like best – the woodsy, masculine Forest Blend or the fresh, bright Mint Blend. Either way, your beard's going to look and feel better – naturally.
IF you're curious about this product make sure to check out our Cremo Beard Oil review.
---
Every Man Jack Beard Oil $8.31
The last scented beard oil on our list isn't the least, by far. Every Man Jack Beard Oil is one of the best beard oils you can buy – it smells great and it's awesome for your hair. Every Man Jack Beard Oil contains cedarwood oil, which is shown to encourage hair growth as well as thicken your existing hair. The result? A fuller, thicker beard that smells heavenly.
Every Man Jack Beard Oil is dye free, cruelty-free and all natural. There are no harsh chemicals to damage your beard or to dry your skin. Instead, the beard oil contains:
Olive oil
Linseed oil
Borage seed oil
Argan oil
All the good stuff you need to hydrate and grow your healthy, full beard.
Men who have used Every Man Jack Beard Oil in Cedarwood say the oil spreads smoothly. Use a beard brush to distribute the product, and be sure to run it onto your skin as well.
FINAL THOUGHTS
Scented beard oils don't have to clash with your deodorant. In fact, you may find a scent you like even better than your usual fragrance. Keep an unscented product on hand if you must, but try a few scented oils as well. You'll find that the essential oils go a long way toward giving you the healthy, smooth and groomed beard you crave.