Whether you had a long night out or you always struggle with dark under eye circles, using a white eyeliner for waterline can help you look more alive.
A creamy white eyeliner can make the difference between looking like you haven't slept in a few days and looking completely refreshed. But ensuring that the eyeliner you choose is a waterproof white eyeliner is the key to achieving that rested look. Because of the chemicals used in their formula, not using a waterproof eyeliner on your waterline can be dangerous.
To be sure you're choosing the right eyeliner for waterline, we've found the best 11. Keep reading to find out which one is best for taking you from sleepy to sultry with less than 1 minute of application.
Before checking out our list of the best white eyeliners for your waterline, here are 3 alternatives we recommend for other uses such a spin on a classic cat-eye look.  First up is the fan-favorite Stilla's waterproof Stay All Day Liquid Eyeliner in Snow ($22) or Dior's Felt Tip On Stage Eyeliner ($30.50)  in Matte White and finally Sigma Beauty's Line Ace Liner in Endorse ($14).
11 BEST WHITE EYELINERS FOR WATERLINE TO BRIGHTEN EYES
Check out our selection of the top white eyeliner for the waterline below:
NARS Larger Than Life Long-Wear Eyeliner (Santa Monica Blvd) $26
When you're really tired, this intense and dramatic white eyeliner is the key to waking you up – or at least looking like it. A rich and creamy white eyeliner that last for up to 12 hours, you won't have any caking when you wear this from workday into the evening. You'll lose this so much you'll be looking to add all 9 shades to your makeup arsenal.
---
Lancome Le Stylo Waterproof Long Lasting Eyeliner (Rose Blanche) $27
Lancome's cult-favorite retractible eyeliner is smudge-proof, won't streak and is generally known for its long-lasting abilities.  The waterproof formula glides on easily and has a twist top so it removes the issue of messy shavings.
---
Rimmel London Soft Kohl Eyeliner (pure white) $8
This kohl white eyeliner delivers a soft and smooth finish along with fade resistant color. Providing as deep a color as you need, it's also smudgeable and blendable when you use it for more than just a boost to tired eyes. Applied in a pinch, this drugstore white eyeliner can be sharpened to your desired application point.
---
Stila Smudge Stick Waterproof Eye Liner (Alpine) $20
Stila's extremely popular white eyeliner pencil is known for its intensely rich color that promises to stay on all day without fading. The moisturizing formula includes vitamin E ensuring that it goes on smoothly and will not tug or pull skin.
---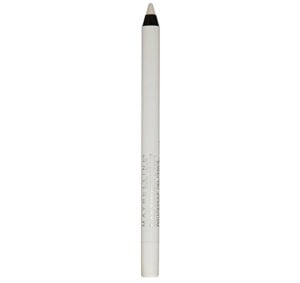 Maybelline New York Eyestudio Lasting Drama Waterproof Gel Eye Pencil (Cashmere White) $10.50
Gel-based eyeliners glide on ultra-smooth while providing the distinct finish that you need a waterline liner and this intensely pigmented liner is no exception. Totally resistant to any smudging and also delivering a super safe waterproof formula, the 16-hour wear will keep you looking alive day and night.
---
Lorac Front of the Line Pro Eye Pencil (white) $20
A pro-white eyeliner pencil that's easy for beginners to use, it's also completely waterproof, Ophthalmologist tested and safe for use with contact lenses. Ultra-smooth with a matte finish, this liner is a sequel to LORAC's best-selling liquid liner that can easily be used to create even the most dramatic and intense looks.
---
Blinc Eyeliner Pencil (white) $22
One of our favorite white eyeliners for waterline on this list, Blinc's formula contains antioxidants that condition your waterline while providing the brightening effect you're looking for. But that's not all – it firms your skin with ingredients like canola and promotes cellular renewal with tocopherol. An eyeliner that's easily removed with a gentle makeup remover, it's also waterproof, fade proof, and smudge proof, so you can count on it all day.
---
Nyx Professional Makeup Jumbo Eye Pencil (White) $4.50
For those who crave all things multi-functional, this 2-in-1 silky jumbo white pencil can be used as an eyeliner or an eyeshadow. Although it glides on smooth and creamy, it's actually a powder formula that contains mineral oil that your skin will love.  For a more precise option check out Nyx's  Mechanical Eye Pencil ($3.85).
---
Jane Iredale Eye Pencil (white) $15
Jane Iredale's formulas are known for being natural and mineral-based and this white eye pencil is no different.  For those who can't seem to escape the pull that so many eyeliners cause during application, this super smooth and rich white pencil offers a texture so soft that pulling is unheard of. Blendabale and long-lasting it offers fabulous color but also contains ingredients to condition and protect your waterline. Shea butter moisturizes, vitamin E provides protection, and macadamia seed oil soothes your skin.  Last but definitely not least the formula is vegan and gluten-free.
---
Make Up Forever Aqua XL Eye Pencil Waterproof Eyeliner (matte white) $20
Ultra-creamy and super intense, who doesn't love the sound of that? This waterproof white formula is safe for use on your waterline and it provides a long-lasting color with gentle pressure. A pro-favorite, this pencil liner is an Allure award-winner.
---
Shiseido Microliner Ink (white) $22
Formulated without oil, fragrance, and talc this next-generation waterproof eyeliner allows precise application with long-wear performance (supposed to last up to 24 hours) .  The formula is highly pigmented and is made without parabens, sulfates as well as phthalates making it popular for those with sensitive eyes.
FINAL THOUGHTS
When you're looking for the best white eyeliner for waterline to help you look bright-eyed, the first thing to look for is a waterproof formula. That's the safest tip we can give you.
After that, you'll need to find a base that works for you. Can you handle the precision of a gel-pencil or are you more partial to a pencil? Do you need smudge or is it a 2-in-1 you're after?
Whatever it is you require, there's an eyeliner for waterline on this list that'll suit your needs.