We're not going to go so far as to say that white is the new black – because, let's be honest here, nothing will ever replace your classic black eyeliner for a dramatic or smoky, smudged, look. But what we will admit is that white eyeliner doesn't get the cred that it deserves.
White eyeliner can indeed replace your black liner for an occasional cat-eye that really pops. But it's also capable of creating some understated effects that can change your whole look without much effort. It can be used along with an assortment of other eyeliners to help you achieve a brighter, wide-eyed look. Tracing it along the inner corner of your eye gives a nice highlight to your eye line. And whether you've had a long night out or you always struggle with dark under-eye circles, using a white eyeliner for waterline can help you look more alive.
Potentially the most beneficial and popular use for white eyeliner, tracing your waterline can make the difference between looking like you haven't slept in a few days and looking completely refreshed.
We're covering 12 of the best eyeliner for the waterline with a little bonus coverage on formulas for the rest of the eyes. Keep reading to find out which one is best for taking you from sleepy to sultry with less than 1 minute of application.
12 BEST WHITE EYELINERS FOR WATERLINE TO BRIGHTEN EYES
It should be noted that all of the best white eyeliners for waterline that we've recommended below are also great for anywhere around the eyes. The reason that these are specifically recommended for waterline has to do with their formula.
Due to the nature of the waterline, we've selected eye pencils, kohls, and gels that are easy to apply, fast-drying, and long-lasting. Below you'll find our selection of the top white eyeliners for the waterline and beyond.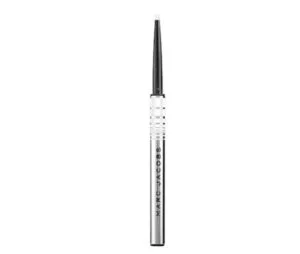 Marc Jacobs Beauty Fineliner Ultra-Skinny Gel Eye Crayon Eyeliner $25
They thought of everything down to the design of this eyeliner case – which was inspired by Marc Jacobs Collection dress, by the way. Along with its couture casing, the eyeliner pencil itself was designed with ergonomics in mind: the precise and malleable tip makes it perfect for tight lining and lining the waterline without smudging. And that design is complemented by a gel formula that glides on smooth and stays all day to help brighten the eyes.
---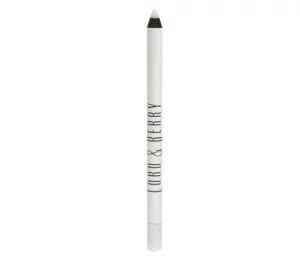 Lord & Berry White Silk Kajal White Eyeliner $18
Designed after traditional Kohl, Lord & Berry have added unique modern updates to this liner that earns them their reputation as the lids and eyes specialists. Ophthalmologically-tested to be gentle enough for sensitive eyes and for use on the inner eyelid, the extreme comfort of the liner owes itself to the vegetable oils that make up the base of the formula. It delivers a semi-matte finish that highlights the color of the inside of your eye and dramatizes the outside.
---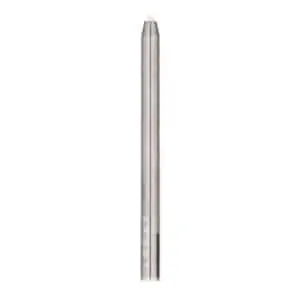 Lorac Front of the Line Pro Eye Pencil (white) $20
A pro-white eyeliner pencil that's easy for beginners to use (and extremely popular), it's also completely waterproof, Ophthalmologist-tested, and safe for use with contact lenses, it's ultra-smooth with a matte finish. This liner is a sequel to LORAC's best-selling liquid liner that can be used to create the most dramatic and intense looks.
---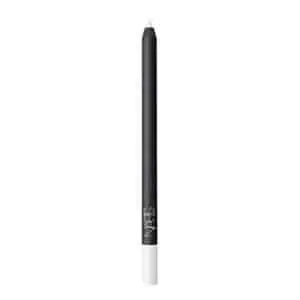 NARS Larger Than Life Long-Wear Eyeliner (Santa Monica Blvd) $26
When you're really tired, this intense and dramatic white eyeliner is the key to waking you up – or at least looking like it. A rich and creamy white eyeliner that lasts for up to 12 hours, you won't have any caking when you wear this from workday into the evening. You'll love this liner so much you'll be looking to add all 9 shades to your makeup arsenal.
---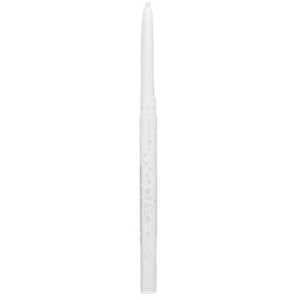 Stila Smudge Stick Waterproof Eye Liner (Alpine) $20
Stila's extremely popular white eyeliner pencil is known for an intensely rich color that promises to stay on all day without fading. The moisturizing formula includes vitamin E, ensuring that it goes on smoothly and will not tug or pull the skin.
---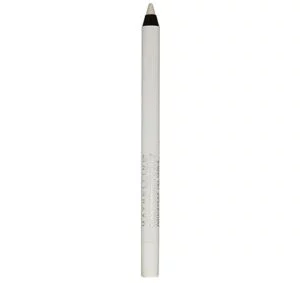 Maybelline New York Eyestudio Lasting Drama Waterproof Gel Eye Pencil (Cashmere White) $10.50
Gel-based eyeliners glide on ultra-smooth while providing the distinct finish that you need in a waterline liner and this intensely pigmented liner is no exception. Totally resistant to any smudging and also delivering a super safe waterproof formula, the 16-hour wear will keep you looking alive day and night.
---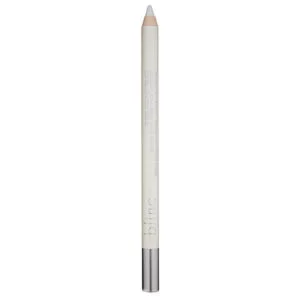 Blinc Eyeliner Pencil (white) $22
One of our favorite white eyeliners for waterline on this list, Blinc's formula contains antioxidants that condition your waterline while providing the brightening effect you're looking for. But that's not all – it firms your skin with ingredients like canola and promotes cellular renewal with tocopherol. An eyeliner that's easily removed with a gentle makeup remover, it's also waterproof, fade-proof, and smudge-proof, so you can count on it all day.
---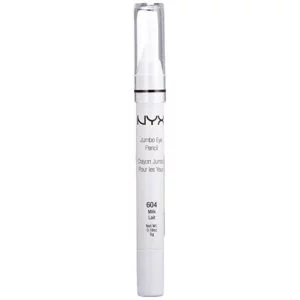 Nyx Professional Makeup Jumbo Eye Pencil (White) $4.50
For those who crave all things multi-functional, this 2-in-1 silky jumbo white pencil can be used as an eyeliner or an eyeshadow. Although it glides on smooth and creamy, it's actually a powder formula that contains mineral oil that your skin will love.  For a more precise option check out Nyx's  Mechanical Eye Pencil ($3.85).
---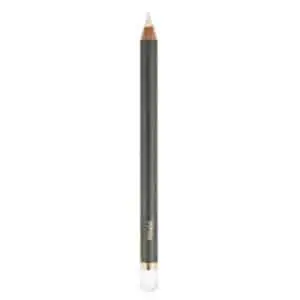 Jane Iredale Eye Pencil (white) $15
Jane Iredale's formulas are known for being natural and mineral-based and this white eye pencil is no different.  For those who can't seem to escape the pull that so many eyeliners cause during the application, this super smooth and rich white pencil offers a texture so soft that pulling is unheard of. Blendable and long-lasting it offers fabulous color but also contains ingredients to condition and protect your waterline. Shea butter moisturizes, vitamin E provides protection, and macadamia seed oil soothes your skin.  Last but definitely not least the formula is vegan and gluten-free.
---
Shiseido Microliner Ink (white) $22
Formulated without oil, fragrance, and talc this next-generation waterproof eyeliner allows precise application with long-wear performance (supposed to last up to 24 hours).  The formula is highly pigmented and is made without parabens, sulfates as well as phthalates making it popular for those with sensitive eyes.
---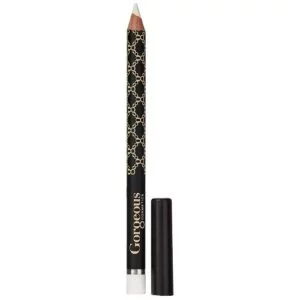 Gorgeous Cosmetics White Eye Pencil $25
You get the best of all worlds with Gorgeous Cosmetics eyeliner collection. They're packed with intense pigment for bold color that can be blended for a soft and smoky look or used for sharp, dramatic lines. That blendability is the result of the richly nourishing formula of powerful moisturizers, which also contribute to how soft and velvety these liners feel when they glide across your eye line.
---
Haus Laboratories Eye-dentify Gel Pencil Eyeliner $18
Haus by Lady Gaga is exactly what you'd expect from Lady Gaga: vibrant, saturated pigments that finish bold and with high-impact. But it comes with some things you might not expect (and will definitely enjoy). For one, every liner in the collection is completely water and transfer-proof. In fact, you'll get at least 12 hours of wear with just one application. It also comes with an art-inspired sharpenable tip and is packed with creamy ingredients to make for a no-tug, controlled application that leaves the eyes bright and fresh.
BEST WHITE EYELINER FOR ALL AROUND THE EYES
White eyeliners work wonders for brightening the eye and giving you a fresh, no-makeup look. But this list wouldn't be complete without mentioning some of the best white eyeliners for anywhere around the eye.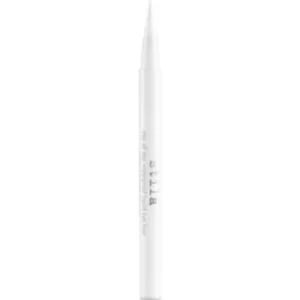 Stilla Waterproof Liquid Liner $22
This liquid liner can be as dramatic as it gets, and you'll love it for a highly-pigmented, waterproof, long-lasting cateye. In fact, with a tip like a fine-tip marker, there's really no look you can't create. Thick or thin, intense and buildable, it's basically foolproof.
---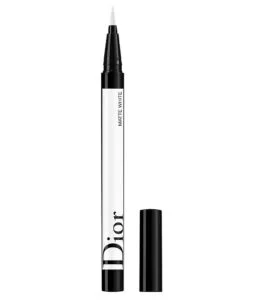 Diorshow On Stage Liquid Eyeliner $31
This may look like another felt-tip waterproof liquid liner but it's actually a new and improved version of that. The tip is a hybrid between a felt-tip and a supple brush, which maximizes your potential application techniques and options. And to extend those options even further, you can purchase any color in this line with a matte white finish..
---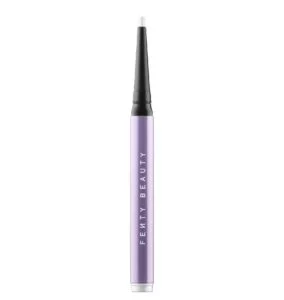 Fenty Flypencil Longwear Matte White Eyeliner $22
There are indeed times that call for a little glitter, and when that time comes, who better to have on your side than Rhianna? Her line of cruelty-free, long-lasting eye pencils includes this white glitter shade, that really pops on all skin tones. For an eye pencil, it's relatively lightweight and creates a smooth glide that's totally smudge-proof.
5 WAYS TO USE WHITE EYELINER
Depending on what you're trying to achieve, you'll apply your white eyeliner differently. Here are our top 5 favorite ways to use white eyeliner.
#1 Along the Waterline
If you know how colors and cosmetics work, then you know that dark colors shrink the look of spaces and whites expand them. That's why you can use white eyeliner to make your eyes look bigger, wider, brighter, and more awake. Simply trace your waterline with white eyeliner after completing the rest of your eye makeup to achieve this look.
#2 Inner Corners
Another way to add a bit of brightening to the eyes and make yourself look a little more awake is to apply white eyeliner to the inner corners of your eyes. After completing your eyeshadow and any other eye makeup, take your white eyeliner to the inner corner of your eye and apply just a touch. You can use this with any color eye shadow and any makeup look because the intention is to brighten, not to add to the look itself.
#3 Enhanced Cat Eye/Wing
Add a thin line of white just above a black wing or cat eye to make the eyes look larger and more awake while achieving all of the drama of a wing or cat eye. Just don't extend the white line all the way to the end of the wing – stay on the upper, inner lid. You'll hardly even notice the white is there, but it'll add some serious dimension to a tried-and-true look.
#4 Bolder Looks
If you're into bolder, more creative looks, there are three ways we like to use white eyeliner for more than just brightening and widening.
Try an all-white wing by tracing a thin line from the inner corner of the eye, thickening it around the halfway point, and extending out beyond the lid into a point. This is just a traditional wing but done in white, which is a fun twist that we like to play with on evenings out.
For something super-artsy and defined, try a swipe of white eyeliner under the lash line. The bolder, the better, because this look is about standing out. Start by creating a sharp and graphic line under the eye and extending it towards the inner and outer corners.
Most often seen on runways but definitely a must-try if you like to play with your looks, why not try applying your white liner away from both the top and bottom of your lash line? Play with different shapes and lines above the crease of your upper lid, but make sure the line remains relatively thin, so it's tasteful and appropriate off-runway.
Cupids Bow
Here's something you may not have thought of using white eyeliner for: your cupid's bow (aka the spot in the center of your upper lip where both curves meet). If you trace a faint line here before you apply your highlighter to the same spot, it'll accentuate your pout and likely extend the wear of your highlighter.
FINAL THOUGHTS
When you're looking for the best white eyeliner for the waterline, you should consider application, texture, and formulas. Application refers to how you prefer to apply your liner: pencil, fine tip, twist-up, or brush. Texture relates to whether you like liquid, gel, powders, or hybrids. And formulas have to do with looking out for any suspect chemicals that might be in your liner – remember how close this stuff gets to your eyes.
Whatever it is you require, there's an eyeliner for waterline on this list that'll suit your needs.