In a world where you eat well, get regular exercise, stay hydrated, and go for weekly facials… you still need a night cream. Because, despite all you do to keep your skin supple and young, that same world is full of environmental aggressors. Every time you step outside you're exposed to free radicals and UV rays which cause sensitivities, dehydration, sun damage, environmental damage, and premature aging.
A good day cream will help your skin protect itself against all of the above – but a night cream is where the real work is done. While you rest, your biorhythms change, and your skin switches into repair mode along with it. A night cream supports all the work your skin is doing to restore your healthy complexion and actually makes it more efficient.
But not just any old night cream will do. You need the best organic night cream, filled with the best natural ingredients.
BEST CLEAN, NATURAL & ORGANIC NIGHT CREAMS
100 Percent Pure Retinol Restorative Overnight Balm $49
If you're looking for anti-aging along with your brightening and strengthening, then turn to 100% Pure's extremely popular Retinol Restorative Overnight Balm instead. With a formula just as stable and balanced as their multi-vitamin night cream, that has the added benefit of vegan retinol (derived from carrots) to stave away the visible signs of aging and fight those that have already appeared. And to ensure that your skin receives the soothing it requires while retinol does its work, you'll find an abundance of rich and nourishing avocado butter in this formula.
Did you know that some brands include ingredients in their formulas that are unstable? That means that they don't work as well as they should and could even work against you. But 100% Pure is 100% awesome at creating balanced formulas. In this Multi-Vitamin + Antioxidants Potent PM Serum ($60) , they've worked tirelessly to combine vitamins and nutrients that are stable and hard working. Take, for example, the addition of Magnesium Ascorbyl Phosphate, the most stable and pH balanced form of vitamin C, combined with niacinamide, a hydrator with the equivalent pH rating. The result is a harmonious formula that truly delivers what it says it will: brighter, stronger skin.
---
Juice Beauty Stem Anti-Wrinkle Overnight Cream $75
If you're looking for an intensely moisture-boosting night cream made with certified organic ingredients look no further? Juice Beauty's vegan and cruelty-free formulation not only uses sustainable packaging but has research backing the formula where 90%+ of participants agreed about its ability to replenish skin's moisture levels leaving skin extremely soft and supple. Key ingredients to be only the lookout for include nourishing plant-based oils like healing Grape Seed and rich Shea butter, brightening vitamin C in the form of ascorbic acid, soothing Vitamin B5 (Panthenol) as well as calming Chamomile extract. If you're looking for a formula to target all other signs of aging like fine lines and wrinkles consider combining with Juice Beauty's potent overnight retinol serum ($72).
---
Maya Chia The Straight-A Advanced Retinol $125
Retinol is an extremely powerful skin treatment that gives powerful results. But with that intensity comes the possibility of irritation and sensitivity. In response to this conundrum, Maya Chia has developed this gentle retinol treatment that gives you the smoothing, fine-line reducing benefits of retinol while minimizing the complications. They achieve this by combining the powerful ingredient with nutrient-dense botanicals that nourish and hydrate, such as chia seed and buriti oil, as well vitamins C and E, which hydrate as well as brighten your complexion. Who says you can't have your cake and eat it too?
---
Triology Age Proof Replenishing Night Cream $57
This replenishing night cream by Trilogy is the only place you'll find Glycablend: a proprietary blend of fruit and seed oils, including pomegranate, blueberry, strawberry, and chia seed. This perfect combination is capable of restoring suppleness and radiance to dry, blemish-prone, and especially mature skin. And for added replenishment that your skin will drink up throughout the night, hyaluronic acid and Co-Enzyme Q10 have been added in generous concentrations.
---
Beuti Skincare Beauty Sleep Elixer $70
Not just any sleep counts as beauty sleep. But when you add this nightly facial treatment to your nightly rest, you're definitely going to wake up on the other side feeling and looking like a beaut. This best-selling elixir contains highly concentrated vitamins, minerals, and other nutrients that revitalize a variety of skin types. Those nourishing ingredients come from 14 precious plant oils like sea buckthorn and pomegranate, a super boost of Omega 3,5,6,7, and 9 and sustainably sourced Softalia known for its wrinkle-fighting abilities.
---
Goldfaden M.D. Wake Up Call Overnight Facial Treatment $85
Goldfaden M.D brings dermatology-level facial treatment into the comfort of your own home. This organic night cream is no exception – packed with dermatology-grade ingredients that are gentle yet powerful enough for dry, sensitive, mature, blemish-prone, and combination skin. CoQ10, alpha lipoic acid, and retinol work on the visible signs of aging as well as skin texture and elasticity, organic red tea provides antioxidant protection, and vitamin E, avocado, and grapeseed oil deliver long-lasting hydration.
---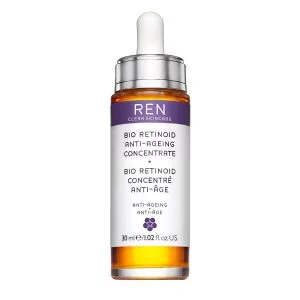 REN Bio Retinoid Anti-Wrinkle Concentrate Oil $69
You only need five drops of this concentrate per evening to start noticing improvements in mature skin. The secret is a blend of ingredients that work synergistically to target all the visible signs of aging. The blend includes cell-communicating agents like natural vitamin A, pro-vitamin A, and a retinoid analog that supports the dynamic structure of your skin, as well as free-radical neutralizing vitamin E. With the added benefits of Brazilian white beggar's stick flower extract, your collagen production levels will soar, your skin will firm, and you'll be protected from future damage.
---
ELEMIS Superfood Night Cream $52
Superfoods have as much impact on your outside as they do on your inside. This is exactly why Elemis harvested the protective, pre-biotic properties of barley, quinoa, and sweet almond milk for their omega-rich natural night cream. If dry skin is your issue, this night cream balances your skin's natural ecosystem by supporting the lipids in your protective moisture barrier while you sleep. And if sleep is your issue, this night cream contains a blend of Lavender, Ylang Ylang, and Vetivert essential oils that are sure to help you relax. As if that's not enough to help you sleep at night, remember that all Elemis products are vegan and cruelty-free.
---
Odacite Night Time Repair Serum $120
For the most luxurious overnight skin fortification system, try Odacite's antioxidant nighttime repair organic nutrient-rich night cream. Containing high concentrations of natural vitamin E, this serum delivers an unparalleled amount of antioxidant protection that will continue to repair and protect your skin throughout the next day. With all its moisture barrier protection, that same vitamin E teams up with hyaluronic acid to ensure your skin is not only repaired and protected but ultra-hydrated.
---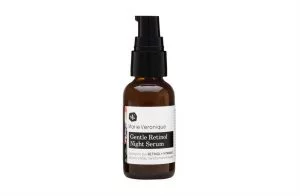 Marie Veronique Gentle Retinol Night Serum $110
When you can't have a night cream without retinol, this Marie Veronique non-toxic formula is called 'gentle' for a reason – it contains just the right concentration and blends of ingredients to suit both mature skin and blemish-prone skin, without causing any irritation. Retinol does all the wonderful cell-communicating things it's known for, but combined with vitamin C and E, its ability to rejuvenate, brighten, and clarify your complexion is compounded.
---
Dr. Alkaites Organic Night Creme $72
The organic and wildcrafted ingredients in this night cream cover all of the bases: aloe vera gel soothes and calms, herbal complexes containing brier rose blossom and wild carrot repair, and vitamin complexes containing A, B, and C deliver much-needed nutrients. There's not an ingredient on the list we can't pronounce or find in nature, and that's what the best organic night cream is all about. Well, that and fully restoring your skin while you get your beauty rest.
---
Tata Harper Creme Riche (Anti-aging Night Cream) $195
Tata Harper's deeply moisturizing clean beauty night cream is not only vegan and cruelty-free but made from 100% natural-based ingredients and has 43 high-performance botanical ingredients. The formula includes natural antioxidants from the likes of red bark extract which is supposed to be 5 times as powerful as Vitamin c and skin-beneficial peptides from avocado peptides to help combat fine lines as well as wrinkles.  In fact, the independently-tested formula aimed at normal and aging skin is so chockful of ingredients it has around 16 natural ingredients to help plump the skin, 12 to minimize wrinkles and even 15 to improve texture.
Alternatively consider Tata Harper's best-selling Repairative Moisturizer ($116) a non-toxic night cream that's not limited to night use, especially if you struggle with keeping your skin hydrated. This rich and silky formula delivers biocompatible hyaluronic acid to your skin's surface, which moisturizes in and of itself while encouraging your moisture barrier to retain all the hydration it can. It goes on light, with no chance of clogging your pores, and finishes in a dewy glow that'll have you looking radiant before it even gets to work.
Consider pairing it with Tata Harpers Retinoic Nutrient Facial Oil ($132), another fan favorite for the best results. The texture-enhancing clean-beauty formula targets, clarifying skin and enhancing skin's radiance.  you may struggle with fine lines and wrinkles, too. For that, pair your repairing moisturizer with this retinoic face oil. Formulated with Vitamin A extracts from rosehip oil, this natural alternative to retinol minimizes the visible sign of aging in the most natural of ways.
---
Eminence Bamboo Firming Fluid $54
For something a bit different, this firming fluid contains bamboo. We're not sure why more brands aren't using bamboo in their serums, considering the plant-derived ingredient is a natural antioxidant that's packed with proteins, vitamins, and minerals. Combined with coconut oil and coconut water, this fluid makes for a pH-balancing, toning, and moisturizing night cream that nourishes, hydrates, protects, and corrects. And for all the retinol fans out there, it also contains the wrinkle-fighting retinol alternatives chicory root oligosaccharides and tara tree. Combine it with an Eminence age-correcting moisturizer ($50.85) for a bit of staying power and a lot of anti-aging benefits.
---
KYPRIS Moonlight Catalyst Night Serum $77
Let your skin repair itself while you sleep with this renewing organic and wild-crafted night serum that rebuilds the surface of the skin by generating new skin cells and shedding the old. A gentle formula that delivers all the benefits of a retinol product with none of the irritation, redness, peeling, or inflammation.
---
Ayuna Cream II $210
Ayuna's luxury skin treatment is much more than a simple cream and becoming a fan-favorite good reason. It's packed with phyto-peptides that stimulate collagen production, plasmas rich with botanical actives from green carrot, Arabian cotton, and pomegranate,  and anti-inflammatory spices that heal like turmeric and centella. One part skincare, one part science, and a whole lot of nature, the Cream II Rich is intuitive enough to work with the natural rhythm of your skin.
Alternatively, Ayuna's Cream Light ($210) contains all the benefits and even the rejuvenating ingredients of the Rich cream, but it's a lightweight version ideal for normal, sensitive, and oily skin. Gentle enough to be used day or night, it acts as a primer or protective moisturizer during the day and as strengthening treatment when used overnight.
---
Farmacy Beauty Honeymoon Glow $58
The only way to contain and direct the strength of a 14% AHA/BHA night cream is with the perfect blend of botanicals, and Farmacy has found that blend. This extremely strong AHA/BHA completely resurfaces your skin while you sleep, so enlarged pores, fine lines, and uneven skin tone are corrected in a matter of weeks. To balance that power, a proprietary blend of hyaluronic acid and honey protect your moisture barrier and maintain consistent levels of hydration.
---
Youth To The People Superberry Hydrate + Glow Dream Mask $48
If we've said it once we've said it 1000 times – the longer an ingredient is on your skin, the more time it has to do its job. That's why a once-per-week overnight face mask is never a bad idea – especially one that contains four of the most vital hydrators know to the skincare industry. A blend of squalene, glycerin, betaine, and hyaluronic acid, this mask helps your skin restore its ability to stay hydrated. At the same time, it's packed with Maqui (aka the most antioxidant-dense fruit in the world), so your skin is protected while it learns to protect itself.
---
African Botanics Retinal Night Cream $200
African Botanics popular regenerative organic night cream has found a way to reduce the potential complications of retinol while still bringing you all the regenerative benefits it offers. The luxury brand is famed for their ability to go beyond the norm with their organic-based formulas.  They not only strive for sustainably produced ingredients but try and include as many certified organic ones as possible. This daily organic-based night cream harnesses the power of retinol but in the form of Retinaldehyde: a gentler and bio-active derivative of vitamin A that has the ability to slowly convert to retinoic acid, thereby reducing irritations. Retinaldehyde combines with peptides to spend the night boosting your collagen production levels combatting fine lines and wrinkles. Other key regenerative ingredients in this nutrient-rich formula include white willow bark, lactic acid, azelaic acid, and fulvid acid that help target hyperpigmentation, enlarged pores, and uneven texture issues.
Alternatively, African Botanics Resurrection Cell Recovery Serum ($160) is made for particularly damaged and mature skin that requires deep nourishment in order to heal – and one can only find that depth in a product intended to saturate your skin with concentrated ingredients over a long period of time. This serum works all through the night delivering a complex of retinol, resveratrol, Swiss garden cress liposomes, hyaluronic acid, and peptides to the deepest layers of the dermis. That anti-aging magic is contained in a near-weightless gel that's equally comfortable and effective.
KEY INGREDIENTS IN AN ORGANIC NIGHT CREAM
After diving into our list of the best clean, natural organic night cream options, you should know how we chose them. As always, we look to the ingredients.
A regenerative night cream is only as good as what goes into making them… and every ingredient serves a different purpose, depending on your skin type and any conditions you're dealing with. Here's a list of the most important ingredients to look for when choosing night cream.
EXFOLIANTS (AHA & BHA)
Alpha hydroxy acids (AHAs) and beta hydroxy acids (BHAs) are natural exfoliants that gently help your skin shed dead skin cells. Without their help, skin cells buildup and cause a dull, dry, flaky complexion and/or clogged and enlarged pores that lead to breakouts.
AHAs include lactic and glycolic acid, which are water-soluble and work on the surface of the skin. They exfoliate dead skin cells, enhance hydration, and combat sun damage. BHAs, on the other hand, work both on the surface and inside the pores. The most common BHA is salicylic acid, which is a skin-calming ingredient that also clear bumps, clogs, blemishes, and enlarged pores.
VITAMIN C
Perhaps one of the most well-rounded ingredients out there, vitamin C is a powerful antioxidant that protects your skin from free radicals and corrects environmental and UV damage. It's a brightening ingredient capable of preventing hyperpigmentation and even fading dark spots. But it's also an anti-aging ingredient that stimulates collagen production and improves the firmness and texture of your skin.
VITAMIN E
This vitamin is another powerful antioxidant that neutralizes free radicals. In so doing, vitamin E not only prevents the visible signs of aging, but it also helps repair any damage that's already been done. You'll find vitamin E in every good moisturizer out there thanks to its ability to protect cell membranes – aka it forms a barrier around your skin cells to keep them both healthy and hydrated. In fact, it's strong yet gentle enough to use on skin conditions like eczema and psoriasis.
PEPTIDES
Peptides are amino acids combined in specific formations. In the right formations, peptides make up proteins – and proteins are the fundamental building blocks of your skin. There are 100s of different peptides out there, and all of them act as cell-communicating agents that assist the skin in repairing and regenerating itself. Through that process, peptides improve texture, firmness, and elasticity, but they also work to rehydrate and plump your skin to diminish the appearance of fine lines and wrinkles.
HYALURONIC ACID
Hyaluronic acid is a naturally occurring substance in your skin that's been synthesized for use in the best organic night cream and other serums, motions, creams, and moisturizers. Why? Because this magical ingredient can hold up to 1000x its weight in moisture – and that translates directly into nourishment and ultra-hydration for your skin. And hyaluronic acid is good for dry and oily skin alike… it's a self-regulating ingredient that only delivers precisely what your skin needs to look and feel softer, smoother, and more radiant.
CERAMIDES
Another ingredient that your body produces naturally, ceramides are fats found in the uppermost layers of your dermis and they make up approximately 50% of your skin's composition. In their biological role, ceramides strengthen your skin's natural moisture barrier and contribute to a firm and supple complexion. Added to the best organic night cream, they increase your skin's ability to retain moisture and act as a protective agent against free radicals and UV damage. And in the anti-aging realm, ceramides support the very structure of your skin to diminish fine lines and wrinkles.
RETINOL
When it comes to anti-aging ingredients, Retinol is considered the gold standard. This cell-communicating agent boosts your collagen production to plump your skin and greatly diminish the appearance of fine lines and wrinkles. But this powerhouse ingredient also improves skin tone and texture, helps exfoliate and regenerate skin cells, and even combats acne.
With that said, you might not find Retinol in some natural and organic night creams. Instead, organic night cream may replace Retinol with plant-based alternatives. While not as fast-acting as Retinol, these gentle ingredients accomplish similar goals but with a gentler touch.
We know how important Retinol is to some of you, so we've sourced products that have the ingredient or have only the best alternatives. Rosehip oil, for example, is nature's Retinol, thanks to its very high levels of vitamin A. But perhaps even more promising is Bakuchiol oil. Completely unrelated to Retinol – and as organic as organic gets – Bakuchiol oil has effects on collagen production that are comparative to Retinol.
SOOTHING INGREDIENTS
So far, we've provided you a list of active ingredients that you should look for in a night cream. These are the ingredients that affect everything from fine lines and wrinkles to skin cell regeneration and skin barrier function.
Those active ingredients are powerful. Not only can they be an intense experience for your skin, (we're looking at your Retinol), but they're not applied and immediately washed off. No, the nature of a night cream is that they've left on your skin for hours while you sleep. And these ingredients need a counterbalance to ensure that your skin isn't overwhelmed.
That's what we mean by soothing ingredients. Any good night cream will contain a host of ingredients that balance the intensity of the more active ingredients. These might be in the form of butters (i.e. shea, coco, avocado), plant oils (i.e. jojoba, argan, sweet almond), and even essential oils that reinvigorate your skin (i.e. mint, spearmint, lavender). Aloe vera, niacinamide, chamomile, and tea extracts are other common soothing ingredients you can look for.
FINAL THOUGHTS
The purpose of a night cream is to support your skin while it does its best repairing work. But the purpose of the best organic night cream is to compound those repairs with the best in corrective and preventative ingredients. That's why, with the right night cream, "beauty sleep" is a cliché that takes on a whole new meaning.