If you've ever had even the slightest inclination to brighten your skin, you've likely come across Kojic acid soap. One of the most popular skin-brightening agents globally that is also backed by research, Kojic acid is an antioxidant that protects skin from free radical damage that is considered to be a more gentle and natural alternative to other harsher brightening ingredients. Like all skincare products, Kojic Acid brightening soap may not be for everyone but if you're curious about it,  we've got you covered.
WHAT IS KOJIC ACID SOAP?
Well, it is exactly that… soap infused with Kojic acid.  The key ingredient, Kojic acid is derived from mushrooms and is also a by-product of the fermentation process of sake production (that's right, the delicious Japanese rice wine you enjoy with your sushi).
WHAT DOES KOJIC ACID SOAP DO?
When infused in soap and other products, Kojic acid penetrates the epidermis, the top layers of the derma and hinders the production of melanin (the pigmentation that darkens skin)  by helping to reduce tyrosine converting.  The ingredient also exfoliates skin, removing dull and dead cells to reveal the brighter layers beneath. Due to the exfoliation, don't be surprised if Kojic acid soap will also make your skin visibly peel.
BENEFITS OF KOJIC ACID SOAP
Although like with any skin care treatment, results will vary from individual to individual below are some of the key benefits you can expect from using Kojic acid soap:
Diminishes hyperpigmentation and melasma.
Gradually fades skin discolorations like post-breakout acne scars as well as age and sun spots.
Exfoliates and cleanses to help unclog pores reducing blackheads and whiteheads.
Evens and brightens skin-tone not only on the face but all over the body including the underarms, buttocks, knees, elbows and inner thigh area.
KOJIC ACID SOAP RECOMMENDATIONS (AND WHERE TO BUY)
Kojic acid soap is a cost-effective solution to brightening and is a good way to check if the ingredient is a good match for you before delving into more expensive products.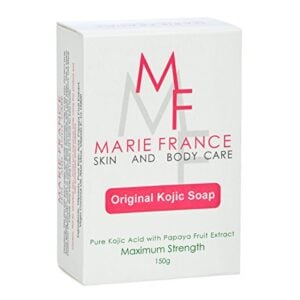 Marie France Kojic Soap ($9.99)
Made in smaller batches to ensure freshness and minimize any degradation on the active ingredients, Marie France's Kojic Soap is certainly powerful.  Key ingredients include a high concentration of Kojic acid to whiten as well as the enzyme Papain (papaya extract) an exfoliant that helps boost the brightening efforts.  Other notable ingredients included in the formula are Aloe Vera and Vitamin E, to nourish, protect and increase the skin's moisture levels.
---
 Kojie-San Soap ($7.98)
Recommended for the body Kojie-San's soap is made from a combination of ingredients inclusive of the moisturizing coconut oil with Kojic acid.  The formula also includes Tea Tree Oil an antiseptic ingredient known for its bacteria-fighting abilities as well as the plant extract Carrageenan that helps enhance the skin's texture.
---
Shouvy Kojic Acid Soap ($9.98)
Shouvy's moisture-rich soap combines the star ingredient Kojic Acid with multiple other skin-beneficial ingredients including the plant oils almond, coconut, and grape seed oil as well as Niacinamide (Vitamin B3) which is known for its ability to combat pigmentation issues. This brightening cleansing bar is perfect for sensitive skin that is easily irritated.
---
PCA Skin Pigment Bar ($39.50)
Although expensive PCA's extremely popular advanced brightening formula combines Kojic, Azelaic and Tannic acid to exfoliate decrease breakouts and reduce hyperpigmentation. The cleansing bar also includes Aloe Vera, Witch Hazel, and Rosewood Extracts, to ensure skin stays moisturized and hydrated.  Made without synthetic dyes or fragrances as well as parabens and sulfates this Kojic Acid Soap is made to minimize the chance of irritation.
ALTERNATIVE KOJIC ACID PRODUCT RECOMMENDATIONS
Many skin-beneficial ingredients inclusive of Kojic Acid work better when they are left on the skin longer than the time recommended with cleansers or soaps.  Here is our pick of some effective advanced brightening skin care products formulated for advanced brightening results.
Cosmetic Skin Solutions Phyto and Botanical Gel ($29.95)
Through the combination of 3 powerful brightening agents: Kojic Acid, Arbutin, and Bearberry Leaf Extract Cosmetic Skin's Solutions serum combat stubborn skin discoloration issues.  Plant extracts from Cucumber and Thyme help balance the drying effects of the brightening agents while also having anti-inflammatory and antiseptic properties to calm skin as well as minimize irritation. Other benefits of the formula include that it is made in small batches to ensure freshness of the active ingredients.
---
Alpha Targeted Skin Lightener ($15.99)
With 2% Hydroquinone and 10% Glycolic Acid, this is a powerful skin brightening agent. Meant for targeted spot-treatment in particular inclusive of troublesome dark spots, freckles and age spots, Alpha's Targeted Skin brightner will brihgten, refine texture and also boost collagen production.
---
Sesderma Kojicol Facial Skin Gel $46
Sesderma's lightweight gel is non-greasy and combines the likes of Kojic and Phytic Acid in order to brighten the complexion.  Other key ingredients include Mulberry Extract, known for its free radical fighting powers and Sodium Hyaluronate (the salt form of Hyaluronic Acid) that helps plump the skin.  If you prefer cream-based formulas consider Sesderma's popular Kojic based cream ($48).
---
SkinMedica Lytera 2.0 Pigment Correcting Serum ($154)
Although on the pricier end of the spectrum,  SkinMedica's well-formulated serum comes packed with multiple powerful brightening ingredients. Tranexamic acid and  Phenylethyl Resorcinol help correct hyperpigmentation and balance out melanin production, while Niacinamide (Vitamin B3)  and Tetrapeptide-30 prevent new discolorations from forming.   While Phytic Acid improves your skin's texture and overall skin tone.
---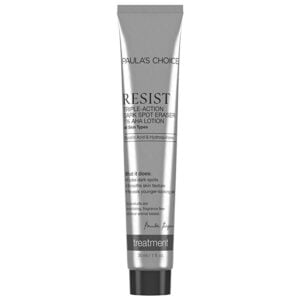 Paula's Choice RESIST Triple-Action Dark Spot Eraser ($27)
The combination of  2% melanin-inhibiting Hydroquinone with Glycolic Acid make Paula's Choice skin-brightening formula effective. A sheer fluid that leaves no sticky residue, the lightweight cream improves discoloration as well as smoothens texture all while restoring radiance.  The formula is non-irritating and made without fragrance and never tested on animals.
IS KOJIC ACID SOAP SAFE?
Although raw Kojic Acid should not be topically applied the processed version used in soaps and other Kojic based skin care products, in general, are 100% safe for even daily use on the skin.  In terms of side effects, if misused (ie left on the skin for too long) there are a number of common adverse effects that you should be aware of.  These often go away within 1-3 weeks once your skin has gotten used to Kojic Acid Soap. Side Effects include redness, itchiness, tightness, breakouts, dry skin, peeling, burning or tingling.
*If you have any signs of serious adverse effects make sure to consult a licensed Medical professional immediately.
KOJIC ACID & THE SUN
It's also important to note that individuals who have a lot of sun exposure, wherein their skin is routinely exposed to UV rays, should not be careful in how they use Kojic acid.   Make sure to apply (and reapply) a broad-spectrum sunscreen throughout the day.
Make sure to explore our guide if you're interested in learning more about what makes a sunscreen effective inclusive of ingredients you should be looking out for.
HOW TO USE KOJIC ACID SOAP?
Kojic acid can be found in a range of skincare products inclusive of serums, masks, and soaps. If you choose to go the soap route, you can incorporate Kojic Acid Soap into your daily cleansing routine by replacing your normal cleanser with it. Kojic Acid Soap reviews explain that people generally see results in 8+ weeks. In order to minimize potential adverse effects or reactions with your skin, we recommend that you should gradually introduce Kojic soap into your routine.
INTRODUCING KOJIC ACID INTO YOUR CLEANSING ROUTINE
Here are some estimated timelines to guide you on how to slowly introduce Kojic Acid Soap into your cleansing routine.
WEEK 1
Wash your skin once per day with Kojic soap leaving it on for just 20 seconds. Leaving the soap on for longer could cause irritation and/or redness as you have to allow your skin to get used to this new product.
WEEK 2
Wash your skin with the Kojic soap twice per day, but for no longer than 20 seconds at a time.
WEEK 3
Try washing your skin with the Kojic soap twice per day, for 1-2 minutes each time. If your skin is irritated leave it on for less time and continue to gradually increase how long you leave it on over time.
When drying off after cleansing, always remember to gently pat your skin and avoid rubbing it to avoid irritation. Make sure to follow up with a gentle moisturizer.
IMPORTANT THINGS TO NOTE
If combined with chlorine, peroxide or oxidative agents, Kojic acid can damage your skin. Avoid using products with these ingredients if you are using Kojic acid.
Since Kojic acid blocks pigment production and is an exfoliant as the brightening ingredient peels away the dead skin cells it will reveal the fresh layers underneath. That skin is extremely sensitive to sunlight, pollution, radiation and harsh products. Make sure to apply an effective moisturizer and also sunscreen to protect that skin from damage and lessen any hypersensitivity.
This new skin is at risk for allergic contact dermatitis. Be wary of this and consult a licensed medical professional should you notice any signs of adverse effects including severe burning, itching or redness.
FINAL THOUGHTS
When used correctly, Kojic Acid is a powerful ally in your journey of brighter skin. No matter what it's important to have a healthy perspective on skin and beauty in general.  The goal should always to be the best version of you and expectations should be managed to avoid getting obsessed with achieving the unhealthy and often unreal image portrayed by the media.