rohan
Many of us have greeted the uninvited blemish to the party (of our faces). Sometimes they arrive as clusters or sometimes it's just the one. Some of these bumps look unfamiliar- they look like tiny white polka dots that happen to pop up near the eyes. Sometimes they appear on the arms. Although it may seem like a good idea to squeeze them – it doesn't seem to work and instead, it just makes your skin angry. You google it on a doom-scroll late at night and suddenly find yourself here at The Youthist.
WHAT ARE MILIA?
Milia is a skin condition that causes the formation of small cysts (aka filled pockets) under the surface of the skin. Sometimes referred to as milk spots, these little cysts are most prominent on the cheeks, underneath the eyes, on the eyelids, and on the forehead and nose, though they can appear elsewhere on the body. They may be white or yellow-ish in color and they usually appear in groups or clusters. There are different types of milia with different causes, and some may be itchy or form on a raised patch of skin.
Milia are absolutely harmless, but they do affect your appearance. In most cases, the condition only lasts a few weeks, and they'll disappear on their own without any treatment. But milia can also last quite a bit longer – in which case, you can hasten their departure with the right products and ingredients.
WHAT CAUSES MILIA?
Just like blemishes and pimples, milia are caused by dead skin cells getting trapped below the surface of the skin and forming a cyst. However, these are not the same as white heads in that they're the result of skin cells and skin cells only (there's no dirt or acne-causing bacteria required in the environment for them to form).
Our body has a process for shedding dead skin cells and regenerating new ones. In some cases, the old skin cells don't fall off at the rate they should, and new skin cells grow on top of those. Those dead skin cells get trapped below the new cells and eventually harden, causing a cyst.
So, the question then, is why don't the old skin cells fall off when they're supposed to? There are a few reasons that could be happening, but in most cases, milia are the result of damage to the skin. When we say damage, we mean:
Long-term sun damage
Burns
Blistering (either due to a skin condition or from an injury like poison ivy)
Skin resurfacing treatments such as microdermabrasion or laser
Long-term use of a steroid cream or ointment
This is what's known as traumatic milia, but there are some other causes you should be aware of, which we'll talk about next.
OTHER CAUSES OF MILIA
Milia en plaque is a condition that typically effects middle-aged females. This type of milia appears on eyelids, cheeks, ears, and jaw and the cysts can have a diameter of several centimeters. It's a rarer condition and it's associated with genetic or autoimmune skin disorders (i.e. discoid lupus or lichen planus.)
Milia that's itchy and pops up on the face, upper arms, and torso is called multiple eruptive milia. This type of milia lasts a lot longer, between weeks and months.
Then there's the type of milia that's caused by common skincare ingredients, specifically mineral oil. Anybody who has experienced milia before, or is currently experiencing milia, should not be using liquid paraffin, liquid petroleum, paraffin oil, petrolatum liquid, petroleum oil, or lanolin.
In some cases, milia occurs when the body loses its ability to shed dead skin (aka exfoliate) naturally. This happens with age, but the good news is, there are plenty of products to assist your body with the exfoliation process.
Because there are so many different forms and causes of milia, it's important to book an appointment with your dermatologist and get to the root cause of the condition if your milia doesn't clear up on its own within a few weeks.
BEST INGREDIENTS IN EYE CREAMS FOR MILEA
Below we cover some of the most effective ingredients to be on the lookout for in eye creams to treat milia.
ALPHA-HYDROXY ACIDS OR BETA-HYDROXY ACIDS
Alpha-hydroxy acids or Beta-hydroxy acids (like lactic acid, glycol acid, salicylic acid, gluconolacctone, galactosen and lactobionic acid) can be found in a range of skincare ingredients including our list of eye creams. These acids help break down the dead skin cells trapped between the skin layers and encourage the milia to come to the surface, making it easier for them to go away.
POLYHYDROXY ACIDS
Polyhydroxy acids are also a gentle alternative to AHAS. PHAs in eye creams can provide support to the exfoliation process.
FRUIT ENZYMES
Fruit Enzymes and botanical extracts from the likes Pineapple or Rice, have naturally occurring acids that gently exfoliate the skin pores (similarly to PHAS) and encourage cell regeneration.
RETINOL
The retinol in the eye cream encourages cell turnover and boosts the skin's natural regenerations processes.
BAKUCHIOL
Bakuchiol is a plant-based retinol alternative that's very popular for those looking for a more natural option. Although considered gentler, the ingredient is still effective.
NIACINAMIDE
Niacinamide can effectively regulate sebum production, thus helping prevent sebum build-up and clogged pores. Pairing Niacinamide with an exfoliating ingredient (like the AHAs and BHAS mentioned above) can help control milia clusters.
PHYSICAL SUNSCREEN
Physical Sunscreen offers protection from sun damage (something that contributes to the formation of milia) by lying on the top of the skin. Chemical sunscreens tend to be absorbed into the skin, something we at The Youthist prefer not to recommend as some formulas have been linked to hormone disruption.
12+ BEST EYE CREAMS FOR MILEA
Murad Retinol Youth Renewal Eye Serum $87
Murad's fan-favorite eye serum dimishes wrinkles, improves firmness, and, of course, combats milia. With a 360° applicator, safe for use all around the eyes (including the eyelids), the cruelty-free formula boasts rejuvenating retinol, hydrating hyaluronic acid, and antioxidant-rich plant extracts like the melanin-fighting Swertia flower extract to target signs of aging. These skin-beneficial ingredients support skin cell turnover and improve skin tone.
For an extra boost of hydration, consider paring this paraben-free serum with Murad's Renewing Eye Cream ($82). The brightening formula contains structure-building peptides and an eye-illuminating complex, benefiting elasticity and reducing the appearance of dark circles.
---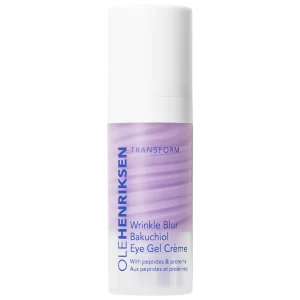 Olehenriksen Wrinkle Blur Bakuchiol Eye Gel Crème $49
Plant-based retinol alternative bakuchiol, stem cells from orchids, and peptides work together to combat fine lines and wrinkles, condition skin texture and improve firmness in Ole Henriksen's vegan eye cream. The clean gel-creme is suitable for all skin types and is a great cruelty-free option for anyone looking for a formula that provides a primer effect (visible smoothing) as well as longterm skin-benefits.
---
Jan Marini Skin Research Marini Luminate Eye Gel $95
Jan Marini Skin Research created a lightweight eye gel that targets skin concerns such as fine lines, milia, rough texture and crepey skin. Key ingredients in the research-backed formula include peptides and retinol both known to boost the skin's regenerative abilities and skin-balancing ceramides. Other ingredients to be on the lookout for in the dark-circle reducing formula beneficial for all skin types include Chromabright, an active that combats pigment issues and nourishing Vitamin E.
---
Dermalogica Age Reversal Eye Complex $75
Dermalogica's highly rated formula offers a cocktail of replenishing ingredients to target multiple skin concerns from puffiness and dullness exacerbated by environmental stressors and lifestyle choices. Key ingredients to being on the lookout for include retinol in a micro-capsulated form allowing maximum absorption into the skin, firming niacinamide, antioxidant-rich vitamin C, regenerating peptides, and healing botanical extracts. As a bonus, like all Demalogical products, this eye cream for milia offers professional-grade ingredients and is free of known skin irritants like gluten and parabens.
---
Dr. Dennis Gross Skincare Advanced Retinol + Ferulic Triple Correction Eye Serum $69
Dr. Dennis Gross' clinical-study backed Advanced Eye Serum, is developed for daily use and is packed with a potent blend of actives to target milia and other signs of aging. The vegan formula includes the free radical fighting ferulic acid, retinol, and plant-based bakuchiol to support collagen production. Other ingredients to be on the look out for include soothing plant actives from the likes of hydrating rambutan and brightening licorice root.
---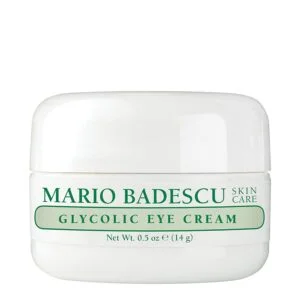 Mario Badescu Glycolic Eye Cream $20
Mario Badescu offers a budget-friendly, milia-zapping option for those of you who need more hydration around the eyes. Rich cocoa butter and nourishing vitamin E target fine lines and crow's feet, partnering well with rejuvenating glycolic acid which not only targets the bumps but softens fine lines. The Olive Leaf extract replenishes dehydrated skin and makes this buttery formula perfect for those seeking that moisture-boost.
---
Sunday Riley 5 Stars Retinoid + Niacinamide Eye Serum $65
One of the star ingredients in Sunday Riley's beloved serum, Bioactive Centella Asiatica, is widely known for its therapeutic and rejevunitive properties in Ayurvedic traditions. The potent ingredient has properties to synthesize collagen, making it ideal for pairing with the formula's retinoid complex that helps improves skin texture and targets other signs of aging. The fragrence-free serum also includes Niacinamide, noted above for its ability to help balance sebum production and poppy seed extract as well as ceramides to soothe and nourish.
---
iS CLINICAL Eye Complex $110
A celebrity favorite, iS Clinical's botanical-rich Eye Complex promises antioxidant healing while using mild exfoliating ingredients (like fruit acids) and skin brighteners (Vitamin C) to slough away dead skin cells, smooth and tone. In order to strengthen the skin's structure and boost the natural regeneration processes the hydrating treatment includes not only a variety of plant extracts such as the powerful antioxident-rich Ginko Bilbo, nourishing Grape Seed extract but also an assortment of rebuilding peptides. The result? Both an improvement in the short-term in the look and the feel of the delicate eye skin and long-term results for skin concerns including milia, crow's feet and dark circles.
---
Replenix Age Restore Retinol Eye Repair $73.5
Specially created for the delicate areas around the eye, Replenix's best-selling treatment includes collagen-boosting peptides and the antioxident-powerhouse green tea. The firming formula helps combat free radical damage in the skin and assists with texture, dark circles, and puffiness under the eye all while being deeply moisturizing. Ingredients like All-trans-retinol and Vitamin K help mitiage photo-damage (the effects of the sun), and consistent use sees an mprovement for skin firmness and discoloration.  .
---
Perricone MD Smoothing & Brightening Under-Eye Cream $61
Perricone MD's ethos is deeply rooted in holistic principles and is supported in their wellness-meets-science eye cream that promises to deliver optimal nourishment to tired, dull skin. The lightweight, clean beauty balm formula helps to combat multiple signs of aging.  The brightening eye cream strengthens the skin through ingredients like the powerhouse antioxidant glutathione and cell-regulating vitamin F. Like most, all Perricone MD skincare, the ultra-rich eye cream is free from commonly known allergens like soy, nuts, gluten, fish, milk, and fragrance.
---
Neostrata Restore PHA Eye Cream $54
Neostrata's Restore PHA Eye cream uses hydrating polyhydroxy acids (PHAS) and Gluconolactone to gently exfoliate the skin, resulting in an improvement in fine lines, increased firmness, and a reduction of milia. In order to provide an intense moisture-boost to the skin the fragrence-free formula includes water attracting hyaluronic acid and plant-based oils from the likes of rich Avocado and nourishing Evening Primrose.
Alternatively, consider the dark-circle fightening Enlighten Brightening Eye Cream ($62), that, apart from polyhydroxy acid, has vitamins C and E to improve skin texture and radience. This skin-balancing formula is noted to target concerns like sallowness and redness.
---
HydroPeptide Vital Eyes | Instant Awakening Serum $99
HydroPeptide's cruelty-free bakuchiol-based serum developed by geneticists, firms, brightens and smoothes the skin around the eye area. The convenient applicator makes massaging this lightweight eye treatment hands-free and easy! The concentrated serum contains ingredients like anti-inflammatory caffeine and several peptides that heal as well as protect the skin from environmental damage.
HOW LONG TO SEE RESULTS
Most formulas recommend the usage of eye creams for milia for anywhere from 4-12 weeks to see results. Consistency is vital in skincare, and it's essential to commit to and use an eye cream regularly to increase the chances of seeing improvement from milia. As mentioned earlier, sun damage is also known to contribute to milia formation so make sure to apply an effective sunscreen.
FINAL THOUGHTS
Many people with milia choose to wait it out, and sometimes, these bumps disappear on their own (but as we said earlier, it can take months). Our desire to achieve success quickly (oh, to be human) might encourage us to look for ways to speed up getting rid of these pesky imperfections. Sometimes Milea can be resilient, and it might be tempting to opt for stronger or harsher formulations. While you can layer different products, it's important to be patient in order to avoid damaging the skin (let's not bite off more than we can chew!). The eye creams for milia we recommend above, blend potent actives with soothing plant extracts in a bid to reduce the chances of irritation.