While aging affects just about all of us aside from a chosen few *cough*Jennifer Lopez*cough*, the rate at which we age is very different for everyone. Some of us may notice subtle signs after our final university exam, while others still have enviously baby-soft skin well into their thirties. Although preventative measures like a good anti-aging skincare routine, healthy diet, and exercise play a role in delaying the signs of aging, a little supplementation also helps.
WHY SUPPLEMENTS?

With our on-the-go lifestyle, it's sometimes hard to remember to even grab lunch let alone eat something healthy and well balanced. And with the increased use of genetically modified food and frozen fruits and vegetables combined with the rise of eating out and dependence on microwaves, we at The Youthist often wonder how much nutrition are we really getting from our food. Luckily, taking supplements on a daily basis can help replace some of the nutrients we may be losing from the modern diet without having to stress and worry about how many veggies you've consumed that day.
Studies show that your skin's appearance is inherently linked to your digestive system, and what you break down in your body will show up on the surface. One useful type of supplement that directly aids the digestive system as well as the body as a whole are probiotics (check out our guide for more information on rejuvinating benefits of probiotics). Topical applications for the signs of aging are always a good idea, but integrating oral supplements can give your skin that extra boost it needs to maximize your anti-aging efforts.
THE POWER OF ANTIOXIDANTS
The antioxidant properties of powerhouse supplements like Vitamin E, C, and Green Tea are known to prevent agents called "free radicals" from damaging cells in the body and skin that accelerate signs of aging. Free radicals are a result of normal body processes, but they can also be created through exposure to various lifestyle and environmental factors like smoking or UV radiation from the sun. Read our piece on how UV radiation damages skin to learn more.
INGREDIENTS TO LOOK OUT FOR

Below are some of the most effective ingredients you should be looking out for in your anti-aging supplements. Remember not to overdo it, especially if you take other multivitamins and the likes:
THE VITAMINS
VITAMIN C
Suggested Form – L-Ascorbic Acid
Suggested dosage – 500mg to 1,000mg
Vitamin C in the form of the natural L-ascorbic Acid is one of the most effective forms in order to inhibit collagen synthesis reactions and combat free radical damage.
Helps to reduce inflammation, brown spots, wrinkles, and sun damage
Repairs and protects skin from free-radical damage
The ascorbic acid in this vitamin is used as an "antioxidant wrapper" by protecting the

active components

of the vitamin from rapid breakdown, therefore allowing maximum absorption by the body.
Food Source – Dark leafy greens, peas, tomatoes, papayas, and citrus fruits
---
VITAMIN E
Suggested Form – d-Alpha Tocopherol and mixed tocopherols
Suggested dosage – 200IU to 400IU
Antioxidants like Tocopherol help neutralize the damaging effects on our cells caused by free radicals and reactive oxygen species (ROS) that lead to aging. Tocopherol also helps combat the actual production of free radicals and  ROS in our system.
Targets brown spots, sun damage, wrinkles, and collagen reproduction
Contains antioxidants that protect cells from the damaging effects of free radicals
Food Source – Avocado, nuts, seeds, and vegetable oils
---
VITAMIN A
Suggested dosage – 5mg to 7.5mg or 14,000IU to 25,000IU
Work from the inside out, treating dietary issues in the intestine that may impact skin damage
Helps with healing wounds, scarring, wrinkles, sun damage and general skin rejuvenation
Food Source – Sweet potatoes, carrots, leafy greens, and tropical fruits
---
VITAMIN B COMPLEX
Recommended forms included in Complex:
Vitamin B1 (Thiamine Mononitrate)
Vitamin B2 (Riboflavin)
Vitamin B3 (Niacinamide)
Vitamin B6 (Pyridoxine HCl)
Vitamin B12 (Cyanocobalamin)
Suggested dosage – 1mg to 50mg, depending on potency of the above vitamins
Heals wounds, scars and wrinkles
Assists with digestive issues that can cause skin aging and stress
Food Source – Chicken, beef, pork, and eggs
THE MINERALS
ZINC
Suggested Form – Zinc Orotate or Zinc Sulphate
Suggested dosage – 9.5mg to 200mg, depending on potency of pure zinc
Zinc is an essential mineral that has many benefits that heal, rejuvenate, and replenish us from the inside out.
Anti-inflammatory effects for aged, sagging skin
Assists with replenishing protein structure in the skin, healing wounds and improving appearance of wrinkles and fine lines
Protects against UV radiation
Food Source -Seafood, beef, seeds, and lentils
---
MAGNESIUM
Suggested Form – Magnesium Citrate
Suggested dosage – 200mg to 500mg
Magnesium is a strong mineral found in cells and has an array of benefits as a supplement.
Antioxidants help repair broken and stretched skin
Fights free radicals that cause attacks on skin cell growth and regeneration
Assists with protein synthesis
Food Sources – Spinach, kale, cashews, sunflower seeds, and mangoes
THE PLANT EXTRACTS
GREEN TEA
Suggested dosage – Up to 1000mg
Polyphenol in green tea assists with inflammation in the body. Inflammation can be a key contributor to signs of aging like sagging skin, pigmentation, and scarring. Polyphenol also combats against stress, which we all know can cause those impolite little forehead wrinkles when we have those peak moments of anxiety!
With the antioxidant polyphenols, green tea combats skin damage
Reduces eye puffiness and wrinkles, and tired skin
Food Source – Organic, loose leaf green tea
---
WHITE TEA
Suggested dosage – Up to 1000mg
White tea is very similar to green tea with a gentler approach on the body, but is a true powerhouse when it comes to fighting signs of aging:
Combats stress that can cause lines and wrinkles on the face
Fights free radicals that cause attacks on skin cell growth and regeneration
Assists with protein synthesis
Food Sources – Organic, loose leaf white tea
---
GRAPE SEED
Suggested Form – Vitis Vinifera
Suggested dosage – 50mg – 300mg
Grape seed extract contains the powerful antioxidant known as oligomeric proanthocyanidins (OCP) which has an array of benefits:
Protects the body from sun damage
Improves skin's elasticity by bonding with collagen
Reduces the appearance of brown and red spots
Food Sources – Grapeseed oil, ideal for cooking and adding to any meal
---
TUMERIC
Suggested Form – Curcuma longa
Suggested dosage – 50mg – 300mg
Turmeric contains high amounts of curcuminoids, that have antibacterial and antioxidant properties that can really heal and replenish skin by:
Reducing inflammation
Reducing the appearance of brown and red spots
Assisting the body with water retention to combat dehydration that can cause wrinkles
Food Sources – Turmeric spice is a great addition to any meal or can be taken on its own
THE FATTY ACIDS
OMEGA 3
Suggested Form – DHA and EPA Omega 3s
Suggested dosage – 1000mg to 1200mg
Omega 3s are great sources of fatty acids and are usually the main benefit of fish oils in relation to anti-aging.
Some key characteristics to note are:
Anti-inflammatory
Bolsters skin cell membrane of the epidermis, hydrating wrinkled and damaged skin
Food sources -Oily fish like salmon, halibut, sardines, and anchovies
---
OMEGA 6
Suggested Form – GLA Omega 6
Suggested dosage – 1000mg to 1200mg
Gamma-linoleic acid (GLA) in Omega 6 can counteract the enzyme defect we see as we age, which results in inflammation and deterioration. GLA also supplies vital biochemical foundations with powerful anti-inflammatory effects like:
Reducing and responding to inflammation
Restoring a healthy balance to the system as it ages through producing vital enzymes
Food sources – Chicken, eggs, avocado, nuts, and whole grain bread
THE OTHERS
GLUCOSAMINE
Suggested Form – Glucosamine Sulfate
Suggested dosage – 1000mg to 1500mg
Glucosamine sulfate is linked to combating signs of aging, repairing broken and torn cartilage in the body, along with these other notable benefits:
Studies show a direct link between glucosamine supplements and reduction of fine lines and wrinkles within a matter of weeks
Can normalize pigment overproduction in skin cells from sun damage
Food Source – Edible crustacean shells such as shrimp, lobster, crab and crawfish
---
COLLAGEN
Suggested Form – Type I Collagen or Hydrolyzed Collagen
Suggested dosage – 750mg to 1000mg
Collagen is most beneficial for skin, hair, nails, and internal issues that we experience as we age. Here are some of the big highlights that this little supplement can assist with:
Helps repair skin sagging
Restores collagen in the skin
Irons out wrinkles
Creates fullness to the skin's appearance
Food Source – Fish, beef, pork, and chicken
---
FLAVONOIDS
Suggested Form – Quercetin
Suggested Dose – 500mg to 850mg
Flavonoids help to reduce inflammation and have antibacterial qualities. These are both key to combating signs of aging when looking from the inside out and can have an array of benefits like:
Anti-inflammatory and antioxidant properties
Prevents and reverses wrinkles
Softens skin surface
Food Source -Blueberries, red beans, cranberries and red wine (bonus!)
---
CAROTENOIDS
Suggested Form – Beta-carotene & Lutein
Suggested dosage – 15000IU to 25000IU
Carotenoids are powerful anti-aging antioxidants, known as Pro-Vitamin A for converting Vitamin A in the body.
Helps protect and fight off damage from free radicals, such as brown spots, wrinkles, and UV damage
Works with a network of antioxidants like Vitamin C, E, and other enzymes to help produce anti-aging results.
By infiltrating the body with powerful antioxidants and converting Vitamin A, carotenoids help increase cell communication in the body while assisting reproduction and growth
Food Source – Carrots, sweet potatoes, and peppers
---
AMINO ACIDS
Suggested Forms – Branched-chain amino acids glutamine and proline
Suggested dosage – 1500mg to 2500mg
Amino acids contain little tools to help repair any damage caused (or may be caused in the future) by aging. Yes, aging sucks but this supplement has so many benefits to combat signs of aging like:
Supplying nutrients to replenish hair follicles, skin damage, and weakened nails
Strengthening connective tissue to repair and reduce wrinkles
Stimulating collagen reproduction
Food Source – Fish, other seafood, and soy products
RECOMMENDED ANTI-AGING SUPPLEMENTS
Sports Research Phyto-ceramides Skin Hydration ($19.95)
WIth over 750+ 5-star ratings, this Amazon Top Seller is not only plant-derived but also all natural and GMO-free. As the reviews say, taking them leads to a serious case of hydration as ceramides help skin retain moisture. Say hello to soft suppleness and good riddance to dry chalkiness.
---
Murad Firm and Tone Dietary Supplement ($138.00)
This supplement pack is your one-stop shop to bust that cellulite in the behind and kickstart your way to firmer, more toned skin. Loaded with Glucosamine, Vitamin A, B and E integrated with essential anti-aging fighters like Magnesium, Linoleic Acid, Zinc, and White Tea. Murad claims firmer skin by up to 78%* in 8 weeks and reduction of stretch marks by up to 47%* in 8 weeks.
---
Hum Nutrition Turn Back Time Supplements ($40.00)
With Vitamin C, Green Tea Extract, Grape Seed Extract, Turmeric, and Quercetin, this supplement targets the healing qualities from within. Combat sun damage and noticeable signs of aging with this supplement that boasts to be GMO-free and vegan.
---
Reserveage Collagen Booster ($25.86)
Iron out wrinkles and boost collagen production with this scientifically proven product while also integrating the benefits Grape Seed Extract. A simple way to get rid of those nasty signs of aging, don't you think?

---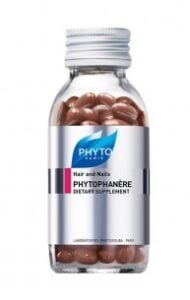 Phyto Hair and Nails Dietary Supplement ($79.00)
With the antioxidant properties of Vitamin E and the anti-aging benefits of Omega 3 and 6, this product is a great overall booster for combating signs of aging or preventing those lingering lines in the future.
---
Perricone MD Skin & Total Body Dietary Supplements ($155)
In this supplement, Vitamin B-Complex is that little Trojan horse that combats signs of aging from the inside out, and also contains Omega 3s, Magnesium, and Zinc. Other notable ingredients include Lutein, a carotenoid that, as research indicates, not only provides protection from UV damage but also boosts skin's hydration levels. Say goodbye to sun damage and hello to a clearer complexion!
A LOOK INTO COENZYME Q10
As a relatively new addition to the skincare scene, this naturally occurring enzyme helps to fight off free radicals and combats signs of stress. As an antioxidant and energy booster, there are many pros and cons about CQ10 out there, but few studies verify these claims when it comes to the anti-aging benefits of oral consumption.  Our eyes and ears are open for when this key research is revealed.

FINAL THOUGHTS
You can always integrate vitamins into your regular dietary routine to help with your anti-aging preventative measures, but supplements allow you to gain the optimal amount every day. Taking that little magic pill every morning is a small inconvenience when you look at all of the great anti-aging benefits.