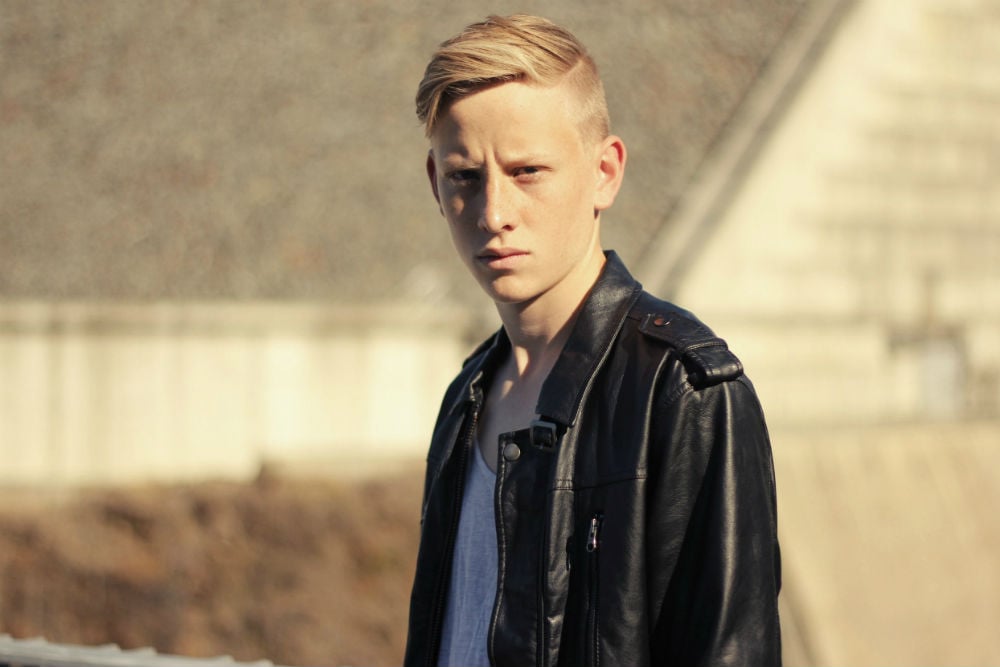 You thought you were done with acne after puberty passed? Nah. Acne can last a lifetime. Thankfully, skincare technology has advanced so well that there's a great acne treatment for every man.
Acne's (usually) not your fault, which is all the more reason to want it gone. Whether it's on your face, your back or any other part of your body, there are steps you can take to eradicate acne once and for all.
WHAT CAUSES ACNE? 
You're not an awkward, bumbling teenager anymore. But when you notice that zit on your forehead, you sure feel like one. Where did that come from? What causes acne on the face and body?
A few things. First, stress causes acne. It's a big cause, actually. But what's weird is that scientists don't really know why. They think it's probably a factor of stress hormones, but that's not for certain. All they know is that increased stress means increased acne.
Hormones, of course, also play a role. You learned about hormonal acne when you were 14 years old, and unfortunately, it's true even as an adult. Fluctuating hormones cause acne to come and go.
Bad hygiene is a huge cause of acne, for a few reasons. The biggest reason is that when you have poor hygiene, you have clogged pores. Oils and other secretions block your pores, and sebum builds up. As a result, you've got acne, blackheads and whiteheads.
Another problem with bad hygiene is dead skin cells. Dead skin cells, too, block your pores and your hair follicles. That leads to the unsightly blemishes you thought you'd left behind as a teenager.
Finally, sometimes it just comes down to genetics. If your parents had oily skin, you probably will, too. If your mom and dad were acne prone, you're likely to have acne as well. Good old genes play a big role in acne for men.
THE TROUBLE WITH ACNE ON THE FACE AND BODY 
So, acne's natural, right? Why get rid of it all? Why not just let nature run its course?
Well, we'll keep this short and simple. First of all, acne can be unsightly. Facial acne, back acne and blemishes elsewhere on your body just aren't a good look.
Secondly, acne, if untreated, can actually scar. That's particularly true if you use harsh exfoliants or "buff puffs" to cleanse your face. When you have acne, you may feel the temptation to "scrub" it away. If you do that, you can damage your skin permanently, causing infection and scarring.
Acne's inconvenient and it just doesn't look good. So let's talk about how to get rid of acne, men.
CAN YOU GET RID OF ACNE? 
Acne treatment for men ranges from prescription medicines to over the counter creams. But there's a good chance you won't' need to visit a doctor to get rid of your acne, guys…well unless its very severe.
The first thing you're going to do is make sure you've got good hygiene. If you don't really know how to take care of your skin, you can check out our guide to skin care for men.
In short, you'll need to wash your face twice each day, and your body once (in the shower). Use a good moisturizer, a sunscreen and make sure you exfoliate a few times each week.
Cleansing and exfoliation will remove the excess oils from your skin. You'll also be removing the dead skin cells, which can clog pores and trap sebum.
Confused about what type of cleanser to use? In just a minute, we'll look at the best acne treatment for men. But first, there are a few ingredients you should know about.
SALICYLIC ACID 
Salicylic acid is a BHA, or a beta-hydroxy acid. Beta-hydroxy acids are chemical exfoliants which separate the dead skin cells from the living. As a result, your pores are clean and open, allowing oils to escape and nutrients to come in.
GLYCOLIC ACID 
Glycolic acid is similar to salicylic acid, except that it's an alpha-hydroxy acid. Beta-hydroxy acids are fat-soluble. That means, in very simplified terms, that they're able to get between your sebaceous glands. Beta hydroxyl acids like glycolic acid are great for oily-skinned people.
RETINOL 
Retinol is a derivative of Vitamin A. It's got superpower abilities to reduce fine lines, wrinkles and to increase collagen production. That means smoother, fuller and healthier looking skin.
NATURAL INGREDIENTS 
Many acne treatments for men contain natural ingredients. These could include green tea, chamomile, vitamins and even aloe to soothe. Before you choose an acne treatment for men, be sure to check out the benefits of the natural ingredients.
THE BEST ACNE TREATMENT FOR MEN 
It's time to get rid of acne, men! Let's look at the best acne treatments for men. Choose one and use it daily – you'll see your facial acne and back acne reduced in no time!
Jack Black Deep Dive Glycolic Facial Cleanser $22
Jack Black Deep Dive is called that because of the glycolic acid. As we mentioned, glycolic acid is a BHA, which means it's fat soluble. Jack Black Deep Dive goes deep, between your sebaceous glands to eliminate excess oil, sebum and dead skin.
Looking for something with natural ingredients? Jack Black Deep Dive has you covered. With ingredients ranging from sunflower seed oil and aloe vera to rosemary and olive leaf, this men's acne treatment will nourish your skin as it deep cleans.
Reviews of Jack Black Deep Dive love the facial cleanser – but they also love that it doubles as a mask! Use this product a few times a week as a facial mask and enjoy even cleaner, clearer pores.
---
Paula's Choice Clear Regular Strength Acne Kit $46
 Paula's Choice has everything figured out with this treatment for acne. In fact, it's a whole kit. The 3 step plan to get rid of acne includes a daily cleanser, an exfoliating wash and a pore normalizing cleanser.
Salicylic acid is one of the most effective treatments for men's acne. You can use it on your face, your back or wherever you need it. Reviews of Paula's Choice CLEAR Ance Kit rave about how easy it is to use – and how well it works!
One man said that, after having suffered from adult acne for over a decade, he almost literally woke up to find his acne gone. Another man mentioned that he loved that the smell of the acne kit wasn't too floral, or too overwhelming.
---
Mario Badescu Drying Lotion $17
 If you have excessively oily skin, Mario Badescu Drying Lotion can be a great solution for you. The lotion is best used overnight, and it targets facial acne and even back acne while you sleep. Just rub some on and let it work overnight.
Reviews of Mario Badescu Drying Lotion all note that, if you have dry skin, this lotion might not work out so well for you. But for normal, combination or oily skin, Mario Badescu is the way to go.
Got itchy skin? No problem. Mario Badescu contains calamine, which will help to soothe the skin. Less itching means less scratching. That, as a result, means less scarring!
---
Clinique Acne Solutions Overall Clearing Treatment $33.88
Clinique has long been a leader in acne treatments for men. And Clinique Acne Solutions Overall Clearing Treatment lives up to the Clinique reputation.
This oil free wash can be used anywhere on your body. Have pimples on your back? Bottom? Or just on your face? Clinique can fix it. And as with all reviews of the best acne products for men, guys had great things to say about Clinique Acne Solutions.
First, most men noticed right away how light the solution was. It wasn't greasy and most men noticed results within a week. Salicylic acid and benzoyl peroxide are two of the best ways to get rid of acne, and this Clinique cleanser includes both ingredients!
---
CeraVe Facial Moisturizing Lotion PM Ultra Lightweight $16.95
A critical part of a men's skincare routine is a good moisturizer. CeraVe is just that. This water-based formula contains glycerin for optimum moisture, and it's light and non-greasy.  The night treatment also contains Niacinamide (Vitamin B3), an antioxidant known to boost overall skin health.
Men's reviews of CeraVe PM Moisturizing Lotion say that it's the "holy grail" of skincare products. Men noticed signs of acne disappearing right at the start, and mentioned that chapped, dry skin was almost instantly healed.
Choose CeraVe as an overnight product, as it won't clog your pores while you sleep.
---
Mario Badescu A.H.A. Botanical Body Soap $8
 Mario Badescu AHA Botanical Body Soap is extremely popular and with good reason. The key word here is "body" – Mario Badescu Body Soap will gently exfoliate your skin to reduce the occurrence of back and body acne.
There are some great ingredients in this body wash, too. You'll find papaya extract, which is an AHA. You'll find ginseng root to soothe the skin. And you'll find oat protein to gently exfoliate.
Reviews of Mario Badescu AHA Botanical Body Soap are just about as terrific as the product. Men say that if you let the soap sit for just a few minutes, it works as sort of a mini-mask for the back and body.
---
Murad Acne Clarifying Body Spray $34
 This is a simple step in your plan to get rid of men's acne. It's just a spray, but it contains salicylic acid which sloughs off the dead skin cells from your body.
Menthol and lemongrass refresh while the salicylic acid goes to work. The result is soft, clear and smooth skin – everywhere on your body.
Men who have used Murad Acne Clarifying Body Spray say that it's one of the simplest, most effective skincare products they've ever used. Just spray it on after a shower, and let it sit. In other words, it's a "set it and forget it" solution to men's acne.
---
Proactiv Clear Zone Body Pads $34.95
Another hugely convenient product is the little jar of Proactiv Clear Zome Body Pads. These pads can be tossed in your gym bag or even your briefcase for "touchups" on the go.
Containing salicylic acid, Proactive Clear Zone Cleaning Body Pads target all the gunk that blocks your pores. Gently sloughing away that grime, Proactiv pads clear the way for healthy, clean skin.
Reviews of Proactiv Clear Zone say that the pads have the potential to work overnight. Other men said it took a few weeks to see results. Either way, a majority of men were very pleased with the results they got from Proactiv pads.
FINAL THOUGHTS
Maybe you got your acne from your mama. Or maybe you're just stressed. Regardless of how you ended up with facial or back acne, there's a solution for you.
Start your skin care routine – wash, exfoliate and moisturize. Once you begin, you'll be well on your way to clear, acne-free skin.