What do you think of when you hear the word "charcoal?" Do you think barbecues and tailgate parties? Well, think again.
What started as a food trend in the mid-2010's quickly made its way into some of our other everyday products. Today you'll find activated charcoal in everything from ice cream to toothpaste. But as an ingredient in your face and body wash, charcoal is actually one of the most intensive skin care products out there.
If you're never heard of using charcoal for your skin, keep reading. You'll be surprised at the benefits of this natural product.
WHAT IS ACTIVATED CHARCOAL? 
The charcoal we're talking about isn't the same stuff you'll find at the bottom of your grill. Not exactly, anyway.
What we're talking about is a substance called activated charcoal. Activated charcoal is made from a variety of things. Most commonly it's created by heating olive pits or coconut shells to a very high temperature. The carbon soot that's leftover from that process is then treated to give it a sponge-like structure.
The result is a charcoal product that's very porous and absorptive. So what is activated charcoal used for? Many, many things! You'll find it in skincare products, of course. You'll find activated charcoal toothpaste, activated charcoal masks, activated charcoal deodorant… the list goes on.
Because activated charcoal is so porous, it's very effective at absorbing toxins and impurities. That's why it's one of the most popular skincare products for men today and is available in many products.
DOES ACTIVATED CHARCOAL WORK? 
Yes! As a matter of fact, activated charcoal has had applications even in medicine for many, many years. It works by binding itself to that gross stuff in your pores. But how exactly?
The sponge-like structure of activated charcoal has many, many holes. Because of those holes, activated charcoal has a huge surface area. In fact, 1 gram of this stuff has a surface area of approximately 300 square meters. And with all that surface area, charcoal can soak up substances faster than a roll of Bounty.
As you wash your face (or use your mask), the grime, bacteria and toxins in your skin are drawn out and absorbed by the charcoal. Then, as you rinse, those impurities are washed away.
After you use activated charcoal, you'll notice that your blackheads are all but non-existent, your pores look smaller and your face looks and feels softer. But this heavy-duty skincare ingredient is also adept at pulling heavy metals and chemicals from deep within your dermis, so it improves your overall wellbeing on that level, too.
HOW TO USE ACTIVATED CHARCOAL 
The best way to use activated charcoal is simply by buying products that contain the ingredient, and there are a few reasons for this.
First of all, activated charcoal by itself is messy. Super, super messy. It does come in powder form, but the activated charcoal powder will stain clothes. The fine powder is so lightweight, too, that as soon as you open the container it'll be on your shower floor, your carpets – you name it. It's best to stay away from the powdered stuff.
The second reason is that activated charcoal is extremely drying when used by itself. Products that contain activated charcoal are combined with moisturizing ingredients that will soothe and protect your skin as they work.
So, what are the best-activated charcoal products for men? Let's look at the options.
BEST CHARCOAL SKINCARE PRODUCTS FOR MEN
With all the activated charcoal uses, it could be hard to choose a product that you love. We recommend that you try a charcoal face mask, a charcoal face wash, and a charcoal body soap. Here are our recommendations for those products.
CHARCOAL FACE MASK FOR MEN
What's a charcoal face mask? It's an intensive detox session for your face, that's what. Charcoal face masks draw impurities from your skin, ridding your face of toxins and eliminating blemishes.
BEST CHARCOAL FACE MASK FOR MEN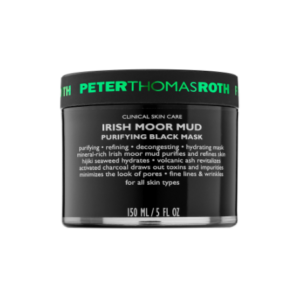 Peter Thomas Roth Irish Moor Mud $60
You only need to leave this mask on for ten minutes thanks to its breakthrough formula, the star of which is Irish Moor Mud. Harvested by hand on the Irish countryside, this 9,000-year-old mud is an ancient method for purifying the skin of dirt and oil while delivering moisture and vitamins. It works hand in hand with the vital nutrients from Black Hijiki Seaweed, the detoxifying effects of Volcanic Ash, and, of course, Activated Charcoal which doubles up on drawing impurities and toxins from your pores.
---
Beau Brummell The Gentleman's Charcoal Mask $30
Our charcoal face mask recommendation is the Beau Brummell Gentleman's Face Mask. This face mask uses kaolin clay and charcoal to clear blocked pores, detox your skin and soften your face.
You'll also find excellent nutrients in Beau Brummell Gentleman's Face Mask. Vitamin E is a rich moisturizer, softening your skin as you detox. Lavender oil is great for sensitive skin and is an anti-inflammatory. That means it can help to clear up acne and other skin conditions. Finally, rosemary oil has antibacterial properties. This, too, helps to clear up bacteria that causes blackheads and acne.
Beau Brummell Gentleman's Face Mask is great for any skin type. Use it to tame oily or combination skin, or to help soothe dry skin. If you have normal skin, no problem! You'll notice brighter, fresher looking skin.
For best results, use once weekly.
CHARCOAL FACE WASH FOR MEN 
For a more frequent clean, try a charcoal face wash. There are washes you can use daily and those you can use once each week. These washes offer a deep cleanse you won't get with other soaps, and you'll instantly feel the difference charcoal can make.
Here are our top picks for charcoal face washes.
BEST DAILY CHARCOAL FACE WASH FOR MEN
For a charcoal face wash gentle enough to use every day, look no further than our choices below:
Boscia Detoxifying Black Charcoal Cleanser $30
If you struggle with oily or combination skin, then this face wash will help your skin control oil production. As the activated charcoal absorbs the excess oil that leads to shiny skin at best and acne at worst, it also works for hand in hand with other ingredients for detoxifying, preventative effects. Those natural ingredients include everything from rose geranium oil to vitamin C and licorice root – and they provide everything from hydration to clarifying and minimizing the appearance of your pores.
---
Jack Black Deep Dive Glycolic Acid Facial Cleanser  $19.55
Ok, this extremely popular face wash doesn't exactly contain charcoal. But what it does contain is volcanic ash. Both work as skin decongest-ers and detoxifiers, but volcanic ash comes along with a host of its own benefits. Volcanic ash is derived from, well, volcanoes. From deep within the earth, volcanic lava drives up potent ingredients that can't be found in the same concentrations on the earth's surface. And it's those ingredients that deliver antioxidant, antibacterial minerals and nutrients that improve collagen synthesis, boost skin cell reproduction, and treat enlarged pores, the visible signs of aging, and even acne.
BEST WEEKLY CHARCOAL FACE WASH FOR MEN
Clinique For Men Charcoal Face Wash $23
Want something a little more powerful, that you can use weekly? Try Clinique for Men Charcoal Face Wash. Men who have used this product say that it's a strong cleanser that works well. But the general consensus is that for most skin types it works best as a weekly cleanser – twice a week at most.
The gently foaming cleanser offers a deep clean and detox to your skin while it moisturizes as well. For best results, follow your Clinique for Men Charcoal Face Wash with a moisturizer for your skin type.
CHARCOAL MOISTURIZER FOR MEN
Perhaps the most important component of your skincare regime is your moisturizer. Your moisturizer replenishes the oils and hydration that are stripped from your skin in the cleansing process.
While any old moisturizer can accomplish that task, only a charcoal moisturizer delivers all the skin benefits of charcoal while doing so. That means deep hydration along with the clarifying and toning power of charcoal – that your skin can absorb all day and night.
BEST CHARCOAL MOISTURIZER FOR MEN 
Boscia Revitalizing Black Hydration Gel $40
Regardless of the hydrating ingredients in your face wash, you always need to follow up with a moisturizer. And this ultra-light and ultra-cooling gel moisturizer brings all the same benefits of a charcoal wash or mask into a hydrating product. That means you get all the detoxifying effects of charcoal in a leave-on product that's also formulated with vitamin C for brightening your complexion and artichoke leaf extract to improve the elasticity of your skin.
CHARCOAL SOAP FOR MEN
 Want the benefits of a good charcoal soap for every part of your body? Charcoal body soaps are an excellent way to unclog your pores all over. If you have body acne, oily skin or just want to feel refreshed, check out what a charcoal body soap can do for you.
BEST CHARCOAL SOAP FOR MEN
Baxter of California Deep Cleansing Charcoal Bar Soap $19
We love multipurpose products like this 3-in-1 deep cleansing black soap bar for your face, beard, and body. Activated charcoal and kaolin and bentonite clay soak up excess oil and detoxify your pores (and hair follicles) of dirt and other impurities. That deep cleanse is counterbalanced by the moisturizing properties of glycerine and coconut oil backed up by a subtle, masculine scent of smoked wood and hemp grass.
---
Jack Black Charcoal Body Bar Massaging Soap $15
Fancy a massage while you're cleaning? Then try this Jack Black Charcoal Body Bar Massaging Soap. Its unique raised nubs not only help you relieve tension as they gently massage your skin, but they also draw dirt, oil, impurities, and odors to the surface. From there, those impurities are easily absorbed by the charcoal and jojoba beads of this outstanding formula.
FINAL THOUGHTS 
Activated charcoal products are some of the hottest products in skincare. And while it may sound strange, the products are actually very effective.
Activated charcoal cleans deep to detox your skin, cleanse your pores, and leave your skin feeling like you've never felt before. Choose one of the products from this list and you'll see what we mean!