While you may be aware of the health benefits of vitamins A through E, fewer people are aware of vitamin K, an underdog in the skincare realm. Vitamin K is often an ingredient in medicinal products that means to treat injuries but you can also find it in products made for the average person. Among these products is eye cream. For skincare aficionados, eye cream is often a staple in the perfect daily routine but what exactly is it and why do you need it?
DO MY EYES NEED THEIR OWN CREAM?
Eye creams and serums are specially formulated with antioxidants and vitamins for the skin under your eyes, unlike your everyday moisturizer. Many people can go without products made specifically for their under-eyes but if you are someone who struggles with dark circles, wrinkles, puffiness, or other eye-specific aging concerns, eye cream or serum may be a good investment! The under-eye skin is much more sensitive than the rest of your skin and contains fewer oil glands, meaning it has fewer sources of hydration and is one of the first areas to show the first signs of aging. On top of this, we move our eyes all day when we talk, smile, laugh, etc., therefore agitating this skin more than other places on the face. This is why we see wrinkles under our eyes before they appear anywhere else. Eye creams and serums work to reduce these signs of aging by providing hydration to the area, as well as protecting it from irritants.
WHAT IS VITAMIN K?
Although the verdict from dermatologists has yet to come in on the efficacy of vitamin K in skincare, there is some evidence to support its use in eye creams. This vitamin is most commonly used as a blood-clotting agent, allowing our wounds and bruises to heal quickly. It is included in eye creams due to its hypothesized abilities to fight off dark circles. Dark circles can be the result of several different factors like a lack of fat in the pre-orbital area or the accumulation of hemosiderin, a pigment released from blood cells as a result of injury to the area. Vitamin K is suggested to remove deposits of hemosiderin therefore effectively reducing the appearance of these dark circles. Another study supports the benefits of vitamin K for the skin as a means to strengthen skin elasticity and help heal under-eye bruising.
9 BEST VITAMIN K EYE CREAMS & SERUMS
Although skincare experts aren't completely sure about the inner workings of vitamin K in treating the under-eye area, many users swear by it and thus, we have assembled a list of the best vitamin K eye creams and serums.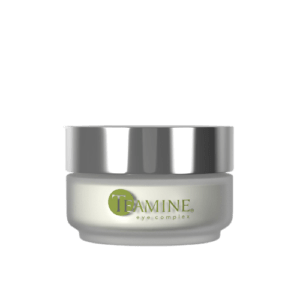 Revision Skincare Teamine Eye Complex $86
Revision Skincare's extremely popular Vitamin K eye cream is formulated to address dark circles but also fight other signs of aging like fine lines and wrinkles. The nutrient-rich formula is packed with antioxidants like green tea extract and Vitamin C to brighten as well as hydrating hyaluronic acid.  Other skin-beneficial ingredients to be on the lookout for include Palmitoyl Pentapeptide-4 known for its wrinkle-fighting abilities and nourishing grape-seed oil.
---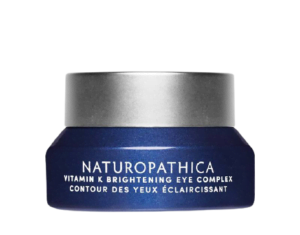 Naturopathica Vitamin K Brightening Eye Serum $82
The fan-favorite natural formula combines brightening horse chestnut flower extract with vitamin K to reduce dark circles and leave your skin looking refreshed. Horse chestnut flower extract contains compounds called flavonoids which have been known to possess anti-inflammatory and antioxidant properties, thereby reducing signs of aging like fine lines and wrinkles, as well as being linked to evening skin tone. Niacinamide (Vitamin B3) supports the vegan formula in both its wrinkle-fighting ability as well as by helping it to even out the skin.
---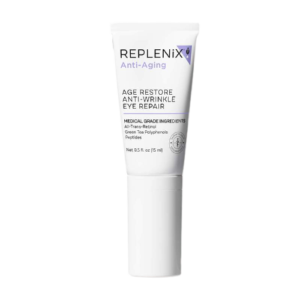 Replenix Anti-Wrinkle Retinol Eye Repair $98
Replenix's highly-effective Retinol eye cream helps help protect against wrinkles and fine lines with revitalizing ingredients like brightening Vitamin C, nourishing Vitamin E, and, of course, vitamin K! Retinol is a derivative of vitamin A which can improve skin elasticity and firmness while antioxidants like green tea polyphenols work to soothe and brighten skin. This cream is also paraben and fragrance-free, making it a great choice for people with under-eye skin that is prone to irritation.
---
Sanitas Skincare Vita K Eye Serum $27
This topical solution aims to reduce redness and signs of fatigue using a combination of vitamins and botanicals. Made by Sanitas Skincare, this eye cream uses a combination of vitamin K, vitamin E, and rutin to possibly alleviate symptoms of stressed skin. Rutin is a type of flavonoid that specifically targets signs of skin irritation like redness and puffiness. Additionally, this brand's products are exclusively cruelty and paraben-free! This makes it a good option for animal lovers!
---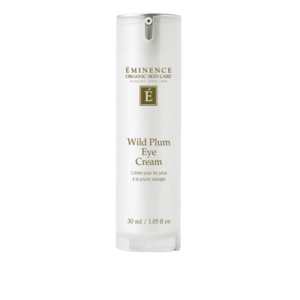 Eminence Organics Wild Plum Eye Cream $46
Not only does this rich eye cream provide an intense moisture boost for the skin, but it will also leave skin feeling reenergized and smooth thanks to the addition of wild plum juice, which is rich in iron. This completely organic product from Eminence combines shea butter, grape oil, and calendula extract to deeply hydrate and soothe skin with antioxidant-rich ingredients like green tea extract and grape oil to combat fine lines and wrinkles. Plus, it boasts a stellar 4.5 star rating among 266+ ratings on Amazon!
---
Peter Thomas Roth Power K Eye Rescue $100
The Power K eye cream from Peter Thomas Roth hydrates skin to reduce crepiness, puffiness, and other signs of aging. This cream includes tiny beads which burst when they make contact with the skin. The beads are made up of antioxidants like vitamin K, mixed with Kojic acid and citrus bioflavonoids to refresh and tone your skin. Kojic acid is a natural extract that comes from an antioxidant-rich mushroom and targets spots, scars, and evidence of sun damage to give skin a smooth and even-toned appearance.
---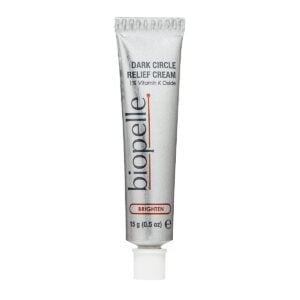 Biopelle Dark Circle Relief Cream $42
Lauding the benefits of vitamin K oxide, this eye cream from Biopelle claims to reduce the appearance of under-eye circles and discoloration. Also included in this product are light-reflecting minerals like titanium dioxide and mica which can reduce the appearance of wrinkles, spots and blemishes by reflecting light off of them, thereby making them less noticeable. This can leave the skin looking vibrant and smooth. If you are concerned about hyperpigmentation, this vitamin k eye cream may be worth a try.
---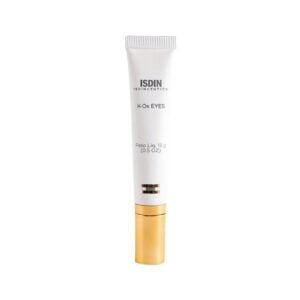 Isdin Isdinceutics K-Ox Eyes $97
The K-Ox Eyes eye cream from Isdin is one of Allure Magazines' best of beauty winners for 2021. Formulated to not only rejuvenate as well hydrate skin with a blend of vitamin K oxide, collagen-building peptides, and hyaluronic acid. With the promise of a youthful glow after 28 days of use, this product also comes with a cooling ceramic applicator to provide a refreshing feel to the application. K-Ox Eyes also has over 300 impressive 5-star ratings on Amazon.
---
Sesderma K-vit Facial Revitalizing Eye Serum $52
Combining vitamin K oxide with antioxidant plant-based active ingredients including the rejuvenating Castanea Sativa and Gingko Bilboa extracts, this serum from Sesderma addresses under-eye bags by possibly increasing circulation in the area. While vitamin K oxide may reduce the build-up of hemosiderin, ingredients like camphanediol, pinanediol, hyaluronic acid and organic silica may increase the microciruclation and blood reabsorption in blood vessels to reduce wrinkles and lines. All together, this helps leave skin looking smoother and brighter.
FINAL THOUGHTS
If you're concerned about discolouration or bags under your eyes, vitamin K may be a good option for you. It's hypothesized abilities to remove clusters of pigment from blood vessels is supported by many users who claim that these products have reduced the appearance of dark circles although the scientific community has yet to weigh in in any definitive manner. Beyond that, eye creams and serums generally can be a great addition to your skincare routine if you have concerns about the appearance of lines, wrinkles or other signs of ageing. Hydrating ingredients like hyaluronic acid, flavonoids, and vitamins can help to soothe this delicate area of skin that can sometimes be neglected by your average facial moisturizer.