Lips are as big as butts these days (no pun intended). Big, soft, smooth, kissable lips. Everybody wants them. But more important than attaining those kissable lips is making sure you take care of them with the right makeup. Lipstick goes directly on your mouth – you lick your lips, you drink, you eat, and all that increases the chances of you ingesting whatever it is put on them.
Besides maybe your eyes, the lips are the easiest way in which toxic chemicals can get into your body and bloodstream. So why do we find potentially harmful, toxic chemicals in most conventional makeup? Your guess is as good as ours. But, as a smart consumer, you have a choice. In this guide we'll help you navigate exactly what you want to avoid in lip makeup and offer some alternatives, so you can pucker up knowing your lips are being treated with the love they deserve.
WHAT INGREDIENTS TO AVOID IN LIP MAKEUP?
The more we learn about the harmful stuff they put in our makeup, especially our lip makeup, the more we want to toss all of our fave colors in the bin and re-stock with au-natural and organic products. We bet you'll feel the same after learning a bit more about the ingredients they use to make your lip makeup.
PHTHALATES
You can find this plasticizing chemical in almost every cosmetic product, and that includes your lip makeup. Phthalates bond color, so any lip makeup meant to color your lips might have this ingredient (i.e. pretty much all of them, even lip tints and balms). Phthalates are endocrine disruptors, so they mess with your hormone production and can cause damage to your developmental, reproductive and neurological systems.
LEAD
Ok, so, they don't actually put lead in your makeup. It makes its way into products by way of contamination when cosmetics are made in big, commercial batches. Colour additives are the most common source so, again, your balms, glosses and lipsticks meant to tint and color your lips are some of the worst offenders. The Campaign for Safe Cosmetics found lead in over half of 33 brands of lipstick they tested. Even more poignant, the FDA found 400 popular brands that contained up to 7,19ppm of lead! Obviously, lead isn't good for your body. It's a neurotoxin that is linked to miscarriage, reduced fertility, and delays in puberty.
PEG'S
You'll find polyethylene glycols in lip balms and glosses that are meant to make your lips smoother and softer. But that's not the right way to go about achieving soft lips – PEGs are petroleum-based ingredients that are often contaminated with ethylene oxide and 1,4 dioxane. The former is carcinogenic to humans and can cause damage to the nervous system while the latter is not biodegradable and is a possible carcinogen (so it's no bueno for your body or for the earth).
BUTYLATED COMPOUNDS (BHT, BHA)
In order to make your products last longer than they should, big brands use preservatives. These compounds are one of those preservatives and they are linked to skin allergies as well as organ, developmental and reproductive toxicity. BHT may also mimic estrogen, so they affect your natural hormones in a negative way. Oh, they may also promote the growth of tumors. So yeah, you don't want this stuff anywhere near your mouth.
PARABENS
If you don't already know that parabens are bad, where have you been? This is the most widely used preservative found in your cosmetic products but many big brands are now labeling their products as "paraben free" because the word is out on the toxicity of this stuff. Your pores soak up parabens like water and it can mimic estrogen, cause cancer and interfere with your reproductive, nervous and immune systems. Phenoxyethanol is just a new name for parabens so avoid this ingredient too (fool me once, right?).
SILOXANES
Common in lip balm, chapsticks, scrubs and some lipsticks, siloxanes are used to soften, smooth and moisten. Like so many of the chemicals found in our makeup, this ingredient is an endocrine disruptor that is toxic to our reproductive system. Avoid any ingredient that ends in -siloxane or -methicone.
RETINYL PALMITATE
Not to be confused with Retin-A or retinol, this is a synthetic form of vitamin A that may be toxic to pregnant women. The Cosmetics Database rates this ingredient as a moderate hazard due to its possible negative effects on reproductive systems and its carcinogenic properties. You can find this is lip balms and chap sticks.
COLORANTS
These are prominent in lip makeup because most products made for your lips are meant to color, stain or tint your lips in some way.  Although its hard to stay from them completely certain ones like "Red 36" or "Pink 22"… should be avoided. Some research links these colorants to nervous system damage. They can be tainted with aluminum and other heavy metals (which is meant to be listened to, not put in or on your body).
PETROLEUM, PARAFFIN, MINERAL OIL
You'll find petroleum-based products in many cosmetics but especially in balm, gloss and lipstick. Their main purpose is to seal of the skin and create a slick barrier, which doesn't allow the skin to breath (an essential aspect of the proper functioning of this organ). These petrochemicals derived from crude oil are not only toxic to our environment, it also impacts the skin's ability to develop cells normally and healthily. That can lead to premature aging as well as skin disorders like contact dermatitis.
SYNTHETIC FRAGRANCE OR PARFUM
Fragrances aren't limited to body wash – you know that yummy smelling lip balm you use on the daily? That yummy smell is likely coming from a host of unknown toxins that are labeled as 'fragrance'. Synthetic fragrances can have as many as 200 ingredients in them! And the FDA doesn't require brands to disclose those chemicals. They're protected under the classification of being a trade secret. Funny how trade secrets are protected but not the health and wellness of our bodies. The negative effects of fragrances range from hormone disruption to headaches and dizziness to rash, violent coughing, vomiting and hyperpigmentation.
 NATURAL AND ORGANIC LIP SCRUB
Lip scrubs are exfoliants for your lips. They're mildly abrasive in texture so they are better able to exfoliate dry and dead skin from your lips, leaving them soft and supple. They usually taste yummy and require you to lick them off, so you're definitely ingesting any chemicals that they are made with. For that reason, you'll want to find a lip scrub that's made with natural and organic ingredients that your body can handle with ease.
Treat Jumbo Lip Scrub $12.99
Available in five delicious flavors, this jumbo lip scrub gently exfoliates your lips while restoring moisture and deep hydration. It's USDA certified organic so you won't find a single synthetic or artificial ingredient in this lip scrub that's also not tested on animals and 100% cruelty-free.
---
Ilia Beauty Balmy Nights Lip Exfoliator $26
A creamy lip exfoliator without color or fragrance that comes in a sleekly designed applicator. Pair it with ILIA's lip conditioner ($32) for the perfect follow-up treatment.
---
French Girl Rose Lip Polish Exfoliant $19
This vegan product is made with 100% plant-based products, 80% of which are organic. The cute glass container is perfect for throwing in your bag or keeping on your desk for whenever you need to give your dry, winter lips a little exfoliation and hydration. The mint-infused sugar scrub is refreshing (and taste great, we might add).
---
This Makes Your Lips Super Kissable $13.75
This will make our lips super kissable and it's 100% organic? Yes, please! This cane sugar lip scrub is also infused with shea butter and jojoba oil, so it not only helps shed dead and dry skin from your lips, it will replace any natural moisture loss and leave your lips soft and conditioned.
NATURAL AND ORGANIC LIP BALM  & CHAPSTICK
If you live in a dry climate or one that experiences any degree of winter, you know the dry, chapped lip struggle is real. And that's where lip balm and chapstick comes in.
Coola Mineral LipLux $18
Dryness is not just a problem in cold weather – extreme heat causes extreme dryness too. COOLA has thus added SPF 30 to their 70%+ organic lip balm to ensure your lips are not only conditioned and nourished but also protected from the damaging effects of the sun. This balm is available in seven variants with just a hint of natural color.
---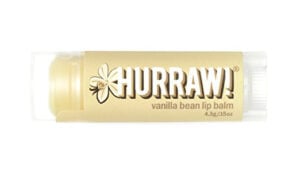 Hurraw! Lip Balm $8.99
With 24 flavors made in the US of A, there's no flavor or scent Hurraw lip balms don't capture. These balms are 100% vegan, 100% GMO-free, organic, cold-pressed and your lips will absolutely love you for these nourishing little treats.
---
Jane Iredale LipDrink Lip Balm $17
It's no secret that we love Jane Iredale when it comes to natural and organic and these four tinted lip balms are no exception. Made with a combination of natural oils, waxes, and botanicals, these lip balms will give you the perfect hint of color while leaving your lips hydrated and protected from further damage.
---
100% Pure Strawberry Lip Butter $15
These adorable lip butters are pigemented with fruit and other natural ingredients so you don't have to worry about all of the toxicity associated with synthetic colorants. Formulated with vitamin E for the utmost lip protection as well as shea and coconut butter for the ultimate in conditioning and nourishing, even the packaging of this brand is eco-friendly.
---
S.W. Basics Original Salve $21
As a general rule: the fewer ingredients, the better it is for your skin. And S.W Basics lip salve has only three ingredients, all of which are USDA certified organic: sunflower oil and cocoa butter for hydration and carnauba wax for protection.
---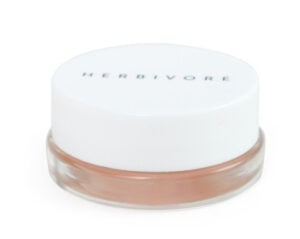 Herbivore Botanicals Natural Coco Rose Lip Conditioner $26
This lip conditioner is free of artificial ingredients and full of natural ingredients to revitalize dry, chapped lips.  Bulgarian Rose Absolute hydrates your lips while organic virgin coconut oil protects and conditions. It's made in small batches in the USA so you can be sure it's free of the contaminants that get into commercial, big-batch products.
NATURAL AND ORGANIC LIP GLOSS

Is there anything better than big, pouty lips? Yes! Big, pouty, shiny and glossy lips! They're oh-so-kissable and really make your mouth pop. Plus, these natural and organic products are formulated with ingredients that will also do good for your skin.
Hush + Dotti Lip Gloss $21
Shea butter is the all-star base of this lip gloss that's available in eight different shades. Thanks to the hydrating power of shea butter, there's no need to use a lip balm when you're using this gloss that's free of toxic ingredients and 100% vegan.
---
Vapour Organic Beauty Elixir Plumping Lip Gloss $24
Formulated with antioxidants like vitamin e and green tea to protect your lips from free radicals, this lip gloss is offered in eleven shades that will also make your pucker appear plumper. High-powered mineral pigments are organic and cruelty-free.
---
Jane Iredale Lip Fixation Lip Stain & Gloss $32
Did we already mention how much we love Jane Iredale? Well, you can include this luxurious lip gloss too. It's formulated with vitamin E for the ultimate in lip-protection as well as avocado oil for powerful hydrating effects. It's long lasting making it closer to a stain but with the finish of a matte gloss.
---
Juice Beauty PHYTO-PIGMENTS Sheer Lip Gloss $22
If you like your lips to feel silky and smooth without too much of a color pop, this gloss is exactly what you're looking for. In three colors that fall on the nude-pallet, it's light, sheer, no-sticky and jam-packed with natural ingredients that your lips will love.
---
RMS Beauty Lip Shine $25
Vitamins A and C provide antioxidant protection for your lips in this gloss that's formulated to treat your chapped lips while giving you a healthy shine. The pure mineral pigments come in seven shades, are non-toxic and will make your lips look more plump and supple.
---
W3LL PEOPLE Bio Extreme Lipgloss $14.99
This vegan gloss is free of chemicals and artificial ingredients. Its weightless, non-sticky and provides a natural-looking sheer tint that is buildable. Not to mention all of the refreshing ingredients like aloe vera, shea butter, and mica.
NATURAL AND ORGANIC LIP TINT
If you like the au natural look, lip tint is probably your game. With just the slightest hint of color and natural/organic ingredients, these lip tints will give you the subtle look you're going for while not affecting the breathability of your lips.
French GIrl Organics Lip Tint $20
This lip tint is unique in that it goes on like gloss, leaving your lips glassy and healthy-looking. Made with 100% vegan-friendly, plant-based ingredients and available in ten luscious shades, this lip tint is formulated with body-friendly ingredients and oils and waxes that leave your lips protected and looking on point.
---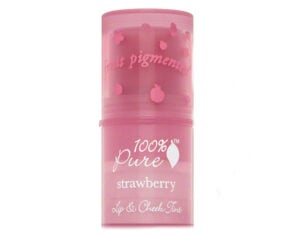 100% PureFruit Pigmented Lip and Cheek Tint $26
We love two-in-one products because they give you more bang for your buck and this lip tint doubles as cheek stain as well. Throw this in your bag for those days that turn into night's and require a little touch-up. It's full of antioxidants and other skin-beneficial ingredients so it gives your lips hydration and protection while making them look lovely.
---
 W3LL People Nudist Multi-Use Stick $23.99
Get the most for your money with this multi-use stick that's available in three shades and acts as a blush, eyeshadow and lip tint. EWG verified to be free of toxic ingredients, this hypoallergenic option is convenient and formulated with hydrating, soothing, natural ingredients like olive oil and aloe vera.
---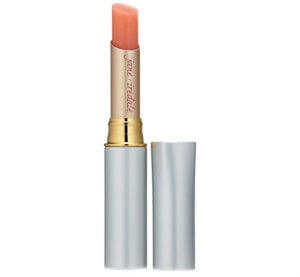 Jane Iredale Just Kissed Lip and Cheek Stain $25
An au natural lip and cheek stain by Jane Iredale that's offered in three shades and promises all-day wear, it's made with the oh-so-unique ingredients of olive butter and avocado butter (you don't see those everyday but we wish we did!).
NATURAL AND ORGANIC LIPSTICK
We know it's difficult to part with your fave shades but when you consider the alternative – putting harmful toxic chemicals on your luscious lips – it's worth making the switch.
Ilia Beauty Lipstick $26
This lipstick will not only give you the pop of color you're looking for, it will also hydrate your lips and give them more volume (or at least the appearance of such). Infused with cocoa butter and jojoba oil, it goes on silky and gives you a shine you don't get from most matte sticks.
---
Jane Iredale PureMoist Lipstick $25
In twenty-seven colors, there's no way you can't find the perfect shade(s) for you! Orange peel wax features in this lipstick to protect your lips and vivid pigments and fruit extracts give you long-lasting color that actually tastes amazing too!
---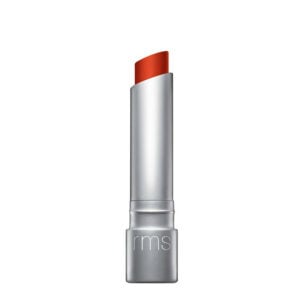 RMS Beauty Wild With Desire Lipstick $28
Wear this lipstick all day long without losing brilliance. It's formulated with antioxidants to protect your lips, coconut and jojoba oil for ultra-hydration and it's free of fragrances and unnatural ingredients. Choose from fifteen shades.
---
Burt's Bees 100% Natural Moisturizing Lipstick $7.45
Burts Bees has created an entire line of cosmetics that are natural and nourishing. These lips sticks, for example, offer intense color and eight hours of hydration thanks to red raspberry seed and moringa oil. Natural ingredients like vitamin E protect your skin in these affordable and body beneficial lipsticks.
---
Hush + Dotti – Organic & Vegan Lipstick $24
Available in nine everyday wearable shades, these creamy organic and vegan lipsticks come in super cute packaging. They are creamy and gentle and can be combined and built on for an even greater range of colors.
---
100% Pure Cocoa Butter Semi-Matte Lipstick $29
A matte lipstick that derives its color from the natural pigments found in fruits. The packaging is 100% eco-friendly so you're reducing your ecological footprint while keeping your lips luscious. It's also formulated with cocoa butter for the ultimate in silky smooth hydration.
NATURAL AND ORGANIC LIP LINER AND PENCIL
For those full-on nights out, you need your lips to really stand out. Lip liner and pencil gives your lip shade the extra umph it sometimes needs, and these give you exactly that without the artificial ingredients found in most commercial brands.
Jane Iredale Lip Pencil $15
This soft formula is gentle on your lips but still provides all-day wear. Perhaps even better is that the soft formula allows for it to be blended so it can act as a base coat for other lip products. As always, Jane Iredale champions awesome ingredients like vitamin E and other natural botanicals.
---
Zuzu Lip Liner $13.80
Highly pigmented for an intense liner that defines and shapes your lips, this lip liner is available in nine colors and boasts skin beneficial ingredients like jojoba oil, sea fennel and carnauba wax.
---
RMS Beauty Lip Liner $20
There's no need to sharpen this creamy lip liner that comes with a built-in sharpening tool, saving your precious time (and what's more important than your time?). Rich, matte pigments are combined with antioxidants like vitamin E to offer your lips protection and the perfect definition.
---
Glo Beauty Precision Lip Pencil $18
This sleek lip liner promises not to run – it's water resistant and will last you for a whole day of wear. Silky smooth application and formulated with antioxidants, it's available in a wide range of colors.
BEST NATURAL AND ORGANIC MAKEUP REMOVER FOR LIPS
What's the point of switching to natural and organic lip makeup if you're just going to remove it with a chemical at the end of the day? Make the switch meaningful by purchasing an organic makeup remover that will do more than just remove makeup.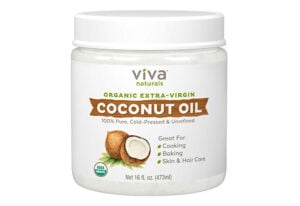 Viva Naturals Organic Extra Virgin Coconut Oil $10.79
Ok so it's not a makeup remover per se. But did you know that you can use coconut oil to remove your lip makeup? You sure can! Plus it will leave your lips moisturized and full of the vitamins and goodness they need to stay healthy. Bonus: you can use this all over your body as a moisturizer and even for cooking if you really wanted to (that's how organic this ish is!).
THINGS TO LOOK OUT FOR
Always proceed with caution when purchasing natural and organic ingredients. There really aren't any standards when it comes to using the term or label "natural". A product may claim to be natural but is actually full of artificial ingredients. Organic, on the other hand, is far more standardized. You can be sure if you see a USDA organic certification that what you're buying is good stuff. And if you ever have questions, don't hesitate to read the label or make a call/send an e-mail to the manufacturer to find out more. Manufacturers that are offering truly skin beneficial products will be happy to share that information with you!
FINAL THOUGHTS
Your lips don't only house your smile, they're the site of your kisses too. Besides that, they are a gateway to your bloodstream and the inside of your body. It's almost guaranteed that anything you put on your lips is going to wind up in your internal system, so it's important to make sure you're not putting anything toxic or potentially harmful on them. Make the switch to organic and natural products and your lips, and those who come in contact with them, will thank you.