We all have our morning routines – wake up to alarm, hit snooze five times, roll out of bed, wash face, question life, and moisturize. But did you know that it's not only about simply moisturizing but also picking the right anti-aging cream? Thing is, there are a lot of options out there, how do you know how to pick the best one? Well, lucky for you we've done our homework, and we're here to spill.
WHAT DO ANTI-AGING CREAMS DO?

Anti-aging creams help to repair dry skin, retain moisture, hydrate and penetrate the skin's barrier to assist in the appearance of aging.  Studies show that using a good one is important to help prevent or combat signs of aging.
When used regularly, a good anti-aging cream can:
Help protect skin barrier from the environmental damage (pollution, sun, etc)
Diminish the appearance of fine lines and wrinkles
Hydrate the outer layers of the skin (to prevent cracks and fine lines)
Even out skin tone
Soften complexion for a more youthful appearance
With the integration of broad-spectrum sun protection, they will also protect against UV rays
ANTI-AGING SKINCARE ROUTINE BASICS
Your morning routine should include the application of a cleanser that isn't harsh to start, possibly a balancing toner, a nutrient-rich serum if you need it or want to target a specific skin care issue, an anti-aging cream, an effective sunscreen, and finally facial oils to replenish, repair and seal in moisture.
Your nighttime anti-aging skincare routine should include the application of Retin-A to improve your skin's texture to get that radiant glow with smooth, softened skin, and possibly a night cream.
DAY CREAM VS NIGHT – SHOULD YOU BE USING ONE?

The idea of putting on a night cream is to maximize hydration and absorption rates of nutrients during your resting period, which is when skin is regenerating. We believe that balance is key and that it's important to let your skin breathe at night in order to minimize interference with these very regenerative processes that include getting rid of toxins and re-balancing oil production.  Although not all skin-types need a good anti-aging night cream, for those of you who feel that their skin needs one, a water-based that let's your skin breath might be a good way to go.  Check out our guide, if you're interested in learning more about the benefits of a night cream.
A LOOK INTO EYE CREAMS

Common ingredients in eye creams include those that can help with combating signs of aging – catechins found in green tea for sun damage, hydroxyl acids for exfoliating, coenzyme Q10 for fine wrinkles and sun damage, and Niacinamide to help reduce water loss in the skin and improve elasticity. Since the skin around the eye is delicate, thin and often one of the first places to show the signs of the aging a good eye cream can be a worthwhile investment, especially if you're not keen on an overall anti-aging cream.  If you're curious about learning more about the benefits of a good eye cream, make sure to check out our guide.
KEY INGREDIENTS TO TARGET SPECIFIC AGING CONCERNS
Although many ingredients have multi-purpose benefits look out for key these ingredients to target specific anti-aging concerns:
BRIGHTENING 
Glycolic Acid, Kojic Acid, Lactic Acid, Licorice Root Extract, Vitamin B3 (Niacinamide) and Vitamin C
HYDRATING
Hyaluronic Acid and Vitamin  B5 (Pantothenic Acid or Panthenol)
FINE LINES & WRINKLES 
Vitamin A (Retinol), Ceramides, Vitamin E, Vitamin B3 (Niacinamide), Glycolic Acids, and Lactic Acid
 FIRMNESS & SAGGING 
 Vitamin B3 (Niacinamide), Peptides & Vitamin A (Retinol)
SUN DAMAGE
Broad Spectrum (UVA and UVB) Sunscreen, Linoleic acid, Licorice Root Extract, Vitamin A (Retinol) as well as C

RECOMMENDED PRODUCTS
Skin Medica Rejuvenative Moisturizer $37.27
Best for: Normal to Dry Skin
With shea butter and Vitamin E high on the list of ingredients, this moisturizer is both supple and lubricating. Other notable ingredients include a stable form of Vitamin C that both brightens skin and helps fight free radical damage, and plant extracts Algae, Oat, and Ginkgo Biloba to help soothe and protect the skin.
---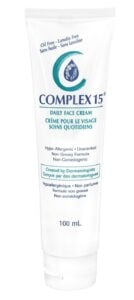 Complex 15 Daily Face Cream $14.15
Best For: Normal to Combination & Sensitive Skin
The non-greasy cream includes Glycerin and Squalene help restore the skin's protective barrier to improving hydration on the surface, while Caprylic/Capric Triglyceride penetrates deep into the skin's layers for some serious moisturizing power. Topping it off with Lecithin, another great ingredient known for its ability to soften skin, bring nutrients to the right cells as well as help to repair free radical damage.
---
Algenist Regenerative Anti-Aging Lotion ($78)
Best For: Normal to Combination Skin
Algenist's light-weight lotion comes packed with multiple skin beneficial ingredients inclusive of Peptides to help restore, Shea Butter to hydrate as well as the antioxidants Vitamins C and E to target free radical damage.  The formula is also made without parabens, synthetic dyes, and petrochemicals.
---
Josie Maran Argan Daily Moisturizer SPF 47 Protect + Perfect ($30.50)
Best For: Normal to Dry Skin (not prone to breakouts)
The combination of Argan Oil, which offers a balanced ratio of oleic and linoleic acids to protect skin and seal in moisture, with the hydrating properties of Aloe Vera provides the perfect moisturizing boost. Other notable ingredients found in this formula include free radical fighting antioxidant Green Tea, along with Titanium Dioxide & Zinc Oxide that provide an SPF of 47 and broad-spectrum protection against harmful UV A and UV B rays. Although the tinted sunscreen works well for more tan skin types those leaning to porcelain complexions might prefer the non-tinted version.
---
First Aid Beauty Ultra Repair Face Moisturizer ($24)
Best For: Normal To Dry Skin
This fast absorbing formula provides deep hydration while leaving skin soft and smooth. Meadowfoam seed oil and avocado oil help moisturize while shea butter and ceramides help protect the skin's barrier function. Other key ingredients include white tea extract and licorice extract to brighten and provide strong antioxidant support.
---
Replenix Power of Three $44.35
Best for: Dry and Sensitive Skin
The fragrance-free powerhouse formula combines antioxidants like Green Tea extract with Resveratrol in order to maximize anti-aging benefits. Other notable ingredients include lecithin, to help with skin reparation and caffeine that has anti-inflammatory properties to help calm redness and blotches. The pump packaging protects the active ingredients by minimizing exposure to air and light.
---
Drunk Elephant B-Hydra Intense Hydration Gel ($52)
Best for: Normal, Combination, and Oily Skin
This water-based formula is fragrance and silicone free and leaves the skin hydrated without feeling tacky. Vitamin B5 (Panthenol) not only helps collagen production but is combined with squalane and sodium hyaluronate (the salt form of hyaluronic acid) to increase moisture levels). in order to repair the skin and boost hydration levels through drawing in moisture from the atmosphere. Other key ingredients include apple, bearberry, pineapple and watermelon extracts to provide advanced antioxidant power.
---
EltaMD, AM Therapy Moisturizer ($32.50)
Best for: Normal to Oily Skin
A lightweight cream formula that leaves skin hydrated without the greasiness. Great for those of us who are interested in brightening and evening skin tone, this moisturizer combines a high level of niacinamide (Vitamin B3) as well as Piptadenia Colubrina peel extract in order to boost the formula's skin lightening benefits. Other notable ingredients include Hyaluronic Acid to help plump and willow bark extract to help soothe.
---
Dr. Dennis Gross Skincare  Hydra-Pure Oil-Free Moisture $78
Best for: Oily and Sensitive Skin
This lightweight, oil-free moisturizer is your get-up-and-go buddy. No fragrance or oils makes this ideal for sensitive skin or those prone to breakouts, while Coenzyme Q10 helps repair UV damage and promotes collagen production and Ceramides create a barrier to help prevent dryness and cracking that causes wrinkles and fine lines.
UNDERSTANDING KEY INGREDIENTS IN ANTI-AGING CREAMS
Your anti-aging cream sits with you all day long so it should be made up of the most effective ingredients to maximize benefits. Although popular media often identifies one ingredient as the new fountain of youth, the truth is that skincare products, including you're anti-aging cream, should contain multiple ingredients.
EMOLLIENTS
Used as a thickening agent, emollients are supple and lubricating, preventing water loss while soothing the skin. There are many emollient ingredients added to moisturizers, so it's important to keep an eye out for what works and what doesn't. If you're more prone to breakouts and have skin that clogs easily, a water-based formula may be best for you. It should be listed as the first ingredient, with other great emollients to follow.
INGREDIENTS TO LOOK OUT FOR
SHEA BUTTER
As a fat extracted from the nut of the African shea tree, shea butter is great for some super moisturizing action while soothing seriously dry skin. It's also known to be a rich source of anti-oxidants to help heal skin from environmental damage and inhibit free radical damage.
---
COCOA BUTTER
AKA theobroma oil, cocoa butter is a vegetable fat extracted from the cocoa bean that can prevent dry and itchy skin while assisting with scar removal. The ingredient is known to be full of polyphenols, which helps boost collagen production and skin elasticity.
*Note that shea butter and cocoa butter are very rich, so this may cause breakouts in those with sensitive skin.
---
LECITHIN 
With the ability to penetrate the skin's surface and bring nutrients to the proper cells, lecithin acts as both an emollient and an emulsifier to help with hydration, replenishment, and rejuvenation.
---
NATURAL PLANT OILS 
Some oils to look out for include: Argan Oil,  Linoleic, Sweet Almond Oil, Camellia Oil, and Rose Hips Oil.
Pure, high-quality oils are always a great addition to nourish your skin throughout the day. Some benefits include helping the skin's barrier function properly, assisting in skin renewal and sealing in moisture. Oils are partly made up of a number of fatty acids, including Oleic and Linoleic. Those with higher levels of Oleic acid are usually heavier and richer while those higher in Linoleic acid are usually lighter. Check out our guide for a more in-depth understanding of the best anti-aging oils.
---
CAPRYLIC/CAPRIC TRIGLYCERIDE 
As skin-repairing emollients, caprylic and capric triglycerides are derived from coconut oil and glycerin and include have a mix of fatty acids used to resist moisture loss and repair the surface of the skin. As a thickener, they're used often in moisturizers to penetrate the layers of the skin for some serious moisturizing power.
Note: If you have skin that clogs easily and is sensitive to breakouts, water-based formulas that avoid a reliance on emollients may be best for you.
INGREDIENTS TO AVOID
MINERAL OIL/PETROLEUM 
May appear on labels as: Petrolatum and paraffin wax
Made from petroleum, mineral oil can clog pores and is a suspected carcinogen (meaning, very toxic and cancer-causing). This is an ingredient that is often found in moisturizers since it's a cost-effective ingredient, so it's important to be aware of it and avoid, avoid, avoid.
ANTIOXIDANTS
Antioxidant ingredients have cell-communicating properties to help to boost your skin's moisture absorption qualities and can reduce inflammation while fighting against free radical and environmental damage. There are many antioxidants out there and – while we definitely have our favorites – it's more of a team effort rather than one being the best. Take a look at our article for some of the best skin vitamins for topical application.
INGREDIENTS TO LOOK OUT FOR
VITAMIN E (ALSO AN EMMOLIENT)

Commonly found on labels as: d-alpha-tocopherol, d-alpha-tocopherol acetate, dl-alpha tocopherol, and dl-alpha tocopherol acetate.
Although Vitamin E can be an irritant in large doses that lead to rashes, it's an anti-aging superstar is smaller doses. Some of the many benefits include supporting collagen production, skin healing, and, since it's an emollient, it also helps moisturize the skin.
---
GREEN TEA & WHITE TEA (CAMELLIA SINENSIS)

Made from unfermented leaves, green tea and white tea contain some of the highest concentrated, powerful antioxidants to combat free radical damage. Other benefits of finding them in anti-aging creams include their anti-inflammatory and collagen inhibiting properties.
---
VITAMIN B
Forms to look out for: Vitamin B3 (Niacinamide, Nicotinamide or Nicotinic Acid) and Vitamin B5 (Panthenol and Pantothenic Acid)
In its multiple forms, Vitamin B  is generally known to help the epidermis (outer layer of skin) retain moisture, resulting in a reduction of fine lines.
Niacinamide is a cell-communicating ingredient that can improve fine lines and wrinkles, increase elasticity, fight off free radical damage, and even out skin tone and texture.
Pantothenic acid helps skin to draw in moisture from the atmosphere and bind to water molecules, as well as maintains collagen production, making it a great addition to any anti-aging cream.
Note: Avoid mixing Vitamin B3 with Vitamin C (especially in the form of L-Ascorbic Acid) as the can negate each other's anti-aging benefits and potentially even have a negative effect on the skin.
---
LICORICE ROOT EXTRACT 
A plant extract that is known for its ability to brighten and even skin tone (by inhibiting the enzyme tyrosinase known to activate melanin production) is especially useful when treating pigmentation concerns. Another benefit of the ingredient is the anti-inflammatory properties that help calm irritation and soothe redness.
---
KOJIC ACID
Derived from mushrooms, kojic acid is a beneficial antioxidant that helps repair skin pigmentation, scarring,  flare-ups, as well as inhibits melanin production leading to brighter and more even skin tone.
---
PEPTIDES
Common effective peptides include: Argireline (Acetyl hexapeptide), Copper peptides, Palmitoyl Oligopeptide, Palmitoyl pentapeptide-3, Palmitoyl Tetrapeptide-7 (Matrixyl-3000), and Myristoyl Pentapeptide.
Hypothetically small proteins composed of two or more amino acids (the building blocks), peptides function as moisture-binding agents with cell-communicating ability to help the skin repair itself. They are also linked to firming skin and stimulate collagen production.
HUMECTANTS
Humectants have the ability to restore and maintain your skin's natural moisture barrier. They can also help to actively attract moisture to the skin's surface.  Humectants need to be balanced out with emollients (oils) to avoid over-drying the skin because they can actually decrease the skin's moisture retention when they are used in a pure form by drawing out too much water from the dermis (the deeper layers of the skin). Moisture moves into the epidermis (the top layers the skin) that loses water quickly by evaporation. If you find that your anti-aging cream is leaving your skin dry, look for one that has a smaller percentage of humectants.
INGREDIENTS TO LOOK OUT FOR
HYALURONIC ACID 
As a component of skin tissue, hyaluronic acid is a popular ingredient in moisturizers, and for good reason: being a naturally occurring acid in our skin, this humectant is instantly recognized by our cells when used in an anti-aging cream and is easily absorbed. Furthermore, the compound is known for its ability to hold a great deal of moisture, making it a great plumper. Other benefits include its ability to repair the skin's barrier as well as its anti-inflammatory properties.
---
GLYCERIN
Glycerin helps to heal and repair the skin's protective barrier and improves hydration. Research indicates that anti-aging creams containing multiple emollients increase in effectiveness when glycerin is part of the formula.
---
LINOLEIC ACID
Used as a thickening agent, linoleic acid can also be effective in cell regulation and skin-barrier repair. The ingredient is also known for its antioxidant powers and as an anti-inflammatory agent.
---
OCCLUSIVES
Occlusives create a barrier-like thin film over the skin that locks in moisture and protects the skin against water loss. These types of ingredients are known to help prevent dryness and cracking.
INGREDIENTS TO LOOK OUT FOR
SQUALENE
Being a skin-identical, squalene can protect the skin by reacting the same way in which our bodies provide aiding qualities. An effective ingredient to look for those who have sensitive skin since it's an anti-irritant and equally good for those suffering from breakouts or reactive skin. Read our guide to learn more about the anti-aging benefits of squalene.
---
CERAMIDES
May appear on labels as: Ceramide AP, Ceramide EOP, Ceramide NG, Ceramide NP, Ceramide NS, Phytosphingosine, and Sphingosine.
Think of ceramides as a necessity when it comes to the skin's ability to retain water, as well as being a major part of the structure of the epidermis. Within anti-aging creams, ceramides help restore the skin's barrier and encourage cell regulation, aiding the prevention of skin dehydration that leads to the appearance of fine lines, wrinkles, and collagen loss.
EXFOLIANTS
Exfoliants remove dead layers of the Epidermis and improve the skin's natural moisture-binding abilities. They are an important part of an anti-aging cream's formula as their inclusion aids the penetration abilities of other anti-aging ingredients.
INGREDIENTS TO LOOK OUT FOR
GLYCOLIC ACID
Naturally derived from sugar cane, this exfoliate helps with increasing collagen production as well as minimizing the appearance of fine lines and wrinkles.  Not only has the ingredient been linked to elasticity and increasing the skin's levels of hyaluronic acid (resulting in plumper skin), but is also known to increase cell turnover which creates smoother skin.
---
LACTIC ACID 
Naturally derived from milk, Lactic acid is often found in synthetic forms within skin care products and help to maximize effectiveness. The compound is known to be a  gentle, less irritating exfoliant, which is especially great for those with sensitive skin. Other known benefits include that it's hydrating, and has both skin brightening and smoothing properties.
---
UREA
In small quantities, this ingredient helps remove dead cells from the skin's surface as well as helps increase hydration levels. This ingredient plays an important role within the stratum corneum (the very outer layer of the skin) to help maintain the moisture balance.
THE OTHERS
INGREDIENTS TO LOOK OUT FOR
WATER
May appear on labels as: Aqua or Eau
Water is often one of the first ingredients listed on anti-aging skincare labels. It acts a solvent or a delivery system for other ingredients (rich emollients), preventing the formula from being too heavy or thick. As water can be drying on its own (like when you wash your face and after the water evaporates and your skin feels dry) not much is needed to be applied topically, so it's vilified as an ingredient. Don't be fooled when a formula says it's water-free – botanical extracts like Aloe Vera and Rose Water may be used in its place, but truth is these are made up of a high percentage of water content.
---
BROAD SPECTRUM
Broad spectrum offers protection for both UV A (most commonly known as the aging rays) and UV B (the rays that cause sunburns). Even though broad spectrum protection is a term, it represents ingredients that should be labeled in the best anti-aging creams unless you prefer using a separate sunscreen in addition to your anti-aging cream. Although everyone seems to get into a routine of only being attentive to using sunscreen during hotter weather, the fact is that you really should be using sun protection all year round (for example, snow reflects some rays and this causes double exposure!)
Read our guide for the full rundown on how to pick an effective sunscreen and have an in depth look into correct usage.
---
TITANIUM DIOXIDE
This is a natural mineral that forms a physical barrier on the skin, unlike chemical sun protection agents that are absorbed. Although it does protect skin from UV B rays it does not protect the full spectrum of UV A rays.
---
ZINC OXIDE 
Another mineral that forms a physical barrier on the skin. Unlike Titanium Oxide, Zinc Oxide provides protection against the full spectrum of UV rays.
Both the above ingredients are natural sun protection agents and, when combined, offer full range broad spectrum protection.
INGREDIENTS TO AVOID
BAD ALCOHOLS 
The alcohols to avoid: ethanol, SD alcohol, isopropyl alcohol, or alcohol denat
The jury is still out when it comes to specific "bad" alcohols in terms of your anti-aging game – some experts say that the drying effect may lead to fine lines/wrinkles while others believe there's no real connection. In our opinion, we don't believe that the risk is worth when there are so many formulas that work well and don't contain these bad alcohols. Besides, the drying effects they can cause are also known to irritate skin, especially in high quantities.
On the other hand, surprisingly there are also "good" alcohols, known as fatty alcohols, not only are they non-irritating but they can actually benefit the skin since they have emollient properties.  They include cetyl alcohol, stearyl alcohol, and Cetearyl Alcohol.
---
FRAGRANCE (SKIN IRRITANT) 
May appear on labels as: parfum, phthalates, or benzene derivatives
Many anti-aging skincare brands add fragrance to their products for a pleasing sensory effect, but it can actually cause negative reactions in skin so no matter how great an anti-aging cream seems to be it's best to be on the lookout for the words fragrance-free or for formulas that only have a limited amount of fragrance.
---
ESSENTIAL OILS 
Oils to avoid: Angelica Root (Angelica archangelica), Bergamot (Citrus bergamia, Citrus aurantium), Grapefruit (Citrus x paradisi), Lemon (Citrus x limon, Citrus limonum),  Lavender & Orange Bitter (Citrus x aurantium)
Essential oils are often used for their smell or in some cases their nutrient-rich properties. Depending on the amounts used, they can be sensitizing to the skin or even phototoxic,  meaning they can cause negative reactions like rashes and sunburns with sun exposure. Many formulas manage the amounts correctly but as a general practice we try and limit using them.
A LOOK INTO VITAMIN A

As the topical application of Vitamin A (forms include retinol, retinyl palmitate, and retinyl Acid)  is one of the most effective anti-aging treatments out there, it's quite common to find the ingredient within skincare products. Benefits include skin rejuvenation, boosted collagen production, and minimized fine lines and wrinkles. The problem is that when exposed to direct sunlight – especially in the form of retinyl acid (commonly known as tretinoin or by the brand name Retin-A) – there can be adverse effects like an increase in free radical production and sun sensitivity. Should you choose to use a product that has Vitamin A in one of its forms during the day, make sure it's not retinyl acid and be diligent with sun protection. Check out our guide if you're interested in exploring the anti-aging benefits of Retin-A.
PRODUCT PACKAGING AND BEYOND
PUMP OR TUBE OVER JAR
Think of your product packaging as a barrier to the outside world. Exposure to the elements can degrade ingredients, and jarred products will constantly have this issue. Pump or tube packaging ensures that your anti-aging moisturizer is protected from environmental factors.
AIRTIGHT
Oxygen is a free radical and your antioxidant ingredients should be kept stable in your moisturizer. Airtight packaging creates this barricade so your moisturizer maximizes effectiveness.
CLEAR VS OPAQUE
Not only is air a danger to an anti-aging cream many ingredients effectiveness diminish when exposed to light, try and pick packaging that either has a dark tint to it or better yet is completely opaque to prevent this from happening.
DARKNESS
When you have packaging that protects against the elements exposing your anti-aging cream to sunlight every day is counter-intuitive.  Seek out storage in a cool, dark place away from the sun.
If you're looking for a gentle cleanser, read one to discover more about Cerave or Cetaphil.
FINAL THOUGHTS
Remember, there is no one-stop solution to stop the hands of time – a good preventative anti-aging routine is made up of a number of products and treatments.   Like all good things, looking good as you age takes hard work.