Rose water is as lovely for your skin as the name sounds. It's full of antioxidants that protect against cell damage, it has anti-inflammatory properties that soothe irritation from conditions like eczema and rosacea, and it reduces the appearance of fine lines and wrinkles by inhibiting elastase and collagenase. Rose water is also capable of balancing your skin's natural oil production, providing hydration, and creating a smoother and clearer complexion.
All those benefits from a concoction as simple as water infused with rose petals. At least, that's what your rose water should contain. If you notice any additional ingredients on the back of your bottle, then you might not have the best clean, natural, or organic rose water.
Of course, there's a difference between finding bad alcohols (like ethanol, isopropyl alcohol and alcohol denat) in your rose water and finding aloe vera. While the former will dry out the skin and reverse any benefits of the rose water, the latter can actually compliment the formula. But how do you know the difference? You have a look at our best clean, natural or organic rose waters list and learn what to avoid and what to look for.
11+ BEST ORGANIC NATURAL ROSE WATERS & SPRAYS
Herbivore Rose Hibiscus Face Mist $32
This hydrating face mist is powered by organic rose hydrosol. A cousin of essential oils, hydrosols are also known as flower waters and they're created by distilling fresh leaves, flowers, and other plant materials into water. They're gently aromatic and less concentrated than an essential oil, making them perfect for a quick burst of hydration at any point in your day.
---
Gulsha Ultimate Rosewater $20
Gülsha is basically the master of rosa damascena and has been since the brand started bottling their family secrets in 1965. For four generations, gülsha has been harvesting the blooms of this delicate and rare rose by hand and in a tradition that's more than 130 years old. The result is an entire line of skincare items centered around rosa damascena, crafted in a way that maintains all of the vitamins, minerals, and essential fatty acids contained in the petals. If there's such thing as experts in rose water, these guys are it.
---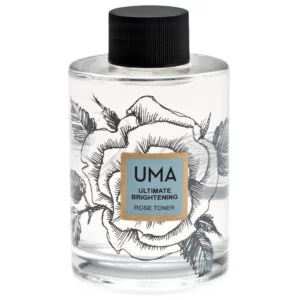 Uma Ultimate Brightening Rose Toner $65
A glowing example of what you should find alongside such an elegant and gentle ingredient, this Aryuvedic based rose water toner also features sandalwood, frankincense, papaya, tomato, watermelon, and lemon. Together, these ingredients fight blemishes, clear dirt and grime, and brighten a complexion. Meaning they're the perfect team of acne-fighting ingredients led by the soothing, hydrating, and balancing characteristics of rose water.
---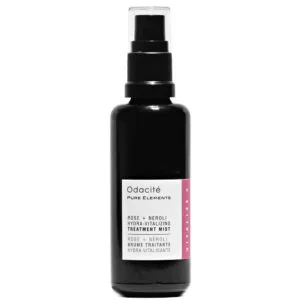 Odacité Rose Neroli Hydra-Vitalizing Treatment Mist $39
Used as either a fine facial mist or as a toner, this 2-in-1 combines four key organic ingredients to restore the complexions of combination, normal, or sensitive skin. The first is aloe vera juice, with powerful antioxidant polyphenols that protect your skin from free radicals. The second is aspen's bark, with astringent properties that minimize the appearance of pores. Neroli works in tandem with aspen's bark to prevent blemishes and, last but not least, is rose water, added to this particular formula for its oil-balancing properties.
---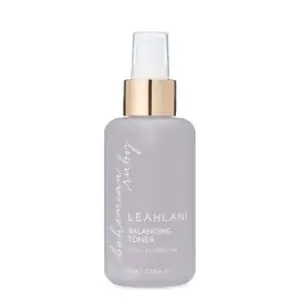 Leahlani Balancing Toner $46
Another formula that harnesses the gentle yet nourishing power of hydrosols, Bohemian Ruby contains organic flower waters from chamomile, calendula, geranium, lavender, and of course, rose. But what makes this product truly unique is the rose quartz dancing inside each bottle. 4 or 5 quick shakes will activate and synthesize the hydrosols with other wonderful ingredients like pure aloe water and mineral-rich Hawaiian sea silt. While your skin soaks up the healing benefits of that perfectly balanced formula, your soul soaks up the healing vibrations of that semi-precious stone.
---
African Botanics Rose Treatment Essence $160
Made in South Africa like all African Botanics luxury skincare, this Rose Treatment Essence is less of a liquid than other rose waters and more of a hydrating gel. It contains both pure rose water as well as a CO2 extract of rosa centifolia and these two floral ingredients work with bioactive items like botanical emollients, peptides, and B vitamins to moisturize, brighten, and even skin tone.  Many ingredients in African Botanics go beyond just being organic but are sustainably wild-harvested.
---
Kari Gran Essential Hydrating Rose Tonic $42
We're not sure if they call this essential because you won't want to take it out of your routine once you've added it or because of all the amazing essential oils used in the creation of this hydrating facial toner mist. Kari Gran has infused their tonic with organic, naturally derived, wild-harvested, and non-GMO rose damascena oil as well as organic vegetable glycerin and aloe vera. Made for all skin types, including mature and even sensitive skin, this formula both hydrates and locks in hydration any time of day.
---
Tammy Fender Bulgarian Rose Water $65
Tammy Fender has designed a holistic rose water blend with what some refer to as "nature's most precious essential oil", aka Bulgarian rose oil. This rose extract concentrates the power of 5,000 to 7,000 petals of Bulgarian rose into one drop and offers the very best in rejuvenation, healing, and strengthening. We also need to mention that all Tammy Fender products are blended in small batches and packaged by hand, and that goes a long way in maintaining the integrity of the final product.
---
Boscia Rosewater Mist $24
This misting spray can be used after cleansing and before or after makeup. Meaning that it works as both a primer and a setter for your makeup – and a beautifully natural one, at that. Formulated with rose water, witch hazel, aloe vera, and jojoba, it's a multi-purpose skincare product that does everything from hydrate to absorb excess oil. For a naturally flawless finish, or just an excellent toner for restoring pH balance after cleansing, this simple yet effective formula hits all the right notes.
---
Babor Rose Toning Essence $32
While nearly all of the rose waters we've listed contain antioxidants in some form or another, only this one contains a proprietary antioxidant complex that both detoxifies and protects the skin's surface. Pair that complex with ingredients like rose water, allantoin and bisabolol, and you've got a light and refreshing toner that works to improve the appearance of large pores, even the skin tone, and reduce fine lines and even dullness.
---
Agent Nateur Holi Water $92
The moisturizing properties of rose water just weren't enough for Agent Nateur. No, they wanted the ultimate moisturizing toner, and that's what they've created. This ultra-moisturizing toner blends the infamous Rosa Damascena with other hydrating powerhouses like lavender water, hyaluronic acid, pitaya, and cucumber. As an added bonus, all of those ingredients offer more than just hydration (think, redness, pores, and fine lines, too).
FINAL THOUGHTS
Organic or natural rose water is a valuable addition to your skincare routine. Not only does rose water have a host of benefits for the skin but a spritz can be very refreshing.