Even if you've developed the most regimented anti-aging skincare routine – avoiding the sun, not smoking, and using the best anti-aging serum you can find – your eyes are at risk for developing signs of aging.
Why? Because the skin under your eyes is some of the thinnest skin on your body, and it's affected by things out of your control such as how much you laugh and smile or how tired and stressed you are.
You might think that applying your daily moisturizer is enough to counteract all of that. But the truth is, all the moisturizer in the world isn't going to help support the skin under your eyes. Not only that, but moisturizers often come with a specific warning not to use it around your eye areas. They're not formulated for that delicate skin and the ingredients they contain can be irritating.
Like you on a bad day, your eyes require special treatment. They're formulated with ingredients that are made to combat dark circles, wrinkles, and crepey skin. But strong ingredients and gentle ingredients aren't always one and the same… which is why vegan eye cream is your best bet.
Vegan products, as you already know if you've been following along, contain more natural, organic, skin-friendly ingredients. And if there's one place you want to look for the gentlest (and cleanest) ingredients, it's the eyes.
14+ BEST VEGAN EYE CREAM 
Below find our pick of the 14+ best vegan eye creams to invest in that are animal friendly and also deliver results.

Boscia Peptide Eye Cream $40
Peptides can be as game-changing as Botox, for some people – and this ultra-rich eye cream contains a blend of three that are intended to blur fine lines and wrinkles, plump your under-eye area, and stimulate cell renewal for more youthful-looking skin. And for conditioning, softening, and soothing, this vegan and cruelty-free brand rounds out the formula with hydrating hyaluronic acid and nourishing organic botanical oils (almond, avocado, and sesame). 
For individuals with dark circles beneath their eyes consider Boscia's Indigo Eye Cream ($38) – there's a lot of you out there, we know –  wild indigo makes a great solutiont. This ingredient alone is capable of improving luminosity one-hundred fold, while delivering hydration and moisture in levels that reduce inflammation, puffiness, and darkness. When combined with the collagen stimulating properties of hand harvested Fucus algae and the protective antioxidants found in cacao root, you've got an AM/PM vegan eye cream that can't be stopped.
---
100% Pure Coffee Bean Caffeine Eye Cream $27
Take the burst of energy your morning cup gives you and deliver it to your skin, with 100% PURE's eye cream, infused with three types of caffeine. This standout ingredient stimulates circulation, which means, just like your after-nap grogginess, dark circles and puffiness don't stand a chance. If overtired-looking eyes aren't your only concern, don't fret, because this eye cream contains complementary ingredients such as vitamin C and rosehip oil for reducing fine lines and wrinkles as well as ultra-hydrating aloe and rose hydrosol.
100% Pure formulated this Retinol Pm Eye Cream ($52), the truth is, it's so much more than that. Of course, it contains the wrinkle-fighting capabilities of retinol, but it also contains a host of peptides, stem cells, vitamins, and oh-so-many organic ingredients we can't even begin to name them all. From collagen-promotion to improvements in elasticity, hydration, and skin firmness, this vegan eye cream hits all the right notes.
While the retinol formulation is intended for PM use only, the Super Fruit Nourishing Eye Cream ($46) can be used both day and night. Indeed, the blend of superfruit oils contained within are a powerful antioxidant cocktail that protects the delicate skin beneath your eyes from daily environmental stressors. 
---
Acure Radically Rejuvenating Eye Cream $11
This eye cream is part of ACURE's Radically Rejuvenating line. More than just anti-aging, it restores skin that's taken a hit from stress, tiredness, and all of the other uncontrollable things that leave your skin looking and feeling less-than-optimal. Like all of ACURE's vegan and cruelty-free products, it's packed with only the highest quality plant botanicals, extracts, and antioxidants. Particularly, edelweiss extract and chlorella not only provide deep hydration to prevent further trouble but also minimize the appearance of fine lines to correct trouble that's already occurred.
---
t
African Botanics Resurrection Eye Cream $150
This Resurrection Eye Cream contains enough organic, wild-harvested, nourishing, and rejuvenating ingredients to bring any depleted, stressed out, or sallow eye-area back from the dead. Developed and produced in South Africa with natural botanicals such as baobab, exotic oils like Marula oil, active plant ingredients like the Resurrection Plant, and vitamins c, b3, b5, and e, this eye cream delivers everything your skin needs to restore and protect itself. 
---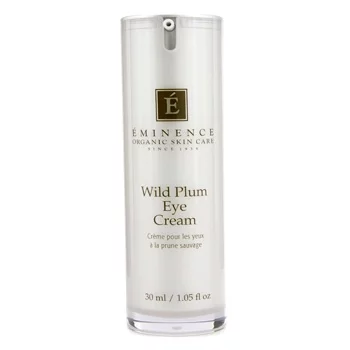 Eminence Organic Skin Care Wild Plum Eye Cream $70
Formulated with a host of organic ingredients that all skin types will benefit from, this eye cream is best when you've already developed fine lines, wrinkles, skin irritations, dark circles, or puffy eyes. This handmade eye cream covers all of the bases when it comes to the most common under-eye issues: a proprietary bio complex helps repair broken capillaries, powerful moisturizers like shea butter penetrate the skin's moisture barrier to keep skin hydrated, and items not usually found in an eye cream, such as salicylic acid and lady's thistle fruit, brighten the area while reducing redness. And if that sounds like a lot of stuff to target at once, Eminence has you covered… they've packed their formula with soothing ingredients that will calm even the most sensitive skin.
---
Maya Chia The Eye Achiever $70
So, we don't all have time, or energy, for a full skin regiment morning and night. It can get exhausting, we know. But if there's one thing you should be doing after cleansing, it's making sure you're taking care of that delicate under-eye skin. If you know it's something you should be doing, but you fall under the "minimal effort" category of skincare enthusiasts, then this roll-on serum is your new BFF. Simply unscrew the lid, apply one quick roll, and watch your circles, dryness, fine lines, and puffiness disappear. That's the power of nutrient-dense ingredients like sea fennel, wakame, algae, and sea fennel.
---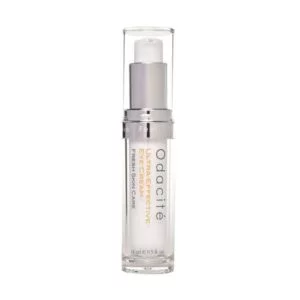 Odacite Ultra Effective Eye Cream $95
A precious formula that requires precious care, you apply this eye cream morning and night by gently patting it from the inner corner of your eye, working your way out. Although it takes some extra care, that attention pays off in the long run, because this Ultra Effective Eye Cream is exactly that: ultra-effective. Blending soothing and hydrating organic ingredients like blue-green algae, aloe vera, and lavender, with well-known anti-aging ingredients like hyaluronic acid, Odacite has found the perfect balance between anti-inflammation and deeply penetrating moisture.
And if you're an Odacite fan who prefers the silky smooth feeling of serums over creams, they've also prepared the results-driven, Ba + S Contour Concentrate Serum ($42) that targets the same skin issues. Being a serum, it's also packed with beneficial oil extracts that aren't just rejuvenating for the skin, but for your mind, too.
---
Drunk Elephant C-Tango Multivitamin Eye Cream $64
Drunk Elephant earned their name in the clean skin care world as a company that avoids what they call The Suspicious 6: aka alcohols, chemical screens, essential oils, silicones, fragrance, and SLSs. One of the first companies of their kind, they're also committed to providing skincare that's free of animal products and byproducts. Beyond these important commitments to your health and the health of our furry friends, they're producing products that perform. This eye cream is packed with antioxidants, ceramides, five different forms of vitamin C for brightening, eight peptides that target dark circles and fine lines, as well as strengthening cucumber extract that helps maintain all the work the other ingredients are doing. Gentle and powerful, the only thing better than the ingredients is the super cute tangerine packaging.
---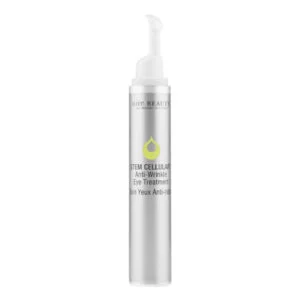 Juice Beauty Stem Cellular Anti-Wrinkle Eye Treatment $50
This unique applicator was designed with ergonomic ease of use in mind, and the ingredients it dispenses were designed with all the anti-aging concerns one could possibly have in mind. Like all Juice Beauty products, this anti-wrinkle eye treatment harnesses the power of plant stem cells in restoring your youthful glow, minimizing the appearance of fine lines and wrinkles, and improving the elasticity of your skin to affect dark circles. Beyond their proprietary blend of botanical stem cells, you'll find the likes of jojoba and shea, for both hydration and antioxidant power that protects your skin from further damage.
---
Tata Harper Restorative Eye Creme $98
For some of us, under-eye skin isn't the only thing making our eyes look tired and aged. For some of us unlucky ones, the upper-eye area can also show telltale signs of aging, when they begin to sag and give a heavy, drooping appearance. The good news is, Tata Harper thought of that. This multipurpose eye cream works above and below the eyes to brighten, smooth, and revitalize. Whether you have sagging and dry skin above or dark circles and puffiness below, this super sleek formula glides on without feeling sticky or greasy, so you'll have no trouble applying eye makeup right after your morning routine.
---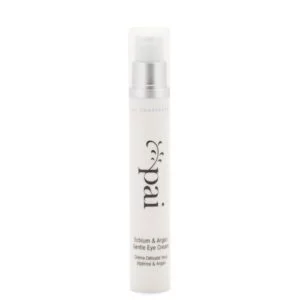 Pai Skincare Feather Canyon Eye Cream $54
Just a little dab will do you with this powerful eye cream. Made to apply sparsely, indicating both strength and how long it's going to last you, it includes ingredients we haven't seen in other creams. Take, for example, omega 3 and 6, which are essential parts of our diet that most of us don't consume enough of. On top of that, you'll find ingredients like gamma-linoleic acid and stearidonic acid, which are gentle enough for use in the eye area while commanding enough to reduce inflammation and plump your skin to reduce fine lines and wrinkles.
---
Kypris Ad Astra Nighttime Eye Cream Emulsion $150
Night creams can sometimes pack a bit of a punch. Formulated for wear over the course of an evening, they're often made with potent or rich ingredients that sensitive or blemish-prone skin types may find overwhelming. If that's the case, this gentle nighttime eye cream emulsion is an excellent alternative. It's both luxurious and light, made with botanicals and peptides intended to smooth skin texture and have a plumping effect. 
---
Alpyn Beauty Plant Genius Line-Filling Eye Balm With Bachachol $62
Everybody – literally, everybody – is talking about this eye balm by Alpyn. We've seen it in Elle, Marie Claire, Popsugar, and Byrdie winning awards of all kinds. Why? Because this unique under-eye formula fills and smooths the fine lines under your eyes seemingly instantly. Gliding on like a cream but working more like a balm, it's this incredible achievement in texture that sets this product apart. Plus, it's formulated with a host of ingredients your skin can feed on, including vitamin C, licorice root, bearberry leaf, and a little caffeine for a lot of plumping and awakening. 
---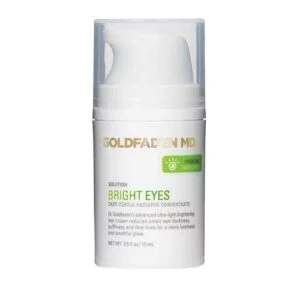 Goldfaden MD Bright Eyes $55
Dark circles require special treatment – and Goldfaden may have perfected it. They've made this eye cream to fight dark circles under the eyes of dry, mature, sensitive, blemish-prone, combination, and normal skin types. They've done it by developing a well-balanced formula of potent and natural actives such as soybean peptides with soothing and protecting ingredients like organic red tea and arnica. The result is a noticeable reduction in under-eye darkness, puffiness, and even fine lines. 
WHAT MAKES AN EYE CREAM VEGAN?
To be considered vegan, there must be no animal ingredients, no animal by-products, and no other animal-derived ingredients in the formulation and manufacturing of the product. That means it cannot contain honey, carmine, keratin, collagen, elastin, lactic acid, biotin, lanolin, tallow, pearl, or silk, which are all commonly used in makeup and skincare and are definitely not vegan. And, in our opinion, a truly vegan product should also be cruelty-free, never using animal testing.
So how do you identify these products at your local beauty counter? As the number of vegans and people seeking vegan products increases exponentially, manufacturers have actually made it quite easy to tell which of your skincare products are free of all of the above.
Look for items labeled "Vegan," "Vegan-Friendly," and "100% Vegan." Products may also be certified by Vegan Action, the Vegan Society, PETA, and the Vegetarian Society (though not all vegetarian products are vegan, so be sure to read the label carefully for things like beeswax or honey). To be sure your skincare wasn't tested on animals, look for the Leaping Bunny, Cruelty-Free International, or Choose Cruelty-Free certifications.
And one final word of caution: not all vegan products are better than their non-vegan cousins. A vegan label simply means it's free of animal ingredients and animal by-products, not that the formulation is superior in quality or effectiveness. Indeed, some brands use the "vegan" label as a buzzword, swapping animal ingredients for cheap synthetics. Be sure to read labels and reviews – like those mentioned above, which have been vetted by us for their value and design.
FINAL THOUGHTS
Protecting and repairing the gentle skin under your eyes requires gentle ingredients. And protecting those ingredients means knowing about your packaging. With traditional jars or packages with twist-off lids, you run the risk of air oxidizing the ingredients or bacteria rendering them ineffective. Packaging that doesn't block out light is equally as dangerous. So keep in mind that, when it comes to vegan eye creams, the only thing more important than the ingredients, is how those ingredients are packaged.