Did you know that skin damage is cumulative? Meaning, without a time machine, there's no way for you to reverse the damage that was done decades ago. But a good peel will certainly help – and all from the comfort of your own home.
Peels can dramatically reduce fine lines and wrinkles, hyperpigmentation, dark spots, as well as acne scars. They penetrate the top layers of the skin to deeply exfoliate and clarify your pores. When combined with an organic toner that restores moisture and pH balance after this intense treatment, you'll notice a visible difference almost immediately.
But what are the best organic and natural face peels? Look no further! We've collected and reviewed them below.
WHAT DOES A FACE PEEL DO?
A face peel does exactly what it says it does: it lightly peels away the outermost layer of the skin.
The ingredients in a face peel exfoliate the skin's surface by aiding your body in shedding built-up dead skin cells. When your skin can breathe again, new cells are formed. This creates a new top layer of skin that's refined and resurfaced. The fresh skin cells replace the dull, discolored, aged skin on top with softer, smoother, brighter skin.
So that's how a face peel can improve skin texture, even skin tone, minimize the appearance of fine lines and wrinkles, and unclog pores – it slowly sheds them through a natural exfoliation and clearing process.
KEY INGREDIENTS TO LOOK OUT FOR IN A FACE PEEL:
Below we cover some of the common ingredients that are well known for their rejuvenating abilities:
Alpha Hydroxy Acid (AHA)
AHA's are mild, chemical exfoliants derived from naturally occurring substances. These acidic ingredients help expedite the cell generation process. The result is the construction of a fresh layer of skin that's brighter, more even in texture and tone, and less prone to breakouts and blemishes.
AHA's aren't always labeled as such. Instead, you'll know them as glycolic acid, lactic acid, mandalic acid, malic acid, and tartaric acid. All of these acids are naturally occurring. For example, lactic acid is found in dairy products such as yogurt and milk, whereas tartaric acid is found in both grapes and bananas.
Beta Hydroxy Acid (BHA)
BHA's are very similar to AHA's – they're both exfoliants that occur in natural substances and are harnessed for their ability to aid your skin in cell renewal and purification. But BHA's are particularly useful for acne prone skin.
BHA's are capable of accessing the deepest areas of your pores to clear out dead skin cells. In fact, try and find an off-the-shelf acne solution without this ingredient. That's because they can clarify pores while reducing inflammation and redness. That's right – this non-abrasive exfoliant will actually soothe your skin as it staves away future breakouts and blemishes. And did we mention it dissolves blackheads, too?
In the skincare world, the most common BHA is salicylic acid. This form of natural acid is derived from plants and, for skin solutions, you'll usually find it in the form of willow bark extract. Less commonly, BHA may be labeled hydroxybutanoic acid, tropic acid or trethocanic acid.
BEST ORGANIC & NATURAL FACE PEELS
When you want a spa-level solution without the trip and the cost, indulge in one of these peels without ever having to leave the house.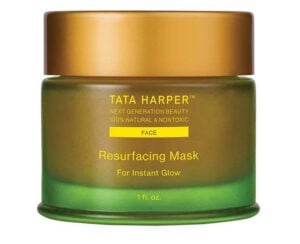 Tata Harper Resurfacing Mask $65
An award-winning beta-hydroxy resurfacing peel mask that combines organically-farmed ingredients and clinical-grade plant-based oils. That perfectly balanced formula brings you all the purifying power of a chemical peel with none of the potential side effects. Use it every day for the first 2-3 days and then only 1-2 times per week in order to maintain the amazing results you'll notice right away, including minimized pores, smoother texture, and a decongestion so deep that it leaves behind glowing, youthful-looking skin.
---
Kinship Insta Swipe Lemon Honey AHA Pads $24
At the heart of all Kinship product you'll find Kinbone: a plant-based probiotic that supports and strengthens your skin barrier. That means that, over time, using their products leads to stronger skin, and an ability to prevent and repair itself. But, until such time as your skin is restored, use these AHA facial pads for the gentlest exfoliation and pore cleansing. Infused with manuka honey and its anti-inflammatory properties, dead skin cells, dirt, and debris are removed without any irritation or redness.
---
Juice Beauty Green Apple Peel $45
Only a spa-grade face peel like Juice Beauty's extremely popular formula that so expertly combines the power of alpha and beta hydroxy acids to create a peel that targets many of the visible signs of damaged and aged skin. Use this peel for firming, age-defying results achieved with a renewing blend of organic green apple peel, lemon, and raw cane sugar.
---
Tammy Fender Epi-Peel $80
This 3-in-1 micro-exfoliator, facial mask, and natural peel fits right in among our favorites. Its award-winning formula contains Kaolin Clay that cleans deep into your pores and acts as a gentle resurfacing agent to improve skin clarity and radiance. But it's the Moroccan Rosemary and Far West Native Spearmint that really make this formula what it is – one that only needs 5 minutes to give you noticeable results.
---
Indie Lee Radiance Renewal Peel $70
First up in the Indie Lee facial peel face pads line is the Radiance Renewal. Use these facial pads if your main skincare goal is to restore radiance and luminosity. Vitamin C is well-known for its brightening effects and the addition of AHAs, java plumb, and banana help slough away dead skin cells that build up and leave your skin looking dull. With those light and natural ingredients, even the sensitive-skinned can use these pads 2 or 3 times per week.
Easily tied for first place in the Indie Lee lineup of peel pads is the Gentle Daily Peel ($65). This is best for a gentle exfoliation that you can use daily without any burning, stinging, or redness. It balances mild yet powerful exfoliating ingredients like AHAs and BHAs with earth-derived items like jasmine and burdock root. The latter soothe and nourish the skin while the former does the heavy lifting (of dead skin cells from the surface of your skin, that is).
---
Arcona Raspberry Resurfacing Peel $68
Gentle enough for a quick treatment daytime or nighttime, the antioxidizing red raspberry, green tea and grape seed extracts soothe even the most sensitive the skin while the other active ingredients exfoliate. This peel synergizes the power of 3 AHA's – mandalic, lactic, and malic acids – to resurface the structure of the skin, erase fine lines, minimize pores, and repair sun damage.
---
Josh Rosebrook Active Enzyme Exfoliator $89
The list of anti-aging ingredients in this dual-action exfoliant is impressive. In terms of exfoliation, this peel is formulated with both the highly BHA-concentrated white willow bark to encourage cell renewal as well as finely ground walnut shells for a gentle and natural resurfacing. Plus it's packed with vitamins and herbs that mature skin needs – vitamins E and A boost collagen production and minimize fine lines, vitamin V brightens and tightens, and fennel and peppermint not only plump but refresh and hydrate.
---
Naturopathica Sweet Cherry Brightening Enzyme Peel $58
For dull skin that's lost its luster or an uneven skin tone, this sweet cherry enzyme face peel harnesses the potent brightening properties of both lactic and salicylic acid as well as sweet cherry puree (which also works wonders for refining the uneven surface of mature skin). As if sweet cherry puree wasn't luxurious and exotic enough, the formula also contains wine extract for an antioxidant boost. Is there anything red Cabernet-Sauvignon grapes grown in France can't do?
---
The Organic Pharmacy Enzyme Peel Mask $79
A ten-minute solution to problems that have accumulated over ten years, the Organic Pharmacy professional-strength formula was originally designed for in-salon use. So if you have stubborn dark spots, hyperpigmentation, and other visible signs of aged skin, this high quality peel contains the latest and greatest in radiance-restoring organic ingredients and cosmeceuticals, including: lactobionic acid (BHA) and lactic acid (AHA) for a refining exfoliation, lemon and papaya for brightening, and jojoba, shea and aloe for after-care and soothing.
---
Eminence Yam Pumpkin Enzyme Peel $46
Winner of Beauty Examiner's Favorite Face Peel award, Eminence has discovered and unleashed the reconditioning strength of yam and pumpkin pulp puree in this 100% organic and natural face peel that firms, volumizes, hydrates, and protects. An ultra-high-performance peel that's also designed in a professional-use formula, it's too potent to be used on active acne lesions. Instead, use this for treating the visible signs of aging as well as sun-damaged skin.
---
Dr Alkaitis Organic Enzyme Exfoliating Mask $39
When you need mild exfoliation but a deep and thorough cleansing of your pores, treat yourself to this bi-monthly phytonutrient-rich natural face peel. Deriving its main benefits from the exclusive Maqui Berry formula, the mask delivers antioxidants to protect the skin surface from the damaging effects of free radicals but also calms inflammation that causes uneven skin tone and texture.
---
Andalou Naturals Pumpkin and Honey Glycolic Mask $9.84
A go-to treatment for acne-prone skin, this exfoliating brightener is designed around the benefits of honey – aka a natural antibacterial that neutralizes and prevents breakouts and clarifies your complexion. And after your skin has been thoroughly cleared of impurities, this exfoliating glycolic mask brightens the skin tone and repairs the damage done by past blemishes – which also make sit great for treating hyperpigmentation and other discoloration concerns.
---
Herbivore Blue Tansy AHA Mask $48
Herbivore is everything you want in an organic face peel – it's handcrafted in the smallest batches in the US using only carefully selected sustainable ingredients that are renowned for their nourishing and bioidentical properties. The Herbivore face mask is no exception – organic blue tansy oil mimics the natural processes of the body to restore balance to the skin's surface after fruit acids and white willow bark have gently begun the process of skin cell regeneration.
---
Suki Resurfacing Enzyme Peel $72
A sensitive-skin formula that's simple and pure enough for pregnant women and nursing moms, sensitive and problematic skin types can sue this as a weekly peel or a spot treatment. Free of any toxins that could might compromise your complete heath and wellbeing, people have been talking about Suki since its launch in 2002 because they craft their collections with premium ingredients and essential oils.
---
Caudalie Glycolic Peel $47
Safe and effective for all skin tones and textures, this peeling masque gives an instant radiance boost to skin struggling with a dull complexion. Made with more than 85% natural ingredients, it works as both a scrub and peel, for multiple options, twice per week.
---
GOOPGLOW 15% Glycolic Acid Overnight Glow Peel $125
This is among the closest to a professional chemical peel you can get – all the intense exfoliation you're looking for without the expense and recovery time. Left on overnight only once per week, the powerhouse ingredients go to work. We're talking stuff you just don't always find in an at-home peel, like 15% glycolic acid, plus safe and soothing ingredients such as hyaluronic acid and fruit extracts. Each box contains 12 individual sachets (treatments) which makes the price-tag seem a little more economical.
THINGS TO NOTE ABOUT FACIAL PEELS
Regardless of the skin issue, you're treating, even a good face peel shouldn't be used more than the recommended dosage. While all of these contain extremely nourishing and soothing ingredients to replace the skin surface after the process of exfoliation, the peeling effect leaves your skin sensitive to damage from repetitive use.
For that same reason, it's important to use sun protection when treating your skin. This will protect your fresh skin cells from damage and reduce the harmful effects of cumulative sun exposure. For some tips on picking the best sunscreen, read our article on what to look for.
For those with sensitive skin, keep an eye out for face peels particularly formulated to suit your skin type. The strength of some of these active organic ingredients and cosmeceuticals may have an adverse effect if not designed for skin that's chronically dehydrated or sensitive. And when all else fails – do a patch test on your arm before applying a face peel directly to your face.
FINAL THOUGHTS
The peels we've covered naturally exfoliate the skin and assist in the skin cell regeneration process in order to refine the skin's surface and restore texture, tone, and radiance. But these high -performance formulas also work to restore balance after clarifying your pores and smoothing your complexion with botanical and plant-derived extracts containing the essential vitamins, minerals, and nutrients your skin needs to stay healthy.