Here's a terrifying fact for those with a Peter Pan complex: Starting from about your mid-twenties, the levels of collagen and skin cell turnover start decreasing, affecting elasticity and thickness. This means wrinkles, brown spots and sagging. Fun… right?
But before you completely freak out and start a quest for Dorian's Gray's painting, take a breather because there are anti-aging treatments that can help. With so many supposed revolutionary anti-aging ingredients being introduced onto the market each year, the problem can be that it's nearly impossible to figure out which ones are actually effective and which ones are all hype. How do you know what ingredients are worthy of incorporating into your preventative anti-aging skincare routine?
Call us traditionalists, but we are true believers of the one and only retinoic acid (tretinoin), commonly referred to by the popular brand name of Retin-A. We would go so far as saying it should be part of the foundations of any good skincare routine.
WHAT IS RETIN-A?
Derived from Vitamin A, Retin-A is part of the family of retinoids, which includes Adapalene (Differin) and Tazarotene (Tazorac). Closely related but not as strong is Retinol, which appears in various anti-aging products. Although originally discovered as a treatment for acne in the late '60s, scientists soon noticed that tretinoin has an impact on generally improving skin texture and has the power to diminish fine lines, wrinkles and uneven sun damaged skin. Retin-A can also unclog and refine pores, boost collagen, and speed up cell turnover leaving its loyal fans with much younger looking skin. With regular usage, skin tends to become extremely soft and develops a radiant, dewy glow.
DOES RETIN-A THIN OUT SKIN?
Before going any further, let's address a common myth you may have heard: Retin-A thins out skin. The truth is, Retin-A exfoliates the dead, dry skin cells at the top of the epidermis to reveal fresh skin while helping to plump up the deeper layers of the dermis. Experts say that using Retin-A as an anti-aging treatment earlier on in life can help to push back the appearance of wrinkles in later years. Our opinion is that your mid to late 20s is a good time to start.
PROPER RETIN-A USAGE
Always use Retin-A before bedtime because tretinoin is extremely sensitive to light. Studies have shown that it breaks down when exposed to sunlight as well as incandescent and fluorescent light often used in home lighting. Also, look out for a 0.05% formula, as this tends to be best tolerated and effective for aging concerns.
CLEANSE
 If you're new to Retin-A make sure you wash your face with a gentle cleanser such as honey. If you've been using it for a while, you can use your Clarisonic, Luna or cleansing brush of choice with your gentle cleanser as a prep before application. After washing, let your skin dry for around 15 to 20 minutes – this is really important because skin tends to absorb more product when wet and, since Retin-A is quite strong, absorbing too much might lead to over-irritated skin.
APPLY
 So how much Retin-A should you use? A little bit goes a really long way – one pea-sized dab will be enough for your whole face. If you're just starting out, start with applying it twice a week (every third night) and slowly increase to nightly use over a month or so as your skin adjusts. In the beginning, your skin will likely purge a bit, causing some breakouts and peeling which is totally normal and generally lasts about 4-6 weeks. For some of us, this is a pretty intense experience, the stuff of skincare nightmares. Just remember to persevere – these initial tribulations will soon be over and the results are well worth it.
Once you're in the maintenance phase, we generally find that using Retin-A about 3 times a week works best to minimize the chance of irritation. Some people like to use it every night, but make sure your skin can handle that level of commitment and don't overdo it.
Consider avoiding mixing Retin-A with products that contain ingredients with AHAs (glycolic acid, lactic acid, etc), benzoyl peroxide, Vitamin C, or  BHA  (salicylic acid) in order to avoid negative interactions.
MOISTURIZE
If you are prone to dry skin or have sensitive skin that irritates easily, it might help to add in some moisturizer when applying. Some skin experts suggest directly mixing one pea-sized amount of Retin-A with an equal amount of moisturizer before applying, while others suggest applying moisturizer 15-45 minutes after applying Retin-A. Note that additional moisturizer can always be added later if you still find your skin is irritated. As your skin adjusts to the Retin-A treatment, we suggest slowly cutting down on the moisturizer to create a more potent effect.
DAY ROUTINE
If you use other products containing ingredients that include AHA's, BHAs or Vitamin C,  consider using them in the daytime. It's also very important to note that your skin will be more sensitive to the sun while using Retin-A, so make sure you cover up with a good sunscreen (at least SPF-30 broad-spectrum) and a hat.  Consider being diligent about reapplying sunscreen every 2-3 hours, especially when exposed to direct sunlight.  Read our guide in order to learn more about how to pick a good sunscreen including ingredients to look out for as well as best practices.
RESULTS
If used as directed at least 3-4 nights per week, you'll generally begin to see improvement in skin clarity and texture within 6-8 weeks.  Although it will take 3-6 months to see start seeing results in terms of fine line and wrinkle reduction it'll take 6-12 months to see more advanced improvements.
RETINOL THE GENTLER RETIN-A ALTERNATIVE
If you're not quite ready to commit to Retin-A or if you're looking for something less harsh, Retinol is a gentler form of Vitamin A that still makes for one effective anti-aging ingredient to even out skin tone and diminish brown spots, fine lines, and wrinkles. Although we recommend usage at night, if you want to use Retinol in the day just don't forget to use a sunscreen before heading out as it does make skin more vulnerable to harmful UV rays.   Check out our guide if you're interested in learning more about the anti-aging benefits or Retinol.
PRODUCT RECOMMENDATIONS
Skin Medica Retinol Complex 1.0 ($93)
This powerhouse 1% Retinol lotion made for night usage from Skin Medica, has Niacinamide (Vitamin B3) in order to boost the formula's skin discoloration and wrinkle fighting power. Other notable ingredients include antioxidants Vitamin E and Squalane to help skin heal and retain moisture. Since 1% Retinol is quite strong, it also comes in gentler strengths of 0.25% ($62) and 0.5% ($78) versions.
---
First Aid Beauty Retinol Serum ($58)
For those that are new to using retinoids, FAB's Serum is a great way to start treating the early signs of aging as it contains 0.25% Retinol – meaning, it's gentle yet still effective. Packaged in a pump-style container in order to protect sensitive ingredients from light and air degradation the formula absorbs quickly without leaving any sticky residue.  Besides the key ingredient Retinol, look out for peptides to support skin reparation and soothing ingredients like Vitamin E, an antioxidant, and Oatmeal to help minimize irritation.
---

Jan Marini Skin Research Age Intervention Retinol Plus ($79)
Through ingredients like Retinol and Peptides, this anti-aging lotion helps to boost skin's collagen levels not only improving the texture but also targeting sun damage as well as reducing the appearance of fine lines and wrinkles. Clinical studies show that this award-winning lotion also helps with luminosity, pore-size, and elasticity. Other notable benefits include the lack of fragrance and the packaging that prevents air and light degradation. 
---
Skinceuticals Retinol 1 Maximum Strength Refining Night Cream ($76)

This powerful cream combines a high concentration of retinol (1%)  with other anti-aging ingredients like ceramides as well as antioxidants. The formula not only helps stimulate cell regeneration but also helps boost collagen levels,  combat uneven skin tone as well as targets deep lines and wrinkles. If you think the 1% Retinol version would be too irritating for your skin make sure to check out the 0.5%  ($64) varients.
---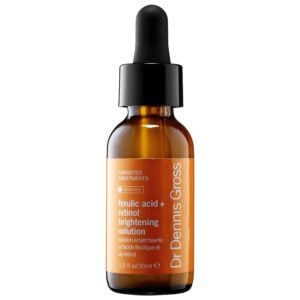 Dr Dennis Gross, Ferulic Acid & Retinol Serum ($60.12)
Not only does this fragrance-free serum help fade skin discolorations, it also targets fine lines and wrinkles. Key ingredients include Ferulic Acid and retinol that help with skin rejuvenation, as well as Arbutin and Licorice Root Extract to help even out skin tone. The amber glass bottle also helps maximize the effectiveness of active ingredients by preventing air and light degradation.
---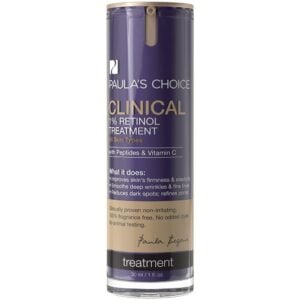 Paula's Choice 1%  Clinical Retinol Treatment  ($53.50)
A light lotion that absorbs quickly, this powerhouse 1% Retinol based anti-aging treatment combines ingredients including Vitamins C and E, hyaluronic acid with peptides to target concerns like a loss of firmness as well as lines and wrinkles. Other product benefits include that the formula is fragrance-free and housed in opaque packaging to prevent air and light degradation.
---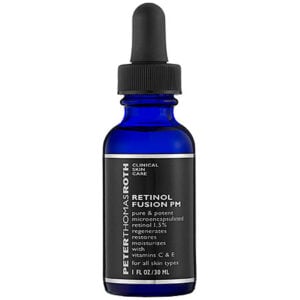 Peter Thomas Roth Retinol Fusion PM ($65)
The combination of the moisturizing benefits of Squalene, the antioxidant properties of Vitamin C and E, as well as 1.5% Retinol makes this powerful serum an ideal anti-aging treatment that works well for all skin types in particular normal to dry. This formula is also fragrance-free and contains anti-irritants to counter sensitivity from the high levels of Retinol. Although the formula contains a small amount of alcohol, we don't feel it has any significant negative effects on the skin.
---
Replenix Retinol Plus Smoothing Serum 10X ($84)
Through combining Retinol with Green Tea Extract and Hyulorunoic Acid this popular serum targets multiple signs of aging. The formula is housed within the opaque protective casing in order to prevent air and light degradation. If you're interested in less potent strengths, check out the 5X ($73.50), 3X  ($67.50)  and the most gentle, 2X ($58.80) alternatives.
WHERE TO FIND RETIN-A

In many Western countries, Retin-A is available by prescription only from your dermatologist, but it can also be found online where you can find some pretty good deals with a little bit of research.
IMPORTANT THINGS TO NOTE

-If your skin becomes really aggravated with Retin-A usage, back off and wait. Let the skin return to its normal state and then begin the treatment again, slowly increasing the frequency of application.
-If you find that you're breaking out too much, you're likely allergic to one of the other fillers or preservatives commonly found in Retin-A and not the tretinoin itself. Renova or another brand name might work better.
-High levels of Vitamin A can be toxic, so you shouldn't use Retin-A during pregnancy or while breastfeeding. (Some experts say that the levels of Vitamin A absorbed by your system via topical application is quite low, but it's really not worth the risk.)
Still not sold on Retin-A check out our guide on the best natural and organic night creams.
FINAL THOUGHTS
Vitamin A in the form of Retinoic Acid is a powerful ingredient that treats a number of the signs of aging and should be part of any effective skincare regime. Although it's good to keep a combination of both anti-aging products and treatments helps to maximize results.  Keep in mind the goal is to embrace aging and to look good no matter what age you are.