If you're a man with sensitive skin, you may feel as if you've been dealt a bad hand. You have to be constantly mindful of the ingredients in your face wash and even your beard products. And forget about shaving! You're prone to razor bumps, ingrown hairs, and general irritation.
If you're discouraged about your sensitive skin, look no further. It is possible to get a close, clean shave without inflaming or irritating your skin. Read on to find out everything you need to know about how to shave sensitive skin.
HOW TO TELL IF YOUR SKIN IS SENSITIVE
Sometimes, dry, oily or combination skin can be mistaken for sensitive skin. Additionally, some men who experience breakouts or allergic reactions to facial care products may think their skin is sensitive.
There are times when that can be true. But often, rashes and breakouts can be little more than a mild allergic reaction to skin care products.
You may have sensitive skin if you:
Experience razor burn frequently
Notice breakouts after you shave or wash your face
Experience reactions or rashes after using skin care products
Have dry, flaking skin or itchiness
Are prone to ingrown hairs
All of these symptoms are signs that you've got sensitive skin. In addition to these, conditions like acne and eczema can cause your skin to be sensitive.
Shaving when your facial skin is sensitive can be daunting, if not disastrous. Fortunately, there are absolutely ways you can shave your skin – without doing further damage! Here are a few tips for shaving sensitive skin.
TIPS FOR SHAVING SENSITIVE SKIN
Shaving your sensitive skin isn't rocket science. In fact, there are a few things you can do to make the experience more enjoyable. Of course, we'll look at the best sensitive skin care products for men in just a bit. But first, follow these tips every time you shave to prevent breakouts, rashes and irritation.
First, shave after you shower. Many times, men will shave prior to their shower, thinking it'll be easier to wash all that hair away. Instead, take your shower first. The warm air and water will open your pores, making your shave more comfortable. You'll be less likely to get ingrown hairs, and your skin will be better hydrated, too.
Second, be sure you're not shaving with an old blade. The best shaving razor for sensitive skin is simple – it's a sharp one!
Dull blades are catastrophic to your skin, whether it's sensitive or not. They cause razor bumps, cuts and itchiness. Dull blades are just bad news all around. Switch out your blade every 5 shaves or so.
Finally, be sure you care for your skin after you shave. Use an aftershave that doesn't contain alcohol, which can dry your skin. Or, if you prefer, choose a gentle, nourishing moisturizer. In a hurry? Just a spritz of witch hazel will work wonders after you shave your sensitive skin.
CHOOSING THE RIGHT SHAVING PRODUCTS FOR SENSITIVE SKIN
It's important to put just as much effort into choosing your shaving products as it is your face wash and other skin care brands. With that in mind, there are a few things you should consider. Let's take a look at the best way to shave with sensitive skin.
SHAVING CREAM VS SHAVING GEL
First and foremost, whether you choose a shaving cream or a shaving gel, it's imperative that your product doesn't contain alcohol. Alcohol is extremely drying to the skin – we repeat – it will only make your sensitive skin worse!
With that in mind, you may be curious. What's better, shaving cream or shaving gel? Well? For most men with sensitive skin, it's best to use a shaving gel. Most gels do a great job of gently lifting hair away from your face for a closer, cleaner shave.
Gels are also smoother. You'll find that you "fight" less with your blade if you use a shaving gel than a cream. That smoothness also helps to protect your skin, as it provides a layer of protection across your face.
SHOULD YOU AVOID SHAVING FOAM?
Yes! Shaving foams are great in theory, right? But in reality, shave foams are some of the worst products for your skin and your facial hair.
Shave foams contain oodles of harmful and toxic ingredients. TEA, fragrances, sulfates (for foaming), and more are in many shave foams. Additionally, like alcohol, gels can dry your skin.
For the best results, skip the foams. Instead, choose from sensitive skin care products for men.
BEST SHAVING GELS FOR MEN WITH SENSITIVE SKIN
So, what are the best gels for men with sensitive skin? We've put together a list of the best products on the market.
Clinique for Men Aloe Shave Gel $22.23
 What could be more soothing than an aloe shave gel? Very little, if you ask us. Clinique has formulated this shave gel to be gentle on even the most sensitive skin. The oil-free blend is lightweight, guaranteeing you a close shave with no breakouts.
Men who have used the gel say that "a little bit of product goes a long way." The gel foams up instantly, and your blade will glide across your face. Say goodbye to post-shave razor bumps!
---
Aveeno Therapeutic Moisturizing Shave Gel $3.74
 We love Aveeno products for sensitive skin. Oatmeal has long been known as one of the most gentle and lubricating natural products, and it's that oatmeal that makes Aveeno Therapeutic Shave Gel so great for your skin.
In addition to oatmeal, Aveeno Therapeutic Moisturizing Shave Gel contains sunflower seed oil, glycerin and aloe. Each will provide a moisturizing, soothing barrier between your skin and your razor.
---
Boot No7 Anti-friction Shave Gel $9
Last on our list of the best shave gels for men with sensitive skin is this Boots No7 formula. We love that it's alcohol and fragrance-free, and you'll love that it contains aloe and Vitamin B5. The result is a smooth shave, revealing soft skin beneath.
Men who have used Boots No7 Shave Gel say the gel is refreshing. And, what's more, they loved that the product is clear, meaning they could see where they'd shaved. That prevented over-shaving parts of the skin.
BEST SHAVING CREAMS FOR MEN WITH SENSITIVE SKIN
While it's true that we prefer shave gels to shave cream, we know that every man's preference is different. For that reason, we've chosen to also include a list of the best shaving cream for sensitive skin.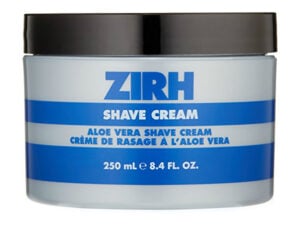 Zirh Aloe Vera Shave Cream $25
What we love best about this shave cream is its simplicity. It's a water-based cream, super moisturizing and ultra-silky. And it'll give you a closer shave than you could imagine from a cream.
Look for ingredients in Zirh Aloe Vera Shave Cream like (of course) aloe, sesame seed oil, palm oil and cucumber extract. This shave cream will make you feel relaxed, while just a touch of menthol in the cream will refresh you and your skin.
---
Taylor of Old Bond Street Organic Shaving Cream $17.70
This is another of the best shaving creams for men with sensitive skin, and what we love the best about it is that it lathers – naturally. Containing 95% natural raw materials, this organic shaving cream nourishes your skin with jojoba and vitamin E, while aloe protects.
Men who used the product say they loved that it was fragrance-free. Those who had suffered from skin irritation for years saw nothing but a positive change after shaving.
---
Truefitt & Hill Ultimate Comfort Shaving Cream $32
Last but not least on our list of the best shave creams for men is Truefitt & Hill Ultimate Comfort Shaving Cream. And, like the others, we love the simplicity of the product.
It's a glycerin-based shave cream, which means your shave will be close and smooth. There's no fragrance to irritate your skin, nor is there alcohol to dry it. Looking to justify the price of the shaving cream? Men say the tin lasts almost a year! A little bit of cream goes a long way, and you won't need to replace it as often as other creams.
FINAL THOUGHTS
If you suffer from sensitive skin, it's easy to believe that shaving will always be a tough experience. Shaving with sensitive skin can be painful – if you don't use the right products.
Choose from the shaving gels and creams on this list, the minimize the chance of suffering from shaving irritation again.