Foundation is a coveted part of any makeup routine. It covers your blemishes, smooths your skin texture, and blurs uneven skin tone. It's the first and most important step in any makeup routine that's intended to give you flawless-looking skin.
But what if we told you that your foundation could be part of the very reason you need to cover up your natural skin? That is, what if your foundation was causing more problems than it was solving?
That could very well be the case if your foundation contains silicone. Silicone is a bit of a controversial ingredient. It has its benefits, don't get us wrong, but it also has some serious downsides.
We're going to tell you about both, and then you can decide for yourself if it's time to switch to silicone-free foundation.
What Is Silicone?
Silicones are made from silica, which is the main component of sand. And although that may sound natural, let us assure you it isn't.
In order to be turned into the semi-liquid substances that are used in nearly every personal care product out there, silica undergoes significant chemical processing and alternation.
Silicones in Skincare
Silicones are the most widely used ingredient in skincare, makeup, and personal care products. There are a few reasons why silicones are so common.
First and foremost, silicones have occlusive properties. In simple terms, that means that they form a fine barrier-like coating on top of the skin. That air- and water-resistant barrier delivers a super-smoothening effect, and that's what makes it perfect for foundation: it fills the lines in the surface of your skin, traps any moisture or sebum that could make your makeup slide from your face, and gives the silky, smooth finish that makes your skin look fabulous.
Secondly, silicones are often added to skincare and cosmetics that are meant to cover a large surface area. Their consistency is slick, and that texture makes a product more spreadable. That's especially helpful for foundation formulas. A foundation laden with silicone will be easier to apply.
Last but not least, cost always has a part to play in the production of skincare and cosmetics, and silicones just so happen to be very inexpensive and versatile ingredients. Not only are they themselves inexpensive, they're also quite stable in comparison to other synthetics. Because they have no active properties, they don't require added chemicals in order to remain stable in a formula, and they don't break down with light and air exposure, so they don't require special packaging – all of that to say, silicones keep costs down.
Why Is Silicone Controversial?
First things first: silicone is not considered toxic. However – and that's a big however – the same occlusive properties that make silicones popular in skincare and cosmetics may be contributing to poor skin health.
The barrier that silicone creates works a little too well, trapping dirt, grime, and bacteria beneath the skin's surface, increasing the risk of blemishes and breakouts. That barrier also hinders other, potentially beneficial ingredients from reaching the surface of the skin and getting absorbed (which is why products containing silicone should never be in the first step of your skincare game.) And for people with rosacea, acne, sensitive skin, or milia, silicone is particularly harmful, exacerbating their symptoms.
The moisture-resistant occlusive barrier also makes silicone-based products difficult to wash away. To properly remove a foundation (or any product) with silicone in it, you need an oil-based cleanser and a double cleanse. Otherwise, you run the risk of buildup that can contribute to blemishes, breakouts, and skin dryness. Not to mention, once silicones are washed down the drain, their water-repellant nature allows them to build up in aquatic environments (so silicone isn't good for the environment's health, either).
For all of these reasons and more, an increasing array of skin and hair care brands are creating silicone-free foundation. Also labeled as dimethicone-free foundation, these work just as well as their chemical-laden counterparts. In fact, some might argue that they work better – replacing those chemicals with natural and organic ingredients that your skin and the environment will love.
Below we've listed our top 16 picks for silicone-free foundation. Find out which one works best for your skin tone, texture, and type in our breakdown.
BEST SILICONE FREE FOUNDATIONS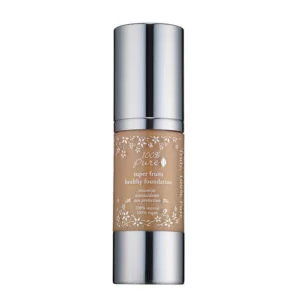 100% Pure Fruit Pigmented Healthy Foundation $48
When you need absolute coverage, this is the silicone-free foundation you're looking for. The extremely popular liquid formula is buildable and finishes in a flawless matte with just a hint of velvet. And, as you've come to expect from 100% Pure by now, the formula also contains a host of skin-beneficial ingredients. This time, you'll find aloe, superfruit oils, and rice powder that absorbs any excess oil throughout your day.
Alternatively Medium to full coverage that still looks natural. How is it possible? With 100% Pure's Fruit Pigmented Cream Foundation ($48) in 7 tones and a satin finish. Formulated with avocado butter and pomegranate oil, it glides over imperfections with softness and ease. And those ingredients do more than just lend the perfect blended finish, they also offer up nutrients that your skin will love
Named Fruit Pigmented 2nd Skin Foundation ($47) with good reason. The ultralight serum-based formula blends so beautifully that it looks and feels like your own skin, but without the blemishes and uneven skin tone you're working to over up. As an added bonus, the ultra-lightweight formula is antioxidant-rich, which means your skin is as protected, strengthened, and repaired as it is comfortable.
---
 Ilia Beauty Super Serum Skin Tint SPF 40 $46
The world of serum is nothing new to us. But the world of foundation serum… that's something completely new to the industry in general. We love it and we're not the only ones – it's the 2020 winner of two prestigious awards from Byrdie and Allure and it's easy to see why. This serum combines all the benefits of a concentrated serum with a light-coverage foundation and a mineral SPF 40. Hyaluronic acid, plant-based squalene, and niacinamide will soften lines, even tone, and plump your skin while covering up imperfections. And if you're not sure which of the 18 shades will best suit your tone, Ilia offers free personal consultations to make sure you get it right the first time.
---
Vapour Soft Focus Foundation $54
Available in 19 shades, this liquid foundation is made for normal, sensitive, and combination skin types looking for a medium to full coverage and glowy finish. The entire formula is a perfectly balanced mix of plant-derived, mineral-derived, and organic ingredients that will feed your skin as it covers your imperfections. You'll find hydrating ingredients like sunflower seed oil, antioxidant-rich tulsi extract, and nourishing frankincense and myrrh oils in this foundation that easily doubles as skincare.
Alternatively, Vapour's Velvet Glow Foundation ($48) is somewhere between a foundation and a serum and has light to medium coverage with a matte finish. A formula with only plant-derived, mineral-derived, and organic ingredients, and just as packed with nutrients as their liquid version, it contains desert dates for antioxidant power and sweet almond oil for hydration.
---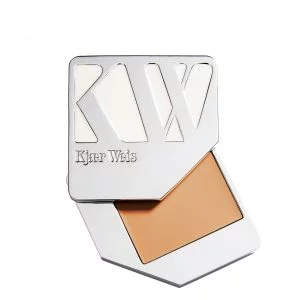 Kjaer Weis Cream Foundation $68
For sensitive and delicate skin, you need a foundation that takes that into consideration. This cream foundation is blendable and weightless, with all 16 shades finishing in a semi-matte. But what's particular to your skin type is the nourishing and nutrient-rich ingredients like coconut oil, sweet almond oil, and jojoba which, together, will moisturize, promote elasticity, and encourage a healthier skin texture and tone on which to place your foundation.
---
Hush + Dotti Organic Liquid Foundation $48
Many of us on a clean beauty journey needs more than just silicone-free foundation – we need all of our ingredients to be organic. If that sounds like you, then this totally organic foundation is the right choice. The lightweight and the mousse-like formula is great for building and blending and it's full of high-performance botanicals like thyme, rosemary, and olive leaf extract that will support a healthy complexion for foundation-free days.
---
Saint Cosmetics Flawless Radiance Foundation $54
Looking for an airbrushed look but not ready to invest the time (or the money) in an airbrush kit? Then consider the Flawless Radiance Foundation from Saint Cosmetics, a clean beauty brand that's known for powerhouse formulas. Available in 18 shades that provide light to medium, buildable coverage, each shade also contains skin-beneficial ingredients like brightening vitamin C, plumping rosehip oil, and toning Kakadu.
---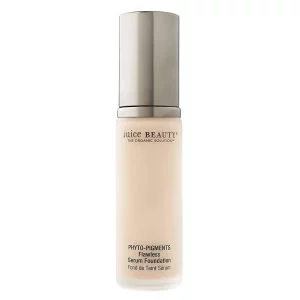 Juice Beauty Organic Phyto-Pigments Flawless Serum Foundation $44
Silicones are one among a plethora of potentially harmful ingredients you want to avoid in makeup. Another one of the items to look out for is pigments made from chemicals. That's why Juice Beauty has created this 11-shade line of skin-perfecting foundation that derives its tones from plant-based phyto-pigments. As powerful as any chemical counterpart, this buildable foundation provides full-coverage and is combined with an age-defying serum of resveratrol-rich grapeseed oil that this brand adds to so many of its amazing beauty products.
---
Anotonym Cosmetics Baked Foundation $38
The baking process for this mineral foundation creates a textured powder with creamy properties for an Ecocert foundation that's a little different and extremely sheer. The baking helps retain the light reflecting properties in the 6 multi-hued shades, which then adapt to your skin tone. Meant to be light and transparent, it blends beautifully with the skin instead of providing heavy coverage.
---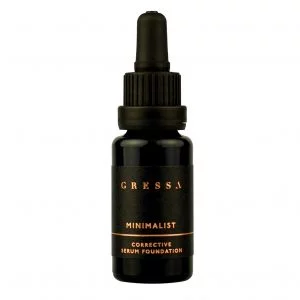 Gressa Minimalist Corrective Serum Foundation $62
This foundation works as a corrective serum and a flawless coverage foundation in one. It's heavily pigmented, so much so that you only need half a pump for application, but it contains so many carefully selected organic botanicals that we could call it a multivitamin for your skin. Plant-derived botanicals such as lemon balm, barberry, sea buckthorn, elderflower, licorice root, and bitter melon are intended to balance your skin and encourage clarity that shines through your foundation.
---
Sappo New Paradigm Essential Foundation $62
This Essential Foundation takes all the best that the original had to offer and adds even more skin beneficial ingredients. It now contains an all-natural emulsifier, nourishing herbs and flower essences, as well as phytonutrients and antioxidants. Those herbs and flower essences not only deliver much-needed nutrients to your skin, they also leave behind an aromatic scent that differentiates it from most other foundations.
---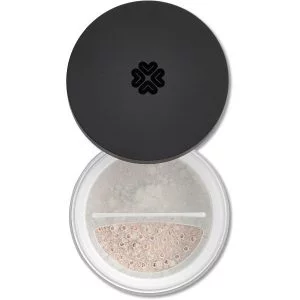 Lily Lolo Mineral Foundation $22
While environmental aggressors and the inevitable affects of aging have an impact on your skin tone and texture, the sun is really the most damaging thing for the skin on your face. If you're not one to put a sunscreen over your makeup, then try this loose powder foundation formulated with SPF 15. The natural finish is achieved with light deflecting mica that's sunshine-safe, and that loose powder helps control shine and the appearance of oil.
---
W3ll People Narcissist Foundation Stick $28
We always add an on-the-go option to our makeup recommendations because oh so many of us need a touchup throughout our long days. But on-the-go doesn't have to mean losing out on any of the amazing ingredients available in the foundations you leave at home… and this creamy stick is no exception. Made with just as many natural and organic ingredients you've come to expect from our dimethicone free foundation recommendations, but in a mess-proof applicator that you can take with you anywhere.
Not quite sure if you want a cream or a liquid foundation? Then try the Bio Base Baked Foundation ($27) pressed foundation that combines the benefits of both. Striking the perfect balance between weigh and coverage, it's light and yet capable of providing semi-matte coverage you can build on. And for even more coverage, just add a bit of water.
---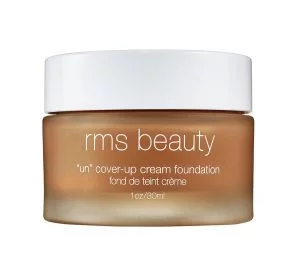 RMS Uncoverup Cream Foundation $52
Made with wildcrafted and certified organic ingredients, the name un-cover up comes from the promise that this foundation is so packed with things your skin will love, you won't want to cover it up. The cream foundation is perfect for all skin types because it's based on cold centrifuged coconut oil, which is both moisturizing and full of vitamins and nutrients. Blended into that base are a handful of oils and herbs that will brighten and clear your complexion.
---
Alima Pure Satin Matte Foundation $28
One of those most difficult parts of purchasing foundation is matching your skin tone. But with this line, mixing, matching, and blending are a thing of the past. You have 45 shades to match according to the depth of your skin tone and your undertone. With that level of matching and the purest mineral pigments, you can enhance your complexion in a way that other foundations simply can't.
---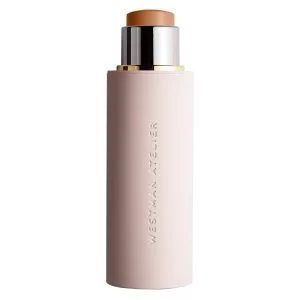 Westman Atelier Vital Skin Foundation Stick $68
Just one more stick foundation for our friends who are on-the-go, this one is so creamy and full of skin-soothing ingredients that it melts into your complexion. Available in 14 shades, it provides a natural-looking finish that also moisturizes with berry flux vita, protects with camellia seed oil, and improves the suppleness of your skin with vegetable-derived squalene.
FINAL THOUGHTS
Silicone-free foundation has all the same benefits that silicone provides without any of the potential harm to your health or the environment. And the brands that bring you the best silicone-free foundation are the ones you can count on to consider more than just a flawless finish. They pack their products with ingredients that will improve the complexion underneath the first step of your makeup routine so that even makeup-free days are days of glowy and radiant skin.