Although Vitamin C is more traditionally associated with keeping the body strong and helping stave off the common cold, did you know it also has many anti-aging benefits when applied topically to skin?  This is especially important as we grow older as since our body's natural antioxidant production abilities decrease.
TWO POPULAR FORMS OF TOPICAL VITAMIN C
L-ASCORBIC ACID
Vitamin C comes in many forms, with L-Ascorbic acid being the one backed by the most research as well as commonly used in skincare. This form of Vitamin C is not only known to protect skin against UV damage by fighting free radicals but also helps to increase collagen production, even out and brighten skin tone, as well as reduce hyperpigmentation (dark spots). One of the downsides is that this form of the vitamin is unstable and oxidizes rather quickly when exposed to air severely reducing the ingredient's benefits to the skin. Another problem is L-Ascorbic acid can cause skin irritation and redness at the levels required for maximum anti-aging results.
MAGNESIUM ASCORBYL PHOSPHATE
Another popular form of Vitamin C, Magnesium Ascorbyl Phosphate, is much more stable, doesn't oxidize as rapidly when exposed to air and is also gentler on the skin. It works effectively for certain aspects of anti-aging including collagen production, brightening and evening out skin tone, as well as reducing hyperpigmentation. The main downside is this form of Vitamin C does not have too much research supporting its UV protection abilities.
To explore more about other topical antioxidants that also have great anti-aging benefits, read our article on vitamins to put on your face.
HOMEMADE VITAMIN C SERUMS: THINGS TO NOTE
Make small batches – the recipes below should last you up to 1 week. Be sure to check the serum's pH levels, every few weeks to see how fresh it is, especially important when using L-ascorbic acid the less stable of the two forms of Vitamin C.  If there is a yellowing/browning effect to the Vitamin C serum, it means it has oxidized. Throw it out!
L-Ascorbic Acid should make up 10-20% of a formula in order to be effective, something that may take your skin some time to get used to. Anything below 10% won't have real anti-aging benefits and above 20% will be too harsh on the skin. Serums with this form of Vitamin C need to maintain a pH below 3.5 (ideally between 2.5 and 3.5) in order to penetrate the skin's barrier properly.
Magnesium Ascorbyl Phosphate is effective at levels as low as 10%, and though it's considered pH independent we find that a pH of around 7 works well.  This form of Vitamin C is gentler since it's less acidic and therefore is good for more sensitive skin types.
DIY VITAMIN C SERUM INGREDIENTS
Bos Essential L-Ascorbic Acid $18.95
This non-GMO Vitamin C Powder is cosmetic-grade and is perfect for at-home serum creation as it is made up of ultra-fine crystals that dissolve easily. The packaging is opaque and seals air-tight preventing from unintentional ingredient degradation, something that happens easily with this form of Vitamin C.
---
Making Cosmetics Magnesium Ascorbyl Phosphate $22.75
Not only is quality assured with Making Cosmetic's Vitamin C as it is FDA registered but they keep a close eye out during the entire production process from the selection of ingredients through packaging.  The brand also pledges to keep things cruelty-free by not doing animal testing themselves as well as not buying anything from suppliers who do so.
---
Now Foods Glycerin $4.74
This 100% all-natural Glycerin is produced from non-GMO vegetable sources and can be added into serums in order to boosts the moisturizing power. The formula is also not tested on animals and comes in recyclable packaging.
*Please note this recipe calls for distilled water, as the minerals found in normal purified water may interfere with how effective the serum is.  You'll most likely be able to pick this up at your local drugstore or supermarket.

EQUIPMENT NEEDED FOR YOUR HOMEMADE SERUM

Macherey Nagel pH Testing Kit $13.50
These strips provide accurate and fast readings of pH between 0-14.   Results don't bleed and are shown through bright colors that are easily readable.

---
SEOH Beaker $ 4.95

Mix home-made personal care formulas with this durable small-sized beaker (50 ML) made from Borosilicate glass, the same type used in Pyrex.
---
ChefLand Amber Glass Bottle ($1.22/bottle)
The dark glass bottle is perfect for storing DIY elixirs as they help prevent ingredient degradation by minimizing exposure to air and light.
*Relevant equipment can be sterilized by being placed in hot water
NOTES ABOUT  VITAMIN C STRENGTH
L-ASCORBIC ACID

In order to achieve different strength serum levels, the below recipes contain progressively higher amounts of Vitamin C. Although the 5% formula may not have significant anti-aging benefits it's recommended for beginner to start off with this one and then after 2 weeks switch to the 10% formula in order to let your skin slowly adjust and avoid irritation. Again after 2 weeks or more, level up to the 15% formula.  After about 3-4 weeks or more if you feel like your skin is not seeing the results you'd like to consider trying the 20% formula.
MAGNESIUM ASCORBYL PHOSPHATE 
Use the 10% recipe as per below (this is generally the maximum percentage of this form of Vitamin C recommended).
VITAMIN C SERUM RECIPES
5% SERUM
1/4 tsp of Vitamin C powder
4 tsp distilled water
3/4 tsp glycerin
---
10% SERUM
1/4 tsp Vitamin C powder
2 tsp distilled water
1/4 tsp glycerin
---
15% SERUM
3/8 tsp Vitamin C powder
2 tsp distilled water
1/8 tsp glycerin
---
20% SERUM
1/4 tsp Vitamin C powder
3/4 tsp distilled water
1/4 tsp glycerin
---
*Should you choose not to use glycerin, switch it out for the same amount of distilled water. Note this will create a much runnier texture.
INSTRUCTIONS
1.  In a clean beaker dissolve the Vitamin C into the distilled water.
2.  Add the glycerin into the mixture (skip this step if you're not using this ingredient).
3. Pour into the amber dropper bottle and gently shake the serum until well mixed.
4. Use the pH kit to check the solution.
For serums using  L-Ascorbic Acid, the pH should be between 2.5 -3.5 and 3.0-3.5 for sensitive skin.
For serums using Magnesium Ascorbyl Phosphate, the pH should fall between 6.0-7.0.
STORAGE
Store serum in an airtight, dark colored or opaque container in a cool dark place to prevent oxidization for up to 7 days (refrigeration can extend the shelf life).   As we mentioned above, it's wise to check the pH of the serum midway through the week and at the end of the 7 days to ensure it's still within the acceptable range – if not, throw it out.
USAGE
Although it can be used twice daily, it's better to start with just once until skin adjusts.
Apply serum and wait a few minutes before moisturizing.
Make sure to apply sunscreen on top of the serum if you're wearing it in the day.
RESULTS
The results a Vitamin C Serum with an effective percentage (10-20%)  can generally be seen after 4-6 weeks of usage.
VITAMIN C SERUM PRODUCT RECOMMENDATIONS
If it turns out that making your own Vitamin C Serum isn't your thing, read on below to see some of our favorite formulas that are effective and well formulated (correct pH,  the right levels of ingredients, etc).  Keep in mind if you do choose to use a store-bought formula that they should be kept up to 3 months and then thrown out.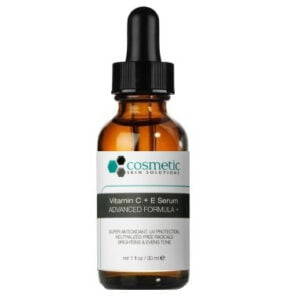 Cosmetic Skin Solution Vitamin C+E Serum $39.50
This Amazon best seller is one of the most reasonable formulas on the markets that actually work. The serum combines 15% Vitamin C (L-Ascorbic Acid), 1% Vitamin E  (Alpha Tocopherol) with 0.5% Ferulic Acid in order to provide maximum anti-aging benefits.  The brand manufactures their entire line of topical antioxidant treatments 1 time per week in order to ensure freshness. 
---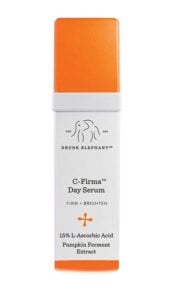 Drunk Elephant C-Firma Day Serum $80
Drunk Elephant's signature 15% Vitamin C serum ( L-Ascorbic Acid) goes above and beyond the typical formula by adding advanced ingredients including Licorice & Pumpkin extract to even skin tone, Marula oil to seal in moisture, and the anti-inflammatory antioxidant Green Tea to help prevent collagen breakdown. The unique opaque pump dispensing package is designed to protect active ingredients degrading from air and light exposure.
---
SkinCeuticals C E Ferulic Combination Antioxidant Treatment $165
Considered the gold standard of Vitamin C serums this patent-protected formula contains a potent mix of 15% Vitamin C (L-Ascorbic Acid), 1% Vitamin E (Alpha Tocopherol), and 0.5% Ferulic acid. Although, the high price may be hard to justify, rest assured you're getting high quality backed by advanced research.
---
Paula's Choice Resist C15 Super Booster $48
Paula's choice popular Vitamin C, E  and Ferulic acid serum is packed with other skin-beneficial ingredients that go well beyond the norm. The fragrance-free formula includes a peptide (Palmitoyl Tripeptide-5) to help the skin function better, free radical fighting plant extracts from the likes of Green Tea and Tumeric extracts as well as the powerful antioxidant Superoxide Dismutase.   Other key benefits include that it isn't tested on animals and is non-irritating.
---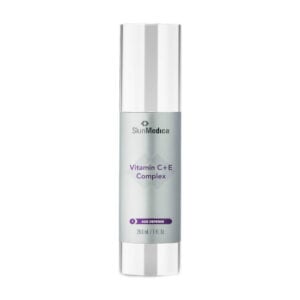 Skin Medica  
Vitamin C+E Complex Age Defense
 $102
This fragrance-free serum uses the combination of the antioxidant Vitamin C and E in 2 different forms in order to maximize the effectiveness. As these ingredients are air and light sensitive the formula is stored in an opaque pump-style dispenser in order to ensure they remain active.
---
Created in 1994 Cellex-C's antioxidant-rich formula has achieved cult-like status and is considered to be the OG (original gangster) of Vitamin C serums.  Key ingredients to look out for include Vitamin C, the mineral Zinc, Tyrosine (an amino acid) and Green Tea Extract that all combine to combat signs of aging inclusive of hyperpigmentation and free radical damage.
---
100% Pure's Organic formula is not only cruelty-free but is packed with a number of skin-beneficial ingredients.  Key ones to be on the lookout for include the soothing Aloe Vera,  Vitamin C (in the form of Magnesium Phosphate) as well nourishing plant oils from the likes of Broccoli Seed & Evening Primrose.
FINAL THOUGHTS
Whether you choose to make a Vitamin C serum at home or buy one at a store they are an important part of any good anti-aging skincare regime.  Make sure to do your research carefully with either method to ensure you pick an effective formula that will not cause more harm than good by irritating the skin.