Even the most gym-adverse of us know that taking vitamins is a convenient and easy way to promote health and well-being. And if there's one vitamin that's in every multivitamin on the planet, it's vitamin C. While we get plenty of it in our supplements and in our diet, vitamin C's real skin magic lays in its topical applications.
You'd have to eat a lot of oranges to get the concentrated strength of a vitamin C serum. But taking it a step further, the best organic and natural vitamin C serums combine all the benefits of vitamin C with other plant-based ingredients that your skin will love.
The earth gives us all the skincare we need, if only we know where to look. Lucky for you – we do. Keep reading to learn more about the benefits and types of vitamin C as well as why you should be switching this powerful serum out for an organic and natural alternative.
BEST ORGANIC VITAMIN C SERUMS
100% Pure Vitamin C Serum $42
Sometimes, even the most natural ingredients can irritate sensitive skin. But this extremely popular serum (over 1200+ 5 star ratings) is packed with ingredients that will tame and soothe any sensitivities. Evening promise oil, flaxseed oil, witch hazel, and aloe gel will calm not just redness, but conditions as serious as eczema. Because even those with sensitive skin need a vitamin C serum to combat the signs of ageing – and this is the way to do it without causing more harm than good.
---
Marie Veronoque Vitamin C + E + Ferulic Serum $90
A fan-favorite natural serum with benefits that last into the next day, this lightweight serum is powered by a blend of suspended vitamin C, ferulic acid, and vitamin E. But in a world where skin damage is around every corner that's not shaded, astaxanthin adds an extra layer of carotenoid protection against long-wave radiation. And to take that level of UV and free radical protection into the realm of repair, Marie Veronique has added Co-Enzyme Q, which regenerates, and restores damaged skin cells.
---
Mad Hippie Advanced Vitamin C Serum $32
When your vitamin C serum is award-winning, you know you're doing something right. Mad Hippie opts for the stability of sodium ascorbyl phosphate in this formula and combines it with vitamin E and ferulic acid for a compounding antioxidant and photo-protective effect. And for added anti-aging and skin-restoring benefits they've included hyaluronic acid, for the plumping and hydration that everybody 30+ needs in their serums.
---
True Botanicals Vitamin C Booster $90
InStyle magazine called this natural vitamin C serum the best treatment they've ever used. Now that's saying something. But what makes it different? This luxury powder booster contains Vitamin C in the form of Ascorbic Acid with the added benefit of Ferulic Acid. The powerful formula is made to be mixed with water, serum or a bit of mist and used on your face, neck, and chest on a nightly basis. But the real catch is the form it comes in: the powder form of vitamin C is more stable than its liquid counterpart. So, it not only lasts longer, it's antioxidant value is never compromised.
---
Fleur & Bee Vitamin C Serum $19.99
Fleur & Bee has natural and organic down to an art. Not only do they use only clean and effective ingredients like 15% vitamin C, vitamin E, jojoba, clary sage, aloe, and ferulic acid, they also carefully source every single ingredient they use, leave out any potential toxins like fragrance and sulfates, and never test on animals or use animal byproducts. Plus, they give 1% of their sales to charity. So if natural anti-aging isn't enough, reducing your ecological footprint tips the scales in their favor.
---
One Love Organics Vitamin C Serum $75
Vitamin C is used in so many anti-aging serums in part because it works so well with other ingredients. One Love Organics took that property and made the most of it. They've added green tea, baobab, rose, meadowfoam, and sea buckthorn to boost the already amazing characteristics of vitamin C. That combination is what makes this vitamin C serum an antioxidant powerhouse that will fade discoloration and bring out your natural glow.
---
Osea Vitamin C Serum $68
They call it vitamin Sea because this serum was made for the beach. And we're not talking about it matching your newest one-piece. Instead, this serum is blended to bring out the best in vitamin C's protective properties. Combined with vitamin E and ferulic acid, it protects against free radicals, UV damage, and strengthens your skin's capillaries and moisture-retention capacity. At the same time, a little-known ingredient called Undaria Pinnatfida provides an added layer of protection against collagen deterioration and the loss of hyaluronic acid.
---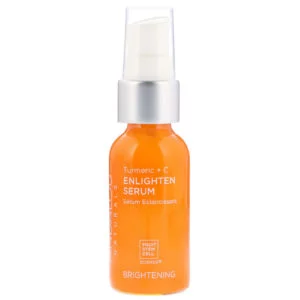 Andalou Naturals Turmeric + C Enlighten Serum $15.79
The most innovative combination of organics and science, all of Andalou's products contain at least 70% organic ingredients and the best in fruit stem cell technology. In their Tumeric + C Enlighten serum, you'll find the anti-inflammatory and surface-cell strengthening power of turmeric and the firming, toning, and brightening properties of the highest quality vitamin C. These star ingredients are supported by ultra-hydrating aloe vera – and all three are non-GMO, sustainably sourced, fair trade, and cruelty-free.
---
Usra Major Brightening Vitamin C Serum $54
Formulated with moisturizing rose hip, soothing aspen bark, and edelweiss for an added layer of protection, this featherweight serum is more than enough to be used on its own and without the need for another moisturizer. But more than the incredible moisturizing properties is the addition of a new, standout ingredient: ascorbic acid peptide. This water-soluble preparation of vitamin C delivers all the value of any vitamin C serum, but it retains potency and efficacy for a whole lot longer.
---
Eminence Citrus and Kale Potent C Plus E Serum $110
In the same way that vitamin C is good for our body inside and out, so are those leafy greens all great salads are made of. Kale, spinach, and broccoli have their own antioxidant properties to bring to the table and, when combined with the likes of non-irritating vitamin C and botanically-derived ferulic acid, the improvement in your skin appearance is unparalleled.
---
Kypris Beauty Elixir II $90
Just a few drops of this lightweight and soothing elixir are perfect for day and nighttime use on normal, oily, combination, and even hyperpigmented skin. A vitamin C dominant elixir, it's also formulated with bio-identical CoQ10 and sustainably sourced botanical ingredients to calm, protect, and restore the perfect balance to the surface of your skin.
---
Alpyn Plant Genius Survival Serum $68
Specifically made for hyperpigmented and/or dehydrated skin, Alpyn harvests the brightening and illuminating qualities of vitamin C for their Survival Serum. Of course, it packs all of the protective properties that vitamin C offers, but ingredients such as bearberry leaf, licorice root, and fatty acids make this serum unbeatable in terms of hydration, exfoliation, and all-around rejuvenation.\
---
Goldfaden MD Brightening Elixir $79
Outside of the dermatologist's office, Goldfaden MD is as close as you can get to professional grade ingredients and concentrations. Their brightening elixir is no exception. It contains a potent antioxidant blend of vitamin C, ferulic acid, vitamin B3, vitamin B5, and vitamin E that protects against the sun and our harsh environments while also repairing the damage that's already been done. Goldfaden does all that while leaving out anything that doesn't bring benefits to your body, including mineral oil, chemicals, alcohols, and silicones.
---
Juice Beauty Stem Cellular Anti-Wrinkle Booster Serum $80
When used in combination with the Stem Cellular Anti-Wrinkle Moisturizer, the anti-aging benefits of this extremely popular vitamin c serum work better and faster by perfectly prepping the skin. The ultra-light gel serum cools the skin surface and, even on its own, is capable of improving elasticity, firmness, and luminosity.
BENEFITS OF VITAMIN C 
Beyond helping you fight the common cold, vitamin C has several benefits when used topically. These include:
Powerful antioxidant with anti-aging benefits (i.e. prevention of fine lines and wrinkles)
Stimulates collagen production
Improves skin texture and quality
Inhibits tyrosinase to prevent hyperpigmentation
Protects against and repairs free radical damage and pollution
Brightens the skin and helps fade dark spots
Evens skin tone
Improves skin firmness
Improves hydration
Helps heal wounds
And among it's most important benefits is the fact that the best organic and natural vitamin C serums are completely safe for use.
TYPES OF VITAMIN C
One of the most common forms of vitamin C you'll come across is ascorbic acid, aka L-ascorbic acid. With plenty of research behind its powerful antioxidant properties, it's often the main ingredients in organic and natural vitamin C serums. Our skin easily absorbs this form of vitamin C with ease and it's stable – if not even better – when combined with other botanicals and plant-derived ingredients.
But Vitamin C comes in many more forms. Other important and beneficial forms of vitamin C include:
sodium ascorbyl phosphate (SAP)
ascorbyl palmitate
retinyl ascorbate
tetrahexyldecyl ascorbate
magnesium ascorbyl phosphate (MAP)
ascorbyl glucoside
You'll find these most often in moisturizers, toners, essences, as well as some serums. Because these synthetic forms of vitamin C aren't as easily absorbed by your skin, they're often combined with other ingredients. Fatty acids, sugars, and minerals improve the absorption rate but also provide additional benefits in caring for your skin.
THINGS TO NOTE
You may have heard that vitamin C product must have a pH of 3.5 or lower in order to be effective and stable in a formula. While that may be true for l-ascorbic acid, the same isn't true of other forms of vitamin C. For example, some water-soluble vitamin C derivatives are stable at a much higher pH. SAP and MAP, for example, can have a pH of 5 or 7, respectively.
But, to be fair, even at these pH levels vitamin C serums are quick to oxidize. Which is why storage is so important. Vitamin C oxidizes when exposed to both light and air. You should store your serum – whatever the vitamin C derivative – in a cool, dark place. Always be sure to close it tightly after use and, to prolong its lifespan even more, consider storing it in the refrigerator after opening.
Finally, check the concentration of your serum for a better idea of how powerful it is. The concentration indicates the strength of the acid in the formula. For most skin types, at least 10% ascorbic acid will bring all the benefits that vitamin C has to offer. You can find concentrations as high as 15% and 20% as well – but remember, vitamin C tends to compound the benefits of the ingredients added to it. So while a 20% concentration is great,  even 10% with the added benefits of a vitamin E or ferulic acid will be beneficial.
FINAL THOUGHTS
Vitamin C isn't just something our bodies need when we're feeling the effects of a cold. Our skin also benefits from it's topical application in terms of anti-aging, antioxidant protection, and restoration of our skin tone and texture. As a naturally-derived ingredient, it pairs best with other elements harvested from the earth – which is why the best vitamin C serums are organic and natural vitamin C serums.