Let's put aside for a minute the fact that there are a million different skincare products and treatments on the market and solely focus on the reality that most of them only provide short-term benefits. Botox would be a good example, it relaxes muscles so fine lines and wrinkles are less obvious, but it only works for a few months at a time before you have to go back for more.
What about options for those of us seeking more of a long-term solution? Matrixyl, an ingredient in moisturizers, serums, and creams of all kinds, is one solution that, with continued use, will not only combat the signs of aging that have already begun to appear but also help stave off future damage.
WHAT ARE PEPTIDES?
In order to understand how Matrixyl is so effective, you have to understand peptides.
Peptides are naturally occurring compounds in our skin. To put it simply, peptides are amino acids. Specifically, they are the amino acids that make up the proteins that our skin needs to look and feel healthy. They make up these proteins by creating chains (combinations), called polypeptides.
For example, collagen is made up of three peptide chains. Arguably the most important protein for our skin, collagen is the building block of the skin's structure. Collagen production begins to decrease as we get older. The result is a loss of firmness, uneven skin tone and texture, and the formation of fine lines and wrinkles.
But because they're made up of the same things, peptides can actually stimulate the formation of collagen. They do this by sending signals to our cells to improve how they function. So, as we age and our collagen production decreases and it breaks down, peptides can trigger reparative efforts that combat signs of aging like loss of firmness, changes in texture, and wrinkles.
Topical applications of a peptide-based skincare product will essentially help trick the skin into boosting collagen production back to healthier levels.
Want to know more about peptides? Check out our guide on the best peptide serums.
THE ORIGINS OF MATRIXYL
A trademark of the cosmetic ingredient development company Sederma, Matrixyl was created with a series of anti-wrinkle actives that contain Matrikine. Matrikine is a peptide that helps different parts of the skin's structure work more effectively, as explained above.
Launched in 2000, it became an extremely popular and well-known active ingredient in the personal care industry and, more specifically, in the anti-aging industry. Since its inception, three different forms of Matrixyl have been developed and added to potent anti-aging skincare products:
The original Matrixyl, which is Palmitoyl Pentapeptide-4 (formerly Palmitoyl Pentapeptide-3)
Matrixyl 3000, which is a combination of Palmitoyl Tripeptide-7 and Palmitoyl-Oligopeptide
Matrixyl Synthe'6  (Palmitoyl Tripeptide-38), which is the most recent development in this family of powerhouse peptides
With growing research to back up and demonstrate their effectiveness, all three forms of this powerful peptide are worth trying if you're looking for an anti-aging solution. 
THREE POPULAR KINDS OF MATRIXYL
Here's a little more about what each of these peptides is and what it does for your skin, as well as our top recommendations for products formulated with them.
Keep in mind, though, these products may not list "Matrixyl", "Matrixyl 3000" or "Matrixyl Synthe'6" on their ingredients list. More often than not, they'll be listed by the official name of the peptide. That's because the name "Matrixyl" (in all of its various forms) is trademarked by Sederma. But not to worry, not using the trademarked version of the peptide has no impact on effectiveness.
1. MATRIXYL
Matrixyl is Palmitoyl Pentapeptide-4 (though before 2006, it was classified as Palmitoyl Pentapeptide-3). This is the original peptide treatment that was launched in 2000. It's specifically designed to stimulate collagen synthesis and repair as well as boost the skin's production of Hyaluronic Acid. By doing so, Matrixyl helps diminish wrinkles and also increases hydration levels.
BEST MATRIXYL SERUM & MOISTURIZERS
Jan Marini Age Intervention Peptide Extreme $102
Jan Marini's fragrance-free lotion is extremely popular and although lightweight it still is chock full of multiple skin-beneficial ingredients inclusive of Matrixyl, 3 other Peptides, and antioxidants like Green Tea Extract.  Other key ingredients in the formula include the hydrating Panthenol (Vitamin B5)  and  Hyaluronic Acid and moisture-rich Shea butter to nourish.
---
Olay Regenerist Regenerating Serum $19.29
Don't let the price on Olay's fragrance-free serum fool you –  the formula packs numerous replenishing ingredients inclusive of Matrixyl and Niacinamide (Vitamin B3), known for its power to fade discoloration and support rejuvenation efforts. Also, be on the lookout for nourishing Vitamin E and antioxidants like Green Tea Leaf Extract and Comfrey Root to fight free radical damage.
---
Matrixyl: Replenix AE Dermal Restructuring Therapy $95
Sensitive skin is not conducive to addressing skin concerns. That's because powerful formulas are often too potent for sensitive skin to handle. But then came Replenix AE Dermal Restructuring Therapy, with a formula that's effective yet gentle and helps to reduce sensitivity in the long run by strengthening skin. Matrixyl supports new collagen growth and other proven anti-aging ingredients like hyaluronic acid, caffeine, and retinol work at improving the skin barrier, rejuvenating the skin, and correct fine lines and wrinkles.
2. MATRIXYL 3000
Launched in 2003, Matrixyl 3000 is made from a combination of Palmitoyl-Tripeptide and Palmitoyl-Oligopeptide. This combination works synergistically to mimic broken-down collagen in the skin, forcing your body to produce more and super-boost reparative efforts in general. In fact, independent research on Matrixyl 3000 conducted by the University of Reading researchers in the UK found that this product nearly doubled the amount of collagen in the skin.
Matrixyl 3000 has the added benefit of inhibiting glycation damage. Glycation damage is a process through which glucose (the sugar in your bloodstream) links with proteins and binds them together to form harmful molecules called AGE'S (advanced glycation end products).  Not only does this process affect collagen levels but it also leads to signs of aging like wrinkles, sagging, weakened elasticity as well as uneven skin tone.
BEST MATRIXYL 3000 SERUMS & MOISTURIZERS
 ClarityRX Get Fit Multi-Peptide Healthy Skin Serum $105
With six different peptides including Palmitoyl-Tripeptide and Palmitoyl-Oligopeptide (Matrixyl 3000), ClarityRx's popular serum goes a long way to boost regeneration and improve the way skin looks and feels overall. Formulated with 7 peptides that tighten the skin, build collagen, and reduce the appearance of fine lines and wrinkles, it's the high concentration of hyaluronic acid that improves skin texture and complexion. A pharmaceutical-grade formula that offers dramatic results, just a little of this stuff goes a long way.
---
Exuviance Age Reverse HydraFirm $78
Formulated with Matrixyl 3000, Neostrata's cream will tighten, lift as it firms. Through combining the hydrating properties of Shea Butter and Hyaluronic Acid with the free radical capabilities provided by Antioxidants like Grape Seed Extract and Vitamin E, the formula delivers on the rejuvenation front.
---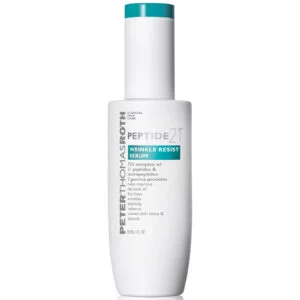 Peter Thomas Roth Peptide 21 Wrinkle Resist Serum $125
Matrixyl 3000 has a lot of help in this cutting-edge formula that boasts astonishing results. The secret lays in the 3% complex of 16 peptides, 5 neuropeptides, and 2 gamma proteins. Peptides support the skin from within to plump fine lines and wrinkles, neuropeptides smooth expression lines, and gamma proteins from Asian natto gum improve elasticity, skin tone, texture, and radiance. To top it all off, the formula is also infused with squalene, vitamins A, C, and E, as well as a hyaluronic acid complex.
---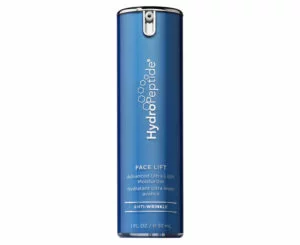 Hydro Peptide Face Advanced Ultra-Lift Moisturizer $78
This brand is called HydroPeptide because they've all but perfected the art of blending peptides to make incredible anti-aging products. With a long list of multi-performance peptides, this moisturizer acts as a facelift in a bottle. As it repairs collagen from the inside out it relaxes fine line sand wrinkles up to and including those stubborn crows feet. It's also infused with an L22 lipid complex which improves the skin's ability to prevent the visible sign of aging and a host of antioxidants to protect against environmental stressors.
---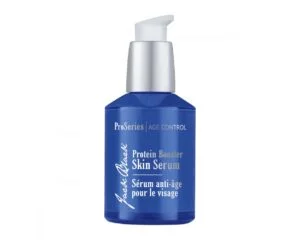 Jack Black Protein Booster Skin Serum $62
Jack Black is the leader in luxury men's skincare. Their Protein Booster Skin Serum combines powerful peptides like Matrixyl 3000 and other anti-aging ingredients such as organic green tea, organic omega-3 fatty acids, and Renovage. Renovage in particular is anti-aging complex developed by the same makers of the original Matrixyl. The result is a highly active yet silky formula that makes you look visibly younger and healthier.
3. MATRIXYL SYNTHE'6
Matrixyl Synthe'6 (Palmitoyl Tripeptide-38) is the latest variant from Sederma and was released in 2012. This form of Matrixyl aids in regulating cell activity, remodeling collagen tissue, and assisting in wound repair. Matrixyl Synthe'6 is able to work on major aspects of the skin's structure and, in doing so, helps with more advanced cases of deep wrinkles.
Research indicates that this peptide leads to a significant improvement in three types of collagen: Collagen I (most abundant in your body), Collagen III (known as "youth collagen" because it's produced by young fibroblasts), and Collagen IV (the form that anchors the proteins in the deep layers of your dermis).
Matrixyl Synthe'6 also helps protect from heat shock that causes deterioration when your cells are exposed to high temperatures and other environmental stressors. Finally, this version of Matrixyl also has a strong impact on boosting the amount of Hyaluronic Acid the body produces.
BEST MATRIXYL SYNTHE'6 SERUMS & MOISTURIZERS
Timeless Skincare Matrxyl Synthe'6 Serum $16.36
Timeless Skincare's popular Matrixyl Synthe'6 serum targets signs of aging all while hydrating through the combination of Aloe Vera and Hyaluronic Acid.  The cruelty-free formula is made without parabens and leaves skin hydrated without a feeling of greasiness.
---
The Ordinary Matrxyl 10% + HA $12.50
The Ordinary's potent serum contains both Matrixyl 3000 as well as Matrixyl Synthe'6, at a combined concentration of 10%. The formula also includes Hyaluronic Acid in its salt form Sodium Hyaluronate in order to boost the skin's hydration levels.  If you're looking for a more advanced formula also consider the brand's extremely popular "Buffet" Serum ($14.80) product that includes multiple peptides including  Matrixyl 3000, Matrixyl Synthe'6 and Syn-Ake peptides.
---
NCN Professional Skincare Multi-Active Matrixyl Serum $50
NCN's fragrance-free Serum has a cult following of loyal skincare enthusiasts as it combines multiple skin-beneficial ingredients and is available at a relatively affordable price.   Not only does the formula combine Matrixyl Synthe'6 with the 2 other current forms of the peptide family, Matrixyl and Matrixyl 3000 but it also includes plant-based extracts including the soothing Cucumber Extract.  Other key benefits include the lack of known skin irritants like dyes, fragrance, and parabens.
If you're interested in learning about other topical ingredients that help with rejuvenation processes make sure to check out our guide on the best vitamins for the skin that covers benefits and best practices.
KNOWN INTERACTIONS
Matrixyl, and most other peptides, do not pair well when combined with acid. So, avoid using Matrixyl with lactic acid, salicylic acid, mandalic acid, glycolic acid, and azelaic acid. Vitamin C is also a form of acid (aka L-ascorbic acid), so you should avoid this combination, too.
But beyond that, Matrixyl pairs well with many skincare actives. You'll actually improve on your skincare results if you pair it with things like hyaluronic acid, retinol, tretinoin, niacinamide, and copper peptides.
And we think it's important to note that Matrixyl is 100% compatible with sensitive skin. Research indicates that this gentle peptide doesn't irritate even the most sensitive skin, so it's safe and effective on almost all skin types.
DO'S AND DON'TS OF MATRIXYL
Here are some of the most important things you need to know about adding Matrixyl, Matrixyl 3000, and Matrixyl Synthe'6 into your skincare routine. This is how you get the most from this potent ingredient, so pay attention.
Don't expect results from Matrixyl in a cleanser or mask.
Active ingredients require prolonged exposure to the skin in order to work their magic. And that's why Matrixyl et. Al. works best in serums and creams that are meant to be left on the skin. Anything that's going to be washed off immediately, like a cleanser or a mask, is not going to give you the results you're looking for.
Do cleanse and tone the skin before using Matrixyl.
Like we just said, actives require prolonged contact with the skin in order to be properly absorbed and do their thing. Dirt and grease can hinder that contact and absorption process, so it's essential that you cleanse and tone the skin before applying anything with Matrixyl.
Don't use more than a few drops.
This is potent stuff, so you only need a few drops of serum or a pea-sized amount of cream to work over your face, neck, and hands. You can apply it a little more liberally to areas that are prone to wrinkles, like on the forehead or under the eye. But keep in mind that using more than a few drops or a pea-sized amount is probably just a waste of product.
Do apply moisturizer.
Apply your serum or cream after cleansing and toning but before moisturizing. Moisturizer can form an occlusive layer that hinders the ability of the serum or cream to make contact with your skin. But applying moisturizer after your serum or cream helps lock in the key ingredients.
Don't store it incorrectly.
It's recommended that you store products containing Matrixyl in a cool and dark place in order to prevent ingredient degradation.
Do use it every night for the best results.
Like all good things, you'll have to wait for results. But if you're consistent in applying it every night, you should notice a decrease in fine lines and an increase in elasticity within a few weeks. You can improve on these results by practicing other good skin care habits, such as washing your face daily, removing your makeup at the end of the day, and using sunscreen.
If you're not sold on Matrixyl then check out the rundown on organic and natural serums.
FINAL THOUGHTS
While you can count on all three forms of Matrixyl to stimulate collagen and elastin production and provide long-lasting results, Matrixyl 3000 has the added benefit of preventing glycation damage, and Matrixyl Synthe'6 will smooth out deep crevices from the inside-out.  With this in mind, it's important to point out there isn't actually one form of Matryxl that is necessarily better or worse than another. It really depends on the other ingredients in the skincare formula you're looking into and if it makes sense for the concerns you're looking to treat.