The best BB creams are essentially lightweight tinted moisturizers with added sun protection and ingredients that combat the visible signs of aging. CC creams offer all the same benefits but with extra "color correcting" capabilities. Regardless of the letter, both creams contain skin-beneficial ingredients like antioxidants (like Green Tea or Pomegranate), nourishing natural oils (such as Argan and Jojoba), as well as SPF.
The inclusion of natural, skin-beneficial ingredients in these formulas is of particular importance considering that you cover your whole face with bb or cc cream. In the last decade, there has been an increasing amount of research that has backed the benefits of natural-based ingredients in skincare products.
First off, let's talk about the intention of your bb or cc cream. They're intended to prevent and reduce the visible signs of ageing as well as other skin concerns. And yet, so many of the commercial ingredients used in these formulas do the exact opposite. They cause redness, they're drying, they contain oils and other pore-clogging ingredients, and they can make your skin photo-sensitive to sunlight (which makes your skin more prone to damage). If your goal is to improve your skin, non-natural ingredients are unlikely to help you reach that goal in the long-term.
But bb and cc cream composed of natural ingredients are less likely to cause irritation, sensitivity, and clogged pores. Instead, they work in harmony with your body's natural processes in order to provide longer-lasting results. They don't have the same toxic effect on our body as synthetic ingredients, many of which we're now realizing have harmful effects on our immune, reproductive, and endocrine systems.
Replacing your foundation, concealer, and moisturizing sunscreen with a BB or CC cream can decrease the number of ingredients you're exposed to. And the fewer ingredients you're exposed to, the less potentially hazardous chemicals are absorbed by your pores.
However, without a natural or organic BB cream or natural or organic CC cream, you might still be using a product that contains harmful substances. Oxybenzone, retinyl palmitate, and fragrance are three common ingredients in BB and CC creams that you want to avoid.
Not sure where to look? We've done the research and picked the best natural ones for you.
BEST CLEAN NATURAL ORGANIC BB AND CC CREAMS
Whether you seek a BB cream for a little coverage and added sun protection or you require a CC cream to act as a replacement for your foundation routine, the best organic and natural BB and CC creams contain only the best ingredients. In these products, you'll find all the coverage you're looking for – with all the nourishment and a reduced amount (and sometimes none) of the toxic chemicals, you find in traditional products.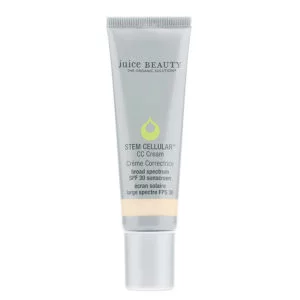 Juice Beauty Stem Celluar CC Cream SPF 30 $39
When it comes to picking the best organic CC cream, Juice Beauty's cruelty-free formula (SPF 30) is certainly one of the top choices. This vegan CC cream contains a multitude of certified organic ingredients, including borage oil to correct tired eyes, jojoba oil, and shea butter to provide hydration, and fruit stem cells to work their magic on fine lines and wrinkles. Zinc oxide has been added to all 5 shades in order to protect the skin from the sun's harsh UV rays. Alternatively, consider the brand's equally popular bb cream ($32) that also offers SPF 30 sun protection.
Bonus fact both Juice Beauty's organic cc and bb cream use sustainable packaging!.
---
Ayuna Velo 6-in-1 Supastratum Protection $122
For those of you who love luxury Ayuna's high-end natural CC cream is formulated to suit all skin types in all seasons and is a perfectly balanced start to every day. The silicone-free formula provides SPF protection with zinc and titanium dioxide, antioxidant protection from chamomile and marshmallow, an seals in moisture with trehalose and glycolipids that are naturally derived. For a daily dose of skin protection that will not only strengthen your skin over time but leave it velvety smooth, the Suprastratum is your go-to.
---
Jane Iredale Glow Time Full Coverage Mineral BB Cream $48
Jane Iredale's natural BB Cream (SPF 17) is one of the most popular out there with very good reason. Available in 10 shades from light to dark and easily blended with brush or sponge, the natural formula provides full coverage with a velvety, non-greasy finish. Brought to you by leaders in the natural mineral makeup industry, Jane Iredale, Glow Time is a completely vegan and natural BB cream that works on blemishes, enlarged pores, and dull skin. To cover breakouts while you fight them, this BB cream is your secret skincare weapon.
---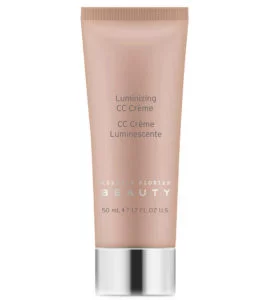 Kerstin Florian Luminizing CC Creme $46
A lightweight natural CC cream that offers full coverage without the need for potentially harmful ingredients such as oil, talc, fragrance, gluten, parabens, GMOs, phthalates, and sulfates? It's almost too good to be true. But Kerstin Florian has managed to check all those boxes and more with a CC cream that's not only sheer, weightless, and hydrating, it also enhances skin tone and clarity. For those with sensitive skin, the potent botanical combination of blush red rabdosia extract and St. Paul's wort will reduce inflammation, soothe mild skin conditions, and even improve circulation to the skin's surface.
---
For sheer, natural-looking coverage that leaves behind the perfect glow along with a blend of ingredients that will nourish your skin all day long, try Suntegrity 5-in-1 Tinted Moisturizer. Winner of EWG's Best Moisturizer with SPF 30, the non-nano zinc oxide protects from UVC and blue light rather than just UVA and UVB. With that level of protection you can go all-day in the sun and, thanks to aloe vera, jojoba, sunflower, cucumber, and hyaluronic acid, your skin won't get thirsty, either.
---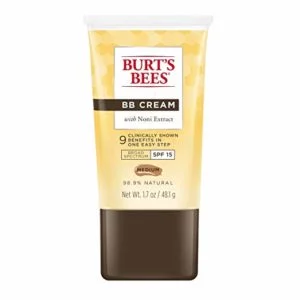 Burt's Bees BB Cream with SPF 15 $12
With almost 99% natural ingredients, Burts Bees brings us a natural BB cream that moisturizes, conceals, and fights the visible signs of aging. In shades ranging from light to medium that finish dewy and illuminating, the antioxidant-rich Noni formula can be worn solo or as a base for your makeup. Either way, your skin is going to love the hydration it provides and the soothing feeling that comes with all Burts Bees products.
---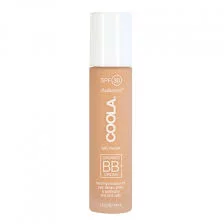 COOLA Rosilliance Mineral BB+ Cream Tinted Organic Sunscreen SPF 30 $52
This fan-favorite BB cream does more than what you'd expect from a moisturizing skin tint. Available in three tone-matching formulas, it's loaded with mineral broad-spectrum SPF 30 sun protection, 80 minutes of water resistance, and the powerful antioxidants found in rose stem cells. Not only will it even your skin tone and hide imperfections, but all of those extras make for a preventative, anti-aging product – and one made with 70% certified organic ingredients.
---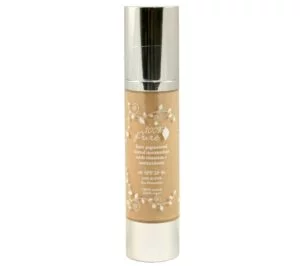 100% Pure Fruit Pigmentated Tinted Moisturizer $48
For a dewy formula look into 100% Pure's fan-favorite natural tinted moisturizer available in 8 distinct shades. It helps boosts the skin's hydration levels through a blend of skin-beneficial plant oils including the likes of acai and pomegranate oils as well as aloe juice. Colored with natural fruit and vegetable pigments and containing the antioxidant power of white tea, it's extremely safe and provides anywhere light to medium coverage.
Alternatively 100% Pure's natural BB Cream is extremely popular (with over 700+ 5 star ratings) with good reason. The hydrating formula (suitable for normal to dry skin types) comes in 3 versatile shades that are packed with skin-beneficial ingredients such as Vitamin E, antioxidant-rich Raspberry, and Blueberry Seed Oil as well as rich shea butter. After application of the cruelty-free formula, skin is left with a soft iridescent glow.
---
Pacifica Beauty Ultra CC Cream SPF 17 $17
Pacifica Beauty's formula contains natural minerals that create a true-to-tone finish as well as unique skin-beneficial ingredients such as kelp, ginseng, and coconut water. Made without parabens, phthalates, petroleum, or any animal product or by-product, you'll get sun protection and hydration along with color correction as good as your best foundation. Plus, the container is completely recyclable and 100% airless – so you can reduce your ecological footprint while you take care of your skin.
Alternatively, Pacifica Beauty also has a popular BB cream ($17) that gives skin a natural glow.
---

Sappho New Paradigm CC Cream $38
Sappho New Paradigm's luxury organic cc cream is both vegan and cruelty-free. The formula comes in 5 different shades (from light to dark) and is infused with a variety of skin-beneficial ingredients like nourishing Jojoba and Coconut Oils. Other notable ingredients include Aloe Vera Juice to hydrate and antioxidant-rich plant extracts from the likes of Chamomile and Pomegranate. Upon application, your skin is left soft without a heavy feeling.
---
Josh Rosebrook Tinted Nutrient Day Cream with SPF 30 $95
A tinted moisturizer that could easily be mistaken for a superfood for your skin, this cult-favorite day cream is teeming with organic, wild-crafted, and non-GMO plant-sourced ingredients. Those ingredients have you covered for everything from hydration to the visible signs of aging while the color-adjusting tint has your skin tone covered. Lightweight and grease-free, it can be used alone or as the perfect protective primer prior to applying makeup.
---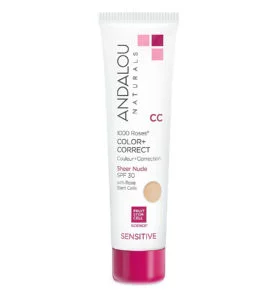 Andalou Naturals 1000 Roses CC Color + Correct Sheer Cream SPF 30 $19
Andalou Natural's hydrating CC Cream (SPF 30) leaves skin looking healthy while helping replenish and soothe easily irritated, dry and sensitive skin.  The cruelty-free formula uses fair trade ingredients wherever possible inclusive of regenerative Rose HIp Oil and plant extracts like calming pomegranate as well as free radical-fighting white tea extract. The  CC cream provides SPF 30 sun protection through 20% Zinc Oxide and covers the tell-tale white cast that many sunscreens leave with a  sheer nude tint.
Andalou Natural also has a range of 3 different bb creams ($16) all formulated with a variety of skin-beneficial ingredients to target different skin's needs.
---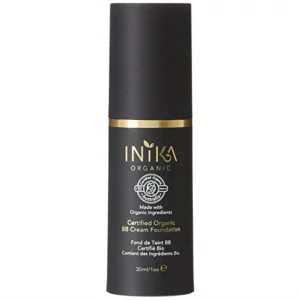 Inika Organics BB Cream $35
Inika Organic's BB Cream is available in 8 shades and is 100% naturally derived, certified Vegan & Cruelty-Free.  But more than naturally-derived, 80% of the easily blendable formula is organic. Through the combination of mineral pigments and nourishing ingredients (including skin-beneficial oils like Avocado, Prickly Pear, and Rosehips) the moisturizing formula helps nourish the skin.
---
Lilly Lolo BB Cream $22
Available in 3 shades (fair, light, and medium). Lilly Lolo's natural bb cream is free of silicones,  vegan-friendly, and also does not contain talc, making it great for blemish-prone skin. The formula provides light coverage for the skin leaving it looking luminescent and healthy. Skin-beneficial ingredients include Sodium Hyaluronate and nutrient-rich oils from the likes of Almond, Argan, and Pomegranate.
---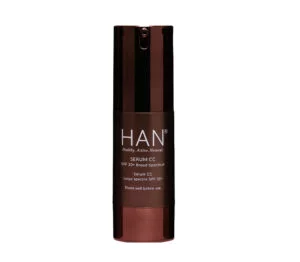 HAN Skincare Serum CC Cream SPF 30+ $32
CC cream is a bit different than BB cream. BB cream is essentially beauty balm while CC cream is colour correcting. With that in mind, it's no wonder that this CC cream by Han is available in 7 different shades, each with multiple undertones for perfect tone-matching. More than just evening your skin tone for a flawless finish, this CC cream is also a multitasker. It's infused with nourishing ingredients that will work on the backend to restore your complexion, including coconut and jojoba oil, rosehip oil, and vitamin E.
---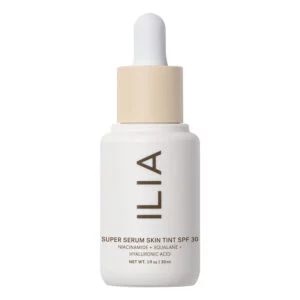 Ilia Beauty Super Serum Skin Tint SPF 40 $46
Ilia's bestselling fan-fave Super Serum Skin Tint is super indeed and one of our beauty editor's go-to formulas. Available in 18 colors from fair to deep, there's not a skin tone it can't match. On the skincare side, it contains niacinamide, hyaluronic acid, and plant-based squalene, some of the most powerful ingredients for restoring your skin's natural barrier. To top it all off, the non-nano zinc oxide SPF goes above and beyond in offering protection from UVA, UVB, UVC, and even blue light.
FINAL THOUGHTS
By switching out your foundation, concealer, and moisturizing regimen for an organic or natural BB or CC cream, you're significantly reducing the amount of potentially harmful chemicals you're exposed to. Instead, you're getting all the sun protection and coverage you need with the added benefits of natural and organic ingredients that hydrate, soothe, protect, and renew your skin.
So, when you need to cover a blemish or even your skin tone while you protect your skin from damaging UV and the visible signs of aging, turn to a natural or organic CC or BB cream for all those benefits and more.