When your highlight is looking good, you feel more like-worthy than an a-grade beauty influencer after 72 hours of editing one video. That's because you and that beauty influencer both know that the right highlight perfectly contours the shape of your face and makes your skin appear more natural, glowing, and radiant.
And if your highlight crazy – then you're probably applying that miracle makeup to more than just your cheekbones; brow bones, the bridge of your nose, and even the bow of the lip can benefit from a little highlight. Considering how much highlighter is sitting on your skin at any given time – and the fact that your skin absorbs everything you put on it – you might be interested to know what's in it.
Like a pressed powder, highlighter is a significant culprit for harmful and/or toxic ingredients. Chemicals to preserve it, chemicals to give it the perfect texture, chemicals to color it… the list goes on. But you don't have to submit your skin to these chemical concoctions that, as we always say, do more harm than good.
Organic and natural highlighters are the only alternative to conventional products that are often formulated with nasty ingredients you wouldn't otherwise put on your skin. These tend to fall in the clean category of makeup and skincare, not only leaving out the toxic stuff but adding in vitamins and nutrients that your skin loves to be drenched in along the way.
Not sure where to start? No worries! We've got you covered with our list of the best organic highlighter and natural highlighters.
WHAT'S TOXIC ABOUT CONVENTIONAL HIGHLIGHTERS?
Highlighter contains many of the routine offenders found in makeup: parabens, phthalates, PEGs, BHTs, etc. Chemical preservatives and fillers have all sorts of toxic effects on the human body, including allergies, disruption of the endocrine and reproductive systems, thyroid issues, and even cancer.
Petroleum, paraffin, and mineral oil are also commonly found in highlighters. Avoid these chemical ingredients if you want your skin to be able to breathe. They tend to block the pores and create a barrier over the skin's surface, which, while it locks in moisture, doesn't allow anything out, either. As if that's not reason enough to avoid them, petrol-based ingredients are pretty bad for the environment, too.
You'll also find quaternium-15 and other formaldehyde-releasing preservatives in pressed powders like your highlighter – and these items are linked to cancer. To avoid all of that, look for organic and natural highlighters that swap all the regular skin irritants like fragrance, parabens, alcohol, and sulfates for organic and natural ingredients.
BEST ORGANIC & NATURAL HIGHLIGHTERS
Any one of these will deliver the performance of your old highlighter with the added benefits that come with natural and organic ingredients.
Jane Iredale Glow Time Highlighter $38
Creamy highlighters are usually more buildable and often provide more coverage than their powdered counterparts which tend to melt into skin better. It all about your preference of where you want to apply the highlighter in your makeup routine. And Jane Iredale's naural creamy highlighter comes in a convenient and easy-to-apply stick that makes it even more desirable. Available in 3 shades, the vegan highlighter can be used on your face or even on your body for a natural tint of color with a radiant pearl finish. Also infused with jojoba seed oil, the cruelty-free highlighter delivers moisture and a dewy glow wherever you place it.
---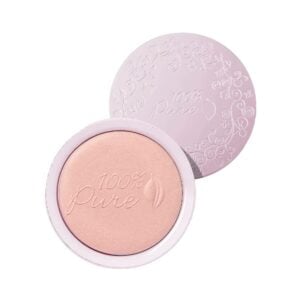 100% Pure Naural Gemmed Luminizer $40
100% Pure has caught on to the magic of adding gemstones to highlighters and bronzers as they truly add a light-reflecting and illuminating quality you can't get with anything else. Their extremely popular (400+ 5 star reviews) Gemmed Luminizer is available in 3 shades, each laced with its own gemstone: opal, pyrite, or moonstone. And keeping in with 100% Pure's ethos and name, the rest of the formula is just as natural and includes pigments derived from antioxidant-rich fruits and both avocado and cocoa butter.
---
Athr Beauty Desert Sky Highlight Oil $38
Although Athr is made for those who believe in having a little "magic" in life their products are made with the highest grade ingredients. Ather's lightweight illuminating oil is infused with the healing power of crystals – but those same crystals also offer light reflecting color and a little extra radiance. Their gluten-free highlighter, for example, contains ethically-sourced diamond powder, which brings with it the added bonus of collagen protection. They've also included organic meadowfoam seed oil that was sustainably harvested to nourish skin and antioxidant-rich plant-based botanicals like the soothing honeysuckle extract. Alternatively, also consider Athr's extremely highly related Illuminating Desert Moon Illuminating Dry Oil ($38)
---
Westman Atelier Lit Up Highlighter Stick $48
Westman Atelier's luxurious and extremely popular (over 100+ 5 star ratings) highlighter balm, provides light-catching undertones in 3 three shades that will flatter skin all while the incredible list of skincare ingredients will feed it. These translucent but dewy highlighting sticks are universal to both skin type and tone, and they're formulated with detoxifying Vitis Vita grape extract and an Ayurvedic oil blend that soothes and supports your skin's health. 
Have a preference for more a cream formula check out Westman's Atelier's 3 universal shades, the award-winning, light-catching Super Loaded Tinted Highlight ($75) for both cheeks and eyes provides a luminous and bold glow. But their coverage and color are only the second and third best things about them. The number one best thing about these cream highlighters? They contain hyaluronic acid filling spheres that act as a moisture magnet to firm and smooth uneven skin texture and caper extract that works to reduce redness and inflammation.
---
Ilia Liquid Light Serum Highlighter $34
Available in 3 shades, Ilia's Liquid Light Serum Highlight is radiance in a bottle. Different from many highlighters in that it has a serum-like consistency that melts into your skin – it's formulated with botanicals and marine actives that support and protect the skin while giving it a soft metallic glow. 
Ilia also offers 2 great formulas also packed with organic ingredients good for the skin like the bronzier Summertime Illuminator Cream Stick ($34) for sun-kissed perfection, or the sparkle-free all dew Polka Dots and Moon Beams Illuminator Cream Stick ($34).
---
Alima Pure Powder Highlighter $24
Available in 5 radiant colors that are carefully crafted to match most light to medium skin tones, this loose mineral powder provides just the right amount of shimmer to pass for a natural, healthy glow. 100% vegan and free of all the common and less common baddies, you can wear it in all the regular places as well as your eyes and even shoulders.
Alima Pure also offers a brand new released cream highlighter  ($28) that is refillable.
---
Kjaer Weis Highlighter $56
A rich and creamy refillable high-end formula that hydrates anywhere you put it without clogging pores, its finished is silky smooth and gives you that sun-kissed look we all crave in the cold, winter months. The warm, golden undertones of Kjaer Weis' 2 shade bronzer are great for bringing brightness to dark and olive skin tones. Did we mention that many of the ingredients in this luxury highlighter – including sweet almond oil, rose seed oil, and vanilla flower extract – are organically grown and wildcrafted?
---
RMS Beauty Living Luminizer Highlighter $38
All RMS products achieve the status of high-performing makeup without any of the toxic ingredients, fillers, and preservatives commonly found in comparable products.   Combining a full spectrum, bio-available nutrient complex with smoothing and soothing ingredients like coconut oil and rosemary leaf extract,   The popular Living Luminizer highlighter $38 is ultra-light and ultra-sheer highlighter is packed with illuminating natural and organic ingredients that are both safe and beneficial for your skin. You can expect a translucent, satin-pearl finish that adjusts to your skin tone and gives you a healthy glow without any mess or sticky glitter.
The Magic Luminizer highlighter ($38) provides subtle pink undertones and uses the same light-reflecting technology that gives you depth and drama while still looking completely natural. the dewy finish is expertly color matched to brighten skin. This Champagne Rose ($38) variant of the magic Luminizer has lavender undertones for individuals that are prone to redness. For all the same benefits but in a warm peach with hints of soft bronze try the Peach Luminizer ($38).
Finally for those of us that demand options, the RMS Beauty Luminizer X Quad ($48) lets you choose from all RMS's Luminizer options. Blend to your heart's content or mix it with your other makeup products for an ethereal glow.
Sometimes, you need a little highlight on the body. But not all highlighters are made to suit the skin on your body and face at the same time, which are quite different. When you require a warm glow somewhere other than the face, opt for RMS's fan-favorite Living Glow Face & Body Powder ($40) light-reflecting face and body powder. 
---
Vapour Beauty Trick Stick Highlighter $20
Vapour's universally shade friendly highlighter provides an ethreal glow to the skin wherever it is applied. It brightens cheeks, brows, lips, and the corners of the eyes but with a subtle light that's natural yet defining. Soft, smooth, and adapted for all skin types, its a longterm fan-favorite and we can see why!
---
Kosas Color & Light Cream Blush & Highlighter $34
This cream blush and highlighter duo adds depth to your most important features. Available in 3 skin tone enhancing combinations, the formula is buildable and blendable with a smooth, non-greasy finish. But more than rich color, it delivers unparalleled nutrients to your skin with face oils such as marula, rosehip, apricot kernel, blueberry, and plant extracts like green tea.
---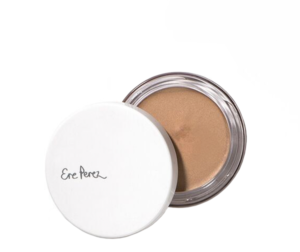 Era Perez Vanilla Highlighter $25
It's not often you find real vanilla in your makeup or even your skincare, but this star ingredient has calming and soothing benefits that any skin type would love. For those of us who like a little more dram in our cheekbone, it's an extremely dewy finish that illuminates upon contact with light (available in 2 shades). Plus, it's packed with vitamin E – a healing and antioxidizing ingredient that's great for both prevention and treatment of the visible signs of aging.
---
W3ll People Bio Brightener Stick $20
We don't know where to start with this brightener stick by W3LL People, the nourishing ingredients or its luminous properties as a rich and creamy highlighter. Let's begin with a breakdown of what makes this stick so creamy, including: grape seed oil, olive oil, camellia seed oil, castor seed oil, and safflower seed oil which ensure your skin is getting as much moisture and soothing as coverage. Plus, it contains skin protecting ingredients like green tea, aloe, and natural vitamin E. Available in two shades, it's a weightless and clean product that glides on without caking or creasing and holds all day.
---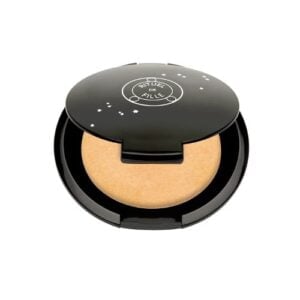 Rituel de Fille Rare Light Luminizer $29
Last but not least is Rituel de Fille Rare Light Luminizers, another highly rated luminizer that we're extremely fond of. They understand you're constantly moving around, in different environments and lighting. Rituel de Fille believes your highlighter should shift with you, always reflecting your best light. That's why they created these color-shifting cream highlighters. Choose from six shades that help you achieve an ethereal glow, no matter where you are. They're formulated without fillers and with minimal ingredients, each carefully selected for a clear purpose. 
FINAL THOUGHTS
highlighter is an essential finish to any look. And on the days when you're not feeling a full face, it can give you a natural, warm glow that makes you look refreshed without overburdening your pores. But as much as we can't do without a highlighter, we can do without the toxic ingredients that they're regularly formulated with. For that, we choose to make the switch to one of the best organic highlighters or natural highlighters.