When your highlight is on fleek, you feel more like-worthy than James Charles after 72 hours of editing one video. That's because you and James both know that the right highlight perfectly contours the shape of your face and makes your skin appear more natural, glowing, and radiant. And if your highlight crazy – like the best of us are – then you're probably applying that miracle makeup to more than just your cheekbones; brow bones, the bridge of your nose, and even the bow of the lip can benefit from a little highlight.
Like a pressed powder, highlighter is a major culprit for harmful and/or tox ingredients. Particularly, you want to avoid anything formulated with petroleum, paraffin, and mineral oil because they don't allow your skin to breathe and, petrol=based ingredients specifically, are pretty bad for the environment.
You'll also find quaternium-15 and other formaldehyde-releasing preservatives in pressed powders like your highlighter – and these items are linked to cancer. Most importantly though, look for organic and natural highlighters that avoid all the regular skin irritants like fragrance, parabens, alcohol, and sulfates.
Not sure where to start? No worries! As always, we've got you covered with our list of the best organic highlighter and natural highlighter.
BEST ORGANIC & NATURAL HIGHLIGHTERS
Any one of these will deliver the performance of your old highlighter with the added benefits that come with natural and organic ingredients.
Ilia Polka Dots And Moon Beams Illuminator $34
An organic highlighter (illuminator) with a light, fresh, and dewy finish, the formula is packed with organic ingredients like rose hip oil to reduce redness, even skin tone, and brighten your complexion. ILIA's illuminator provides a subtle highlight that looks natural and youthful, and it achieves its perfect hue with 100% natural dyes that add depth and dimension to cheekbones, brow bones, or any other place you need a little glimmer. For sun-kissed perfection, ILIA offers the same dewy finish in a bronzier hue Sway ($34) or maybe the warming and light Cosmic Dancer  ($34) is more your winter hue.
---
Alima Pure Powder Highlighter $24
Available in 5 radiant colors that are carefully crafted to match most light to medium skin tones, this loose mineral powder provides just the right amount of shimmer to pass for a natural, healthy glow. 100% vegan and free of all the common and less common baddies, you can wear it in all the regular places as well as your eyes and even shoulders.
---
Kjear Weis Highlighter $56
A rich and creamy formula that hydrates anywhere you put it without clogging pores, it's finished is silky smooth and gives you that sun-kissed look we all crave in the cold, winter months. The warm, golden undertones of these 2 shades are great for bringing brightness to dark and olive skin tones. Did we mention that many of the ingredients in this luxury highligher – including sweet almond oil, rose seed oil, and vanilla flower extract – are organically grown and wildcrafted?
---
RMS Beauty Living Luminizer Highlighter $24
All RMS products achieve the status of high-performing makeup without any of the toxic ingredients, fillers, and preservatives commonly found in comparable products.   Combining a full spectrum, bio-available nutrient complex with smoothing and soothing ingredients like coconut oil and rosemary leaf extract,   The popular Living Luminizer highlighter is ultra-light and ultra-sheer highlighter is packed with illuminating natural and organic ingredients that are both safe and beneficial for your skin. You can expect a translucent, satin-pearl finish that adjusts to your skin tone and gives you a healthy glow without any mess or sticky glitter.
The Beauty Magic Luminizer highlighter ($38) provides subtle pink undertones and uses the same light-reflecting technology that gives you depth and drama while still looking completely natural. the dewy finish is expertly color matched to brighten skin.     This Champagne Rose ($38) variant of the magic Luminizer has lavender undertones for individuals that are prone to redness. For all the same benefits but in a warm peach with hints of soft bronze try the Peach Luminizer ($38).
Finally for those of us that demand options, the RMS Beauty Luminizer X Quad ($47.50) lets you choose from all RMS's Luminizer options. Blend to your hearts content or mix it with your other makeup products for an ethereal glow.
---
W3ll People Natural Highlight & Contour Duo $25
No list of best organic highlighter would be complete without a 2-in-1… so here it is! A natural contour and highlight duo that takes all the guesswork out of complicated makeup palettes. With this, you can highlight and define in two simple steps. All with the skin beneficial advantages of USD certified organic ingredients like soothing olive fruit oil, antioxidizing green tea oil, and hydrating and healing jojoba proteins.
---
Tata Harper Very Highlighting $42
This pearlescent cream illuminator creates a more natural and settled finish than most powder highlighters because its lightweight ingredients allow it to settle on the skin in at just the right depth – and if you know how to apply it like a pro, the light reflection technology produces a naturally dewy finish in just the right places. But this Tata Harper highlighter goes above and beyond what you expect from your face makeup by adding neuropeptides that plump, volumize, shape, and contour from the inside-out.
---
Vapour Beauty Trick Stick Highlighter $20
For something completely different, this Trick Stick is activated by the warmth of your skin. It brightens cheeks, brows, lips, and the corners of the eyes but with a subtle glow that's natural yet defining. Soft, smooth, and adapted for all skin types, we've never seen anything quite like it… but we love it!
---
Noto Organics Hydra Highlight $25
This ultra-hydrating highlighter is as much a skincare product as it is makeup. Adding a soft shimmer where you need it most, it's packed with moisturizing ingredients like shea, coconut, and sweet almond oil, a volumizing and tightening blend of rosehip and rosemary, as well as antiseptic and antibacterial ingredients that fight breakouts as well as environmental aggressors.
---
Kosas Color & Light Cream Blush & Highlighter $34
This cream blush and highlighter duo adds depth to your most important features. Available in 3 skin tone enhancing combinations, the formula is buildable and blendable with a smooth, non-greasy finish. But more than rich color, it delivers unparalleled nutrients to your skin with face oils such as marula, rosehip, apricot kernel, blueberry, and plant extracts like green tea.
---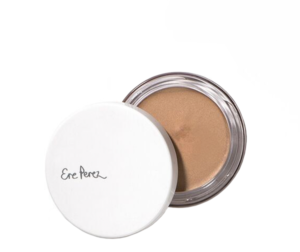 Era Perez Vanilla Highlighter $25
It's not often you find real vanilla in your makeup or even your skincare, but this star ingredient has calming and soothing benefits that any skin type would love. For those of us who like a little more dram in our cheekbone, it's an extremely dewy finish that illuminates upon contact with light (available in 2 shades). Plus, it's packed with vitamin E – a healing and antioxidizing ingredients that's great for both prevention and treatment of the visible signs of aging.
FINAL THOUGHTS
A highlighter is an essential finish to any look. And on the days when you're not feeling a full face, it can give you a natural, warm glow that makes you look refreshed without overburdening your pores. But as much as we can't do without a highlighter, we can do without the toxic ingredients that they're regularly formulated with. For that, we choose to make the switch to one of the best organic highlighters or natural highlighters.