So many skin care problems, so many products for treating them but so little time to try them all. We're all looking for that special skin care unicorn that cleans, exfoliates, fights breakouts all while helping to diminish the signs of aging. There are literally are thousands of products out there that claim to do just that – and we've probably tried 999 of them in our quest for radiant and clear skin. Many of the ones we've tried provide relief in one way or another, treating one or two issues really well, but not quite meeting expectations for others. So what's the answer? Consider, African Black Soap known for hits abilities to combat multiple skin care concerns.
WHAT IS AFRICAN BLACK SOAP?
Although it has become more popular in North America over the last few years, African Black Soap originally comes from the Western part Africa, specifically Ghana. This characteristically dark soap is made from the sun-roasted ashes of harvested plants native to Africa, including the likes of Cocoa Pods, Plantains, and Palm as well as Shea Trees. After the burning process, water, as well as various oils and fats such as Shea Butter and Palm Oil are added to the ash. This mixture is cooked until it solidifies and then hand-stirred for around 24 hours. In the final stage of the process, the soap is scooped out to let it cure.
WHY IS AFRICAN BLACK SOAP SPECIAL?
African Black Soap is more often than not a fair trade product that is made by women who use family or community recipes passed down for generations to treat a variety of skin concerns. These recipes are so unique that many of the producers refuse to sell them to large-scale manufacturers, ensuring that they are kept secret and more importantly stay authentic to the age-old formula.
INGREDIENTS TO LOOK OUT FOR
Below we've listed some of the key ingredients to keep an eye out for in your African Black Soap formulas:
COCOA BUTTER
Extracted from Cocoa Beans, this replenishing oil locks in high levels of moisture in the skin, leaving it deeply hydrated. Cocoa butter is also known for its ability to improve the appearance of skin concerns like stretch marks as well as skin problems such as Eczema and Psoriasis.
COCOA POWDER
The antioxidants in Cocoa Powder, inclusive of Flavonoids and Polyphenols, help repair damaged skin cells and fight free radical damage caused by environmental factors like the sun and pollution.
COCONUT OIL
Containing high amounts of medium chain Triglycerides, commonly known as Fatty Acids, Coconut oil helps nourish dehydrated skin as well as aids collagen reparation.
PALM OIL
This nutrient-rich oil has high levels of Vitamin E as well as Carotenoids (the precursors of Vitamin A) which are known for their skin rejuvenating powers because they target signs of aging, like fine lines and wrinkles. As an added bonus, Palm Oil helps increase the skin's moisture levels.
PALM KERNEL OIL
Derived from the seeds of the African Palm Tree, this skin-benefitting oil has antibacterial properties due to the high concentration of Lauric Acid. As a result of its ability to soften dead skin and dissolve hardened sebum, Palm Kernal Oil also helps combat concerns like acne, blackheads, and breakouts in general.
PLANTAINS
Rich in vitamins and minerals like Vitamin C and Iron, which are linked to the Native African fruit's ability to heal skin and improve the way it looks and feels.
SHEA BUTTER
Emollient rich plant extract from the Karite Tree which has reparative properties through a combination of Omega Rich fatty acids and Antioxidants like Quercetin, Gallocatechin, as well as Epigallocatechin. Shea Butter is also often recognized for its ability to help diminish acne scars.
BLACK SOAP BENEFITS
Through the combination of multiple nutrient-rich ingredients black soap is able to aid the skin in multiple ways:
DIMINISHES UNEVEN SKIN TONE & SKIN DISCOLORATIONS
The powerful antioxidants in Palm Kernel Oil, Palm Oil, and the Flavanol found in Cocoa Powder help repair damaged skin while the Polyphenols in Cocoa Powder will even the appearance of skin tone. Natural oils containing essential Fatty Acids and the Allatonin specifically found in Shea Butter reduce discoloration as well as clear difficult dark spots. If scarring is a concern, Plantains are also said to reduce scarring; this is also accomplished by hydrating your skin with ingredients like Palm Kernel and Shea butter.
COMBATS FINE LINES & WRINKLES
The Cocoa Powder found in African Black Soap contains a mix of Phenolics and Flavonoids, which help to combat free radical damage – a key contributor to the signs of aging. At the same time, the Vitamin A in Shea butter, Antioxidants in Coconut Oil and Vitamin E found in both, contribute to reducing the appearance of fine lines and wrinkles by boosting collagen production, which tends to slow down as we age. Last but not least, the fatty acids in Palm and Coconut Oils encourage cell regeneration, replacing dead skin cells with new, healthy ones.
REDUCES SKIN IRRITATION AND INFLAMMATION
Coconut oil, Palm Oil and Shea Butter all contribute to deep hydration that is a major component in soothing irritated or sensitive skin. On the other hand, the Flavonoids and Polyphenols in Cocoa Powder, as well as Vitamin C and Iron-rich Plantains, have well known anti-inflammatory properties.
HELPS PROBLEM SKIN
If you struggle with acne, providing the right amount of moisture to your skin may be at the core of the problem – when you use harsh treatments and chemicals, you strip away the natural oil your skin produces, causing your body to produce excess oil to replace what it lost. The moisturizing benefits of Triglycerides, Vitamin E and Fatty Acids in many of the ingredients, as well as the antibacterial properties provided by the Lauric Acid in coconut oil, will help combat acne, breakouts, and blemishes.
FIGHTS AGAINST ENVIRONMENTAL DAMAGE
They say that much of Your skin takes a lot of you-know-what from its environment, but the carotenoids and Vitamin E in the likes of Palm Oil, Palm Kernel oil and plantain, help repair sun-damage that is already appearing to the skin cells as well as fight free radicals and provide protecting against UV rays that can cause further damage.
RAW VS PROCESSED BLACK SOAP  
Raw African Black soap is generally a dark shade of brown that is almost black in color and comes in an imperfect shape. It's known for being malleable as well as sometimes having a slight smell that can almost be described as being "earthy".
On the other hand, processed African Black Soap is usually a lighter shade of brown and comes in more of a traditional bar form. This type of formula sometimes contain a high amount of fragrance and may also include Parabens, Sulfates as well as other known skin irritants.
Though many so-called "experts" state the authentic formulas are best its hard to trust the safety of the cleansers found on the internet so if the raw black soap experience is important to you consider going with one from a branded entity however unknown it may be as it still brings some level of quality control.
PRODUCT RECOMMENDATIONS
Sky Organics African Black Soap $12.30
Originating from Ghana, Sky Organic's raw African Black Soap is made from the nutrient-rich mix of ingredients that for the most part stick to the authentic recipe with the one addition of Aloe Vera, known for it's calming properties. All of the butters and oils in the formula are cold-pressed and also certified USDA organic.
---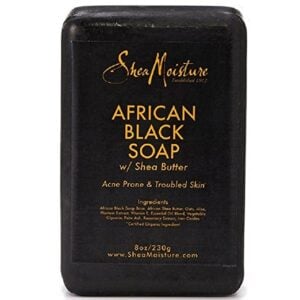 Shea Moisture African Black Soap With Shea Butter $5
Shea Moisture's soap is extremely popular and combines the beneficial properties of traditional recipes with a modern twist through the infusion of nutrient-rich ingredients like the calming Oats, nourishing Vitamin E as well as the hydrating Aloe Vera. The formula is also made without Mineral Oil as well as other known skin irritants like Parabens.
---
Wonderfully Natural Organic African Black Soap $10
This handcrafted raw African Black Soap comes from Ghana and is formulated with authentic ingredients of the traditional formula inclusive of Shea Butter, Cocoa pods as well as Coconut oil.  If you're not happy with the results, this cleanser even comes with a 30-day money back guarantee.
Check out our guide on some of the most effective facial cleansers if you're interested in learning more about ingredients to look for, how they work and best practice usage.
HOW TO USE AFRICAN BLACK SOAP?
Much like with traditional bar soap, work it into a lather between your palms. The main difference when you're using the raw variety is before applying it to your face you need to remove pieces of tree bark or pods in a bid to avoid damaging your skin.  Once applied, gently massage and within 2-3 minutes, rinse off using tepid water.
Although as we discussed above, African Black Soap boasts a number of benefits, it can lead to dry or irritated skin. If this is something that your prone to, consider leaving it on for less time as well as limiting usage to 2 or 3 times a week, and even less in drier climates or during winter.
FINAL THOUGHTS
If you're considering trying out African Black Soap it is important to keep in mind the long history of use for treating a variety of different skin concerns. Besides that, for those of us that are socially conscious, the fact that the authentic version is handmade by women in Ghana certainly is very convincing.