Crepe Erase Intensive Body Repair Treatment $75.95
Crepe Erase targets the papery thin and wrinkled skin that forms on the face, neck, arms, and legs as we get older. The company claims that incredible results are achieved with their proprietary TruFirm complex. This complex is intended to both treat crepey skin and reverse its effects.
But just how effective is this well-advertised and very hyped product? For the answer to that question, we investigated a number of Crepe Erase reviews and developed our own. Come along as we uncover the truth behind the claims by looking into the moisturizer's ingredients as well as investigating the results you can expect from using the product.
WHY DOES CREPEY SKIN HAPPEN?
Before looking into some Crepe Erase reviews, let's clarify exactly how this sign of aging comes to be on your décolletage, arms, and legs.
Rather than one singular cause, crepey skin is caused by a combination of factors. The most general of which is the loss of collagen and elastin as we age. It's these proteins that give skin its form, structure, strength, and resiliency. As our body produces less and less of them, we also lose those important properties, resulting in fine lines, wrinkles, and crepey skin.
There are some lifestyle factors that also impact the formation of crepey skin. These include fluctuations in weight, sun exposure, smoking, and high-sugar diets.
 WHAT PEOPLE SAY – CREPE ERASE REVIEWS
Crepe Erase calls itself "the #1 anti-aging body treatment system for dry, crepey skin." That bold statement is based on company sales data, but how do we really know how good this stuff is? We check in with the people who've already used it.
Crepe Erase boasts two celebrity spokespeople of note: actress Jane Seymour and former Olympic skater Dorothy Hamill. Seymour provides testimony that Crepe Erase has boosted her confidence in her body and her skin in her late 60's. Hamill, who is in her early 60s, loves the hydrating effects of Crepe Erase. She says that she uses it every single day and she particularly likes how quickly it absorbs and how long it lasts.
Crepe Erase has also earned reviews from acclaimed in-print and online magazines such as The Derm Review, Allure, and Right Health. These tend to point out that Crepe Erase is more of an excellent moisturizer than a cure for crepey skin. The reviews on Amazon seem to echo this point, with the less realistic reviewers having expected the cream to have completely removed their crepey skin.
Despite the unhappy customers who were expecting a complete reversal of the aging process, Crepe Erase has earned 4.2 stars out of 5 on Amazon. Only 8% of customers gave the product a 1-star review and among the 63% that gave a 5-star rating, the general consensus is that Crepe Erase is worth its high price tag. They mention that it's ultra-hydrating and that their skin looks and feels smoother.
KEY CREPE ERASE INGREDIENTS
The breakthrough ingredient of Crepe Erase is the TruFirm complex. Never heard of it? That's because it's an exclusive proprietary blend of Crepe Erase.
TruFirm is a blend of essential phytonutrients derived from plants – three plants to be exact. Those are apple, sage, and dill.
Apple acts as an anti-aging ingredient by supporting the structure and resilience of the skin surface and deep into the dermis. Apple also contains acetic acid and vitamins B and C. Acetic acid is both antifungal and antimicrobial, and it may help clear bacteria related to skin conditions such as acne, rosacea, and eczema.
Moroccan sage not only smells earthy and refreshing, but it also contains ursolic acid. This photo-active acid contributes to resiliency along with apple extract, but it also targets UV damage, which tends to be an issue in aged skin.
Finally, dill isn't something we often see in skincare but this herb has plenty to offer the world of anti-aging. That's because it promotes natural elastin production, which tends to slow as we get older. More elastin means smoother, firmer skin.
Besides the TruFirm anti-aging complex that targets elastin, UV damage, and skin strength and resiliency, Crepe Erase contains 9 Super Hydrators. That's especially important considering that one of the biggest contributors to crepey skin is dryness. While these ingredients are potent, they're also fairly common in anti-aging products. These are things like: shea butter (an emollient); cocoa butter (an emollient and antioxidant), coconut oil (another emollient), and olive oil (last but not least, another emollient).
For extra-silky skin, Crepe Erase also contains dimethicone, which is a type of silicone. This is the same ingredient that helps many makeup primers make your skin look smooth. However, if you're trying to avoid products with silicones, this is something you should note, as well as the addition of glycerin, which is a commonly-used humectant.
WHAT CREPE ERASE ACTUALLY DOES?
Many Crepe Erase reviewers claim they noticed a smoothing and softening effect as well as more radiant skin from using the cream. We definitely believe this aspect of the Crepe Erase reviews is true because of all the hydrating ingredients contained in the formula – as well as the general consensus of the reviews.
Crepe Erase will also help with the skin's ability to retain moisture through that rich combination of shea butter, coconut oil, cocoa butter and olive oil. Those who use it regularly will most likely see an overall improvement in terms of texture and how supple and plump the skin is.
On another positive note, dermatologists surmise that because the appearance of crepey skin is exasperated by dry skin, the super boost of hydration will probably help reduce the crepe effect, at least temporarily.
WHAT CREPE ERASE WON'T DO
This is when a deeper examination of the Crepe Erase reviews is especially important.  Like many visible signs of aging, once you develop aged skin on your body, you can only work to minimize its appearance – it will never completely disappear.  With that said, if you are concerned with crepey skin and are looking for a product to help treat it, Crepe Erase may not be the best solution.
While you can expect Crepe Erase to nourish and moisturize your skin, there isn't enough evidence to support the claim that the formula will minimize the effects of aging and the crepey skin that comes with it. As we mentioned, the root cause of crepey skin is a loss of collagen and elastin and while dill boosts elastin production, there's simply not enough of it or any other ingredient to expect any real lifting or firming effect.
Beyond the hydrating benefits offered by Crepe Erase, you're better off treating fine lines, deep wrinkles, and crepey skin with other anti-aging treatments that contain more collagen-boosting ingredients and in greater quantities.
INGREDIENTS THAT ACTUALLY TARGET CREPEY SKIN
Crepe Erase doesn't have the ability to erase crepey skin because it isn't formulated with enough anti-aging ingredients that target the main cause of crepey skin: that is, decreased collagen and elastin production. If you're looking to reduce the appearance of your crepey skin, look for products with the following ingredients:
Vitamin A in either of its gentler forms (Retinyl palmitate or Retinol) will boost firmness, help with uneven skin texture, and nurture collagen production. Make sure to explore our in-depth guide if you're interested in learning more about

the anti-aging benefits of Retinol

inclusive of how it works and best practice usage.
AHA's like Glycolic and Lactic Acid which hydrate and helps with cell regeneration
Palmitoyl pentapeptide-3  which encourages collagen production
If you're looking to improve crepey skin on the face make sure to look into our article that covers the best night creams including ingredients to look out for and their benefits.
ALTERNATIVE PRODUCT RECOMMENDATIONS
Here are some of the best body lotions on the market that target signs of aging inclusive of crepey skin.
Glytone Exfoliating Body Lotion $40
Glytone's Exfoliating body lotion is extremely popular (over 1000+ 5-star reviews) with good reason. With 17.5% Glycolic Acid the fragrance-free formula is effective at not only boosting collagen production but treating a variety of skin concerns including hyperpigmentation, laxity as well as dull and rough skin.
---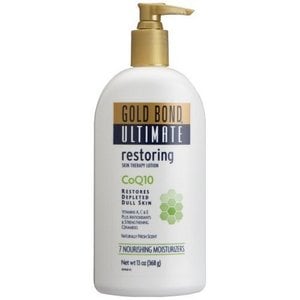 Gold Bond Ultimate Restoring Skin Therapy Lotion $13
This highly-rated anti-aging body lotion combines a potent mix of ingredients to target multiple signs of aging.  Key ingredients in the formula include Vitamin A (Retinyl Palmitate) to help with cell regeneration, Vitamin E to nourish and Vitamin C to combat free radical damage.  Also, be on the lookout for CoQ10 which helps with reparative efforts, and Ceramides for its moisture-boosting effects.
---
Medix 5.5 Retinol Cream $16
Even though it's on the more affordable side of things, this moisture-rich lotion still manages to be effective. It contains a variety of skin-beneficial ingredients, including Black Tea and Chamomile extracts to help repair the skin, as well as Aloe Vera to soothe. The formula also includes hydrating Shea Butter and combining Retinol with Ferulic Acid to maximize anti-aging benefits.
---
Paula's Choice Retinol Skin-Smoothing Body Treatment $25.65
This lightweight lotion has several skin-beneficial ingredients to help hydrate and promote healthy collagen production. Key ingredients include Retinol and Shea Butter and antioxidants like Vitamins C and E, which all aid in targeting signs of aging like crepey skin. Other benefits of the fragrance-free formula include diminishing age spots and lines, enhancing clarity, and improving overall skin smoothness.
---
Replenix All-trans-Retinol Smoothing Body Lotion $83
By combining a super-dose of Retinol with extracts including Green Tea & Leontopodium Alpinum, this powerful lotion targets aging concerns like cellulite, crepey skin, as well as the loss of firmness. Other notable ingredients in the formula include Ceramides and Hyaluronic Acid to boost hydration levels.
To explore more about crepey skin treatment, make sure to explore our guide inclusive of preventative measures and an in-depth look at some things you can do to help reduce the appearance of it.
FINAL THOUGHTS
As supported by the reviews, Crepe Erase does make for one excellent moisturizer but it will not actually cure crepey skin. With that said, one of the key takeaways from this article is that there is no miracle cure for reversing the signs of aging. The only truly effective anti-aging strategy is to have a robust skincare regime from a young age, which includes moisturizing, toning, cleansing, and maybe some extra special skin care treatments.