Crepe Erase Intensive Body Repair Treatment $75.95
Crepe Erase targets the papery thin wrinkled skin that forms as we age on the face, neck or on the arms and legs. As many Crepe Erase reviews claim the moisturizer boasts having a revolutionary mix of ingredients called TruFirm Complex that is supposed to not only treat crepey skin but also reverse the effects. We uncover the truth behind the claims through looking into the moisturizer's ingredients as well as investing the results you can actually expect from using the product.
WHY DOES CREPEY SKIN HAPPEN?
Before looking into some Crepe Erase reviews, let's clarify exactly how this sign of aging forms.  Rather then one singular cause, crepey skin is caused by a combination of factors including fluctuations in weight, sun exposure, smoking,  high-sugar diets and the decrease of elastin as well as collagen production that occurs with aging.
WHAT DO PEOPLE SAY ABOUT CREPE ERASE?
Truth be told, many of the Crepe Erase reviews that are positively glowing about the benefits of the moisturizer seem to be fake as they have poor spelling and badly written grammar.  Those reviews that seem to be genuine often conclude that Crepe Erase is more of an excellent moisturizer than the cure for crepey skin. Many reviewers explain that Crepe Erase will temporarily mask the papery effect of the skin but won't actually reverse the damage.
KEY CREPE ERASE INGREDIENTS
Crepe Erase asserts that their breakthrough ingredient complex is called TruFirm, which is exclusive to their brand. A quick search on the company's website reveals no disclosure of the ingredients that make up TruFirm nor any of the ingredients used in the product itself. Fortunately, some other Crepe Erase reviews have managed to circulate the ingredients so we can have a closer look at what they are and how they might benefit the skin.
Crepe Erase is formulated with a number of hydrating ingredients such as: shea butter (an emollient); cocoa butter (an emollient and antioxidant), coconut oil (another emollient) and olive oil (last but not least, another emollient). According to a number of Crepe Erase reviews, some other ingredients in Crepe Erase include beeswax, which has anti-swelling and anti-inflammatory properties; dill extract, which is rumoured to help relax muscles, and; apple extract that contains acetic acid as well as vitamins B and C. The final ingredient worth mentioning is dimethicone which is the same ingredient that helps many makeup primers make your skin look smooth.
WHAT CREPE ERASE ACTUALLY DOES?
Many Crepe Erase reviewers claim they noticed a smoothing and softening effect as well as more radiant skin from using the cream, something that we definitely believe is true. Crepe Erase will also help with the skin's ability to retain moisture through the rich combination of shea butter, coconut oil, cocoa butter and olive oil. Those who use it regularly will also most likely see an overall improvement in the appearance of skin in terms of texture as well as how supple and plump it is.  On another positive note, dermatologists surmise that because the appearance of crepey skin is exasperated by dry skin, the super boost of hydration will probably help reduce the crepe effect, well at least temporarily.
WHAT CREPE ERASE WON'T DO?
This is when a deeper examination of the crepe erase reviews are especially important.  Like many visible signs of aging, once you develop skin on your body, you can only work to minimize its appearance – it will never completely disappear.  With that said, if you are concerned with crepey skin and are looking for a product to help treat it, Crepe Erase may not be the best solution.
While you can expect Crepe Erase to nourish and moisturize your skin, there isn't enough support that the formula will minimize the effects of aging and the crepey skin that comes with it. As we mentioned, the root cause of crepey skin is a loss of collagen and elastin. None of the ingredients that we know of address those underlying causes, so don't expect any real lifting or firming effect from this product. Beyond the hydrating benefits offered by Crepe Erase, you're better of treating fine lines, deep wrinkles and crepey skin with other anti-aging treatments that contain collagen boosting ingredients.
INGREDIENTS THAT ACTUALLY TARGET CREPEY SKIN
Crepe Erase doesn't have the ability to erase crepey skin because it isn't formulated with anti-aging ingredients that target the main cause of crepey skin: decreased collagen and elastin production. If you're looking to reduce the appearance of your crepey skin, look for products with the following ingredients:
Vitamin A in either of its gentler forms of Retinyl palmitate or Retinol in order to boost firmness, helps with uneven skin texture, nurtures collagen production).  Make sure to explore our in-depth guide if you're interested in learning more about

the anti-aging benefits of Retinol

inclusive of how it works and best practice usage.
AHA's like Glycolic and Lactic Acid (hydrates, helps with cell regeneration)
Palmitoyl pentapeptide-3 (encourages collagen production)
If you're looking to improve crepey skin on the face make sure to look into our article that covers the best night creams including ingredients to look out for and their benefits.
ALTERNATIVE PRODUCT RECOMMENDATIONS
Here are some of the best body lotions on the market that target signs of aging inclusive of crepey skin.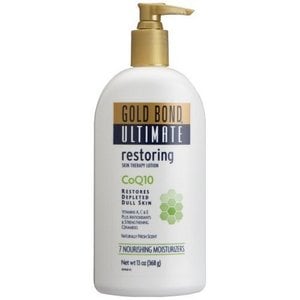 Gold Bond Ultimate Restoring Skin Therapy Lotion $12.76
This highly rated anti-aging body lotion combines a powerful mix of ingredients in order to target multiple signs of aging.  Key ingredients in the formula include Vitamin A (Retinyl Palmitate) to help with cell regeneration, Vitamin E to nourish and Vitamin C to combat free radical damage.  Also be on the lookout for CoQ10 that helps with reparative efforts and Ceramides for its moisture boosting efforts.
---
Medix 5.5 Retinol Cream ($12.89)
Although on the more affordable side of things this moisture-rich lotion still manages to be effective. With a variety of skin beneficial ingredients including  Black Tea and Chamomile extracts to help repair the skin as well as Aloe Vera to soothe. The formula not only includes the hydrating Shea Butter but also the combination of Retinol with Ferulic Acid to maximize anti-aging benefits.
---
 Glycolix Elite 15% Body Lotion $30
Formulated with 15% Glycolic Acid along with the antioxidants vitamins A (Retinyl Palmitate), C, and E, this lotion moisturizes as it rejuvenates. Other key benefits of the formula include its lack of fragrance as well as of its lack of oil. Upon application, skin is left hydrated without feeling sticky or tacky.
---
Paula's Choice Retinol Skin-Smoothing Body Treatment $25.65
This light-weight lotion has a number of skin-beneficial ingredients to help hydrate and promote healthy collagen production.  Key ingredients include Retinol, Shea Butter in addition to antioxidants like Vitamins C and E which all aid in targeting signs of aging like crepey skin. Other benefits of the fragrance-free formula include diminishing age spots, lines, enhancing clarity as well as overall skin smoothness.
---
Replenix All-trans-Retinol Smoothing Body Lotion $75
By combining a super-dose of Retinol with plant extracts including Green Tea & Leontopodium Alpinum this powerful lotion targets aging concern like cellulite, crepey skin as well as the loss of firmness. Other notable ingredients in the formula include Ceramides as well as  Hyaluronic Acid to boost hydration levels.
To explore more about crepey skin treatment, make sure to explore our guide inclusive of preventative measures and an in-depth look at some things you can do to help reduce the appearance of it.
FINAL THOUGHTS
As supported by the reviews,  Crepe Erase does make for one excellent moisturizer but it will not actually cure crepey skin. One of the large takeaways is that there is that there actually is no one miracle cure when it comes to reversing the ravages done by the hands of time rather an effective anti-aging skincare regime takes a combination of skincare products and treatment.