Technological advancement in synthesizing ingredients has given us so many of our skincare wonders: antiaging ingredients like peptides, acne-controlling derivatives of vitamin A like Retin-A, and the skin-brightening synthetic vitamin C known as ascorbic acid, just to name a few. But there are some skincare items that have centuries of tradition behind them – and shea butter is one of them.
Shea butter has its roots in centuries of use as a cosmetic ingredient. It's highly concentrated in vitamins such as A, E, and F, and contains an unbelievable amount of fatty acids. It smooths, soothes, and conditions even the most dehydrated skin, which is why it's widely used in moisturizers, salves, and lotions.
But what's the difference between white shea butter vs yellow shea butter? Both versions of this incredible moisturizer share their origin in shea nuts. The difference lays in how they're processed.
WHITE VS YELLOW SHEA BUTTER: THE PROCESS
Shea butter is a fat that's derived from the nuts of the Shea tree, also known as the Karite tree. The small, brown, bean-shaped nuts grow on these trees that are native to West Africa and, even today, that's where the majority of the world's shea butter is harvested, processed, and produced.
To produce shea butter, the nuts are picked by hand, sorted, washed, and dried. After they've dried, the hard outer shell is removed, and they're cracked in order to scoop out the flesh inside. That flesh is then ground down and roasted, and it's through this process that shea butter gets its characteristic smoky odor.
After roasting, the pulp is boiled in water. The boiling process allows the butter to float to the top, where it's harvested and then ready to use. The butter can be used as-is after boiling, but some butter is further refined. And this is where white shea butter vs yellow shea butter become two different end products.
YELLOW SHEA BUTTER
Yellow shea butter doesn't receive any further processing than what's described above. This is why it's also known as unrefined or raw shea butter.
In terms of potential skin benefits, yellow shea butter is the better of the two choices. Because it's unrefined, it doesn't lose any of the vitamins, fatty acids, and nutritional content that make it such a great moisturizer. And because it hasn't been combined with any additives, it's free of thickeners, fillers, preservatives, and any other potentially harmful additives.
Keep in mind, though, that yellow shea butter is raw. That means it will still have its very potent odor as well as any impurities and inconsistencies. It's also more prone to melting in hot environments (including between your fingers) and becoming too firm at cooler temperatures.
WHITE SHEA BUTTER VS YELLOW SHEA BUTTER
Some shea butter is yellow because it's been combined with another ingredient: the Borututu tree. The Borututu tree has a yellow/orange core that's shredded and combined with shea butter in the production process. The shredded core is added into the boiling water and pulp of the shea nuts.
This tree is also native to West Africa and it's packed with even more healing benefits than shea butter. It helps manage skin conditions, heals inflammation, and is packed with antioxidants. Like shea butter, it's been a skincare ingredient for centuries. Actually, aside from topical applications, it's also taken as a tea.
The addition of Borututu causes the shea to turn a particularly bright yellow. If you use too much of it on fair skin, there's a potential for staining. Of course, the stain is temporary and can be avoided by using less of the potent moisturizer. But you might opt to combine this variety of yellow shea butter with another moisturizer to dampen its effects.
HOW TO PICK YOUR UNREFINED SHEA BUTTER?
Now that you know what yellow shea butter is, you might be wondering where you can get your hands on some. But sourcing this healing butter isn't as easy as ordering from your favorite online skincare brand. It's actually kind of difficult to find.
If you can manage to find unrefined shea, you'll want to know that it's of high quality. Because not all shea is processed the same, it doesn't always turn out well. So how do you make sure you're buying the best-unrefined shea? Just follow this checklist:
Make sure there's no mold or debris on the outside of the butter
Smell it to make sure that it has a potent, smoky, nutty smell
It should absorb into the skin easily, without feeling waxy or greasy
It should melt between your fingers as you handle it
The texture should be smooth and not grainy (grainy shea butter may have had fillers added to it, such as beeswax, vegetable oils, or petroleum jelly)
The best way to ensure you're getting high-quality shea butter is to find a seller with an excellent reputation and lots of satisfied customers. Head online to check reviews before you buy.
WHITE SHEA BUTTER
Many of the shea butters that you purchase from retail brands are white shea butters. This is refined shea butter. It's been filtered to remove impurities, improve consistency, and make it easier to add additional ingredients in the preparation of cosmetics.
Refined shea butter is typically treated and processed. This reduces that natural nutty scent and turns it white. It's still beneficial but it lost some of its natural healing properties after this process. It should be noted that white shea butter still contains vitamins and fatty acids.
WHITE SHEA VS YELLOW SHEA: WHICH IS BETTER?
If you're looking for shea butter to help you manage skin conditions such as dehydration and inflammation, then the unrefined version is the ideal choice. Although refined shea butter is much easier to use, and it's way easier to find. For the best of both worlds, make sure your shea butter (whether refined or unrefined) is from a reputable brand – one you know is using quality ingredients, from an sustainable source.
BEST SHEA BUTTER FOR DEEP HYDRATION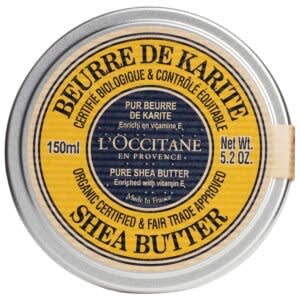 The only thing that makes us happier than an organic certified product is one that also comes with a Fair Trade label. L'Occitane produces shea butter enriched with Vitamin E in a fair trade agreement with a cooperative of women in Burkina Faso, West Africa. They produce some of the highest-quality shea butter on the market and it's so pure that it can be used to soften the skin on the elbows, lips, cuticles, feet, and even the hair.
---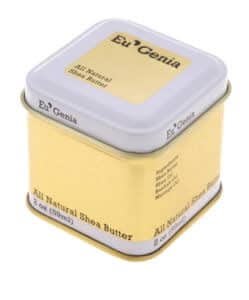 Eu' Genia Unscented Shea Butter Everyday Strength $12
Shea butter has extremely potent healing potential. If you're not cracking and flaking, then you likely only need a smaller dose of shea, which is exactly what you get with Eu'Genia's extremely popular Everyday Shea Butter Balm. It combines expertly picked and processed organic shea butter with, nourishing oils like moringa, and Baobab for all the benefits and healing of the former with all the ease of traditional body cream.
And, if you're looking for all the strength that shea butter has to offer, try this highly-rated Dermatological-strength Shea Butter ($20). It's 100% shea butter that can help heal even the likes of sporadic hands, cracked heels, and other serious complaints.