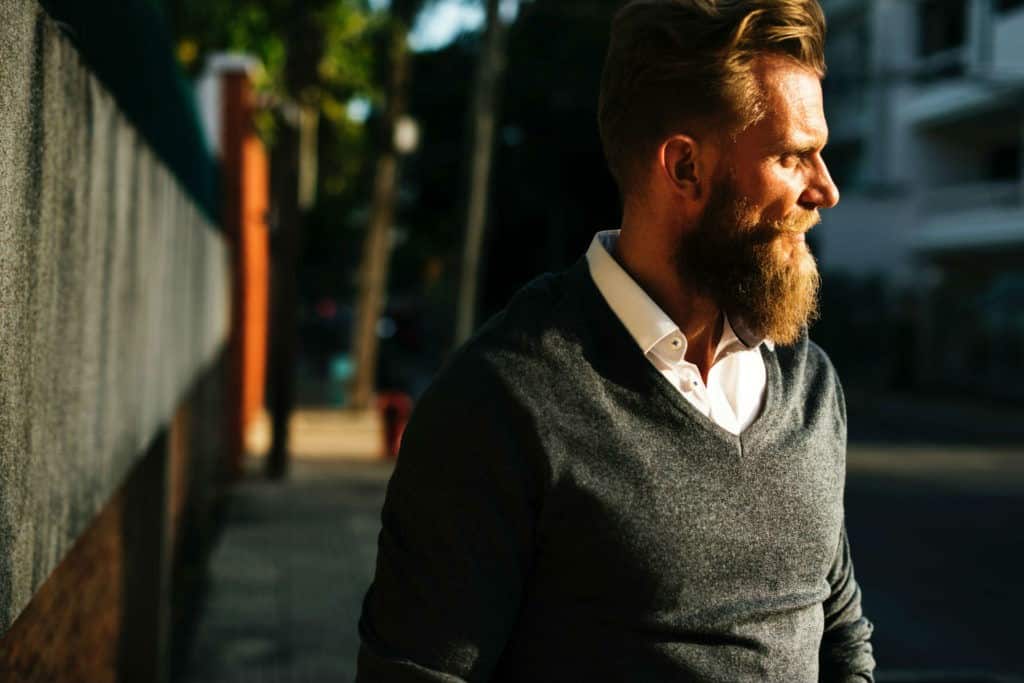 Nobody is perfect and the same can be said for beards. If all beards grew in comfortable, shiny and straight, then everybody would be growing one. Alas, growing a great mane takes a little more effort than that, especially for those with wavy or curly hair.  A beard straightener can definitely help you find relief from the woes of tightly-wound facial hair. Although truth be told there's more than one way to go for straightening your beard: some products help you instantly straighten your beard (like the flat iron your lady uses on her coiffe) and others focus on making your beard softer, which can lead to straighter and more manageable hair.
WHY ISN"T YOUR BEARD STRAIGHT AND SOFT ALREADY?
You may not realize but part of the reason your beards isn't already straight is because it isn't soft. Keeping your beard well-oiled, so to speak, is the key to getting those hairs to relax and straighten out. There are a number of reasons your beard has a rough texture and we'll delve into each of these individually for a better understanding:
IMPROPER CLEANING
We can't stress enough just how dirty your beard can get: it's in direct contact with the foods you eat, environmental dirt and pollutants, as well as your own grimy fingers that have keyboard, money, and bathroom buildup all over them. To state the obvious, your beard can't clean itself, so it's up to you to ensure it's regularly washed of all the various items that can get locked in it. If not, you risk a rough beard – a dirty beard is an unhealthy beard and an unhealthy beard means a coarse one.
CLIMATE
If you're unlucky enough to live in a cold climate, or a place that gets winter every year, your beard is exposed to the elements – the kind of elements that dry out your skin and your beard which are rarely protected from their wrath. A dry mane feels rough to the touch and that's especially true when you start developing split ends and other damage.
DEHYDRATION
You might think that dryness from the cold and dehydration are the same thing. Well, they aren't. Dehydration is an internal problem that's caused by not taking in enough water on a daily basis. It occurs when your body loses more water then what you gain and it leads to dull, wiry beards.
HARD WATER
Water that's high in minerals is called hard water and it can have a destructive effect on the quality of your beard as well as your skin. It makes it difficult to properly clean your beard, especially if you're using product. Even cleaning agents like shampoo and conditioner don't work as well in hard water. Besides installing a water filter, there's not too much you can do about this one.
TRIMMING
If you're not already regularly trimming your beard, get on it. A good quality trim every three weeks using the right scissors/trimmer is key to maintaining the quality of your beard. An unclean or unsharpened trimmer may also be causing damage, like breakage.
If you have a naturally curly beard, you probably experience roughness even without the effects of the above. For more on how to take care of your curly beard, check out our in-depth guide.
HOW DO YOU SOFTEN A ROUGH BEARD NATURALLY?
There are some really basic steps you can take to soften your beard:
SHAMPOO & CONDITION REGULARLY
Three times per week, give your facial hair a thorough shampoo and conditioning, making sure to massage your products in to improve circulation. If you're using product, especially if you're using a balm or butter that hardens in your beard, you have to get all of that residue out. Otherwise, you run the risk of having your beard dry out and become harsh.
DIET
Your diet has such a profound impact on the health of your entire body so it should come as no surprise that it has an effect on the hair on your face as well. Eggs, nuts, avocado and salmon are all rich in biotin which contributes to growth and the generation of new cells. For a shiner, healthier looking beard, you can try sweet potatoes, carrots and kale which are all rich in vitamin A. And, we can't say it enough, make sure you drink plenty of water (at least 2 L a day)!
PROTECT & HYDRATE
Short of packing up and hauling yourself cross-country, you can't escape hard water or the climate in which you live. But what you can do is keep your beard protected, hydrated and nourished. The sheer number of products out there intended specifically for maintaining a healthy beard means there isn't any excuse for not treating your beard and ensuring it's healthy.
COMB YOUR BEARD
Regularly combing through your beard with a boar bristle brush or another non-abrasive bristle brush will rid of tangles and knots and help you get product through your beard. It will also leave your hair shiny and soft.
WHAT PRODUCTS WILL HELP SOFTEN AND STRAIGHTEN YOUR BEARD?
Following the guidelines above is good practice for softening all beards, but it won't give you a completely straight beard (that's extra true for you curly-bearded gentlemen). If you're looking for pin straight results, you'll have to go the extra mile. We're ordered the below options into levels of time and difficulty.
BLOW DRYER
If you're beard is long enough to grab hold of, it's long enough for you to straighten with a blow dryer and comb or brush. Be careful when applying any amount of heat to your hair because it can do some damage if it's not properly safeguarded with a heat protector and plenty of moisture.
PRODUCT RECOMMENDATION
Conair Pro Hair Dryer $22
Although cost-effective Conair's pro 3 setting hair dryer is still extremely popular due to its efficiency.  Through the use of ions the device promises to bring more shine and less frizz while the ceramic technology promises to help minimize damage.
DIRECTIONS FOR BLOW DRYING YOUR BEARD
Towel-dry your beard after washing it.
Apply your preferred heat protection (i.e. beard oil, protectant spray, etc.).
With the hair dryer set to low, comb from the follicle along the length of your beard, following the comb with the hair dryer (but not too close!).
For extra hold and control, throw some beard balm or butter into your hands and apply that as a finishing touch.
FLAT IRON
Extra caution comes highly recommended when using a flat iron because it can seriously damage your hair (not to mention how close that scalding hot plate comes to your face). Always use a protective product and get a flat iron with different heat settings to control the amount of heat transferred to your beard. There are also smaller flat-irons, not exactly made for beard but they'll still do the trick in accommodating the length and thickness of your mane While it's not a permanent fix, straightening your curly, rough or wiry beard will last until the next time you shower. You should have a few inches of beard to work but blow drying a curly or wavy beard before straightening can give you that extra length.
PRODUCT RECOMMENDATION
HSI Professional Ceramic Tourmaline Ionic Flat Iron $48
HSI Flat iron is made from 100% ceramic plates in order to reduce the chances of heat damage like breakage making it the perfect choice for beards.  Adjustable heat settings all you to find the perfect temperature for your beard texture to get the right look.
DIRECTIONS FOR FLAT-IRONING YOUR BEARD
The first step when applying heat to your beard is always the same: apply your preferred heat protection (i.e. beard oil, protectant spray, etc.).
Start at the top of your beard at the strands closest to your cheek bone. Place 1-inch pieces of beard between the plates of the flat iron and work your way down to the end of the hair follicles.
Go over the same sections as many times as needed to make it straight.
Repeat steps 2 and 3 until you've run your entire beard through the straightener.
Never hold the straightener to any particular spot. You have to run it across the hair continuously or you risk burning your beard.
Don't forget to get the underside of your beard as well.
BEARD STRAIGHTENING CREAM
You have to be really serious about straightening your beard if you decide to take this route – we only recommend using a beard relaxer for the most severe cases of curly beard. With a beard straightening cream, you're applying a chemical to your hair that will take your curls out permanently.
As your beard continues to grow anew from the follicle, it will continue to grow curly because the beard relaxing cream only affects the hair it's actually applied to. So, depending on how quickly your beard grows, you may need to apply the beard relaxer to the new growth every few weeks.
Beard relaxing creams can be really harsh if you don't buy a good product or one that contains mild chemicals with natural ingredients and oils that will soothe your hair as it straightens. It's never a bad idea to seek the help and advice of professionals before taking this into your own hands.
PRODUCT RECOMMENDATIONS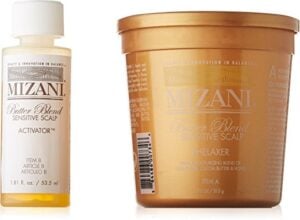 Mizani Sensitive Butter Blend Relaxer $8.50
Mizani Butter Blend Relaxer is made for sensitive skin, and therefore it is relatively safe (provided you follow the directions) for use on your beard. The formula includes Cocoa Butter, Shea Butter to nourish and is also lye free in a bid to minimize overdrying.
DIRECTIONS FOR RELAXING YOUR BEARD
Protect your hands with latex gloves and divide your beard into small sections. Avoid getting the cream on your skin.
Apply the beard straightening cream in segments, keeping about half an inch between the hair and skin.
Massage the relaxing cream throughout your beard with your fingertips. Do not massage against the skin – use a comb to get closer to your roots.
Rinse the cream out as per the directions of your particular product.
Dry your beard with a blow dryer and don't try to towel dry or you'll pull the relaxing agent from your hair.
Deactivate the beard relaxer with the neutralizer your product came with.
Now you can wash your beard with shampoo that comes with your product. Actually, wash it three times to make sure you're getting everything out.
After rinsing the final shampoo, apply the conditioning treatment and allow it to set for 30 minutes before rinsing.
Dry your beard and voila! You've got yourself a perma-straight beard.
FINAL THOUGHTS
We understand the trouble of a rough, curly beard and we sympathize. But there are lots of easy ways to change how straight your beard is – from easy solutions like trimming to more drastic measures like beard relaxer. Keeping your beard soft and straight not only makes it look longer and healthier but it also makes it easier to manage. Especially if you take the permanent route.