Who said men's body wash had to consist of a bar of soap and a washcloth? Today, the best men's body wash has a lot more going for it then your dad's soap on a rope. From essential oils and moisturizers to specially formulated goodies for your skin type, your shower experience can be luxurious, soothing, and relaxing.
But the best men's body wash is often one that's all-natural. All-natural means that the formula doesn't contain any of the harsh chemicals that are found in conventional products. Those ingredients will strip your skin of your natural (and essential) oils, cause irritation, and some are so toxic and harmful that they mess with your reproductive and immune systems.
We'll talk about all of that and more before taking a look at the best all-natural men's body wash available today.
THE BENEFITS OF USING All-NATURAL PRODUCTS
What's not to love about all-natural body wash? To put it simply, Mother Nature has thought of everything. From plants that contain natural moisturizing agents to antibacterial essential oils, there's a natural product for just about every man's skincare needs.
Although the benefits of all-natural products are well-known by now, many conventional skin and hair care products still contain chemicals that are harsh to your skin and your hair. These chemicals are usually fillers, preservatives, and fragrances that are inexpensive to add to the formula and increase the shelf life of the products. While they're cheap to sell and easy on your wallet, they're really tough on your body. Because not only can they cause skin conditions and reactions, but they can also be toxic and extremely harmful to your health.
If you've always used these products, there's a good chance you can't tell they're so harsh – not to mention what it's doing to the inside of your body. But once you switch to a natural product, you'll immediately feel the difference.
Not only are all-natural products less harmful to your health and your body, they're also less harmful to the environment. Think of it this way. When you rinse those chemicals off your body, they go down the drain, and a  portion of those chemicals enter the waterways.
Certain chemicals like triclosan impact the environment in some serious ways. They harm the natural balance in the ecosystems of the waterways and are fatal to fish and other critters.
In other words, all-natural products are a good choice not just for you, but for the planet.
NATURAL INGREDIENTS TO LOOK FOR IN MEN'S BODY WASH
There are tons of ingredients included in all-natural men's body wash that are great for your skin. Your product doesn't have to contain all of these ingredients, of course. Just pick the few that you like the best, and choose a product that features that ingredient.
The first of these ingredients is mint. Mint is an invigorating thing, and it almost leaves your skin tingling. Plus, it contains antibacterial properties which means men's natural body wash containing mint will help clear up body acne in a hurry.
Cucumber is a natural ingredient that is often found in men's body wash for sensitive skin. Cucumber has a cooling, calming effect and can also help soothe irritated skin after shaving.
Argan oil is another of the best ingredients to look for. Argan oil has awesome moisturizing properties, but it's not greasy. That means your skin will feel soft and smooth, and you'll be less prone to acne.
White tea is found in body wash for men so frequently because it has powerful antioxidant properties. Not only will it rid your skin of free radicals that cause cancer, but it also helps to replenish your skin's firmness.
Of course, these are just a few of the natural ingredients you'll want to look for in your body wash. There are plenty of options available, just remember: the best body wash for men is a natural body wash for men.
BEST All NATURAL BODY WASH PRODUCTS FOR MEN
Without further delay, here are the 10+ best all-natural body wash products for men. They're tried, tested and true, and guaranteed to leave you feeling like you've done something good for your body – and the planet.
Jack Black  Men's All Over Body Wash $21
An exceptional 3-in-1 that hits all the right notes, this extremely popular men's body wash is pH balanced enough to eliminate dirt and sweat while maintaining the natural oils that are essential to skin and hair health. They do that with a clever blend of jojoba protein, B5 provitamin, shea butter, and a coconut-derived surfactant that both cleanse and hydrate. All with a light, fresh scent that'll leave you feeling clean all day long.
Sometimes, what's not in the formula matters just as much as what is. Jack Black created this fan-favorite body wash targeted at men without parabens, harsh surfactants, artificial colorants, and cruelty. Instead, they pack the formula with the finest and highest quality ingredients they can source, and their popular all-over wash is no exception.
---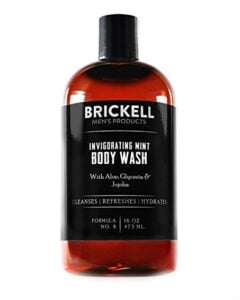 Brickell Men's Invigorating Mint Body Wash for Men $30
We mentioned earlier that mint is invigorating. We promise we didn't steal that from the name of this product. It's just a fact.
Men who have used Brickell Men's Invigorating Mint Body Wash for Men love three things about it. The first is the scent. Men say the scent isn't overpowering, but that it's just enough to wake you up in the morning.
The second thing they love about this men's body wash is that it's great for all skin types. Men with skin ranging from Sahara dry to Exxon oily have had great success balancing their skin with this body wash.
Finally, they love the lather. Men say the price point is higher on this product than some other body washes, but the bottle lasts for months.
Of course, we love this body wash because it's all-natural and contains antibacterial, natural compounds that leave your skin blemish-free. Rosehip, chamomile, and tea tree oil only serve to enhance that effect.
---
Graydon All Over Soap $20
The skin on your face is some of the most delicate, and that requires the most delicate of ingredients. That means, for a product to be a successful 3-in-1 face, body, and hair wash, it must be cleansing enough to clean your hair but gentle enough to be used above your neck.
Graydon's All Over Soap draws on a powerful combination of all-natural essential oils and plant based cleansing agents to achieve this degree of harmony between three, typically separate skin care products. On the cleansing side, you'll find apple cider vinegar, bamboo, and willow bark, while essential oils like Spanish lavender, Indian nutmeg, and Hungarian juniper, deliver nourishment and a fresh, earthy aroma.
---

Dr. Alkaitis's Organic Body Wash $52
Formulated with medicinal herbs and essential oils, Dr. Alkaitis's organic body wash is a powerful yet gentle cleanser that's suitable for all skin types, including sensitive and blemish-prone. Applied with a sponge to bring out its foamy, rich lather, it helps remove old skin cells, leaving the skin soft to the touch.
Handmade in California, the ingredients in this body wash are so fresh they're considered living ingredients. Everything that goes into this formula is plant-based, raw, and vegan, including Dr. Alkaitis Castile Cleaning Base, blended herbs like lemon balsam and Mexican marigold, as well as vitamin C and E complexes.
---
Rahua Organic Shower Gel $30
There are a few standout components of Rahua Shower Gel. For us, the first among those is the scent. It's hard to strike a balance between the fruity, flowery scents of women's body wash and the earthy, musky fragrances that are made to suit a man's palette. But Rahua has managed it with a blend of lavender, eucalyptus, vanilla, and Palo Santo – and all of those scents also come with their own aromatherapeutic benefits.
More than just a pretty smell, though, this body wash is infused with enriching oils Rahua and Sacha Inchi, that make every wash feel luxurious. Taking that luxury into the world of skin healing are the additions of omega-3 and 9 fatty acids and the anti-aging polyphenols found in vanilla. All that to say that this shower gel finds the perfect balance not only in fragrance but also in experience and benefits.
---
One Love Organics Easy Does It Foaming Cleanser $25
We're really digging the 3-in-1's, so here's one more by One Love. It's extremely popular for a good reason: just a little bit of this thorough cleanser goes a long way, regardless of whether you're using it on your face, hair, or body.
It's primary cleansing ingredients include Chilean soap bark, vegetable glycerine, and cold-pressed apple oil. These plant-based cleansers wipe away dirt and bacteria with ease, and they do so without disturbing the natural balance of your skin's surface.
---
Basd Body Care Refreshing Citrus Grapefruit Body Wash $15
When you're using grapefruit as your main ingredient, you're covering a lot of bases. There's no need to add skin-protecting vitamins and minerals like B vitamins, zinc, copper, and iron, because grapefruit packs them all in high doses. With the additions of organic aloe vera, green tea, and coconut, you've got a body wash that also moisturizes, soothes, and heals skin (and the citrus essential oils don't hurt when you need more than your shower to wake up).
---
Goop G.Tox Glacial Marine Glay Body Cleanser $30
There's nothing goop makes that we don't love because their entire ethos is centered around creating the perfect combination of luxury and clean skincare. The Glacial Marine Clay Body Cleanser is just one fabulous member of their G. Tox line and this one features, you guessed it, hand-harvested glacial marine clay. That clay delivers essential minerals in a creamy package and its detoxifying properties are boosted by organic safflower oil, cold-pressed moringa oil, and a holistic blend of essential oils.
The three main ingredients of the G.Day Ginger + Ashwagandha Energy Body Wash ($32)  are ginger, green tea, and ashwagandha. You probably know what the first two are but what the heck is ashwagandha, you ask? It's an ancient medicinal herb that has skin benefits galore and we're so happy that goop found it! Ashwagandha not only helps balance your oil production (which is great for acne-prone skin), it also helps your skin produce compounds like hydrating hyaluron, firming elastin, and strengthening collagen.
---
Phlur Anoranza Body Wash $18
The Anoranza scent is reminiscent of Havana, it contains top notes of mint, middle notes of jasmine and mariposa, and bottom notes of rum, tobacco, bourbon vetiver, and coffee. What makes each of PHLUR's plant-derived body washes unique is their scent profile. Indeed, their scents are award-winning and it's what defines their brand (you can even search products by scent family on their website, how cool!).
---
Abhati Suisse Periya Body Cleanser $36
Last but definitely not least is Abhati Suisse's Periya vegan and natural Body Cleanser.  The cruelty-free body wash is mild enough for all skin-types and is made from multiple skin-beneficial plant extracts.  Key ingredients in the nourishing formula include a blend of Aryuvedic herbs such as the powerful antioxident Indian Gooseberry known for its soothing abilities, Edelwess known to help protext an restore the skin's barrier as well as Neem a plant extract that helps fight bacteria.
FINAL THOUGHTS
Men, you can do so much better than a bar of soap and a washcloth in the shower. Instead of settling for those chemical-laden body washes and bar soaps, try one of these all-natural body washes for men.
A little bit of nature goes a long way in refreshing your skin, cleansing your body, and curing acne and other skin conditions. Choose the soap that works with your skin type, and lather up!