The best offense is a good defense… and that saying doesn't just ring true for bae's favorite NFL team. It also has meaning for all you skin goddesses (and gods) in your 20s.
If you're already looking at how to take care of your skin, and following through on the recommendations, you're ahead of your time. And you're right in thinking that taking care of your skin now will help prevent all the dreaded skin issues of the future: fine lines, wrinkles, discoloration, loss of firmness, and uneven skin tone and texture.
But at this stage of your adult life, a little goes a long way. You should keep your skincare routine simple and gentle. That means, don't over exfoliate or use strong retinols – these things will do more harm than good right now. Instead, focus on preventing the visible signs of aging with a great moisturizing agent and protecting against free radicals, pollution, and the damaging effects of the sun. And if you're breakout prone, you'll probably want to consider that as well.
Sounds like a lot to keep in mind, right? Then have a scroll through our list of the best night creams for 20s. You're sure to find something that hits all the right notes for your unique skin.
BEST NIGHT CREAMS FOR THE 20S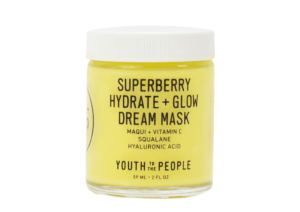 Youth To The People Superberry Hydrate + Glow Dream Mask $48
When your dry skin is so dry that it instantly absorbs any serum you put on it, you need something with staying power. The longer ingredients are in contact with your skin, the more beneficial they become – and that's where the idea of a night mask comes in. This moisturizing mask delivers ultra-hydration with squalene, which mimics your skin's natural oils without clogging your pores. But it also helps with long-term issues through the protective benefits of antioxidant-rich super berries as well as vitamin C.
---
Drunk Elephant TLC Framboos Glycolic Night Serum ($90)

We know we said no exfoliating but what we meant was: no physical exfoliation. If you need to take care of breakout-prone skin, a chemical exfoliant is your best bet. And when it comes to the best night creams for 20s with chemical exfoliants, this Drunk Elephant night serum has a concentration of 12% AHA/BHA for the lightest but most effective clearing of built-up dead skin cells as well as dirt and oil. Use this at night for a clearer face in the morning – and one that's more susceptible to absorbing all the love you give it with your morning skincare routine.
---
SkinMedica Retinol Complex 025 $62
Yes, we did say no retinols as well… but this SkinMedica Retinol Complex is in such a low concentration that you'll reap all the benefits of a retinoid with none of the potential consequences. What benefits, you ask? It staves away all the most invasive signs of aging and enhances radiance, tone, texture, and resilience. And for those of who want something a little more advanced retinol, try the  0.5% formula for an even more gentle introduction.
---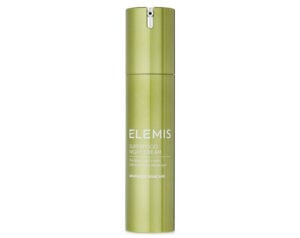 ELEMIS Superfood Night Cream $51.75
If dryness or dehydrated skin is your number one concern, you should opt for a night cream that specializes in hydrating. It doesn't get any more special than a night cream that's rich in omega fatty acids and formulated with items like barley, quinoa, and sweet almond milk. No longer just good for your diet, these superfoods create a natural eco-system on the skin's surface – one that protects its lipid barrier and locks in moisture. Plus, it's scented with a relaxing blend of lavender, Ylang Ylang, and Vetiver, for a better nights' sleep… and we all could use a better nights' sleep.
---
Farmacy Beauty Honeymoon Glow $58
Using a higher concentration of AHA/BHA – like this 14% formula – means you get even more skin clarifying and acne-fighting properties. But it also means you're more susceptible to sensitization. Which is why Farmacy Beauty packs their night cream with a proprietary blend of hyaluronic acid and honey. So while the BHA/AHA/willow bark blend targets hyperpigmentation, prevents fine lines, and clears away blemishes, the other important ingredients deliver intense hydration and ensure that your skin is never over-stripped.
---
Philosophy Help Me Advanced Retinol Age-fighting Night Treatment $35
All you need is pea-sized amount of this award-winning retinol treatment thanks to its time-release delivery system that bypasses any need to get used to the product. Instead, retinol is gently and slowly released throughout the evening, so you can fight large pores, fine lines, and discoloration with your eyes closed (literally).
---
Kypris Moonlight Catalyst $98
Even in our 20s, we sometimes need a little help looking refreshed… i.e. Monday mornings, right? When you need to brighten your complexion and renew the appearance of dull, tired skin, you need the hydrating power of sea algae extracts combined with the refining potential of pumpkin enzymes. And to avoid that restless look in the future, KYPRIS has added neroli oil, which promotes a sense of peace that will help you get to bed on time every time you use it.
---
REN Bio Retinoid AntiAging Cream $69
This retinoid cream is so gentle you can use it twice a day for maximum benefits. Those benefits include hindering the development of fine lines and wrinkles through increased collagen production, repairing and replacing damaged cells, as well as protection against free radicals (which are cumulative and cause a host of problems later in life). And if you're absolutely not down with starting a retinol routine just yet, try a product formulated with bakuchiol. It offers all the same benefits without any side effects.
If you're not sold on these options find out more about organic formulas in our piece on natural night creams.
Closer to 30?  Check out our rundown on the best night creams for your 30s.
FINAL THOUGHTS
Your 20s are a time of exploration, of figuring yourself out, of living life and being carefree. But the one thing you shouldn't be carefree with is your skin. While you don't need an intense skincare regiment that does more harm than good, you should be thinking about preventative measures that will lighten the load in the future- and starting with one of the best night creams for 20s is a step in the right direction.