The best offense is a good defense… and that saying doesn't just ring true for bae's favorite NFL team. It also has meaning for all you skin goddesses (and gods) in your 20s.
If you're already looking at how to take care of your skin, and following through on the recommendations, you're ahead of your time. And you're right in thinking that taking care of your skin now will help prevent all the dreaded skin issues of the future: fine lines, wrinkles, discoloration, loss of firmness, and uneven skin tone and texture.
If you're in your early to mid-twenties, a little goes a long way. You should keep your skincare routine simple and gentle. That means, don't over-exfoliate or overuse Retinols – these things will do more harm than good right now. Instead, focus on preventing the visible signs of aging with a great moisturizing agent and protecting against free radicals, pollution, and the damaging effects of the sun. And if you're breakout-prone, you'll probably want to consider that as well.
Sounds like a lot to keep in mind, right? Then have a scroll through our list of the best night creams for 20s. You're sure to find something that hits all the right notes for your unique skin.
WHAT TO LOOK FOR IN THE BEST NIGHT CREAMS FOR THE 20S
What you're looking for in your night cream depends on two things: your skin type and what you're trying to prevent or control.
Those with normal or combination skin are in luck, most night creams are formulated that compliments these skin types. While those with oily, blemish-prone, sensitive, or damaged skin will need to look for creams that serve these types.
Oily and blemish-prone skin should opt for an oil-free cream, so as not to add more fuel to the fire of regular breakouts. Those with sensitive or damaged skin should opt for more natural or organic formulations, as these tend to swap harsh and irritating ingredients for those that nourish your skin. Damaged skin should also pay particular attention to the chemicals in a formula, as they can work to exacerbate problems rather than make them better.
Now in terms of what you're trying to control, there's an ingredient for every skin issue out there. If breakouts and acne are your issues, look for a night cream with AHAs, BHAs, salicylic acid, and tea tree oil. In fact, we have a specific article that focuses on the best night creams and moisturizers for acne-prone skin if this is your concern.
Those with dry skin will want to look for deeply-rich and nourishing items like but and fruit butters, hyaluronic acid, and squalene. If dull or discolored skin is your particular battle, opt for a formula that includes vitamin C and other brightening ingredients.
Finally, if you're looking to target early-onset fine lines and wrinkles, skin texture issues, or discoloration focus on night creams that include AHAs and Retinol.
BEST NIGHT CREAMS FOR THE 20S
We know… it's overwhelming. But don't fret. Choose from one of these 16+ best night creams for 20s below. We tried to include why we like them and what stands out in each of our selections.
Juice Beauty Semi-Cellular Anti-Wrinkle Overnight Cream $67
If preventing the early signs of aging (like the loss of hydration and fighting environmental damage) is your number one concern, and you're looking for something more natural, it's not too early to start using this age-defying night cream which includes a multitude of certified organic ingredients. Juice Beauty's night cream is the one we would highly suggest, as it harnesses the power of plant-based ingredients to stave off the visible signs of aging. Those powerful plants include evening primrose and sacred lily for refining the skin's surface, vitamin C and fruit stem cells to brighten, and organic shea butter and plant-derived hyaluronic acid for intense hydration. Start using this now, and you'll maintain a youthful complexion for years to come.  Alternatively, if you're looking for something a little more intense and are concerned with fine lines and wrinkles, consider pairing the formula with Juice Beauty's Overnight Retinol Serum ($72).
---
Youth To The People Superberry Hydrate + Glow Dream Mask $48
When your dry skin is so dry that it instantly absorbs any serum you put on it, you need something with staying power. The longer ingredients are in contact with your skin, the more beneficial they become – and that's where the idea of a night mask comes in. This moisturizing mask delivers ultra-hydration with squalene, which mimics your skin's natural oils without clogging your pores. But it also helps with long-term issues through the protective benefits of antioxidant-rich super berries as well as vitamin C.
---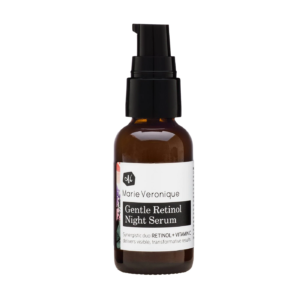 Marie Veronique Gentle Retinol Night Serum $110
We list other night creams with retinol, but this particular best-selling retinol night serum is a little different. It's made extra gentle (perfect for those just starting out on their skincare journey). As we've already mentioned, retinol can cause the skin to sensitize. But this serum delivers all the same results of a Retin-A product, such as increased cell turnover and collagen production, without any of irritation. Marie Veronique has also added the skin brightening and antioxidant benefits of vitamin C to the formula, for an additional bonus.
---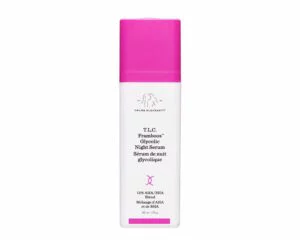 Drunk Elephant TLC Framboos Glycolic Night Serum ($90)

We know we said no exfoliating but what we meant was: no physical exfoliation. If you need to take care of breakout-prone skin, a chemical exfoliant is your best bet. And when it comes to the best night creams for 20s with chemical exfoliants, this Drunk Elephant night serum has a concentration of 12% AHA/BHA for the lightest but most effective clearing of built-up dead skin cells as well as dirt and oil. Use this at night for a clearer face in the morning – and one that's more susceptible to absorbing all the love you give it with your morning skincare routine.
---
100% Pure Multi-Vitamin + Antioxidant Ultra Riche PM Treatment $64
Formulated for normal, dry, and combination skin types, this night cream is a multi-vitamin powerhouse for correcting already damaged skin and preventing future damage. How does it do both of these things? With brightening vitamin C that also contains powerful antioxidants and a reparative vitamin A restores skin texture. It's imperative to use sunscreen during the day if you're applying this ultra-rich night cream as Vitamin A may make your skin more sensitive to the sun.
Another formulation for normal, combination, and dry skin types, this 100% Pure Over Night Retinol Balm ($68) is different in that it contains vegan retinol. There's really no better ingredient for combatting and preventing the visible signs of aging than retinol. It tackles everything from fine lines and wrinkles to dullness, uneven skin texture and even breakouts. So, basically, it's your one stop skincare shop. And, because retinol can cause skin sensitivity, 100% Pure has added various plant oil and avocado butter for soothing and cooling.
---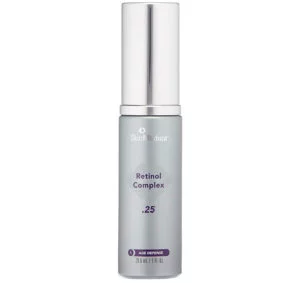 SkinMedica Retinol Complex 025 $62
Yes, we did say no retinols as well… but this SkinMedica Retinol Complex is in such a low concentration that you'll reap all the benefits of a retinoid with none of the potential consequences. What benefits, you ask? It staves away all the most invasive signs of aging and enhances radiance, tone, texture, and resilience. And for those of who want something a little more advanced retinol, try the  0.5% formula for an even more gentle introduction.
---
ELEMIS Superfood Night Cream $51.75
If dryness or dehydrated skin is your number one concern, you should opt for a night cream that specializes in hydrating. It doesn't get any more special than a night cream that's rich in omega fatty acids and formulated with items like barley, quinoa, and sweet almond milk. No longer just good for your diet, these superfoods create a natural eco-system on the skin's surface – one that protects its lipid barrier and locks in moisture. Plus, it's scented with a relaxing blend of lavender, Ylang Ylang, and Vetiver, for a better nights' sleep… and we all could use a better nights' sleep.
---
Farmacy Beauty Honeymoon Glow $58
Using a higher concentration of AHA/BHA – like this 14% formula – means you get even more skin clarifying and acne-fighting properties. But it also means you're more susceptible to sensitization, which is why Farmacy Beauty packs its night cream with a proprietary blend of hyaluronic acid and honey. So while the BHA/AHA/willow bark blend deals with skin issues, the other essential ingredients deliver intense hydration and ensure that your skin is never over-stripped.
We briefly mentioned that these ingredients are great for breakout-prone skin, but let's get into more detail, shall we? AHA (alpha hydroxy acid) and BHA (beta hydroxy acid) are incredible natural exfoliants. That is, they remove dead skin cells from the skin's surface as well as those clogging pores – this quality supports breakout-prone skin. But wait, there's more. The AHAs and BHAs in this formula are derived from lactic, glycolic, and citric fruit acids and they're also capable of promoting cell renewal, targeting hyperpigmentation, and reducing the appearance of fine lines and wrinkles.
---
Philosophy Ultimate Miracle Worker Night $82
It's no secret that many of us are simply… exhausted. Many of us are lucky to be blessed with work obligations, friends, family, love, and chores (let's not get started on our insecurities).  And it shows, especially on our skin. If you've got tired-looking skin, try a night cream that will wake your skin up as you sleep. They call it a 2-in-1 because it combines the concentrated power of a serum with the nourishment offered by a cream. It's formulated with AHAs and retinol, which help create brighter, more refined and radiant skin (and those are clinically proven!).
---
Kypris Moonlight Catalyst $98
Even in our 20s, we sometimes need a little help looking refreshed… i.e. Monday mornings, right? When you need to brighten your complexion and renew the appearance of dull, tired skin, you need the hydrating power of sea algae extracts combined with the refining potential of pumpkin enzymes. And to avoid that restless look in the future, KYPRIS has added neroli oil, which promotes a sense of peace that will help you get to bed on time every time you use it.
---
REN Bio Retinoid AntiAging Cream $69
This retinoid cream is so gentle you can use it twice a day for maximum benefits. Those benefits include hindering the development of fine lines and wrinkles through increased collagen production, repairing and replacing damaged cells, as well as protection against free radicals (which are cumulative and cause a host of problems later in life). And if you're absolutely not down with starting a retinol routine just yet, try a product formulated with bakuchiol. It offers all the same benefits without any side effects.
---
La Roche Posay Toleriane Ultra Night Cream $29
La Roche Posay is the definition of a minimalist formula. They leave out anything that's not absolutely needed, and that includes harmful items like parabens, preservatives, fragrances, as well as comedogenic and irritating ingredients. In their place, they've added a host of skin beneficial ingredients including: nourishing shea butter and protective antioxidants. Tested on allergy-prone skin and oil-free, this soothing gel is safe for all skin types, including ultra-sensitive, and it works to support and strengthen your own protective moisture barrier in the long run.
---
Dr. Alkaites Organic Night Cream $72
You really should just go have a look at the ingredients list of this night cream and see for yourself how amazing it really is. There's not really a single ingredient we don't adore. From Dr. Alkaitis' proprietary organic Herbal Skin Repair Complex that includes rose blossoms, wild carrots, and roman chamomile flowers to vitamins C and E and a generous helping of moisturizing and nourishing butters and oils, this is what skin care is all about. You can expect all-day hydration, smaller pores, and diminished fine lines with regular use.
---
Grown Alchemist Regenerating Night Cream $125
Another great example of everything skincare should be, this advanced formula contains peptides (buzz word), antioxidants, vitamins, hyaluronic acid, and omega fatty acids. If anything can alchemize your skin, it's this. It protects, supports, soothes, and strengthens, all at the same time. And it's suitable for literally every skin type, including dry, mature, sensitive, blemish-prone, normal, and combination. How's that for an amazing all-around product?
---
Ursa Major Golden Hour Recovery Cream $52
Dry skin isn't just dry and flakey. It can actually be uncomfortable, causing irritation and redness. It can also lead to premature aging, as dry skin gets dull and loses elasticity faster than hydrated skin. So, if dry skin is your number one skincare concern, then try the best-selling Ursa Major Golden Hour Recovery Cream. With essential fatty acids including omega 3, 6, 7, and 9, vitamins A, C and E, carotenoids, phytosterols, and antioxidants, it's ultra-hydrating and even helps strengthen your skins ability to hold moisture.
---
Trilogy Replenishing NIght Cream $50
Glycablend is Trilogy's potent seed oil complex. It's intended to support your skin's structure for more supple-looking skin (and it works!). Further buttressed by ultra-hydrating hyaluronic acid and essential fatty acid-rich marula and olive oils, this replenishing night cream is everything your skin needs. Plus, Trilogy holds a NATRUE Natural Cosmetic certification, so you know it's clean beauty approved, and they don't test on animals or use GMO's, either.
If you're not sold on these options, find out more about organic formulas (some repeats we warn you) in our piece on natural night creams.
Closer to 30?  Check out our rundown on the best night creams for your 30s.
FINAL THOUGHTS
Your 20s are a time of exploration, of figuring yourself out, of living life and being carefree. But the one thing you shouldn't be carefree with is your skin. While you don't need an intense skincare regimen that does more harm than good, you should be thinking about preventative measures that will lighten the load in the future – and starting with one of the best night creams for 20s is a step in the right direction.