Turning 30 is often a hard milestone, for many of us it's frightening. There's the pressure of having to have your life together, but beyond that, it means you are probably thinking more about taking care of yourself.
Your body, and especially your skin, simply doesn't bounce back the way it once did. Not to mention all the issues that your mom once complained about start slowly popping up.
So what can be done to combat the scary number that is the big 3-0? You can start using a night cream. Even better, you can use a night cream for the 30s, one specifically formulated for your changing skin.
BEST NIGHT CREAMS FOR 30s
Below we've listed some of the best night creams for 30s. Because once you hit this age, there's some specific things you're going to want to look for.
Murad Retinol Youth Renewel Night Cream $71
For balanced, oily, dry, and combination skin types, this extremely popular, Retinol Youth Renewal Night Cream harnesses the transformative power of, you guessed it, retinol! Retinol Tri-Active Technology, which is only available in Murad products, is a fast-acting and time-released retinol that prevents and combats fine lines and wrinkles. An extremely potent technology, it's perfectly balanced out with the hydrating and skin-barrier-strengthening properties of niacinamide and picolinamide.
---
100% Pure Multi-Vitamin + Antioxidant Ultra Riche PM Treatment $64
A multi-vitamin… for your face. We love the concept. And 100% Pure nailed it. They've packed their reparative, ultra-rich night cream with vitamins A, C, E, and K. Vitamin A reduces fine lines and wrinkles, vitamin C brightens and boosts collagen production, vitamin E restores damaged skin and protects from free radical damage, while vitamin K heals and minimizes scarring. They've also added in a healthy dose of niacinamide, which not only tones and firms the skin, it also strengthens your moisture barrier so your skin can start to care for itself again. 
A little dab will do with this intensive restorative overnight retinol balm ($68). Although jam packed with soothing, nourishing, and cooling ingredients like avocado butter, it also contains some powerhouses intended to firm, tone, and restore elasticity to aging skin. Those powerhouses include jasmine essential oils that target dark spots, vitamin E that heals skin and protects against free radical damage, brightening vitamin C, and the star ingredient, vegan retinol. It's this final addition that promotes better skin texture and tone, fades fine lines and wrinkles, and provides all-around anti-aging protection.
---
Replenix Anti-aging Age Restore Nighttime Therapy $64
This scientifically crafted formula has three anti-aging ingredients that really make it stand out: bio-mimicking ceramides, an advanced peptide complex, and proprietary green tea polyphenol technology. Bio-mimicking ceramides are a medical-grade ingredient that provide the optimal nourishment to the skin barrier, to both strengthen it and improve elasticity and texture. The advanced peptide complex is also medical grade and it helps plump skin, reducing the appearance of fine lines and wrinkles. Finally, the green tea technology is an advanced antioxidant that protects the skin from free radical damage. Together, they create this clinically-proven, anti-aging night cream.
---
Ayuna Cream II $210
This night cream does something the likes of which we've never seen before. That is, it adapts to the circadian rhythms of your particular skin! At night, while you rest, it enhances the skin's natural repair and restore functions. During the day, it makes the perfect makeup primer or protective, moisturizing barrier. That degree of multitasking means it's not just a night cream. With a formula that contains smoothing phyto-peptides, botanical actives, and skin-supporting green carrot, Arabian cotton, and pomegranate, it's an all-day, all-night cream that serves almost all skin types. 
With the same all-day, all-night properties of Cream II, the benefit of Ayuna's Cream Light ($210) t is that it's… well… lighter. Not all skin types need a rich and luxurious moisturizer, and in fact, some may suffer under the weight of these heavy creams. If that's your situation, try this cream alternative. It packs many of the same ingredients in a lighter package and it's best for sensitive and oily skin types 
---
Grown Alchemist Regenerating Night Cream $125
Grown Alchemist takes a holistic and scientific approach to skin. They believe in the connection between nutrition, dermatology, pharmacology, and genetics and how this connection can be used to bio-optimize their formulas. They've combined a potent blend of antioxidants, vitamins, peptides (buzz word), essential omega fatty acids, and hyaluronic acid in this particular formula. The end product is a regenerative night cream capable of creating softer, smoother, hydrated skin. 
---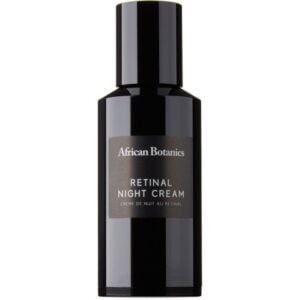 African Botanics Retinal Night Cream $200
Suitable for mature, normal, oily, acne-prone, dry, and dull skin types, the luxurious African Botanics Retinal Night Cream uses regenerative actives to repair skin and provide protection and prevention from future skin care issues. It's another retinol-based cream but, hey, we're talking about night creams for the 30s, which is when you have to start worrying about the visible signs of aging, for which retinol really is the best. The retinal used in this cream is retinaldehyde, a bio-active form of vitamin A that's less irritating than other retinols but still provides the collagen and elastin boosting, fine line and wrinkle plumping, skin cell turnover properties. 
Additionally, this transformative formula includes effective ingredients like lactic acid white willow bark, lactic acid, azelaic acid, and fulvid acid to combat pigmentation, and large pores.  If you're looking for a night cream using the highest grade ingredients that target multiple signs of aging including fine lines and wrinkles, breakouts, uneven texture, and even hyperpigmentation African Botical's Retinal Night Cream might be the choice.
---
Ursa Major Golden Hour Recovery Cream $52
Intensely hydrating and nourishing, this cream is great for anybody who's had prolonged exposure to the elements. That's why they call it a recovery cream, right? It helps the skin recover with vitamin A, C and E, carotenoids, phytosterols, and essential fatty acids including omega 3, 6, 7 and 9. With the addition of antioxidants, it also provides future protection from exposure to environmental stressors and pollutants. It's fast-absorbing, lightweight and suitable for dry, mature, sensitive, and blemish-prone skin.
---
Skinceuticals Retinol 1 Maximum Strength Refining Night Cream ($76)
If you have a skin concern, this night cream has your solution. It targets enlarged pores and acne, skin damage from the sun and free radicals, and also skin tone concerns up to and including hyperpigmentation. A night cream for 30s suitable for all skin types that has all the right stuff – retinol, ceramides, AHAs, and antioxidants – but leaves out all the parabens, fragrances and other questionable ingredients.
---
Jan Marini Skin Research Age Intervention Retinol Plus $77.20
Formulated to combat all the most common visible signs of aging, this award-winning cream can be used both day and night. Retinol targets fine lines and wrinkles as well as skin cell exfoliation while peptides boost collagen production to make your facial skin tighter and smoother. But also included in this night cream is a combination of powerful antioxidants that ensure your skin stays hydrated while the other ingredients work their magic.
---
Skin Medica Retinol Complex 1.0 ($93)
Retinol is the key cell-communicating ingredient in this night cream for 30s. It'll enhance skin tone and texture, diminish any fine lines that have already developed and fight those that are on their way. But by combining the anti-aging power of retinol with tripeptides and ingredients such as niacinamide and ceramides, your skin will also become more resilient to damage and issues of elasticity.
---
Neova SmartSkincare Night Therapy $85
If your complexion is looking both dull and dehydrated, this overnight treatment can help you. In a few hours of sleep, it not only restores moisture, but it also contains ingredients like copper peptide as well as tripeptides that help your skin retain water throughout the day – so that dewy glow you wake up with stays with you. And not only is it UV resistant to protect you from the sun, it also works to fight the signs of photoaging with antioxidants such as camellia oleifera extract and grape seed extract.
---
Drunk Elephant Lala Retro Whipped Cream $60
Using 6 exotic African oils that you won't find elsewhere; this non-irritating cream delivers superior hydration throughout the day and night. It not only brightens your skin with fermented green tea and other antioxidants, it also firms skin that's lost elasticity with the unique addition of plantain extract.
---
Juice Beauty Semi-Cellular Anti-Wrinkle Overnight Cream $67
The base of this Anti-Wrinkle Overnight cream is an organic botanical juice blend of aloe, jojoba, grape seed, shea, and citrus juices. And that's just the base! From there, Juice Beauty's chemists have added powerful age defying ingredients like organic, resveratrol-containing champagne grape seed oil, antioxidant-rich sacred lily flower, and olive-derived squalene to support skin's moisture balance. The intended result is smoother skin, less fine lines, and a replenished and restored complexion.
If you know skincare, then you know retinol. But do you know bio-retinol yet? Well lets introduce you to Juice Beauty Stem Cellular Anti-Wrinkle Retinol Overnight Serum ($72) It has all the same benefits of retinol but with none of the potential side effects. Which makes it a great ingredient for a 30-something trying to get the early signs of aging under control and prevent future signs from breaking through. And although there's no worries about the potential irritation that comes with the original retinol, this 2.5% bio-retinol is backed by the skin soothing and hydrating properties of jojoba, coconut, shea, and vitamin B5.
---
Maya Chia The Straight-A Advanced Retinol $125
Last but not least is the clean beauty best-seller Maya Chia The Straight-A. Although its another retinol product let's have a look at the other awesome ingredients in The Straight-A.  Besides encapsulated Retinol they've added a high-quality form of vitamin C to brighten skin and reduce hyperpigmentation, vitamin E to repair and provide protection, bakuchiol to fight breakouts and moth bean extract to promote plumpness. The Straight-A also contains a complex intended to improve Sirtuin activity, which are proteins that regulate cell pathways. 
Prevention is your first step to great skin care. So whether you're 30 or 40, you should be using a night cream on a regular basis. Curious to learn more?  Make sure to check out our in-guide that explores everything about the best night creams.
If you're for a lighter formula, or something to use in combination with a night cream the look at our guide on the best night serums for 30s
KEY INGREDIENTS TO LOOK OUT FOR IN NIGHT CREAMS FOR YOUR 30s
Being 30 requires some specialty ingredients. Keep an eye out for these when you're looking for the best night creams for 30s.
RETINOL
Retinol is a derivative of vitamin A that communicates with and stimulates cellular activity. When your skin is able to regenerate and exfoliate at healthy levels, you're not only staving off fine lines and wrinkles but you're also correcting any sun damage or discoloration that may have accumulated over the span of your life. As a bonus, it's great for breakouts too.
---
SUNSCREEN
What's the absolute worst thing for your skin? You may be surprised to learn that it's exposure to the sun. That's right – the same thing that gives you a healthy glow is also damaging your skin and causing discoloration. If you haven't been protecting your skin with sunscreen up to this point, it's time to start. Look for sun protection agents that contain ingredients like zinc oxide and titanium dioxide. It'll keep away fine lines and wrinkles as well as age spots and hyperpigmentation.
---
ANTIOXIDANTS
Just like the sun, environmental free-radicals can cause damage that's hard to reverse. That includes dullness, buildup that blocks pores, as well as problems with skin tone and clarity. But antioxidants fight to neutralize free radicals before they do their dirty work. And for those of us over the age 30, vitamins D and E provide both the protection and nourishment that we need.
---
EXFOLIANTS
As we get older, our body has a hard time shedding the dead skin cells that build up on the skin's surface and cause dullness, impurity, and an overall loss of radiance. Exfoliants like AHA's and BHA's will restore that balance and give your skin the help it needs regenerating.
---
PEPTIDES
Last but certainly not least we need to talk about peptides. These have long been considered the ultimate ingredients in anti-aging. There's a peptide for every problem – whether you need more hydration, you've got damage to correct, or you're looking for firmer and more toned skin, there's a peptide out there for you.
A NOTE ON WHAT TO AVOID
We've done a lot of work lately around organic and natural skincare, beauty, and makeup products. And we've shifted our focus for good reason.
It's becoming increasingly clear that many conventional products contain harsh and, sometimes, even toxic ingredients. These are preservatives, fillers, fragrances, and other chemical ingredients that have a range of negative health impacts. While some are simply irritating or allergy-causing, others mess with our hormones and reproductive systems. Still, others are known carcinogens.
Until such time as the FDA begins regulating the use of these potentially harmful ingredients, the onus is on you to know what to avoid. Luckily, you've found us. And we've compiled a shortlist of things you definitely don't want in any of your skincare, not just your night cream.
Items to absolutely avoid include:
Parabens
Phthalates
PEGs
DEA and MEA
Mineral oil
Fragrance
Siloxanes
SLS AND SLES
DMDM Hydantoin and UREA
You can look through the ingredients list for these items or even call manufacturers to ask about their commitments to clean beauty and which of their products fall under that category. But one sure-fire way to avoid these ingredients is to start switching your makeup and skincare to organic and natural products.
Looking for organic and natural options? Discover more options in our article on the best organic and natural night creams.
THE IMPORTANCE OF PACKAGING
When you're buying products with sensitive ingredients like peptides and retinols, their power is directly linked to how they're packaged. It's not enough to pack a night cream for 30s full of beneficial active ingredients that restore hydration, shed skin cells, and fight fine lines and wrinkles – they also need to be put into containers that protect those ingredients.
That's why the best night cream for 30s are packaged in dark, airtight containers. This keeps them protected from the sun – because retinol, for example, is photosensitive and breaks down when exposed to too much sun. Peptides, too, require special packaging. When they're exposed to air, they tend to oxidize. So be sure to find the right packaging for your active ingredients.
FINAL THOUGHTS
Turning 30 can be a wonderful thing when you take care of yourself in all the right ways. That means only using the best ingredients – those that target the skin issues that tend to arise around this age. All of the above products will give you the boost that you need and help you keep the youthful glow we all desire.