Retinol is one of those powerhouse skincare ingredients many of us have heard of. Dermatologists swear by it as the holy grail, recommending it for a host of skin concerns – from acne, enlarged pores, fine lines, and wrinkles to skin texture as well as pigmentation issues (like dark spots). Beauty influencers and celebrities show off their "I woke up like this" skin, touting it as a youth in a bottle. Why do you ask? Well, it's simple, really… retinol actually works. Yet, you might wonder why investing in retinol in your 30s makes sense.
RETINOL IN THE 30S
By the time you reach your 30s, collagen production has started to slow down, and it takes longer for skin to heal itself from sun damage, scarring, and aging. Retinol is a derivative of Vitamin A, which boosts cell turnover and the skin regeneration processes making your 30s the perfect time to start incorporating the ingredient into your skincare routine. Although retinol won't stop aging altogether, it helps reverse premature signs of aging (mentioned above, strengthens the epidermis, and reduces inflammation (which is why it's useful for acne treatments).
Retinol also helps manage the skin barrier function making the skin not only look plumper but also feel smoother. Retinol can take the form of a liquid serum, gel, cream, or emollient, and formulas that include the ingredient often also incorporate other skin-beneficial ingredients. It's important to note that when using retinol in your 30s, sunscreen is extremely important. Make sure to check out our guide on the best sunscreens for retinol.
12+ BEST RETINOL FOR 30S
Below we focus on the 14+ best retinol formulas for 30s that were chosen for their ability to target multiple signs of aging that start becoming more noticeable as we age.
Jan Marini Age Intervention Retinol Plus Cream $90
Jan Marini's two-time award-winning formula blends a variety of skin-beneficial ingredients, including restorative retinol and rejuvenating peptides with antioxidants like the free radical-fighting green tea extract. The hydrating formula combats fine lines and wrinkles and treats discoloration and the appearance of large pores. Don't just take our word for it the highly-rated formula has a 3-month study backing its effectiveness.  
---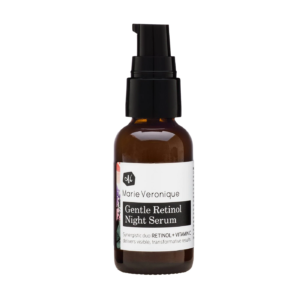 Marie Veronique Gentle Retinol Night Serum $110
It doesn't hurt to get a bit of help in taking preventative measures against the early signs of aging and Marie Veronique's best-selling rejuvenating serum is an effective option for those with easily irritated or sensitive skin. Key ingredients in the natural formula that help boost cell turnover include powerful retinol to target fine lines and wrinkles, brightening Vitamin C, nourishing vitamin E, as well as antioxidant-rich plant extracts from the likes of Green Tea Leaf extract.
---
100% Pure Multi-Vitamin + Antioxidants Potent PM Serum $60
Although the skin may become dull, dehydrated, and start showing the first signs of aging from everyday environmental factors like exposure to the sun and pollution, 100% Pure's has got it covered with their fan-favorite (over 800+ 5-star reviews) natural serum. Retinol helps with regenerative efforts to target the first signs of aging, nonirritating Magnesium Ascorbyl Phosphate (the most stable form of Vitamin C) helps fight free radical damage, while Niacinamide targets dark spots. It's also important to note that the antioxidant-rich formula is also vegan and cruelty-free!
---
Maya Chia The Straight A $125
Maya Chia's potent formula hosts a blend of skin-beneficial ingredients, including the hyperpigmentation-fighting combo of Vitamins C and E that work together to brighten the skin as well as nourishing plant-based oils from the likes of chia seed and rose hip. Other key ingredients in the fast-absorbing formula include Retinol as well as two plant-based retinol alternatives (Moth Bean Extract & Bakuchiol that, when combined, result in a powerful boost to the skin's natural regenerative processes. 
---
StriVectin Advanced Retinol Nightly Multi-Correct Serum $89
Strivectin's potent serum may be lightweight, but it's effective. A consumer study showed that 100% of those who used the cruelty-free formula saw an improvement in fine lines and wrinkles, while 96% saw better skin texture as well as radiance after a 12-week period. Although the star ingredient in the formula may be the anti-aging superstar Retinol, Strivectin's patent NIA-114 (a patented form of Niacin) plays a key supporting role in the rejuvenating processes and also strengthens the skin barrier. The rejuvinating formula also includes deeply hydrating Polyglutamatic Acid to balance out Retinol's drying effects, as well as antioxidant-rich Ashwagandha, known for its healing properties.
---
Murad Resurgence Retinol Youth Renewal Night Cream $84
This extremely popular overnight Retinol cream visibly improves the look of facial contour folds and wrinkles and is developed for deep hydration and renewal. The sustainable-packaged formula uses retinol tri-active technology, which comprises a fast-acting retinoid, time-released retinol, and a retinol booster to fight multiple signs of skin aging. Other key Ingredients in this cruelty-free cream include firming Niacinamide and plant extracts such as the healing Wild Yam Root Extract.
---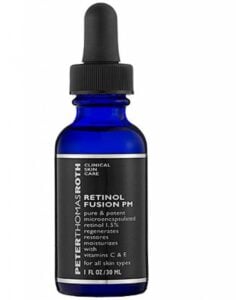 Peter Thomas Roth Retinol Fusion PM Night Serum $65
With over 800 5-star ratings, Peter Thomas Roth's powerful formulation contains 1.5% time-released Microencapsulated Retinol, which allows for the slow release of Retinol. The delivery mechanism ensures a fast absorption of the ingredient and minimal irritation to the skin. The rejuvenating serum also contains ingredients like brightening Vitamins C and nourishing vitamin E, all of which work together with Retinol, resulting in more even-toned, smoother, and firmer skin.
---
Sunday Riley Luna Retinol Sleeping Night Face Oil $105
This gentle retinoid oil is perfect for those jumping on the retinol bandwagon for the first time. Nourishing ingredients like rich Avocado Seed oil and antioxidant-rich Chia seed oil boost plumpness, improving the appearance of wrinkles and pores for visibly younger-looking skin, while plant-based extracts from healing Blue Tansy and soothing chamomile minimize redness and calm the skin. The cruelty-free oil promises youthful, luminous, even-toned skin and can be used underneath a moisturizer for added hydration.
If you're looking for something a little more powerful, Sunday Riley also has their A+ High Dose Anti-Aging Retinol Serum ($85). The sustainably-packaged Retinoid Serum uses stabilized retinoid blends and botanical, retinol-alternative extracts to treat fine lines and wrinkles, enlarged pores, sun damage, and the loss of firmness.
---
Herbivore Botanicals Bakuchiol Retinol Alternative Serum $54
Herbivore's plant-based serum uses Bakuchol, a potent retinol alternative fast becoming a cult favorite for its natural ability to rejuvenate the skin. The vegan formula also includes gentle exfoliating polyhydroxy acids (PhAs) with natural botanicals, including hydrating Pomegranate Fruit and Neem Flower extract to boost the skin's moisture levels.
---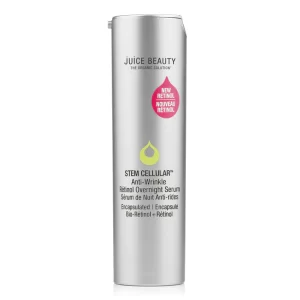 Juice Beauty Stem Celluar Anti-Wrinkle Retinol Overnight Serum $72
Juice Beauty's Organic Stem Cellular overnight treatment packs a punch with its mix of bio-retinol, retinol, peptides, and ubiquinone- all ingredients that actively address multiple signs of aging, including fine lines, wrinkles, and pigmentation issues. Antioxidants like Nocturnal Evening Primrose oil not only nourish the skin but can help stabilize formulations with Retinol and extends the cruelty-free formula's efficacy. Not only do the clinical results speak for themselves, but bonus points for recycled plastic packaging. 
---
African Botanics Resurrection Cell Recovery Serum $160
Formulated with a complex of retinol, resveratrol, Swiss garden cress liposomes, hyaluronic acid, and peptides, the lightweight-gel formula of this serum is perfect for acne-prone/combination skin. The ingredients help lift, firm and hydrate the skin while reversing the signs of aging and photo-damage.
For those looking for additional hydration, the brand also has a Retinal Night Cream. Powered by retinaldehyde, a bio-active form of vitamin A that works overnight to gradually convert into retinoic acid within the skin, the product helps boost and protect collagen while working to increase cell turnover. White willow bark, lactic acid, azelaic acid, and fulvid acid reduces the appearance of pores and helps fade scarring and sun spots. An added benefit, these products are clean and cruelty-free!
---
Tata Harper Retinoic Nutrient Face Oil $150
Tata Harper's natural formulas may be on the pricier side, but this highly-rated retinol-based serum is definitely worth it. Ingredients to keep an eye out for in this lightweight Elixer include anti-inflammatory alfalfa extract, antioxidant-rich arnica extract, as well as a blend of nutrient-rich plant-based oils from the likes of replenishing Sweet Briar oil and nourishing apricot seed oil. Reviewers claim that is great for sensitive skin.
---
Mara Evening Primrose + Green Tea Algae Retinol Oil $120
This luxurious nighttime oil melts into your skin, using powerful algae extracts, 1.2% retinol, and natural sources of Retinol to renew and boost healthy, youthful-looking skin. Rich with vitamins and nourishing ingredients like hemp-derived cannabis oil, the product actively reduces the look of fine lines, pores, and uneven texture. This cruelty-free serum is also a phytonutrient powerhouse, containing brown seaweed and evening primrose, to help with skin hydration and suppleness.
HOW TO INCORPORATE RETINOL INTO YOUR SKINCARE ROUTINE?
Although Retinol is a powerful ingredient, patience is necessary for advanced results. Expect to see some positive changes for issues like fine lines and light discoloration within 2-3 months while deeper wrinkles may take 6-12 months to improve.  Skin may take some time to adjust to the potent ingredient so consider layering on a moisturizer 20 minutes post applying your retinol treatment especially if see or are prone to dry, irritated skin.
Retinol can cause side effects like photosensitivity and dryness and should be used cautiously with active ingredients like Vitamin C, Benzyl Peroxide, AHAs, and BHAs. It's important to remember that sunscreen is vital with Retinol, so make sure to apply it throughout the day when using this ingredient. Finally, its not recommended for use during pregnancy but consult with your doctor first either way!
FINAL THOUGHTS
Although Retinol maybe the darling of the skincare world and has yet to be dethroned, some people may be apprehensive about trying it. If Retinol is something you are not comfortable incorporating into your skincare routine, don't worry – potent plant-based alternatives like Bakuchiol, resveratrol, and Bidens Pilosa Extract are fast becoming widely available.