When it comes to the effects of aging on your skin, there is no lesser of evils. Some people believe fine lines are the hardest aspect of growing older and others profess that uneven skin tone and the increased dullness of complexion is their biggest aging concern. Ultimately though, neither of these signs of aging are flattering and if we can provide some advice on how fix them, we will.
Skin tone is a little more difficult to treat than fine lines and wrinkles because it's not as simple as getting a pinch Botox and a little Dermal filler – there aren't as many options for getting rid of discoloration. That's where a Kojic Acid cream or serum comes in. Kojic acid is known to even skin tone and brightens skin. It's capable of fading brown spots, alleviating hyperpigmentation and stubborn post-breakout scars. But what exactly is Kojic Acid and how can it help you?
WHAT IS KOJIC ACID?
In science-speak Kojic acid is a completely natural, crystal-like substance that acts as a chelating agent: a chemical compound made from organic materials that form complexes with subtrates and metal ions. But in words we can all understand: it's an acid derived from several different fungi, especially Aspergillus Oryzae, a mushroom that grows in Japan and is commonly referred to as Koji. Kojic Acid is also created as a by-product of the fermentation process of certain foods (or drinks)  like Sake, Soy Sauce and Rice Wine. More often than not, Kojic Acid is used for cosmetic purposes. Specifically, as a skin-brightening agent (it's actually the second most popular skin brightening agent in the world… so it's got some weight behind its claims).
HOW KOJIC ACID WORKS
Kojic acid has the unique ability to penetrate the outer layer of the dermis and reach deep into your skin to hit the zone in which pigmentation is produced. When it gets to that layer of your skin, it inhibits and prevents Tyrosine from forming. Tyrosine is the Amino Acid responsible for the production of Melanin which is the pigment that affects hair, eye, and skin color. So, Kojic Acid brightens the skin by limiting Melanin production, and in a less aggressive way than Hydroquinone.
Kojic acid is the active ingredient in various cosmetics, including soaps, cleaners, serums, powders and creams. While soaps and cleaners are washed off quicker, you increase the absorption and benefits of Kojic Acid when using creams and serums that are meant to be left on. Kojic acid creams usually combine vitamins and other skincare chemicals that counteract any drying or irritating effects of pure Kojic Acid. It can be used as either a spot treatment or to lightly cover the entire affected area and results can be noticed as quickly as two weeks.
Pro tip: you'll see results even faster if you add glycolic acid to the treatment.
WHAT KOJIC ACID DOES
It has a powerful brightening effect on sun damage, and discolorations like age spots, scars and even freckles. This brightening will also make your skin tone appear more even as well as treat dullness. Kojic Acid is also a pretty potent antioxidant that protects your skin from oxidative damage caused by free radicals, which in turn protects skin cells from premature aging and the formation of wrinkles. The antimicrobial properties of Kojic Acid may also help fight acne-causing bacteria.
Most people use Kojic Acid on the face, hands and neck, but it's safe for use anywhere on the body (save some sensitive areas). We wouldn't recommend that you use Kojic Acid Serums or Cream like a bleach in an attempt to whiten your complexion as we believe all skin tones are equally beautiful but we're not here to school you on your beauty goals.  Just be careful as continued use of Kojic Acid can have negative effects on your skin.
THINGS TO NOTE
Kojic acid is still an acidic substance, so if you tend to have skin on the more sensitive side, start using it in smaller doses and work your way up to a an amount that works for you.
It's also important to point out that this isn't meant to be used on the reg — use kojic acid for the short term (1-3 months or until your results are achieved). Using a kojic acid cream for long periods of time can result in the development of skin irritations which we'll tell you more about later.
Kojic acid is only approved to be used in concentrations of 1% or less. In higher concentrations, this stuff can become toxic so keep an eye out for approved products like the ones we talk about next.
PRODUCT RECOMMENDATIONS
Cosmetic Skin Solutions Phyto and Botanical Gel $29.95
This paraben, oil and cruelty-free gel combines the potent brightening effect of kojic acid with bearberry leaf extract, another powerful natural brightening agent, and Alpha-Arbutin, a synthetic ingredient that also works to target skin discoloration. This gel is also formulated with Cucumber to soothe any irritation and Thyme extract to fight germs and prevent inflammation.
---
Vivant Skin Care Derm-A-Gel Level 1 $60
This simple yet effective formula is not a spot treatment – it's meant to be used on your entire face to even and brighten your skin tone. Besides Kojic Acid, this gel contains skin-restoring ingredients like Niacinamide as well as lactic acid, the Alpha Hydroxyl Acid that not only fights breakouts but also prevents and reduces the appearance of wrinkles. Fighting hyperpigmentation and wrinkles at once – aka killing two birds with one stone.
---
Sesderma Kojicol Facial Skin Gel $46
A non-greasy gel that goes on light, Sesderma's Facial Skin Gel contains AHA's that exfoliate the skin so Kojic and Phytic Acid can penetrate the dermis more thoroughly to brighten your complexion and reverse discoloration. The formula also contains Mulberry Extract: an antioxidant that protects against free radicals while soothing irritation and providing hydration.   If  you're looking for something a little richer make sure to check out the Kojic Acid Cream ($48)
---
Arcona Brightening Drops $43
Although powerful, Arcona keeps harsh chemical ingredients out of their Kojic Acid based formula. Among the other skin correcting ingredients is a combination of Azelaic, Galic, Lactic and  Ascorbic Acids with Vitamin C, to smooth texture and brighten tone.  Also be on the lookout for, Witch Hazel that soothes skin and Red Raspberry Seed Extract notable for being a powerful antioxidant.
---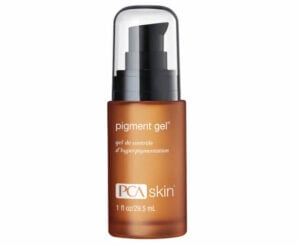 PCA Skin Pigment Gel $55
This spot-treatment gel is specifically designed to treat discoloration and comes in two potent formulas: one with hydroquinone and one without. The non-Kojic Acid formula is perfect if you're sensitive to hydroquinone, but both are simple yet effective treatments for pigment issues.
---
VMV Hypoallergenics Illuminants Plus Primary Brilliance Treatment Cream $105
This Kojic acid cream is both a treatment and prevention for uneven skin tone and texture. Kojic Acid, Bearberry Leaf and Vitamin C complex combat hyperpigmentation while Glycolic Acid promotes cell turnover in this formula perfect for acne-prone, dry and mature skin types.
Although the verdicts still out on the effectiveness, if you're on a budget you might want to look into our guide on the benefits of Kojic Acid soap to see if its a good option to consider.
COMMON SIDE EFFECTS OF KOJIC ACID
Most people will only experience some mild irritation when introducing Kojic Acid skincare products to their skin. This can be alleviated with over-the-counter Hydrocortisone cream. Some higher-strength Kojic Acid creams or serums are formulated with topical corticosteroids to balance the irritating effects of the acid.
Contact dermatitis is a risk when using Kojic Acid. This usually comes in the form of redness, irritation, itchiness, rash, swelling and/or pain. Those with sensitive skin are more prone to developing contact dermatitis but products with more than a 1% concentration of Kojic Acid are also a culprit.
Using Kojic Acid for longer than recommended can cause sensitivity to the sun, making your skin more susceptible to burning. It also shouldn't be used on broken skin.
If you're trying to treat advanced skin pigmentation issues like severe hyperpigmentation or melasma consider looking into our guide that deep dives into what is a Cosemelan treatment.
FINAL THOUGHTS
The ability to target hyperpigmented areas of your skin to even skin tone and rid of discoloration makes kojic acid cream a key figure in the anti-aging arsenal of products. This naturally-derived ingredient is easy to use, quick to results, and has very mild side effects in comparison to the benefits it brings to your complexion.