For those of you lucky enough to be able to grow a thick, full beard, we hope you realize that's only the first step in the process. Keeping that beard in tip-top shape is a different story altogether. Taking care of your beard means establishing a proper grooming routine, including washing your beard regularly with the right products, moisturizing, exfoliating, applying beard balm, beard oil or butter, trimming, styling and, last but not least, conditioning! That's where your beard cream is going to come in handy.
WHAT IS BEARD CREAM?

Beard Cream is an alternative to using beard oil – it provides more of a matte finish than the shiny one that comes with using an oil, but has the same moisturizing and softening properties. Beard Cream has a creamy texture and consistency, and, with continued use, it makes wiry, thick hairs easier to style. This is because Beard Cream hydrates both the hair itself as well as the hair follicle (that is, if you massage it into your beard and face correctly). Thanks to those hydrating qualities, Beard Cream will help to fight dry, itchy skin while battling flakes and preventing beardruff. As an added bonus, Beard Cream will leave your beard smelling great and improving overall manageability.
IS BEARD CREAM LINKED TO HAIR GROWTH?
Beard Cream acts as a leave-in conditioner – it nourishes your facial hair and leaves it not only silky and soft but incredibly hydrated too. Men with wiry, curly beard hair and men that live in cold climates will find that their facial hair is excessively dry, and dry hair is especially prone to breakage. By restoring moisture and keeping your facial hair nourished, Beard Cream helps to improve hair elasticity, allowing your beard hair to resist stretching and tension. Improved elasticity and flexibility means your hair has a greater ability to resist stretching and tension before breaking. By preventing breakage, you are in turn allowing your hair to grow to its fullest potential.
If you're interested in learning more about supplements for hair growth explore our article on Biotin for beards.
WILL A BEARD CREAM MAKE HAIR GROW WHERE THERE IS NO HAIR?
You may have come across some grooming products that market themselves as beard growth creams. Don't be fooled by miracle products that promise results that they can't possibly deliver. The ability to grow a beard is related to the way in which a man's body reacts to testosterone. While most males produce similar amounts of testosterone, men who are able to grow thicker beards more quickly than others are more sensitive and/or responsive to that hormone.
The only effective beard growth cream out there that has shown any significant results in helping men grow a thicker beard or even a beard from scratch, is Minoxidil (which was originally developed for the hair on your head). Minoxidil works by widening your hair follicle, allowing a thicker strand of hair to emerge. It also prolongs the anagen stage of hair growth which results in a higher number of hair strands. Minoxidil can only help where there are hair follicles present (I.e. where there are no hair follicles, Minoxidil will have no effect), but it boasts positive results and may be worth looking into if growing your beard is a concern. Explore our in-depth guide to learn more about the beard growth benefits of Minoxidil.
KEY INGREDIENTS IN A BEARD CREAM
The ingredients in Beard Creams can go one of two ways:
Can be made of artificial and chemical ingredients, preservatives and stabilizers. These tend to have a longer shelf life and are similar to many cosmetic moisturizing agents.
Can be made or derived primarily from natural ingredients such as butter, seeds, fruits, leafs of plants and essential oils.
With that said, below is a list of the natural ingredients you want to look for in a Beard Cream if you so choose to go that route:
Coconut Oil, Cocoa Butter, Shea Butter: moisturizing and hydrating.
Aloe Vera, Tea Tree Oil: anti-fungal, anti-bacterial and helps to prevent itch.
Proteins: strengthens hair and hair follicles.
Essential oils: natural, earthy fragrance and various other positive properties.
Beeswax: helps with styling.
PRODUCT RECOMMENDATIONS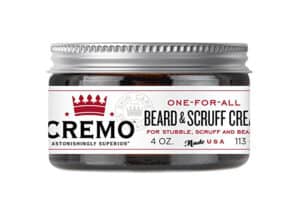 Cremo Beard & Scruff Cream ($11.90)
This Beard Cream combines the hydrating effects of Coconut Oil as well as Coconut Butter with the antibacterial properties of Aloe Vera and Tea Tree Oil. Cremo's Beard Cream will help prevent itchiness flaking and is only lightly scented so you're not overwhelmed with fragrance.
---
Always Bearded House Blend Beard Cream ($19.90)
Always Bearded Lifestyle matte-finish Beard Cream will soften your beard without any oily residue. With a boost of protein to help strengthen your beard and its ability to grow, this Beard Cream will also work to prevent dry, itchy skin and, in turn, fight beardruff. You can use this Cream as a leave-in for a deep conditioning hydration.
---
Morgan Moustache & Beard Cream ($10.35)
Good for use on your 'stache as well as your beard, this Made-in-England beard cream contains natural ingredients such as aloe vera (which is antibacterial) as well as wheat germ oil and virgin olive oil. Morgan's Moustache and Beard Cream nourishes your beard (and mustache) hair and also has a pleasant scent.
---
PureBeard Natural Beard Cream ($9.95)
With organic coconut and argan oil for beard hydration as well as organic beeswax to help you style, this Beard Cream does double duty well.  Formulated with all natural ingredients, PureBeard's Beard Cream will moisturize and soften your beard as well as the skin underneath while leaving it smelling great through 100% natural fragrance.
HOW TO USE BEARD CREAM?
You should be applying your Beard Cream after your beard has been washed and pat dry and following the below directions:
Take a fingertip-worth of Beard Cream from the container.
Rub your palms together, spreading the Beard Cream across the palms of your hands.
Don't just rub but massage the Beard Cream into all the areas of your beard. Make sure you are getting down to your skin so the Beard Cream can penetrate the skin underneath as well as the hair follicles.
Brush the Beard Cream throughout your beard using a wide-toothed comb. Move from the bottom of your beard towards your ears in both directions. After you've thoroughly combed the Cream throughout your beard, take a fine-toothed comb and brush your beard back downwards.
Wash your hands of any excess Cream.
ALTERNATIVE BEARD GROOMING PRODUCTS
BUTTERS
Beard Butters are relatively new on the market and fall somewhere between a balm and an oil. Beard butter is oil-based but much thicker than oil, which makes it good for styling your beard while keeping your hair follicles nourished.  Beard butters are especially great for long beards as their consistency makes it easy to spread.  If you're interested in learning more about the best beard butters check out our article.
BEARD OILS
An oil is designed to mimic the natural oils that your skin produces. As your beard gets longer and your hair follicles cannot produce enough sebum to coat the hair follicle and hair, oil can help lubricate, nourish and moisturize your beard. By doing so, oil is excellent for preventing dryness, itch and flakes. As a bonus, beard oils are usually formulated with essential oils that make your beard smell great as well as look shiny and healthy!
BEARD BALMS OR WAXES
A beard balm, wax or pomade is more for use on the beard hair itself, rather than the skin underneath (like oils, butters and creams). Typically, balms and waxes will include beeswax, which is comedogenic and can cause blockages in your pores that lead to breakouts. Use balms and waxes for styling purposes and not as your main source of hydration.
BEARD POMADE
Pomades are similar to balms and waxes in that their main purpose is to style your beard and they aren't meant for application on your actual skin or follicle. Pomades that are water-based can dry hard and are easily washed out. Your other option is petroleum based which isn't necessarily environmentally-friendly but can offer a less-expensive alternative to balms and waxes.
FINAL THOUGHTS
If boosting your beards' health is something that you're looking to do, a beard cream might be the best way to go. A good beard cream will be able to provide the perfect balance between grooming and deep-conditioning.   Although if you have tried one and it's not a good fit there are a multitude of other beard grooming products out there that might be a better fit.