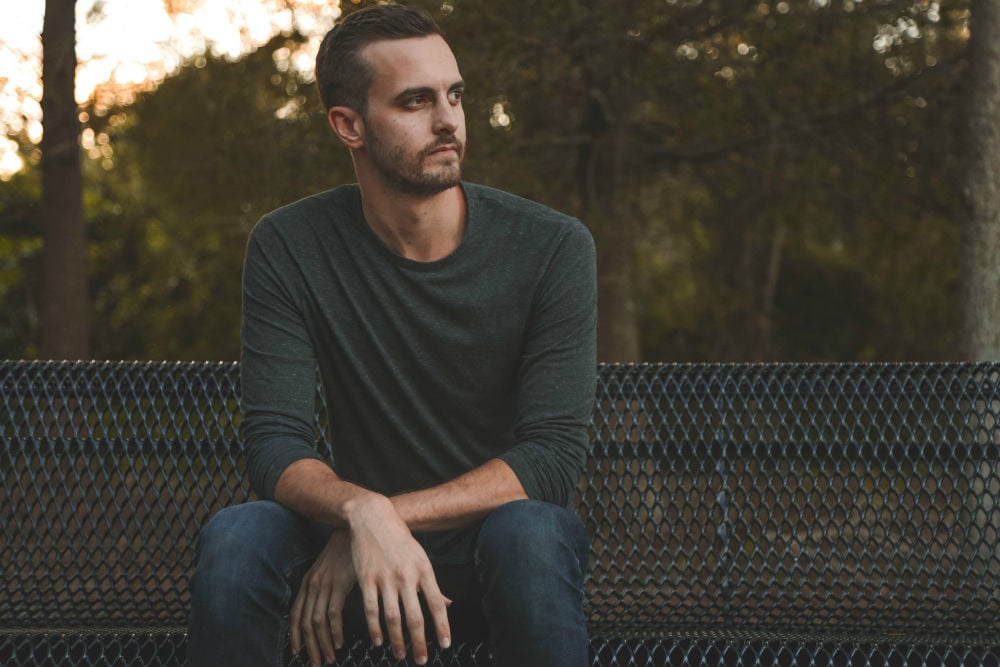 Did you know that by the age of 35, about 66% of men will experience some degree of hair loss? And by the age of 50, that figure shoots up to 85%!
Needless to say, a receding hairline or thinning hair is completely natural. Indeed, for men, it's almost inevitable.
Genetics, health conditions, stress, age… there are many reasons why your hair might thin or recede. The good news is, there are plenty of ways to go about treating a hair loss condition, regardless of the cause.
So while you can, of course, let nature run its course, you can also take steps toward regrowth. Let's take a look!
WHY IS MY HAIRLINE RECEDING?
The reasons behind thinning hair and/or a receding hairline are many.
The most common condition causing thinning hair or receding hairline is androgenetic alopecia. Also known as male pattern baldness, as much as 95% of hair loss amongst males is the result of this hereditary condition.
Male pattern baldness is both a genetic and hormonal condition. It's a condition passed through genes and it causes a sensitivity to a byproduct of the hormone testosterone called dihydrotestosterone (DHT). Hair follicles that are sensitive to DHT shrink over time and, at the same, this shortens the life span of each hair until the follicle stops producing hair altogether.
This condition causes hair loss in two patterns:
Hair thins on the crown of the head and around the temples.
Hair recedes from the front of the hairline.
As mentioned, your genes play a big role in whether or not you'll be affected by male pattern baldness. This is an inherited condition the development of which depends on the interaction of endocrine factors and your own personal genetic predisposition. But, put simply, if your dad and your uncles or your brothers suffer from thinning hair or a receding hairline, you're likely going to experience the same.
As a progressive condition, male pattern baldness worsens over time and with age. Age can also cause the onset of senescent alopecia, wherein the hair follicles produce thinner, smaller hairs, or, eventually, none at all. This is a normal part of the aging process in both men and women, as are changes in hair color, which is the result of your follicles making less melanin (the pigment that gives color to your locks).
There are also many lifestyle reasons why you may be experiencing hair thinning of receding hairline. Stress is a huge health problem that can lead to three different types of hair loss: telogen effluvium, alopecia areata, and trichotillomania. Your diet may also be impacting the number and thickness of hairs on your hair. If you're not eating enough vitamins and minerals, especially vitamin D, your hair may be shedding faster than it should be.
There are also certain medications that can affect your hairline. Thyroid medications, in rare cases, can cause hair loss. So too can blood pressure medications such as beta-blockers or ACE inhibitors and even retinoids, which are typically used to treat skin conditions and acne.
WHAT TO DO ABOUT RECEDING HAIRLINE?
The first thing you should do about receding hairline or thinning hair is talk to your doctor. Together, you can begin to narrow down the potential reasons for your hair loss. You'll need this greater understanding of what's causing your hair loss in order to figure out how to tackle the problem.
If your hair loss is caused by male pattern baldness, there are a few different options for treatment, including oral, topical, and surgical.
The oral solution is a prescription medication that blocks DHT. Finasteride (the generic term for Propecia) is the first pill approved by the FDA to effectively treat male pattern baldness.
Topically, Minoxidil was the first drug approved by the FDA to treat male pattern baldness, and it's clinically proven to slow the progression of hair loss and also to produce some regrowth. Topical hair thickening shampoos are another option for preventing future hair loss and to thicken what strands are growing in.
And if you're looking for a quick and permanent solution, surgery is a more expensive option, but it provides almost guaranteed results. Hair grafting and transplants are just two examples of surgeries that address hair thinning and receding hairline. Obviously, if you're considering surgery for hair loss, you'd better talk to your doctor first. Surgery isn't for everyone.
If your hair loss is the result of lifestyle, there are a number of options for treatment. If your hair loss is stress-related, you might consider reducing your stress levels through lifestyle changes, behavioral therapy, or medications that address mental health. If your diet is the culprit, start incorporating more whole foods, fruits, and veggies into your daily meals. You might also look at things like the amount of sleep you're getting, how much alcohol you're consuming, and whether or not you're smoking.
While all of the above can help you reverse hair loss and prevent further damage, remember that hair loss is mostly genetic and hormonal. So, while you can do all of the above, there's no guarantee (other than through surgery) that you can successfully treat your hair loss.
DO TOPICAL TREATMENTS WORK?
Yes! Most men don't have to resort to surgery or grafting to restore a healthy, full head of hair. Most, in fact, have great success with shampoos combined with topical treatments.
Minoxidil, for example, is an over-the-counter treatment, also known as Rogaine. This is the only topical treatment for male pattern baldness approved by the FDA, and it works relatively well in stimulating hair growth and preventing future thinning. That's especially true when it's used in combination with a hair-thickening shampoo that contains ingredients like keratin and vitamin D as well as lifestyle changes that involve stress levels and diet.
Keep in mind, though, there are also many "snake oils" out there. Hair is such a big part of self-esteem, there are plenty of brands out there looking to take advantage of the sentiments men have toward their hair. If it's promising hair regrowth, make sure you do your research. Have a look at the ingredients list and read about them to find out how they might affect your hair or your scalp. Reviews can also help you get a better idea of the effectiveness of any given product.
Or, better yet, let us tell you about our favorite products for thinning hair and receding hairlines! Let's take a look below!
BEST PRODUCTS FOR THINNING HAIR AND RECEDING HAIRLINES
Ready to get rid of thinning hair and receding hairlines? We've rounded up the best treatments for hair loss. Here are the products that we (and men as a whole) like the best to treat thinning hair, balding and receding hairlines.
Nioxin's Minoxidil 5% Extra Strength Hair Regrowth for Men $25
Minoxidil is a topical treatment that's used to stimulate hair follicles. And as we mentioned, it's one of the most effective, and is approved by the FDA. But does it work? And how?
Well, Minoxidil is applied to your head with a little thing that looks like an eye dropper After you wash and thoroughly dry your hair, you'll use the applicator to apply drops of Minoxidil to your scalp. Then, leave it! Don't shampoo for at least four hours after you use it.
So what are men saying about Nioxin's Minoxidil? You won't hear any complaints from most of them! Nioxin's Minoxidil reviews all say how easy the product is to use. But, more importantly, men who have used it say that it just works. Men say this is one of the best men's hair products for thin hair, but you've got to stick with it as it takes a few months to work.
Alternatively, if you're looking for a more natural botanical-based solution, consider Phyto Paris' 12 vial Phytolium 4 Botanical Densifying Scalp Treatment ($65). Not only is the formula extremely popular (150+ 5 star ratings), but the formula combines a multitude of hair-beneficial ingredients including Palmetto and other plant-based extracts.
---
Nizoral A-D Anti-Dandruff Shampoo $25
 Nizoral A-D Anti-Dandruff Shampoo is advertised as an anti-dandruff shampoo. But it actually has earned a spot on our list of best shampoo for thinning hair. That's because its active ingredient, ketoconazole, has been shown in studies to kill DHT on the scalp's surface.
What's DHT, you ask? Well, we mentioned that hormones can play a huge role in hair loss in men. DHT is one of those hormones. Called dihydrotestosterone, DHT is proven to play a big part in male pattern baldness.
Nizoral attacks this hormone on the spot. The result? Thicker, fuller hair. And less dandruff. What could be better?!
Men who reviewed Nizoral A-D Anti-Dandruff shampoo absolutely loved it. They said it didn't smell weird and "chemically" like some shampoos for thinning hair. And that all you need is a dime-sized amount. One man even said he was recommended the product after his chemotherapy caused hair loss, and that his hair soon returned!
Looking for something more natural? Consider Phyto's Phytonovathrix Fortifying Energizing Hair Loss Thinning Shampoo ($26). A vegan, sulfate-free, paraben-free, and silicone-free formula, this fortifying shampoo is for stimulating and energizing the scalp as well as thickening and strengthening the hair fibers. The secret? Botanical active ingredients: guarana extract gives strength and vigor to the hair, red algae extract coats each strand for visible thickness, and horsetail extract tightens the dermal support structure around each hair follicle, providing better anchoring and less breakage. Made for both men and women, this is your  go-to preventative hair thinning treatment.
---
Nature's Way Saw Palmetto  $11.30
Now you know that there are topical creams and shampoos you can use to help regrow thinning hair. But did you know there's a natural supplement you can take, too?
We talked about DHT, and how the hormone is thought to be responsible for thinning hair in men. Nature's Way Saw Palmetto Berries actually block an enzyme called 5-alpha-reductase which converts testosterone to DHT.
Of course, you'll want to talk to your doc before you begin taking any supplement. But saw palmetto is a great solution for men with receding hairlines and thinning hair. There's no messy topical cream – just a pill you take a few times each day.
If you're shopping for saw palmetto, Nature's Way is the way to go. The capsules are vegetarian, non-GMO and gluten-free. Whereas other brands may contain starchy or even chemical fillers, Nature's Way is the real deal.
What are men saying about Nature's Way Saw Palmetto? The most obvious plus is the price point. With 180 capsules, the bottle includes a two-month supply. And at just over $10, you can't beat the price.
And the hair regrowth? It's excellent. Men say that Nature's Way Saw Palmetto worked great without the side effects of Minoxidil and other medicines. No mess, no itching and no fuss.
---
Toppik Hair Building Fibers $25
This isn't exactly a treatment for hair thinning or receding hair line. Instead, Toppik Hair Building Fibers are like a concealer for thinning spots on your scalp. Available in 9 versatile shades that will match almost any hair color, shake or spray this product into thinning areas and gently pat to disperse the fibers. These fibers have an innate static charge which allows them to bind to existing hair. Made from natural, high-grade keratin, the same protein found in your own hair, this gives natural and undetectable appearance of thicker, fuller hair. Resistant to rain, sweat, and wind, these building fibers are also great to conceal roots between hair colorings or to cover up greys. 
---
Hairmax Laser Hair Growth Comb $197
Made specifically for the treatment of hair loss caused by androgenetic alopecia, age-related hair loss and thinning, and even menopause-related hair loss, this therapeutic laser light energy device has been clinically validated in 7 clinical studies, 14 international medical device licenses, and 6 published articles in medical journals. The conclusion? Users experience visible results between 3 and 6 months of use, with a 90% success rate. The laser light energizes and activates the hair follicles to stimulate growth, so you'll notice denser, fuller, healthier hair with continued use.
This wearable iRestore Essential System ($690) clinical-strength laser hair restoration technology delivers even greater results than its handheld counterpart. In one 2017 study, 100% of active users saw visible hair growth. Used on its own or in conjunction with other hair growth technologies (like creams, shampoos, and supplements), low level laser therapy (LLLT) is an in-home treatment with insanely amazing results.
If you're looking for hair products to boost how thick your hair looks check out our guide on the best volumizing shampoos for men or alternatively best men's conditioners for full hair.
FINAL THOUGHTS  
Starting to notice thinning hair or a receding hairline? There's no need to panic because you've got options! There are prescription pills, over-the-counter topical creams, thickening shampoos, and all sorts of vitamins and minerals you can take to reverse what's going on.
Not sure where to start? Start with a chat with your doctor to narrow down the potential reasons for your hair loss. Then, consult this list of the best shampoos and products for thinning hair in men and start noticing a difference in a matter of weeks.